Mohinder Amarnath is a former Indian cricketer widely renowned for being a member of the Indian team that won the 1983 Cricket World Cup. He was primarily a top-order batter who had the ability to play well against the fierce fast bowling lineup during the 1970s and 80s. Besides batting, he was also a useful medium-pace bowler. He was the 'Player of the Match' and the 'Player of the Series' in the 1983 World Cup finals against West Indies.
Wiki/Biography
Mohinder Amarnath was born on Sunday, 24 September 1950 (age 71 years; as of 2021) in Patiala, Punjab. His zodiac sign is Libra. He completed his schooling at MB High School, Mandir Marg, Delhi. Later, he took admission to Khalsa College affiliated with Delhi University where he completed his graduation. [1]The Hindu His birth was at the time when his father was employed to promote the development of cricket in India. He learned the art of placement from his father who used to place planting pots on the field alikeness with the fielder and tell Mohinder to pierce the gap between them. Mohinder's father taught him to play bouncers aggressively rather than defending the ball.
Physical Appearance
Height (approx.): 5′ 9″
Hair Colour: Salt and Pepper
Eye Colour: Brown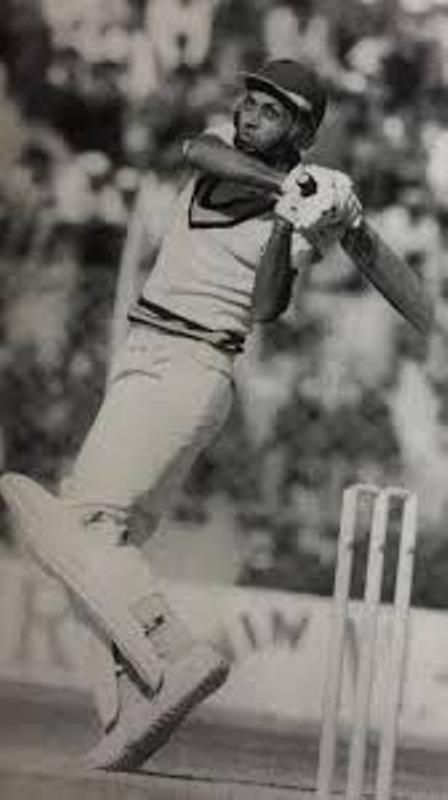 Family
Parents & Siblings
His father's name is Lala Amarnath, and he was a former Indian cricketer.
His mother's name is Kailash Kumari, and she was a homemaker. His elder brother, Surinder Amarnath, is a former Indian test cricketer.
His younger brother's name is Rajinder Amarnath who is a former first-class cricketer.
Wife & Children
Mohinder Amarnath is married to Inderjit Amarnath.
The couple is blessed with one daughter.
Signature/Autograph
Career
International Debut
ODI
He made his One Day International debut on 7 June 1975 against England at Lord's Cricket Ground in London (UK)
Test
He made his Test debut on 24 December 1969 against Australia at M. Chinnaswamy Stadium in Chennai (India).
Records
One of only three players to have been Man of the Match in both the semi-final and the final of the same World Cup
The only cricketer to be dismissed for 'handling the ball' and 'obstructing the field'
Second Indian with the most ducks in a Test series
Fifth oldest player to score a maiden hundred in One-day Internationals at the age of 37 years 117 days age
Only Indian to be given out handling the ball against Australia on 9 February 1986
The only cricketer to be given out 'obstructing the field' and 'hit wicket'
Stats
Batting Stats
Tests
Matches- 69
Innings- 113
Not Outs- 10
Runs Scored- 4378
Highest Score- 138
Average- 42.50
100s- 11
50s- 24
0s- 12
One Day Internationals
Matches- 85
Innings- 75
Not Outs- 12
Runs Scored- 1924
Highest Score- 102*
Average- 30.53
Balls Faced- 3334
Strike Rate- 57.70
100s- 2
50s- 13
0s- 2
Bowling Stats
Tests
Matches- 69
Innings- 71
Balls Bowled- 3676
Runs Conceded- 1782
Wickets Taken- 32
BBI- 4/63
BBM- 4/63
Average- 55.68
Economy- 2.90
Strike Rate- 114.8
5w- 0
10w- 0
One Day Internationals
Matches- 85
Innings- 64
Balls Bowled- 2730
Runs Conceded- 1971
Wickets Taken- 46
BBI- 3/12
Average- 42.84
Economy- 4.33
Strike Rate- 59.3
4w- 0
5w- 0
Domestic Team(s)
He made his first-class debut in 1966-67 for Vazir Sultan Tobacco Colts in the Moin-Ud-Dowla Trophy. He was part of the first-class team that toured England and Australia in the late 1960s. He made his international debut against Australia in 1969 in the fifth test at Madras after playing just ten first-class games. Mohinder was more a swing bowler than a batter at that time. He batted at eighth position and made 16 and 0 runs in the first and second inning respectively. However, he could manage to take crucial wickets of Keith Stackpole and Ian Chappell. Despite that performance, he failed to impress the selectors. He had to wait for almost seven years to play his second international game. In that time period, he played 72 first-class games and scored his first century in his 61st game. He scored 2509 runs at an average of 29.52 in first-class cricket. In terms of bowling, he took 29 wickets at an average of 29.39. In 1976, he played his second international game where he scored 64 runs against New Zealand. In the second test at Christchurch, he took 4 for 63, which remained his best bowling performance in test cricket.
Interestingly, his brother Surinder Amarnath was also playing that series and scored a hundred in that tournament.  Later, he started developing himself into a batter than a fast bowler when he scored crucial 85 runs against the fiery West Indian team at Port of Spain on 7 April 1976 in the second inning. He could manage to hit three sixes against their best fast bowlers Michael Holding and Wayne Daniel. After the series against England in 1976-77 at home, he scored 445 runs against Australia, which was led by then fastest bowler in the world, Jeff Thompson. One delivery of Jeff Thompson hit Jimmy on his head so badly that it took him quite a while to recover. He then scored 86 runs at Adelaide. He ended the series as being the highest run-scorer after Viswanath and Gavaskar. Though, India lost the series 3-2. His first international century came at the WACA, Perth, which is known to be one of the bounciest tracks in the world. This followed up with ten more centuries against the fast bowlers like Jeff Thompson, Joe Garner, Andy Roberts, and Michael Holding. He has a batting average of 66.44 against West Indies against whom, he scored 600 runs in five Test matches. He wasn't able to perform in the next series against Pakistan and West Indies at home. This resulted in his exclusion from the team. He returned back to the side after scoring 140 runs in league cricket while playing for the North Side. In the comeback match, he scored 101 runs and had a crucial partnership with Anshuman Gaekwad and Gundappa Viswanath and took the score to 644 for 7. This inning led to a series victory 1-0. In the next series in 1979 for England's tour, Jimmy suffered an injury on his head. As a result, he was out of the Indian squad for several months.
When he returned back, the Australian team led by Kim Hughes toured India in the late 1979s. This time, Jimmy wore the Sola Topee as a helmet. Sola Topee is a hard hat worn by ancient Britishers. Still, he was hit by Rodney Hogg on his head. This followed up one more blow from New Zealand's Richard Hadlee, which affected his eyesight. After the poor performance against England and Australia, he was again out of the Indian squad for several more years. He missed many important matches for India, which include the series against Australia and New Zealand in 1980-81 where Sandeep Patil and Yashpal Sharma made their debut. He then made 185 runs in the domestic match against Karnataka and 207 runs against East Zone in the Duleep Trophy. He then scored two back-to-back fifties against West Zone in the finals. Besides this, he also scored 127 runs in the Irani Trophy. These performances in the domestic circuit helped him to grab the place in the Indian team for the tour of Pakistan in December 1982. In that series, against the lights of Imran Khan and Sarfraz Nawaz, he scored valiant 109 runs at Lahore, 78 runs at Faisalabad, 64 at Hyderabad, 120 runs in the fifth test at Lahore, and unbeaten 103 at Karachi.
In a match against West Indies, he was hit on his head several times. As a result, he got retired hurt but in the next game, he came back strongly and hit the bouncers with pulls and hooks at all areas. Then came the 1983 Cricket World Cup, wherein in the semi-finals and finals, he scored 46 and 26 runs respectively and led India to their maiden World Cup title.
After the successful World Cup triumph, he could only score 11 runs in two games against Pakistan, and only one run in six innings against Caribbeans. As a result, he lost his place in the side. During the India tour of Pakistan in 1984, Jimmy made 101 runs at Lahore and prevented India's defeat by staying on the crease for more than 400 minutes. On 31 October 1984, Jimmy captained the Indian side for the first time in an ODI match against Pakistan at Sialkot. As he was about to bat, news came about Indira Gandhi's assassination. The match was there only called off. He then performed well with both bat and ball against England at home. This followed up with his 116 runs against Sri Lanka at Kandy in 1986 where India nearly won that match. In the next series against Australia, he was criticized for scoring just three runs in 41 minutes when India needed quick runs to win that match. In Late 1986, he scored his last Test century against Sri Lanka at Nagpur. Interestingly, out of all the centuries he scored, this was the only century that came on a winning side. In the next series against Pakistan, he scored 89 runs in one of the matches in Madras in 1986-87. After that, he couldn't score even a fifty in the next eight Test matches against Pakistan and West Indies.
After the major controversy that took place in 1989 when Jimmy called national selectors 'a bunch of jokers', he could only play one test match in 1988 in Madras against West Indies. After retiring, he became the coach of the Bangladesh and Morrocco cricket team in 1990. However, he was sacked from that position when Bangladesh failed to qualify for the 1996 Cricket World Cup. He also appeared in a cricket talk show named 'cricket with Mohinder Amarnath' where he took the interview of Sachin Tendulkar when he was 15 years old. In 2005, he was selected to coach the Indian team but he rejected the offer.
Controversies
'Bunch of Jokers' Controversy
He was neglected by the national selectors in 1989 in the upcoming international games. Enraged Amarnath called selectors the 'Bunch of Joker' not knowing, he could be one of them in the future. [2]India Today
Amarnath criticized the selector's decision to appoint Dhoni as the captain of India in 2012 when the latter ruled out his captaincy in the upcoming matches. He said,
"Who is Dhoni to decide about his future as a player and not as skipper? It is the selector's job to decide whether he will be in the team or not. I have nothing against him but tell me, what has Dhoni done in the past year after winning the World Cup? Unfortunately, he has been in the team only on past records. Dhoni is not the best wicketkeeper in the country at present. "A wicketkeeper-batsman stands more than 30 yards away from the bowler and other fielders, so how can he communicate with them? Moreover, I feel there are better wicketkeeper-batsmen than Dhoni in the country."

His statement was backed up by his former teammate Dilip Vengsarkar. [3]Cricket Country
Awards, Honours, Achievements
Arjuna award in the year 1982 by the Ministry of Youth Affairs and Sports
C.K. Nayudu Lifetime Achievement Award in the year 2009 by the BCCI
He was named one of the five Wisden cricketers of 1984
Favorites
Cricket Ground: Lord's Cricket Ground
Facts/Trivia
Once batting great Vivian Richards made a remark on his batting. He said,


"I have not seen anyone play the Windies pace quartet with the mastery Amarnath demonstrated."

West Indies former cricketer Michael Holding said,

What separated Jimmy from the others was his great ability to withstand pain … A fast bowler knows when a batter is in pain. But Jimmy would stand up and continue."

He was praised by some of the greats like Imran Khan and Malcolm Marshall for his batsmanship, courage, and ability to bear pains. In his book, 'Idol' Sunil Gavaskar describes Mohinder as the finest batter in the world at that time.
On 24 December 2021, a Bollywood movie named '83' was released where Saqib Saleem has played the role of Mohinder Amarnath. In that movie, Jimmy also played the role of his father, Lala Amarnath.
In 1991, he shifted to Mumbai after spending 20 years in Delhi. In an interview, he recalled the time spent in Delhi during childhood, he said,


"School classes were in tents. We would sit on the ground. It was fun. I remember carrying slates to school. At university, cricket was my priority. It was a great time to live in Delhi. A stroll in Connaught Place was a nice way to spend your time or go to India Gate where you could take a dip in the ponds. I would visit the Connaught place regularly with my parents. I loved their chocolate biscuits and the band, the softy ice cream. Movies at Regal, Shiela, Odeon, Plaza, were not to be missed. Wenger's was my dad's favourite. And the milkshake next to Devi Chand's. We got special treatment there because of dad. That was the time when jukeboxes were introduced in restaurants."

He also shared about his time spent in Mumbai, he said,

"It's a cosmopolitan city, he feels. "It grows on you. It is a beautiful city to live in. Goa is wonderful too. The sunset is an amazing sight [in Mumbai and Goa]. The beach is less than a kilometer from my house and I just spend the time watching the waves. I must say that Delhi, Mumbai, and Goa have been kind to me."

He was superstitious in his cricket career. He always carried a red handkerchief visibly in his pocket when he came out to bat.