Gundappa Viswanath is a former Indian batter and one of the most loved cricketers in India known for his true benevolent nature and morality on the field. During his cricket days, he would face fast bowling attacks of the West Indies and England with immense bravery. He was widely renowned for his elegant wrist work and batting style whose prime focus was more on timing than power.
Wiki/Biography
Gundappa Viswanath was born on Saturday, 12 February 1949 (age 72 years; as of 2021) in Bhadravathi, Mysore state (present-day Shivamogga, Karnataka). His zodiac sign is Aquarius. His family moved to Bangalore (now Bengaluru) when he was five years old. He started playing for the Spartan Sports Club team when B. N. Chandrasekhar, a cricket promoter saw him playing in the High school tournament. In his first match, he scored 30 runs and made his Ranji debut in 1967 against Andhra. With his brilliant batting performances in the domestic circuit, in November 1969, he made his international test debut against Australia. Due to his short height, he faced many obstacles but that didn't hinder his cricket journey. In April 1974, he made his One-day international debut against England. He went on to create many world records and became one of the most successful classic Indian batters in the late 1970s. In 1983, he played his last international game against Pakistan. After retiring from international cricket, he did several roles as a match referee, Chairman of the national selection committee, and manager of the Indian cricket team.
Physical Appearance
Height (approx.): 5′ 3″
Hair Colour: Natural Black
Eye Colour: Dark Brown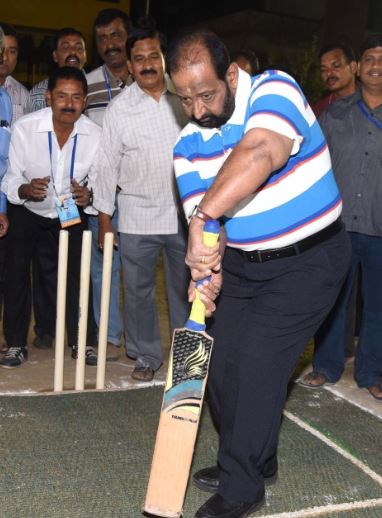 Family
Gundappa Viswanath belongs to a Kannada family.
Parents & Siblings
His father's name was Rangnath Viswanath. He has one brother named Jagannath Viswanath.
Wife & Children
He met Sunil Gavaskar's younger sister Kavita Gavaskar for the first time during his visit to his former teammate's house. There he fell in love with her.
After a few meetings, they both decided to marry. But at that time, Kavita was a minor. So, Vishwanath waited for several more months till she attained the age of 18.
On 3 May 1994, his son was born whom they named as Daivik Viswanath. Daivik is a first-class cricketer who plays for the Namma Shivamogga in the Karnataka Premier League.
Signature
Career
His interest in cricket rose after watching his elder brother and neighbor playing club cricket together. His brother was an ardent Australian cricket lover and used to wake Vishy up in the morning when the Australian cricket team was playing. He played his first cricket match for the Spartan Sports Club in the third division of the Mysore Cricket League (MCL) in early 1960s.
He caught the eye of the B.N. Chandrasekhar; a cricket promoter while playing at the High School ground in Bangalore. He was so impressed with the batting skills that he told him,
"You come and play for Spartans Club."
Vishy thought that the man was joking. But soon he started playing for their team. However, the team's captain wasn't fascinated seeing his lean physique and asked Chandrasekhar,
"Do you want to kill this poor kid? Don't you know that our opponents of today possess a couple of good fast bowlers?"
Chandrasekhar remained silent that time. In the very first game, Vishy scored valuable 30 runs and proved the captain wrong. The captain then apologized to Chandrasekhar for undervaluing the 'Pocket-sized genius'. [1]Sportstar Later he became the permanent member of the side and from hereon his professional cricket journey began. He played his first Ranji game in 1967 against Andhra Pradesh at the Municipal Stadium (now Indira Gandhi Stadium) in Vijayawada city of the Indian state of Andhra Pradesh. On the second day, he went on to score the highest individual first-class score (230 runs) that time going past V Subramaya's 213 and George Abel's 210 for Northern India against the Army in 1933-34 which include 33 fours and five sixes. His next major first-class performance came against the New Zealand team while playing for Indian Board President's XI in 1969. His team lost the first three wickets in quick successions on the score of 28 runs.
Viswanath added 99 runs for the fourth wicket along with Chandu Borde and ended his inning on 68 runs. Considering this performance, the national selectors then include him in the Indian team in the 15-member squad. His short height always remained a barricade during his childhood. Even his Karnataka state junior team selectors termed him "too short" to play cricket. [2]The News Minute But Vishy didn't give up and constantly worked in nurturing his batting skills and ultimately, he got selected in the national side and played his first international game on 15 November 1969 against Australia at the Green Park International Stadium in Kanpur (Uttar Pradesh) under the captaincy of Mansur Ali Khan Pataudi. India was batting first. Vishy came at 2nd down when the team lost the key wicket of Ajit Wadekar. However, he couldn't perform as per expectation and got out on the golden duck. That time, his captain advised him to stay relaxed and focused. As a result, when the Kanpur crowd was bracing themself with another Indian defeat, Vishy steadied one end up and helped the team draw that match. He was hitting Alan Connolly to all parts of the ground. Alan Connolly was the one who took his wicket in the first inning. On a famous cricket website, it was written,
"That day Viswanath played every stroke as if painting a precious masterpiece on a green canvas. Even a defensive push was a sight for sore eyes. When he drove or flicked, he never hit the ball, but gently guided it on its way. It was while essaying the square-cut that every ounce of his little frame went into the wallop, sending the ball screaming through the crowded point area."
During the stumps on day three, Vishy ended his score on 69 runs taking his team's score to 204 runs for the loss of five wickets. One famous newspaper hailed his inning by writing that,
"Hail Viswanath. He is the new star that has arrived to brighten our cricket horizon."
The next morning, before the lunch break, he reached 96 runs without losing much tempo. However, he was falling in victim to nervous nineties when he failed to score any run in the next twenty minutes. Finally, he played an elegant square drive against Connolly and raised up his bat for the first hundred in his debut test game. He ended his inning on 137 runs after staying on the crease for almost six hours which include 100 runs of boundaries. Lieutenant colonel VR Mohan who was also an industrialist in Lucknow announced a reward of three gold medals priced at 1000 INR each to Viswanath, Ashok Mankad, and Paul Sheahan for their performance in the Kanpur Test. [3]CricketCountry Following that knock, it took him several more innings to turn into a permanent member of the side at number four.
He then scored a double century on his first-class debut. In one of the state junior tournaments, Vishy was not seen on-field till lunch. After lunch, he came up with the news that his pet dog has bitten him. This was the only domestic-level tournament that Vishy missed from the time he started playing professional cricket. In 1971, when India won their first test match on English soil, Vishy was part of the team which was led by Ajit Wadekar.
He scored his second hundred against England at the Brabourne Stadium in Mumbai on 6 February 1973. This time Vishy came at number six when the team lost the wicket of MAK Pataudi on the score of 221 runs. He scored 113 runs after staying on the crease for 267 minutes which include 18 fours and one six.
In the second inning, he again shined with the bat by scoring valuable 48 runs and taking his side out from the jaws of defeat. Before that inning, many critics were in doubt that whether he could play that inning, he played in his debut? After that inning, England's captain Tony Craig was so impressed with the elegant stroke play that he lifted him up and cradled him as a token of appreciation.
 One of his best innings came against West Indies at M.A. Chidambaram Stadium in Madras (now Chennai) on 11 January 1975. He scored 97 not out in the first inning and took the team's total to 190 runs while batting at number four position against the bowling of Andy Roberts and Lance Gibbs.
He then scored 46 crucial runs in the second inning and took his side to a win by 100 runs. His inning of 97 runs was rated by Wisden as the 38th best inning of all time and second-best non-century inning. He also scored a century (139 runs) in the preceding test match of the series. Interestingly, he had a batting average of above 50 against Aussies and Caribbeans known for their strong fast bowling attack. His third test hundred came against West Indies on 27 December 1974 at the Eden Gardens in Kolkata. In the first inning, he could score 52 runs but in the second inning, he helped his team pose a target of 310 runs. His inning includes 15 fours after staying on the crease for 376 minutes and helped his side to an emphatic win. His next best performance came against the mighty Caribbeans on 7 April 1976 at Queen's Park Oval in Port of Spain, Trinidad and Tobago. This match was won by India by six wickets. India was chasing the target of 403 runs in the fourth inning. Vishy came at number four when the team's score was 177 runs after losing the key wicket of Sunil Gavaskar. He held a partnership of 159 runs along with Mohinder Amarnath and scored 112 runs after staying on the crease for 220 minutes. This was the highest successful run chase by any test team at that time.
Before this match, only the Australian team under the captaincy of Sir Don Bradman had successfully chased the target of more than 400 runs. Interestingly, it was the match that gave birth to the technique of lofting at spinners by batters [4]CricketCountry About his inning, Tony Cozier, a famous Barbadian journalist wrote on Sportsweek magazine [5]Scroll.in
"Vishwanath looked a complete batsman with an exciting array of shots which he was never afraid to unleash. It was Vishwanath, who was unrelentingly severe on Holding and Julien."
Talking about that inning, Vishy told during an interview with a local newspaper in 2016 that
"Sunil and Anshuman put on a useful 69. Then Jimmy and I had a good partnership (159) which was followed by some good batting by Brijesh Patel (49 not out). We only accelerated once Clive Lloyd took the new ball. That's when the runs started flowing and that made us fancy our chances. It was a very fine victory."
A famous Indian journalist K.N. Prabhu wrote,
"It was a wise move to send Brijesh Patel ahead of Eknath Solkar. Patel, with his bristling mustache, looked like a Bombay pirate, and he played the part by plundering runs. Everything was grist to the mill – mishits, byes – and there were also some dazzling strokes as Patel and Amarnath raced each other. When Patel pulled Jumadeen to bring up the victory with six mandatory overs remaining, the crowd came racing to the pavilion, and the cheers of the Indian supporters echoed from the Northern Hills which towered over the skyline."
His other remarkable performance came on 12 January 1979 at the M.A. Chidambaram Stadium in Madras (now Chennai) against West Indies. Caribbeans were at their peak during that time though this playing eleven was considered weak as many of the star players like Gordon Greenidge, Vivian Richards, and Gary Sobers opted to play in the World Series cricket. In reply to West Indian 228 runs in the first inning, India lost their crucial wickets of Sunil Gavaskar and Dilip Vengsarkar on the score of 11. India kept on losing wickets at constant intervals but Vishy played an anchor role and got out after taking the score to 255 runs with his individual score of 124 runs. In the second inning also, he scored valuable 31 runs and helped the side to a win by three wickets.
He held the captaincy of an Indian team in two test matches in 1979. Out of these two, one was lost and another ended in a draw. Interestingly, the latter was the golden jubilee test match for England. During one of the matches against England when he was the captain, their wicketkeeper batter, Bob Taylor was given out (caught) by the umpire Hanumantha Rao which was actually not out. As Bob was walking back to the pavilion, Vishy decided to call him back to the field when England was on the verge of a defeat. Bob played the match-winning inning and helped England to win that match. Vishy later revealed, [6]100 MB Sports
"For me, the spirit of the game is of paramount importance rather than winning or losing a Test. Obviously, as captain, you play hard to win. But there are times when it's your inner call that tells you what is right. I really appreciate Dhoni's decision to call Bell back."
On 7 February 1981, Vishy played the inning that helped team India to draw the three-match series 1-1 against Australia at Melbourne Cricket Ground (MCG). India lost the key wickets of Chetan Chauhan, Dilip Vengsarkar, and Sunil Gavaskar cheaply in the first inning, but Vishy continued his run flow and ended his inning with 114 runs and took the team's score to 237 runs. In their second inning, India was trailing by 182 runs. However, India could manage a score of 324 runs and gave Australia 143 runs target with Vishy scoring 30 runs. India won this match by 59 runs. Vishy was adjudged "Player of the match". His other major contributions include a record partnership with Yashpal Sharma of 316 runs for the third wicket that saved the test match at Chepauk Stadium in Chennai (now M.A. Chidambaram Stadium) on 13 January 1982 against England. Vishy was the top scorer with 222 runs.
Remembering that inning, Vishy told,
"Playing a whole day in Test cricket is a unique achievement and not many people have done it. The two of us playing the whole day was memorable. He was a very good cricketer, hardworking, a team man and I would say a total cricketer. The pitch was a bit bouncy and we lost Sunil Gavaskar and Pranab Roy early on. Dilip Vengsarkar was hit by a Bob Willis bouncer and retired hurt."
He further revealed that when Yashpal came out to bat, they had a long talk and then decided to play cautiously. Adding bit further, he told,
"He played superbly and it was an attractive innings. He kept egging me on saying, "Vishy Bhai, chhodna nhi, hum dono aaj khelenge (don't give up, both of us will keep playing). Towards the end of the day, he kept telling me to play the long innings and inspired me by saying, "Ab pura din khelenge (we will bat the entire day)."
He felt to umpire's biased decisions several times. The same happened during a test series against Pakistan which India lost by 3-0. As a result, Vishy was dropped from the squad owing to his poor performance (neglecting the umpire's biased decisions). He could only manage 134 runs in six test matches during the series. Expressing his disappointment, he told in an interview with a local newspaper that
"I was very, very hurt when I was dropped. At that time, in all three times [innings] I took the wrong decisions. It is part of the game. But in that [situation] in two innings, if I had scored well, they would not have removed me. Kapil's captaincy was not announced but it was almost known to everyone. Probably Kapil think they won't select you, is it ok?' How do you expect me to say no I am not ok?"
His career started declining from a match against the inexperienced Sri Lankan side where in the first match he could only score 9 and 2 runs in both the innings. His last international assignment was against Pakistan in their home country when he got out of the inswinging delivery of Imran Khan. In the final test at Karachi, he was pushed to number six where he could only manage 10 runs after staying at the crease for one hour and forty minutes. Later, he was dropped from the series against the Caribbeans and never got back into the Indian side again. He played his last international game against Pakistan and soon he announced his retirement from all forms of the game.
He played 155 innings out of 91 test matches and scored 6080 runs with a career average of 41.93. This includes 14 hundred and 35 fifties. He has the most successful career against England with 1880 runs out of 54 innings. This followed up with Australia, West Indies, and then Pakistan. Apart from the Indian sub-continent, he had the most successful outing in the English homeland where he scored 858 runs. The year 1979 is the most successful time in his Test career when he scored 1388 runs with an average of 57.83. He played under Bishan Singh Bedi, Sunil Gavaskar, MAK Pataudi, S. Venkataraghavan, and Ajit Wadekar.
He also featured in 25 ODI matches and scored 439 runs with an average of 19.95. His highest score was 75 that came against West Indies on 9 July 1979 at Edgbaston Stadium in Birmingham (England). His most successful ODI team is New Zealand against whom he had scored 140 runs. He played ODI matches under Bishan Singh Bedi, Sunil Gavaskar, S. Venkataraghavan, and Ajit Wadekar. He took 66 catches in his entire international career that started from 1969 to 1983.
Records
The only cricketer to score the double-century and century in the debut first-class match and test match of his career.
The first cricketer to score a century and duck in his debut test match and one of only four batters to do so [7]

The News Minute
Third Indian among most consecutive appearances in test cricket (87 matches) after Sunil Gavaskar (105 matches) and Rahul Dravid (93 matches).
The only cricketer under whom his team never lost any international test match. [9]

Rajasthan Patrika
Second Indian to score a century at Lords on 2 August 1979 after Vinoo Mankad in 1952. Interestingly, Dilip Vengsarkar also scored a century in the same test match but in the second inning. [10]

The Times of India
Second most runs in test cricket batting at number four (5081 runs) by an Indian after Sachin Tendulkar (13492 runs). [11]

Sportzwiki
Only the third Indian batting pair to remain not out till the end of the day's play along with Yashpal Sharma. [12]

Indian Express
First Indian cricketer to top the ICC ranking after displacing Glenn Turner on 20 February 1975. [13]

CricketCountry
Awards, Honours, Achievements
Arjuna Award by the Government of India in 1977
Col. C. K. Naidu Lifetime Achievement Award by the Board of Cricket Control of India in 2009
Favorites
Cricketers- Neil Harvey from Australia and Ajit Wadekar
Batting shot– Late cut
Facts/Trivia
Mahendra Singh Dhoni is known as the pioneer of Helicopter shots. But very few people know that Vishy played this shot way back in 1979 against West Indies.


RARE GOLD – Gundappa Vishwanath playing a helicopter shot way back in 1979… Look at the second shot in this video and tell me what was it? pic.twitter.com/WCvJCq1RcT

— Navneet Mundhra (@navneet_mundhra) August 31, 2019

He is the joint shortest Indian cricketer with a height of 5.3 feet along with Parthiv Patel. Overall, he is the fifth shortest in terms of international cricketers after Kruger Van Wyk from New Zealand (4.9 feet), Tich Cornford (5.0 feet) from England, Tich Freeman (5.2 feet) also from England, and Mushfiqur Rahim from Bangladesh (5.3 feet). [16]

Rajasthan Patrika
Many cricket experts came up with their opinion as to who is the better batter: Gavaskar or Viswanath. Former fast bowling greats like Dennis Lilee and Andy Roberts rates Vishy better than Gavaskar and Sachin Tendulkar. [17]

Countercurrents.org Viswanath himself told,


"I think it is very wrong for anyone to compare me and Sunil now. How can I comment? I finished my career a long time ago. I see no need to be drawn into discussing it now or to have my performance compared to anyone else's. How can I say I am a better player than anyone else?"

Former Indian batter Dilip Vengsarkar said,

"Sunil Gavaskar and G R Vishwanath were equally good. It would be unfair to draw a comparison between them. Gavaskar had great determination, his concentration was good. Vishy was a fine stroke player, he was very wristy. He was an artist. He played some brilliant strokes."

First ODI captain of India Ajit Wadekar said,

"Viswanath was a person to look at. He could produce all types of strokes. Sunil Gavaskar was like Bradman; he just went on with his business of accumulating runs for himself and the team. Vishy was a charming batsman and would play shots that you will not find in the books. He was very good to watch when in full flow. Gavaskar's concentration was very good; he just accumulated runs. Once he reached 50, he would try for a hundred. After reaching 100, he would try to get 150, and would just go on. If he had been born outside India, he would have been regarded as [highly as] Bradman. His batting was risk-free and he would only go for the loose balls. A comparison cannot be drawn between the two as both were equally talented and both produced runs when needed most by the team. Their brilliant batting helped me win many Test matches. I am really thankful to both."

Former Indian cricketer Eknath Solkar said,

"Sunil Gavaskar and G R Vishwanath were two different batters. One was an opener, the other played in the middle order. Naturally, their techniques were different. Gavaskar's technique was more solid. He had more concentration and was a very difficult batsman to beat. Vishy was an aggressive batsman. When in touch he could destroy the best of bowling attacks. He was an elegant batsman who had a full range of shots like the square cut and the flick and was very good to watch. Both were very good batsmen. There cannot be any comparison between the two. On paper, Gavaskar has scored more Test runs than Vishwanath. Otherwise, both were top-quality batsmen."

Once Vishy was asked about the disappointing phase of his career, to which he replied, [18]

Hindustan


"When asked if there has been any disappointing thing about his career, he replied, 'Yes, when I had to leave Test cricket. My tour of Pakistan in 1982-83 was not good. But this tour was not good for some other players. I wanted to take a short break from international cricket, but that short break became a permanent break for me."
Sunil Gavaskar named his son Rohan Jaivishwa after three of his favorite cricketers: Rohan Kanhai (Rohan), M.L Jaisimha (Jai), and Gundappa Viswanath (Vishwa).
Talking about his hero, Neil Harvey, he told,


"Well, my hero was Harvey. I have never seen him play, but I knew about it through my brother who used to write about it. He told me, that when he [Harvey] first came to India, he moved halfway across the pitch to hit Subhash Gupte through the covers."