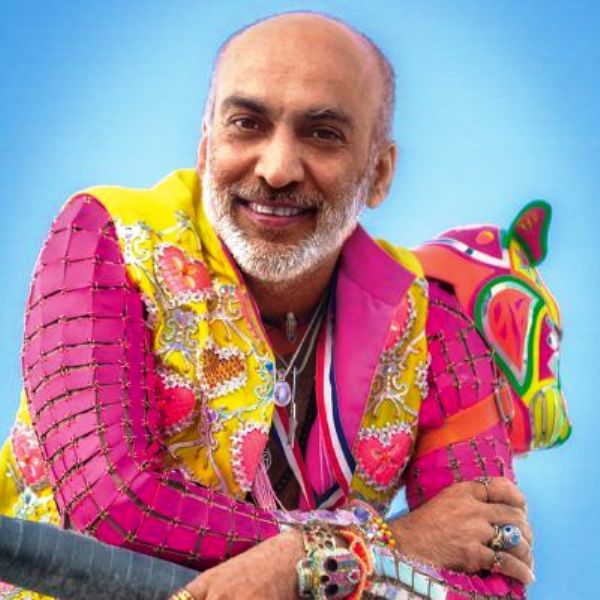 Manish Arora is an Indian fashion designer, who is one of the most successful names in the global luxury fashion industry. Known among some of the first Indian designers to enter the global market and make it big in Paris, Arora is also famous for his signature style of kitsch motifs and a rich palette of psychedelic colours with gold and pink being the palette's constant constituents – all paired with Indian craft methods like embroidery and appliqué. Manish is also the first Indian designer to head a French luxury label, Paco Rabanne.
Wiki

/Biography

Manish Arora was born on Wednesday, 5 September 1973 (age 48 years; as of 2021) in Mumbai. His zodiac sign is Virgo. Arora attended the Narsee Monjee College of Commerce and Economics, Mumbai, and then switched his career to fashion designing. He went to Delhi to do graduation in fashion design from the National Institute of Fashion Technology (NIFT), which he completed in 1994. [1]Hindustan Times
Physical Appearance
Height (approx.): 5′ 6″
Hair Colour: Black and White
Eye Colour: Brown
Family
Manish belongs to a Punjabi family.
Parents & Siblings
Manish Arora is the only child of his parents. According to Manish, his family did the business of importing saris, and they still own sari shops in Mumbai. [2]The Times of India [3]ScienceDirect
Wife & Children
Manish is unmarried.
Sexual Orientation
Manish's sexual orientation is gay, and he revealed in an interview that he accepted his sexuality at the age of 17 when he had started his college in Delhi at the National Institute of Fashion Technology (N.I.F.T.). He also recalled that coming out to his family about his sexuality was a 'purely organic' process. [4]Hindustan Times [5]The Times of India Arora added in the interview,
I had a partner when I was 21, then I had a long relationship for 12 years, and he did come to meet my parents. It was not like I had to say, 'Hey, meet my boyfriend!' It was just obvious and clear."
Career
Initial Years
Soon after graduating from N.I.F.T., Manish presented his designs at the 'Young Asians Designers Competition' held in Jakarta in 1995. Apart from winning two awards in the competition, the designer was also offered the job of a stylist for the French Vogue by its editor, which he declined as he wanted to stay back and work in India. [6]Hindustan Times Once back in India, Manish joined Rohit Bal, another Indian fashion designer, and worked under Bal for two years.
Peak Years
Manish launched his namesake fashion label 'Manish Arora' in 1997 that is headquartered in Noida, Uttar Pradesh. He started his venture in partnership with his friend and business partner Deepak Bhagwani, who managed the brand's financial department. Within a year of the launch of his label, Mr Arora did his first solo fashion show in October 1998. He also became the official designer for the Vimal suiting and shirting campaign in 1998-1999. [7]Hindustan Times In the next year, the Indian fashion designer represented his country in the Hong Kong Fashion Week in 2000, and he also made his debut at the India Fashion Week around the same year. [8]Famous Fashion Designers In 2001, Arora introduced the launch of his diffusion label "Fish Fry," which established him in the Indian fashion market. [9]The New York Times By next year, he had opened his first flagship store of the 'Manish Arora Fish Fry' label in New Delhi and the second one in Mumbai.
The Delhi-based production arm for Arora's both labels is incorporated as a separate company called Three Clothing Private Limited in Delhi. In 2004, India Fashion Week's fifth season shifted media attention to Manish's extremely vibrant show and made the budding designer the talk of the fashion town. [10]ScienceDirect Eventually, his displayed collections were noticed by the Maria Luisa house in Paris, which were, reportedly, quite impressed by Manish's work. This led to a huge demand for Manish Arora's collections in the international market, and the designer started exporting his products. [11]Famous Fashion Designers In 2005, Mr Arora got a chance to showcase his work at the London Fashion Week (LFW) that acted as a catalyst for his global popularity. Recalling his debut at the international runway, Manish said in an interview, [12]Grazia
When I went to London for my debut, I had no stylist or PR agency, the hair and make-up was done by the same person. It was all about starting from ground zero. The advantage of being Indian at fashion week is that you can portray India in the way that you wanted to. The disadvantage was that there was nobody's footsteps to follow in."
In just a few months, he was among one of the first Indian fashion designers to exhibit his creations at the Victoria & Albert Museum in London at the "Global-Local" exhibition, which was held in association with the British Council of India. [13]MissMalini Later, the Victoria and Albert Museum honoured the designer in 2007, when he was asked to show a retrospective of his collections from the London Fashion Week. [14]Victoria and Albert Museum After he got global recognition at LFW, Manish was also invited to present his collection at Paris Fashion Week in 2007, which was his debut at the fashion show.
Post his successful stint at PFW, he became a member of the renowned French Federation of Pret-a-Porter in 2009. [15]Hindustan Times  He continued his association with the Paris Fashion Week, and the Spring/Summer 2013 season of the show witnessed Manish's first-ever collection inspired by India's Rajasthani elements. [16]Hindustan Times The Indian designer then moved to Paris and in 2014, the Manish Arora brand opened its first flagship store in the French city. [17]Totem Fashion
Collaborations
The fashion designer, apart from designing clothes, has also collaborated with multiple brands to give a wide variety of products a 'Manish makeover.' He produced a range of socks for the Swedish company Happy Socks, eye-wear for Inspecs in the UK, bed linen for Portico, and the Manish Arora Home collection for Good Earth. Manish Arora also boasts of a number of high-profile collaborations with international brands like Walt Disney, Mercedes Benz, Swarovski Elements, Nespresso, Swatch,  MAC Cosmetics, Pommery Champagne, Kama Ayurveda, and more. [18]Business Standard
In 2005, Manish became the first Indian designer to collaborate with Reebok, a homegrown brand. His Fish Fry brand worked with Reebok to create a range of women's party wear shoes as a part of the collection called 'Fish Fry for Reebok.' The collection was showcased at Spring/Summer 2006 at London Fashion Week in September 2005. [19]Fibre2Fashion In 2011, Mr Arora achieved the feat of being the first Indian fashion designer to serve as the artistic director of women's fashion at Paco Rabanne, a French luxury fashion house. His journey at the French label wasn't smooth initially as Manish's collection received mixed reviews. Gradually, when international stars like Katy Perry and Lady Gaga were spotted flaunted the Manish Arora label in different seasons of MTV Europe Music Awards, the Indian designer's collections started garnering a lot of media attention. [20]WWD Their two-season-long collaboration ended in 2014 via a mutual agreement.
In 2012, Arora explored working with India's biggest women's ethnic wear retail brand BIBA, and as a result, a joint venture label "Indian by Manish Arora" was created, in which BIBA held a 51% stake. The venture's 'unconventional' bridal collection was showcased at the Wills India Lifestyle Fashion Week 2012. [21]Totem Fashion In 2017; however, the two brands were reported to shut their collaboration, allegedly, because the contract was ended, or there was a disagreement between the stakeholders. [22]Hindustan Times Manish also worked with the high-end jewellery label, Amrapali Jewels in 2012 to launch a line called the 'India Enchanted.' Showcased at the Paris Fashion Week, the collaboration was an instant hit among a number of Hollywood and Bollywood stars. [23]MissMalini When the Manish Arora label began its downfall around 2018, a collaboration with the French football club Paris Saint-Germain FC proved lucrative for the designer. He created the football team's famous capsule collection. [24]Urban Pitch
Manish undertook another high-profile fashion collaboration with Amazon India in October 2020, and he became one of the first designers to work with three of India's most celebrated designers together – JJ Valaya, Ashish Soni, and Suneet Varma, to launch a new label called "RIVER." [25]The New York Times
In Other News…
The Indian designer has also appeared on television once as the host of a reality show, "The Adventures Of The Ladies Tailor." Aired on 16 March 2008 on the Discovery Travel and Living channel, the six-part series featured Manish Arora as a designer who travelled around the country and explored their lifestyle, fashion, and other local inspiration. It was the first TV series of its kind, broadcast by an international TV channel that completely revolved around only an Indian fashion designer. [26]Hindustan Times Manish also became the subject of fashion news in the same year after he gave a flamboyant makeover to his Ambassador cars with embellished seat covers and fluorescent colours. [27]Business Standard [28]The Times of India
At the Indian Festive 2015-2016 Fashion Show organised at the French Embassy in Delhi, the designer also provided a colourful makeover to the Renault Duster car makeover for his fashion show. [29]DriveSpark
In September 2020, Mr Arora launched his first Indian pop-up restaurant in Paris "HOLYHOLI," which was opened from 2-18 October. He started the venture in collaboration with former Chanel executive Marielou Phillips. [30]WWD
Downfall
By mid-2017, Mr Arora's fashion label started facing the wrath of loss-making business deals, vendor disputes, lawsuits, outrageously expensive fashion shows, retail discounts, and in 2020, it was hit by the final blow of COVID-19. Due to the financial crisis at the Manish Arora brand, the employees began to be paid late, first by a few days, then a few weeks, and by the end of 2017, some ex-employees alleged that their payment was delayed by almost two to three months. The pieces from the brand's runway show for spring 2020 were made available at largely discounted prices, and the pieces from past runway shows went on sale via small boutiques in the Middle East and Asia. Following the events, Manish Arora also parted ways with his business partner of several decades, Deepak Bhagwani in early 2020. Around the same time, The Manish Arora brand store in Paris was shut down and his website was also down for maintenance at that time. Mr Bhagwani revealed in July 2020 that the French holding company for Mr Arora's Indian subsidiary went into liquidation. [31]The New York Times When Manish Arora was asked about this situation, he wrote via e-mail:
We expanded and hoped to reach the world with our unique sensibility and we tried. Sincerely. Unfortunately things went wrong. The markets shrunk. Expenses mounted and we soldiered on to the best of our capabilities."
Controversies
Objectionable Shiva Legwear
In 2011, the "Manish Arora" fashion label launched leggings, harem pants and skirts with the images of Lord Shiva in Nataraja form on it. The print was considered objectionable by Hindus all over the world, which led to protests against the designer's collection. A well-known Hindu statesman Rajan Zed leading the protests demanded a public apology from the designer and asked Arora to immediately stop selling all 'repugnant' items on his website and in worldwide stores. Following this, Manish issued a formal apology to the Hindu Janajagruti Samiti and did as demanded. [32]Hindu Janajagruti Samiti
Several Lawsuits Against Manish
By mid-2017, Manish Arora label started its downfall, which also included several lawsuits against the designer by his former employees for unpaid dues. The lawsuit filed by Mr Alam, one of Manish's ex-employees, said:
[Mr Alam] sent numerous reminders to the operational debtor [Manish Arora] and visited them personally at their office for settlement of outstanding dues, but nothing has been done to arrange for his legitimate dues."
The ex-employees also alleged that the Manish Arora label was in debt but Manish still went on to fund his international trips and made his artisans design his personal costumes for a famous music festival. [33]The New York Times
Awards, Honours, Achievements
In 1994, Manish was named the "Most Creative Student of the Year" when he was studying in N.I.F.T., New Delhi. In the same year, he won the second prize in the Smirnoff Fashion Awards held in Mumbai.
He won the Most Original Collection award and second prize in the Young Asian Designers Competition held in Jakarta.
In 2004, Arora was named the Best Women's Prêt Designer at the Indian Fashion Awards, Mumbai.
Next year, he won the Designer Choice Award for Best Collection at Miami Fashion Week.
Manish was awarded the 'Best Indian Fashion Designer' by Outlook Magazine in 2006, and he also got featured on the cover of its March 2006 issue.
In 2008, the designer won the Marie Claire Fashion Award for Best Fashion Show Staging.
Arora's first film "Holi Holy" won him the ASVOFF Grand Prix, Best Sound, and Best Emerging Talent Prize at the 6th edition of the ASVOFF international fashion film festival in 2013.
Manish got featured six times consecutively in #BoF500 – a list of pioneers, activists, disruptors and innovators shaping the global fashion industry, selected by the editors of The Business of Fashion, from 2013-2018.
In 2016, Arora became the first Indian designer to be honoured with the 'Chevalier de la Légion d'Honneur' (Knight of the Legion of Honour) for his contribution to the world of fashion. The award is the highest French civilian distinction, which was conferred by François Richier, the French ambassador to India. [34]

FashionNetwork
As of 2020, Mr Arora also served as a member of the advisory council for the International Woolmark Prize, one of the most prestigious fashion awards in the world. [35]

The New York Times
Favourites
Travel destinations: Birmingham, Goa
Shopping destination: Tokyo
Car Collection
Manish is the owner of three Ambassador cars. He revealed in an interview that the Ambassador was his first and only car. [36]The Times of India Arora added,
First, I think it [Ambassador car] is a beautiful, iconic design. The other thing is that I feel very safe in it, given the way Delhi traffic works. Till I am alive I will only have an Ambassador car. Even if I have to change the engine I will do that; nothing can take away my love for this car."
Net Worth
Manish Arora's net worth is approximately between $100K – 1M or 75 lakhs – 7.5 crores (2019). [37]Medium
Facts/Trivia
He enjoys consuming alcoholic drinks.
The designer has "ladies tailor" inked on his left forearm.
Arora revealed in an interview that he was the first child in his family to leave home to study. [40]

The Times of India
The Indian designer is popular for his flamboyant and bold style, which consists of embellishments, beading, sequins, psychedelic colour palette with gold and pink, and kitsch motifs. His products are all made by 'karigars' using traditional Indian embroidery. Talking about his unique designs, Arora said in an interview, [41]

W Magazine


The basic idea of my clothes is that you should be happy. It's really about escaping and belonging to somewhere else. When I make these clothes, I disappear in a world which doesn't exist. So why not?"
Many international celebrities like Katy Perry, Rihanna, Lady Gaga, Jennifer Lopez, Nicki Minaj, Fergie, and more have also donned Arora's label on different occasions.
Manish had already opened five stand-alone stores in the Indian cities of Delhi, Mumbai, Bengaluru, and Kolkata till 2009, and he now has four standalone stores in China as well, which contribute to nearly 40 per cent of his business. He also owned one exclusive store in Paris in 2019, and his collection was available at Joyce, Harrods, Printemps, and Gallery Lafayette too. The Manish Arora brand also owns over 80 retail stores worldwide. [42]

The Voice of Fashion
In 2014, Mr Arora moved into a high-end apartment in Paris, a city which he considered his adopted hometown. [43]

The New York Times
In 2018, Manish Arora completed 10 years of showcasing his collections at the Paris Fashion Week. With this, he became the only Indian designer to have achieved this feat. [44]

Hindustan Times
The veteran fashion designer is also the only Indian to have shared space with some popular fashion designers like Chanel head designer Karl Lagerfeld, British designer John Galliano, and French designer Jean Paul Gaultier. [45]

Business Standard
References

↑

1,

↑

6,

↑

7
Hindustan Times

↑

2,

↑

5,

↑

40
The Times of India

↑

3,

↑

10
ScienceDirect

↑

4
Hindustan Times

↑

8,

↑

11
Famous Fashion Designers

↑

9
The New York Times

↑

12
Grazia

↑

13,

↑

23
MissMalini

↑

14
Victoria and Albert Museum

↑

15,

↑

16
Hindustan Times

↑

17,

↑

21
Totem Fashion

↑

18,

↑

27,

↑

45
Business Standard

↑

19
Fibre2Fashion

↑

20
WWD

↑

22
Hindustan Times

↑

24
Urban Pitch

↑

25,

↑

31,

↑

33,

↑

35
The New York Times

↑

26
Hindustan Times

↑

28,

↑

36
The Times of India

↑

29
DriveSpark

↑

30
WWD

↑

32
Hindu Janajagruti Samiti

↑

34
FashionNetwork

↑

37
Medium

↑

38
The National News

↑

39
The Times of India

↑

41
W Magazine

↑

42
The Voice of Fashion

↑

43
The New York Times

↑

44
Hindustan Times