Jayantilal Gada is an Indian film producer, who is also a distributor of Indian films. He established the popular Indian film production and distribution company Pen Studios (formerly known as Pen India Limited) in 1987.
Wiki/Biography
Jayantilal Vershi Gada was born on Saturday, 31 March 1962 (age 61 years; as of 2023) in Lakadia, Gujarat, India. His zodiac sign is Aries. He studied at Ghatkopar's Gurukul Gujarati School, a Gujarati medium school, till the tenth standard. Gada completed a course in photography and in radio repairing. [1]The Times of India
Physical Appearance
Height (approx.): 5′ 6″
Hair Colour: Black
Eye Colour: Black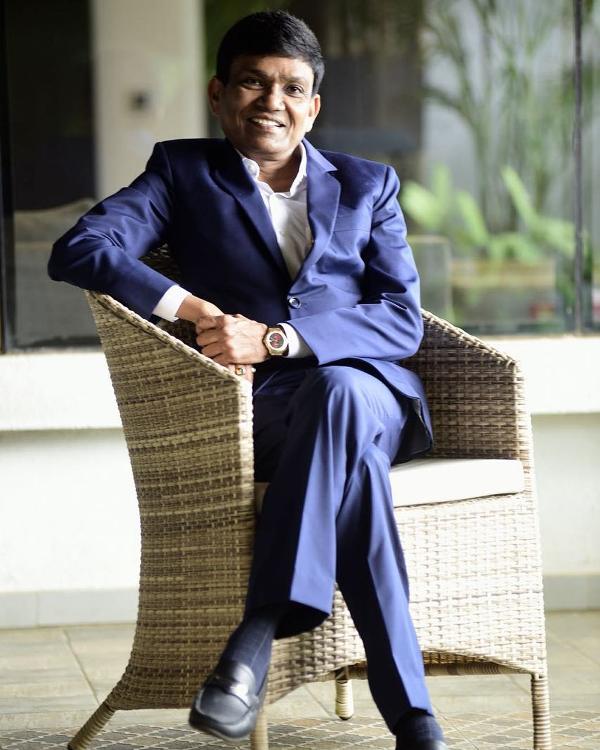 Family & Caste
He belongs to a Hindu-Kutchi Wagar family in Gujarat. [2]The Times of India
Parents & Siblings
His father, Vershi Khetshi Gada, ran several Kirana stores in Ghatkopar. In 2013, he passed away within 11 days of getting diagnosed with Stage 4 cancer. His mother's name is Jivaben Vershi Gada.
Wife & Children
Jayantilal Gada got married to Hansa Gada at the age of 21. The couple has three children, two sons, and a daughter. Their eldest son, Dhaval Jayantilal Gada, is a film and TV producer. Their younger son Aksshay Jayantilal Gada founded Bollywood Times Private Limited, an entertainment digital portal, at the young age of 19. In 2015, Aksshay Gada was welcomed into the Board of Directors of Pen India Limited.
His daughter, Bhavita Jayantilal Gada, became a part of Pen India Limited's animation department in 2006.
Relationships/Affairs
Gada and Reshmaa Kadakia, the head of Pens Studio's Finance & Accounts department, were attracted towards each other but as Gada was already married to Hansa, he could not marry his new love interest. Somehow, the two got together and began calling each other "husband and wife." He has a son from Reshmaa out of wedlock who studied film production. In an interview, while addressing his love life, Gada said,
I, being a Hindu, could not have married twice, so while I cannot get married to Reshmaa, she is no less than a wife to me. We have been together for 22 years and have a son."
Religion
He follows Hinduism.
Career
The origin of trading
After completing the tenth standard, Gada started working at his father's shops. He continued this for two years and later, he started a video library out of boredom in his father's store and named it Popular Video Cassette Company. There, he used to give out rented film cassettes for Rs. 10. His father disliked his business so he started renting VCR machines. He also started a video-photography business, where he used to film weddings and charged Rs. 10,000 for each event. At the age of 25, Jayantilal Gada obtained the copyright of films from Dhirubhai Shah. This business experienced some losses and left Gada bankrupt. Heera Seth of Esquire Video Film Services Pvt. Ltd. taught Jyantilal about copyrights. In an interview, Gada talked about how he was on the road to success after he partnered with Doordarshan and said,
So, we presented DD with an innovative policy where we would buy a three-hour slot from them, play a film on it and also sell ads to recover money for it. That policy got passed and they granted the rights to NFDC, which further sold the slots to us. The government, we and the producers of the film, all made money."
In an interview in 2014, while talking about how his career boomed, Jyantilal said that he always dreamt of presenting Sholay's 3D version on TV. Further, he added,
It [Sholay] was still running in theatres and thus, G. P. Sippy sahab was not wanting it to come on TV so as against the normal price of Rs. 25 lakhs for a film on TV, he asked me for Rs. 1.25 crore, knowing that I would not be able to pay it. But I was determined. We convinced DD to treat Sholay as three films so that they would give us three times the air-time on TV for Rs. 1.25 crores and they did. Can you imagine that one show of Sholay would have run for about 9 hours as it had so many ads and we ran the songs twice each? And while we really troubled the audience, the film had a record TRP of 76 which till today is a benchmark. Through Sholay, I made both money and name. I had bought the rights to show it twice and I then went to Sony TV and convinced them to show it. "
Pen Studios
On 31 March 1987, Jayantilal Gada founded a film production and distribution company in Mumbai and named it Pen India Limited; now called Pen Studios. The production house is primarily responsible for the production and distribution of Hindi, Tamil, and Telugu films. In 1992, Gada's business was reconstituted as " Popular Entertainment Network (PEN) India Ltd." Gada's Pen Studios is popularly known for being a loyal buyer of Zee Entertainment Enterprises. In 2000, Gada became the Managing Director of Pen Studios. In 2014, he took retirement at the age of 52. His son Dhaval Gada was named as his successor at Pen Studios on 3 November 2014; however, due to some reasons, Jayantilal returned to the office on 1 April 2016.
Production and Presentation of films under Pen Studios
He has produced several films under Pen Studios including Kahaani (2012), the animated film Mahabharat (2013), and Entertainment (2014). Apart from producing, Gada also presented award-winning films like RRR (2022) and Gangubai Kathiawadi (2022). As of 2023, Pen Studios has universally received the rights to distribute Hindi films to television networks including Zee TV, Sony Entertainment Television, Sahara One, and Disney Star. Jayantilal Gada has been associated as the rights-holders with several films including Sauda (1995), Kohram (1999), Lal Baadshah (1999), Kitne Door Kitne Paas (2002), Shararat (2002), and Yeh Mera India (2008).
Other Works
Dr. Gada was appointed as director of several private companies including Popular Entertainment Network Private Limited (on 21 December 1983), Play My Song Private Limited (on 16 March 2016), Bollywood Times Private Limited (on 17 March 2016), and Pen Seal Creative Private Limited (28 September 2021). On 27 April 2016, he was designated as an individual partner at Wizart Associates Llp.
Controversy
The Income Tax Department's Investigation Wing from Mumbai began investigations at popular production houses on suspicion of tax evasion on 19 April 2023. Among the leading production houses were Jayantilal Gada's Pen Studios and his home as well. Reportedly, the producer was investigated by the tax agency for alleged tax evasion and financial irregularities. The searches commenced at his office and residence in the morning and went till late evening that day. Another producer whose office and residence were searched was Vinod Bhanushali. [3]India Today
Sued by Aascar Ravichandran in 2021
Regarding the remake of the Tamil film Anniyan (2005), featuring Ranveer Singh, producer Aascar Ravichandran filed a lawsuit against producers Jayantilal Gada and S. Shankar in 2021. The film's remake was allegedly announced without Ravichandran's knowledge. In an interview, he said that he brought up the matter with the SIFCC, the South Indian Film Chamber of Commerce. Ravichandran said that only he had ownership of the film's copyright and that anyone else would be in violation of those rights. He added that the film cannot be done again without his consent. [4]Firstpost
I am utterly shocked to know that you are likely to undertake the direction of a Hindi film by adopting the story of the movie, Anniyan. You are well aware of the fact that I am the producer of the said movie Anniyan. The entire story rights were purchased by me from the writer Sujatha (alias late Rangarajan) for which full payment was done by me to him and necessary records are also available. I am the whole and sole owner of the rights of the storyline. As such, any such adaptation or remaking or copying the main plot of the said movie, without my permission, is totally illegal."
Sued by Gangubai Kothewali's adopted son 
In April 2021, Babuji Shah, Gangubai's adopted son, allegedly accused actress Alia Bhatt, director Sanjay Leela Bhansali, Jayantilal Gada, and writer Hussain Zaidi for giving his mother a false impression and inaccurate portrayal of the facts in the film 'Gangubai Kathiawadi,' which is based on the real-life of Gangubai Kothewali. [5]Firstpost In a conference, Gangubai's family lawyer, Narendra Dubey, said,
The way Gangubai was portrayed is completely wrong and baseless. It is vulgar. You are representing a social activist as a prostitute. Which family would like it? You have made her [Gangubai] a vamp and lady don."
He further said that the case was pending in the court and the court had asked Babuji Rawji Shah to produce proof that he was indeed Gangubai's son. He further said,
Ahough we have proved it in court, there is no hearing in this matter now."
In the end, he said,
They have been asking the family if Gangubai was really a prostitute and not a social worker as they had said. The family's mental state is not good. No one is able to live in peace."
Awards
In 2013, he was awarded the Dhirubhai Ambani Memorial Award at the 13th Annual Transmedia Screen & Stage Awards.
In 2018, Jyantilal Gada was conferred with an honorary doctorate degree by the Academy Of Universal Global Peace (AUGP).
Facts/Trivia
In an interview, while talking about his success, Gada said that he felt proud for being someone who sold video cassettes of celebrities to producing films with them. He further added,


What can be bigger than that for me? From hereon, my journey would have been only about money. I was interested in films, not money."
In an interview, Gada said had Hansa not been there, he would not have achieved his dreams.
 In 2021, Jyantilal Gada was taken to a hospital in Mumbai, where he underwent heart surgery in which doctors fitted a pacemaker in his heart.
In an interview, he regretted that he could not spare an ample amount of time with both his wives and said,


I feel I have not given enough time to both my wives as I was busy working for Zee, managing two families and keeping the stars, producers and directors happy. It was challenging and I have completed that."
After receiving an honorary doctorate, he was appointed as the ambassador of the Academy Of Universal Global Peace for Peace and Humanity in India.
For his achievements in the field of cinema, he has been commended by several notable people including Narendra Modi.