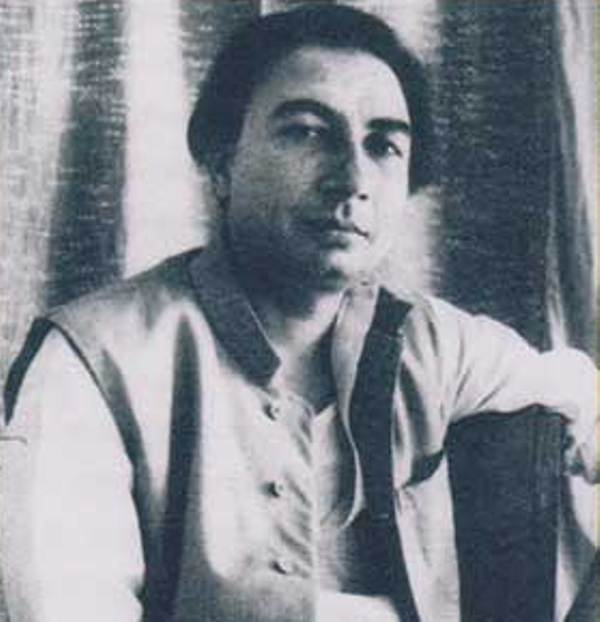 Sahir Ludhianvi was an Indian poet and lyricist. He wrote in Hindi and Urdu languages. Sahir influenced the music of Bollywood. His poems exalted expression of love or propelled social issues. He is one of the most celebrated poets and lyricists of India.
Wiki/Biography
Sahir Ludhianvi was born as 'Abdul Hayee' on Tuesday, 8 March 1921 (age 59 years at the time of his death) in a red sandstone haveli in Karimpura, Ludhiana, Punjab, British India. His zodiac sign was Pisces. He did his schooling from Khalsa High School in Ludhiana. He learned Urdu and Parsi from Maulana Faryaz Haryanvi. He attended S.C.D. Government College, Ludhiana.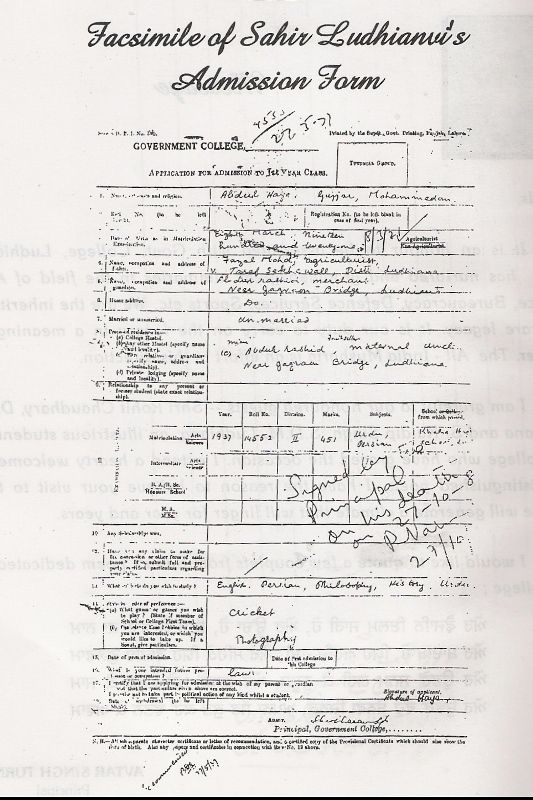 Reportedly, he was expelled from school for talking with a girl named Ishar Kaur in the college lawn. However, according to Kewal Dheer, a noted poet, he was not expelled but was asked to leave. According to another story, he was in disagreement with his principle ACC Hervey (British man), who was irked by his anti-British rule poetry. The auditorium of S.C.D. Government College is named after him.
He moved to Lahore in 1943, where he joined Dayal Singh College. There, he was elected as the President of the Student Federation. In 1949, after Partition of India, he fled from Lahore, Pakistan to Delhi, India as the Government of Pakistan had issued an arrest warrant against Sahir for making controversial statements, which promoted communism. After living in Delhi for 8 months, he moved to Bombay (now, Mumbai). He later moved to Andheri suburb of Mumbai, where his neighbours were Gulzar, a poet and lyricist and Krishan Chander, an Urdu litterateur.
Family, Caste & Wife
Sahir Ludhianvi was born into a Muslim Family. His father, Fazal Mohammed was a landlord.
His mother's name is Sardar Begum.
He was in a relationship with Amrita Pritam (poet) and Sudha Malhotra (actress & singer).
Career
While Sahir was living in Lahore, he published his first work in Urdu, titled "Talkhiyaan (Bitterness) in 1945." Talkhiyan was completed in 1943 but took him two years to find a publisher for the book.
He then started working as an editor of the famous magazines like Adab-e-Lateef, Shahkaar, Prithlari, and Savera and became a member of the 'Progressive Writer's Association.' He made his debut in Bollywood with four songs from the film "Azadi Ki Raah Par (1949)."
However, the film and its songs went unnoticed. Sahir earned recognition after "Naujawaan (1951)," with music by S. D. Burman. His first major success was with the film "Baazi (1951)." Sahir and S. D. Burman worked together until "Pyaasa (1957)," and later, parted ways due to contractual and artistic differences.
He has worked with many noted composers such as Ravi, Roshan, Mohammed Zahur Khayyam, Datta Naik, Shankar-Jaikishan, and Laxmikant-Pyarelal. He has written songs for several hit movies including Aa Gale Lag Jaa (1973), Kabhi Kabhi (1976), Laila Majnu (1976), Naya Daur (1957), Neelkamal (1968), Sadhana (1958), The Burning Train (1980), Trishul (1978), and Waqt (1965). He has penned down the famous lyrics for the songs 'Tu Hindu Banega Na Musalman,' 'Allah Tero Naam,' 'Main Pal Do Pal Ka Shayar Hoon,' 'Kabhi Kabhie Mere Dil Mein,' and 'Abhi Na Jaao Chhod Kar.'
Controversies
He was always in a rift with composers because he kept on insisting the composers that they should adapt their tunes to his lyrics and not vice versa.
He and S. D. Burman stopped working together after the film "Pyaasa (1957)" as both of them took the credit for the songs they created together. Burman said that it was his music that the song was hit and Sahir said that it was his lyrics that the song went hit. Thus, they both grew apart and eventually, stopped making music together.
Sahir insisted on being paid with a rupee more than Lata Mangeshkar, which created a rift between both of them.
He imposed a diktat to AIR and HMV to include the names of lyricist in their programmes and albums.
Awards & Honours
On 8 March 2013, the 92nd anniversary of his birth, a commemorative stamp was issued in his honour
Filmfare Awards
Best Lyricist for the song 'Jo Wada Kiya' from the film "Taj Mahal" in 1964
Best Lyricist for the song 'Kabhi Kabhie Mere Dil Mein' from the film "Kabhi Kabhie" in 1977
Signature
Death
Sahir Ludhianvi died on 25 October 1980 due to sudden cardiac arrest. He was buried in the Juhu Muslim Cementary, Mumbai. In 2010, his tomb was demolished to make space for the new interments.
Facts
Sahir loved to read and travel.
Sahir Ludhianvi was an atheist.
When Sahir was 13, despite being married to his mother Sardar Begum, his father married another woman. After Fazal's second marriage, his wife Sardar Begum divorced him. His father filed a case against his mother to gain custody of Sahir but he lost. When this happened, he faced domestic and financial crisis, which affected him greatly.
His mother and his maternal uncle took care of his education.
He started writing when he was still in school. He not only won accolades from his peers but also from his seniors.
During his struggling days, he was forced to sell his mother's gold bangles to pay electricity and water bills. To make his ends meet, he even rewrote Krishna Chander's incomprehensible handwriting from his scripts and earned a sum of Rs. 150.
While Sahir was a student in the S.C.D. Government College, he was famous for his 'Ghazals' and 'Nazms.'
He later adopted the nom de plume, Sahir Ludhianvi, which means 'a wizard from Ludhiana.'
In 1944, he met Amrita Pritam for the first time at a mushaira in Lahore. Amrita was married at that time. She was impressed by Sahir's way of reciting his couplets and became a huge fan of him.
Amrita left her husband for Sahir. She used to call him "Mera Shayar", "Mera Mehboob", "Mera Khuda," and "Mera Devta". They used to exchange letters and had met only a few times in secrecy. Amrita, in her autobiography, "Rasidi Ticket," described their meeting as 'silent ones with only a few words.' According to Amrita, they would sit in silence and gaze at each other while Sahir smoked a cigarette. After he had left, Amrita would collect the stubs left by him and smoked them. Talking about it, she said-


When I would hold one of these cigarettes between my fingers, I would feel as if I was touching his hands. This is how I took to smoking. Smoking gave me the feeling that he was close to me. He appeared, each time, like a genie in the smoke emanating from the cigarette."
In her autobiography, she gave a glimpse of Sahir's side of the story. She writes-


Sahir also told me, much later in life, "When both of us were in Lahore, I would often come close to your house and stand at the corner where I would sometimes buy a paan, or light a cigarette or hold a glass of soda in my hand. I would stand there for hours together watching that window of your house which opened towards the street."
Reportedly, Sahir and Amrita ended their relationship after Sahir fell in love with Sudha Malhotra. However, he never got married to anyone. The filmmaker, Vinay Shukla, believed that the reason for Sahir to be single was his obsession with his mother and Amrita was the only woman to receive that kind of affection from Sahir. Once, Sahir told his mother-


Woh Amrita Pritam thi. Woh aapki bahu ban sakti thi. (That's Amrita Pritam. She could have been your daughter-in-law)."
Sahir's writings were different from his contemporaries as he did not glorify 'Khuda' (God), 'Husn' (a person's beauty), and 'Jaam' (wine). Unlike other writers, his writings were based on the values of the society, the futility of wars and politics, and the domination of consumerism on love.
His writing relates to youth frustrated by unemployment, women forced to sell her body, a soldier gone to fight the war for someone else, a farmer crushed by debt, etc. This was the reason that he was often considered as 'Bard for the Underdog.'
It is believed that his poetry contains 'Faizan Quality.' Like, Faiz Ahmad Faiz, he gave the intellectual element to Urdu poetry. He would pick on the self-appointed custodian of religion, the self-serving politician, the exploitative capitalist, and the war-mongering super-powers.
Even Jawaharlal Nehru was moved by his lyrics used in the film Pyaasa, which reads-
"ये कूचे, ये नीलामघर दिलकशी के,
ये लुटते हुए कारवां ज़िंदगी के,
कहाँ है कहाँ है मुहाफ़िज़ खुदी के?
जिन्हें नाज़ है हिंद पर,वो कहाँ हैं?"
Sahir was a firm critic of Taj Mahal. He expresses it through his lyrics-
"मेरे महबूब कहीं और मिला कर मुझसे,
बज़्म- ए-शाही में ग़रीबों का गुज़र क्या माने
सबत जिन राहों पर है सतबते शाही के निशां
उसपे उल्फत भरी रूहों का गुज़र क्या माने?"
Taj Mahal by Sahir is also one of his most remembered poems of all times.
Sahir wrote his legacy as-
"कल और आयेंगे नगमो की खिलती कलियाँ चुनने वाले,
मुझसे बेहतर कहनेवाले,
तुमसे बेहतर सुननेवाले;
कल कोई उनको याद करे,
क्यूँ कोई मुझको याद करे?
मसरूफ ज़माना मेरे लिए क्यूँ वक़्त अपना बर्बाद करे?"
The longest poem that he ever wrote is "Parchaiyaan."
In 1970, Sahir got a bungalow built in Bombay and named it 'Parchaiyaan' (shadows). He lived there until his death.
Sahir was good friends with Yash Chopra (filmmaker), Mahendra Kapoor (playback singer), and Datta Naik (music composer).
Apart from his industry friends, his other friends were Shiv Kumar, Bhalla, and Samman Gupta.
One of his friends Amar Verma, who is a publisher wanted to publish Sahir's writings. When Amar took Sahir's permission for the same, Sahir replied that many publishers had published his book 'Talkhiyan' and even he could publish it. After which, Amar told Sahir that he wanted to publish some new work by him. Then Sahir offered him to publish his new collection of film songs. They made a deal that 1000 books would be published and Sahir would get a royalty of 6.25%. For the division of 1000 books, his paycheck was of Rs. 62.50. Amar was ashamed to give him the amount as it was too less. To this, Sahir replied that it was not just a small amount, as it was the first royalty of his life.
Sahir Ludhianvi wished his work to be published in English, which also his last wish. He contacted Amar Verma for this. Unfortunately, Sahir died before that could have happened. After his death, Amar Verma hired a person from Pakistan to translate his Urdu work to English.
Sahir Ludhianvi felt hesitant to face the crowd. Whenever he used to go for his talks or events, he would freeze on the stage.
According to Sahir's sister, Sahir was always confused. Before going out he would spend hours deciding about what he should recite or not recite. Sahir would even have difficulty in deciding his attire for the day before going out for work or events.
Sahir's life has been recorded in many works including the book "Main Sahir Hoon" by Sabir Dutt, Chander Verma and Dr Salman Abid, "Sahir Ludhianvi: The People's Poet" by Akshay Manwani, and  Sahir (a stage play) by Danish Iqbal.

According to the reports of BBC, when Sahir and Chander were going to Ludhiana, their car got hijacked by Maan Singh, the decoit of Madhya Pradesh. At that time, Sahir told Maan Singh that he had written the lyrics of all the songs of the film "Mujhe Jeene Do (1963)," a film based of the life of the decoits, after which, Singh released the duo with great respect.
Reportedly, the film 'Pyaasa' and 'Kabhi Kabhie' are based on the life of Sahir Ludhianvi.
He was an intense drinker and smoker.
Gulistan-e-Sahir, a botanical garden at S. C. D. Government College was created by late Urdu poet Bhupinder Aziz Parihar, a lecturer at the college. It is said that when the Garden was created, a floriculturist from Punjab Agricultural University (PAU), developed a special variety of flower, which was named after 'Sahir.'