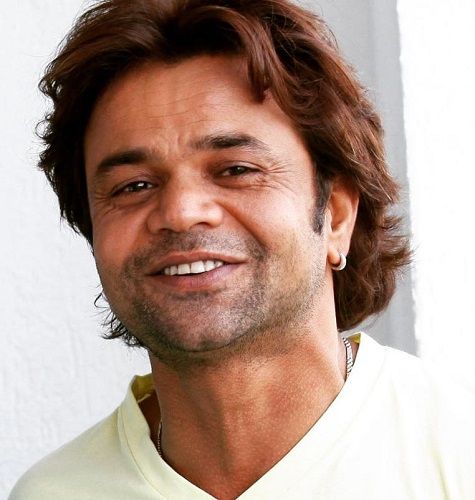 Rajpal Yadav is an Indian comedian, actor, film director, and screenwriter. He is known for his comedy roles in various Hindi films.
Wiki/Biography
Rajpal Yadav aka Rajpal Naurang Yadav [1]Instagram- Rajpal Yadav was born on Tuesday, 16 March 1971 (age 52 years; as of 2023) in Village Kundra, Shahjahanpur, Uttar Pradesh. His zodiac sign is Pisces. He attended a primary school in Shahjahanpur where he studied up to class 5. He changed around three schools up to class 10. He then attended Sardar Patel Hindu Intercollege, Shahjahanpur, Uttar Pradesh. [2]YouTube- Sansad TV In his parents' will, he studied science in class 11 and class 12. He then did two years of training at Ordnance Clothing Factory in Shahjahanpur. However, he was interested in studying arts, so he changed his stream to arts in his graduation degree. He pursued graduation in political science and Hindi literature from Swami Shukdevanand Post Graduate College, Shahjahanpur, Uttar Pradesh. While he was pursuing graduation, he started performing in various nukkad nataks. He once performed in the theatre play 'Andher Nagri Chaupat Raja.' His performance in the play was appreciated by the audience, and he then decided to make his career in acting. To brush up on his acting skills, he joined a theatre group Coronation Art Theatre in Shahjahanpur. In 1992, he did an acting diploma from Bharatendu Academy of Dramatic Arts or Bharatendu Natya Akademi, Lucknow, Uttar Pradesh. There, he performed in various theatre plays.
He then did a three-year acting course at the National School of Drama, New Delhi.
In May 1997, he passed out from the NSD, and in June 1997, he shifted to Mumbai to pursue his career in acting. [3]YouTube- Sansad TV [4]YouTube- The Lallantop
Physical Appearance
[5]YouTube- Sansad TV Height: 5'3″
Hair Colour: Black (dyed Brown)
Eye Colour: Brown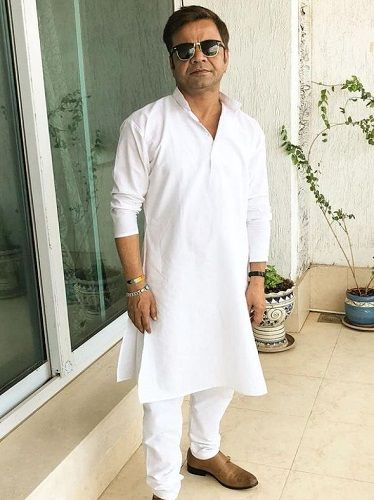 Family
Rajpal hails from a Hindu family. [6]Instagram- Rajpal Yadav
Parents & Siblings
His father, Navrang Singh Yadav, is a farmer. His mother's name is Godavari Yadav.
He has five brothers named Shripal Yadav, Chandrapal Yadav, Indrapal Yadav, Rajesh Yadav, and Satyapal Yadav.
Rajpal, along with his brothers, runs shops named Yadav Enterprises in Kundra, Shahjahanpur, Uttar Pradesh.
Wife & Children
At the age of 20, he got married to a girl named Karuna, and the couple has a daughter named Jyoti Yadav. Later, a few days after the birth of Jyoti, Karuna died of post pregnancy complications.
In 2002, while Rajpal was shooting for the Hindi film 'The Hero: Love Story of Spy' in Canada, he met a girl named Radha at a coffee shop in Calgary, Canada. They became friends, and after spending a few days together, they fell in love with each other. Rajpal then returned to India and remained in contact with Radha, and after almost 10 months of their courtship period, Radha shifted to India from Canada. The couple then got married on 10 June 2003.
During an interview, while talking about Rajpal, Radha said,
When I reached Mumbai for the first time, Rajpal took me to his house. To surprise me, he got the interior of the house done in the same hotel as that hotel in Canada, where we first met."
While talking about Radha, Rajpal said,
She is nine years younger to me and one inch taller than me."
The couple has two daughters named Harshita and Rehanshi.
Address
Yadav Bhavan, Village Kundra, Shahjahanpur, Uttar Pradesh
Autograph
Career
Television
Rajpal made his debut as an actor in the Hindi TV serial 'Mungeri Ke Bhai Naurangilal' (1997) in which he played the role of Naurangilal. The show was aired on DD National, but it failed to impress the audience.
For almost two years, he appeared in a few other Hindi TV serials such as 'Mohandas B.A.L.L.B.' (1997) and 'Naya Daur' (1997). He has also acted in the Sanskrit TV serial 'Svapnavāsavadattam' (1992) in which he played the role of Vidūṣaka.
He then realised that he was not meant for TV serials, and he wanted to work in Hindi films.
Films
Hindi
In 1999, he made his debut in Bollywood with 'Dil Kya Kare' in which he played the role of a school watchman.
In an interview, he talked about making his acting debut in films. He said,
I came to Mumbai in 1997. I used to visit the offices of various directors and production houses, including those of Ram Gopal Varma, Mahesh Bhatt, Shyam Benegal, Govind Nihalani, and Prakash Jha. I was so regular at RGV's office, that the watchman outside his office had started recognizing my face. There was a time when I used to complete one project, land at the Mumbai airport, take the other packed suitcase my wife would send from home with fresh clothes, and take off for another project from there itself. I once took up an offer to be a part of a film that was an adaptation of Munshi Premchand's 'Kafan', and had to shoot in a village near Lucknow."
He added,
When I used to get up in the morning, I had particles of sand in my nose. It was that bad! Shooting there was very challenging, but I never once complained about anything. I didn't even tell my family anything about it. This, at a time when even the staff of actors used to get rooms in 3-star hotels. My staff thought I was crazy to accept such an offer."
In 1999, he played small roles in the Hindi films like 'Mast' and 'Shool.'
In 2000, he played the negative character 'Sippa' in the Hindi film 'Jungle.' He came into the limelight with his role in the film, and he then got offers for many Hindi films.
Rajpal then played supporting roles in various Hindi films like 'Pyaar Tune Kya Kiya' (2001), 'Tumko Na Bhool Paayenge' (2002), 'Maine Dil Tujhko Diya' (2002), 'Ek Aur Ek Gyarah' (2003), and 'Darna Mana Hai' (2003).
He started getting recognition as a comedian with the Hindi film 'Hungama' (2003) in which he played the role of Raja.
He then started getting more offers for comedy roles in the films such as 'Kal Ho Naa Ho' (2003), 'Mujhse Shaadi Karogi' (2004), 'Garam Masala' (2005), 'Malamaal Weekly' (2006), 'Chup Chup Ke' (2006).
Some of his other popular films as a comedian are 'Bhagam Bhag' (2006), 'Bhool Bhulaiyaa' (2007), and 'Bhool Bhulaiyaa 2' (2022).
He has also played lead roles in the Hindi films like 'Main Madhuri Dixit Banna Chahti Hoon' (2003), 'Main, Meri Patni Aur Woh' (2005), 'Ladies Tailor' (2006), 'Kushti' (2010), 'Krrish 3' (2013), and 'Ardh' (2022).
Marathi
In 2007, he made his Marathi debut with the film 'Chasme Bahadur' in which he played the role of an owner of a beer shop.
He has acted in a few other Marathi films like 'Raada Rox' (2011) and 'Dagdabaichi Chal' (2015).
Punjabi
In 2013, he made his Punjabi debut with 'Ronde Saare Vyah Picho' as Chunnu Singh Dhillon.
In 2013, he acted in the Punjabi film 'Chandigarh Amritsar Chandigarh' as a rickshaw driver.
Other Languages
In 2014, he made his Hollywood debut with the English film 'Bhopal: A Prayer for Rain' as Dilip.
His Avadhi debut was with the film 'Bhagya Na Jaane Koi' (2016) as Madhav.
In 2017, he made his Bengali debut with the film 'Shrestha Bangali' in a supporting role.
Politician
In 2016, Rajpal started his political party 'Sarva Sambhav Party' (SSP). In an interview, while talking about starting his political party, he said,
I have come to do politics of dialogue, not of controversy. We will contest elections, but our style will be different. We will teach society how to do politics. How democracy is strengthened and strengthened."
In a press conference, Rajpal announced that his elder brother Shripal Yadav would be the national president of the party. He further said,
I want to serve the people through my party. I have come before you with the dream of a political party. My party is not power oriented, not selfish, but will be society oriented. I will commit to it, that is my resolve. I want to make it clear that this party is not the frog of the election season. Election is the right time, when we are present in front of the society with our sentiments. Inspire society to think of meaningful, positive, constructive alternatives. This is the beginning of a long campaign. We are not a group trying to gain power by running the fashion of a movement. We are a group fighting to communicate directly, to share pain, to find solutions to problems and to settle disputes. We are in favor of development, but want to see the loans of sugarcane farmers get paid every penny before the Metro is built. We have agreed for the expressway, but before that we want to see the roads built from village to village."
However, a few years later, he lost interest in politics and left the party.
Other Work
In 2010, he dubbed (in Hindi) the character of Vivek in the Tamil film 'Sivaji: The Boss' which was released in 2007. He once started his travelling acting school 'Rajpall ki Pathshala.' During an interview, while talking about the concept, he said,
I come from a place that stood waterlogged for months on end. There was a lot of misinformation, and hardly any motivation. I have had to chart a difficult journey into theatre and films over the last 30 years. But there were thousands of kids who never made it. Through the concept of a 'moving' school, I want to bring my life experiences and knowledge to them."
On 24 March 2009, Rajpal started a film production company (after his parents' name) 'Shree Naurang Godavari Entertainment Ltd.' and produced the Hindi film 'Ata Pata Laapata' (2012) under his banner, but the film failed to do well at the box office. Within a few years, the production house was shut down.
Controversy
Jailed in Cheque Bounce Case
In 2010, Rajpal took a loan of Rs 5 crore from a Delhi-based company Murli Projects for making the Hindi film 'Ata Pata Laapata' (2012). However, the film was a flop, and he failed to repay the loan amount. The owner of the company then filed a case against Rajpal and his wife. He was then arrested in a cheque bounce case. In April 2018, the Delhi High Court sentenced Rajpal to six months jail and a fine of Rs 11.2 crore. After spending four days in the Tihar Jail, from 3 December 2013 to 6 December 2013, he was granted bail on a personal bond of Rs 50,000. [7]Hindustan Times According to a media source,
Yadav had spent four days in jail from December 3, 2013, till December 6, 2013, after which a division bench of the High Court had suspended the sentence on his appeal. The single judge bench, which was hearing the recovery suit, had taken exception to the affidavit filed by Yadav in December 2013, which was allegedly falsely prepared and contained forged signatures of his wife. The court had ordered that Yadav be sent to jail for 10 days for contempt."
In an interview, while talking about the incident, Rajpal said,
For the past 15 years, I have not said anything in my defence. I don't think negatively. I don't know who is negative or positive. But I know my work and where there is work, there is karma. I have done my karma from my childhood and I don't know what is negative or positive. I don't want to carry the burden of the past with me. Let people do what they have to do. If my work is liked, it will go ahead. It is all about life. Like every day, the sun's rays are different, so is Rajpal Yadav. He is known for his creativity and has got the love of the audience. I have got a lot of love and I am very happy."
Awards & Honours
2001: Won Screen Award for Best Actor in a Negative Role for Jungle
2003: Received Yash Bharati Award for the film Main Madhuri Dixit Banna Chahti Hoon
2004: Nominated for International Indian Film Academy Award for Best Performance in a Comic Role for Hungama
2004: Nominated for International Indian Film Academy Award for Best Performance in a Comic Role for Kal Ho Naa Ho
2005: Nominated for Screen Award for Best Comedian for Mujhse Shaadi Karogi
2006: Nominated for Screen Award for Best Comedian for Main, Meri Patni Aur Woh
2006: Received Janpad Ratna Award
2006: Nominated for Filmfare Award for Best Performance in a Comic Role for Waqt: The Race Against Time
2008: Nominated for Screen Award for Best Comedian for Krazzy 4
2008: Nominated for Filmfare Award for Best Performance in a Comic Role for Bhool Bhulaiyaa
2009: Nominated for Filmfare Award for Best Performance in a Comic Role for Bhoothnath
2022: Nominated for Honorary doctorate degree (PhD in Arts) by the International Open University of Humanity Health Science and Peace (IOUHHSP), America
Favourites
Film(s): Sholay (1975), Andaz Apna Apna (1994)
Car Collection
Assets & Properties
He owns a property of Rs 50 crore. [9]Amar Ujala
Salary/Income
His monthly salary is around Rs 30 lakh, and his annual income is approximately Rs 4 crore. He charged around Rs 1-2 crore per film, and Rs 1 crore for a brand endorsement. [10]Amar Ujala
Facts/Trivia
In childhood, Rajpal was a notorious child. In an interview, he shared an incident from his childhood, he said,


When I was studying in class 4th, me and my friends used to pluck fruits from a tree in the village. One day, while I was trying to climb the tree, a gush of wind caused me to lose my balance. With my foot stuck in one of the branches of the tree, I was hanging upside down. My friends had to call my father to help me get down. When my father saw me, he was furious and kept taunting me to climb more trees."
During an interview, he shared that in childhood his financial condition was not good. Sometimes, he had to travel by truck to reach his school from his home. He shared an incident from his childhood. He said,


Once i was returning home from the city, accompanied by my elder brother Shripal. There was no ride till late. At that time I reached home after cycling 65 km. I still remember that day.At one time I had no money at all, my pocket was empty. The elder brother had a rupee. We were passing near the station, there my eyes fell on the lottery being sold. I took one rupee from brother and bought lottery from him. Brother scolded me a lot on this. The other day when I came to town for school, I went to the lottery. I got a reward of 65 rupees. After this I took 10 more tickets out of 65. Keeping 5 rupees with him, gave 50 rupees to his brother. After getting 5 rupees in my pocket, I was thinking of myself as a king. But the brother said, do not buy the lottery after today."
In 2019, he built a Mahadev Temple in his village Kundra, Shahjahanpur, Uttar Pradesh.
He considers the legendary English actor and comedian Charlie Chaplin his inspiration. He has even kept a photo of Chaplin in his mandir at his home. [12]

YouTube- Sansad TV
In an interview, Rajpal shared that he was afraid of dogs and snakes.
In his leisure time, he loves cooking, spending time with his family, and playing games.
In 2017, a video of a man named Dharamraj Yudhishtra was uploaded on YouTube in which he said that being Rajpal's younger brother, Rajpal did not help him financially. Later, in another YouTube video, Dharamraj cleared that only his face his similar to Rajpal, and the 2017 video was just a prank video. [13]

YouTube- Vlogger Gautam
In 2021, Rajpal Yadav added his father's name to his name. In an interview, while talking about the same, he said,


There is no specific reason. My father's name has always been in my passport; it is just that now it will be seen on screen. Also, it only happened after Apoorva Vyas offered me a web series and a new film so I thought before Covid I was just Rajpal Yadav, and now that the whole world has turned into a small village let me use my full name. I don't think anyone would've taken my father's name so many times as it has been in the past few days and there is a similarity in the film 'Father On Sale,' that I am acting in which will reach to audience across the world."
He has been featured on the cover of various magazines like Grandeur Lifestyle and Inspirant.
Rajpal has been featured in TV commercials for various brands like Coca-Cola, Vim, Topline, and Nokia 1100.