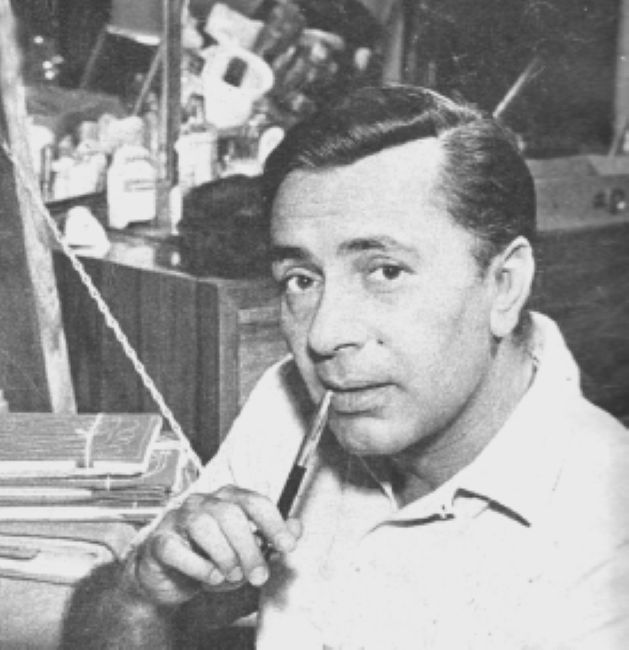 Balraj Sahni (1913-1973) was a famous Indian film actor and writer known for working in films such as Dharti ke Lal (1946), Hum Log (1951), Do Bigha Zamin (1953), Satta Bazaar (1959), Kabuliwala (1961), Neel Kamal (1968), Do Raaste (1969), and Garam Hava (1973). Balraj Sahni passed away at the age of 59 on 13 April 1973 after suffering a heart attack.
Wiki/Biography
Balraj Sahni was born as Yudhishthir Sahni on Thursday, 1 May 1913 (age 59; at the time of his death) in Rawalpindi, Punjab Province, British India (present-day Punjab Province, Pakistan). His zodiac sign is Taurus. In the beginning, he started his schooling from Arya Samaj Gurukul. He later got admitted to D.A.V. after protesting to his father about the poor education in Gurukul. He earned a bachelor's degree in Hindi after which he studied M.A. He studied M.A. in English at the Government College University, Lahore. [1]Scroll.in He is also an alumnus of Government Gordon College, Rawalpindi.
Physical Appearance
Height (approx.): 5′ 10″
Hair Colour: Black
Eye Colour: Black

Family
Balraj Sahni was born in a family of Arya Samaj followers.
Parents & Siblings
Balraj Sahni's father's name is Harbans Lal Sahni. He was an import businessman. Balraj Sahni's mother, Lakshmi Devi, was a homemaker. Balraj Sahni had a brother, Bhisham Sahni, who was a famous writer, playwright, and actor.
Wife & Children
Balraj Sahni married twice. He married his first wife, Damayanti Sahni, in 1936. She was an actress and a social activist. They taught at Tagore's Visva-Bharati University in Shantiniketan, Bengal, for some time before moving to London. After returning from London in 1973, both of them joined the Communist Party of India. As a member of the Communist Party, she would often work with the slum dwellers and eat with them. It was while working in the slums that she contracted amoebic dysentery, a parasitic infection caused by drinking contaminated water. The medicines had adverse effects on her heart and she passed away on 29th April 1947. Bhisham Sahni discussed the impact of Damyanti's death on Balraj, in his biography, Balraj: My Brother, and wrote,
It was a staggering blow for Balraj. Dammo's passing away in the prime of her youth, at the age of twenty-eight, was like the removal of the king-pin from Balraj's life. She had been to him a devoted wife and a very enlightened life-partner. During the last three years they had been pursuing together these activities, in the same ardent and selfless manner, which had not only brought them closer but also made their marital life wholesome and happy."
After the passing away of his first wife, Balraj Sahni married his second cousin, Santosh Chandhok, a writer, in 1949.
Balraj Sahni had 3 kids, Parikshit Sahni, a famous Bollywood actor, and Shabnam Sahni from Damayanti. He became the father of Sanober from Santosh.
Religious Views
Although he was born into a family that strongly followed Arya Samaj, Balraj Sahni was not very much into religion. His son, Parikshit Sahni discussed his views on religion in an interview and said,
He was averse to religion. In his book, Mera Drishitikon, he urged readers to be wary of padres, pundits and mullahs. They are the ones causing wars in the world he wrote."
Signature/Autograph
Career
Early Career
In 1934, after completing the master's degree, Balraj Sahni started working in his father's import business. In 1937, he went to Lahore and ventured into journalism for a short while and published a newspaper called 'Monday Morning. The newspaper business did not work, and he later went to Kolkata with his wife Damyanti. Balraj Sahni started to write short stories when he was in Government College and published them in different publications, including the college journal, 'Ravi'. In Kolkata, he increased the frequency of his writing. His brother Bhisham Sahni wrote about his activities in Kolkata in his book, 'Balraj: My Brother',
He began contributing humorous pieces to a pictorial weekly, called Sachitra Bharat, from which he earned exactly four rupees per article. His interesting children's tale, 'Dhapor Shankh', was written in those days."
The money from writing wasn't enough and the couple then moved to Santiniketan, where Mahatma Gandhi and Rabindranath Tagore lived, and became a Hindi teacher. In 1939, with the blessings of Gandhiji, he left for England and became a Hindi broadcaster for the BBC. He returned to India in 1943 and soon joined the IPTA (Indian People's Theatre Association) and started working in plays. In 1946, he started working in films.
Films
Hindi Films
In 1946, he had a minor role in the film 'Insaaf.' In the same year, he also worked on 'Door Chalen', 'Badnami', and 'Dharti Ke Lal'. Dharti Ke Lal was very well received among critics all over the world due to its intense and realistic portrayal of famine-struck Bengal.
In 1951, he starred in 'Hum Log' as Raj, which received positive reviews from critics. In the same year, he also starred in 'Hulchul' as Jailor. Ironically, he was jailed in real life due to communist activities and was given to come out only for the shooting scenes and would have to return to jail after the shoot.
The breakthrough role of Balraj Sahni's career came in 1953 when he played Shambhu Maheto in 'Do Bigha Zamin'. It was the first film to win the Filmfare Award for Best Film and was also the first Indian film to win Prix Internationale at the Cannes Film Festival in 1954. To prepare for his role, he learned to pull the rickshaw at the Rickshawallas' Union. On the set of the film, he met a rickshaw puller whose story was similar to the protagonist of the film, which helped him to play the role efficiently.
In 1954, Balraj Sahni starred in 'Bazooband' as Surajmal. In the same year, he also starred in another memorable film 'Aulaad'.

In 1955, he starred in 'Tangewali' as Laxman. In the same year, he starred in 'Seema' as Ashok 'Babuji' and 'Garam Coat' as Girdharilal "Girdhari".
In 1957, he starred in 'Pardesi' as Sakharam. It was an Indo-Soviet co-production directed by Indian director Khwaja Ahmad Abbas and Russian director Vasili Pronin. In the same year, he starred in the comedy 'Mai Baap' as Chandan.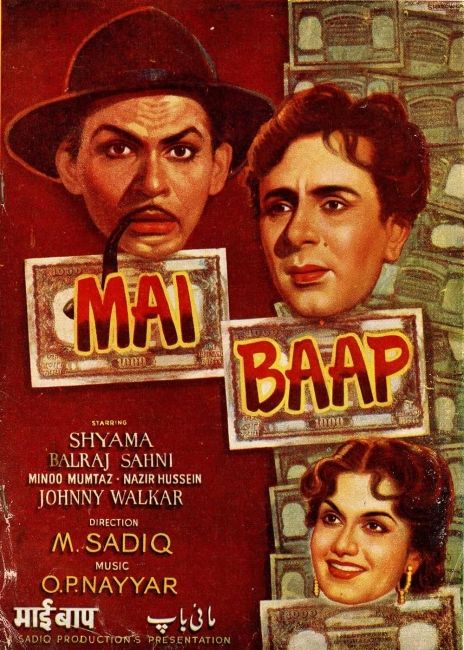 In 1958, he starred along with Nargis in the lead in 'Lajwanti' as Nirmal Kumar. The film won the National Film Award for Best Feature Film in Hindi. In 1958, he starred in 'Ghar Sansar' as Kailash. In 1959, he starred in 'Chand' as Mr. Kapoor. In the same year, he starred in 'Chhoti Bahen' as Rajendra.
In 1960, he starred in 'Dil Bhi Tera Hum Bhi Tere' as Panchu Dada. In the same year, he also starred in two other films, 'Bindya' as Devraj and 'Anuradha' as Dr. Nirmal Chaudhary. In 1961, he starred in 'Bhabhi Ki Chudiyan' as Shyam. He also starred in a critically acclaimed 'Kabuliwala' as Abdul Rehman Khan in the same year.
In 1962, he starred in 'Shaadi' as Ratan and 'Anpadh' as Chaudhary Shambhunath. In 1964, he starred in 'Haqeeqat' as Major Ranjit Singh. In 1965, he had a cameo in 'Dak Ghar' as Andhe Baba/Fakir. In the same year, he starred in a critically acclaimed film 'Waqt' as Lala Kedarnath Prasanta. He has forever immortalised the song 'Ae Meri Zohrajabeen' of the film with his brilliant performance.
In 1968, he played the role of Mr. Raichand in 'Neel Kamal'. In the same year, he starred in 'Sunghursh' as Ganeshi Prasad. In 1969, he starred in the blockbuster film 'Ek Phool Do Mali' as Kailashnath Kaushal and was nominated for the Filmfare Best Supporting Actor Award. In 1970, he starred in 'Ghar Ghar Ki Kahani' as Shankarnath.
In 1973, he starred in 'Garam Hava' as Salim Mirza. The film won the Nargis Dutt Award for Best Feature Film on National Integration along with three Filmfare Awards.
Assamese Film
He has starred in an Assamese film titled 'Era Bator Sur' (1956).
Punjabi Films
He has also starred in two Punjabi language films, 'Satluj De Kandhe' (1964), which won the National Film Award for Best Feature Film in Punjabi language, and a blockbuster hit film 'Nanak Dukhiya Sab Sansar' (1970).
Awards & Honours
In 1945, he won the BFJA Awards For Best Art Direction in the Hindi language for the film 'Shakuntala' (1943).
In 1968, he won the BFJA Awards For Best Actor In a Supporting Role in Hindi language for the film 'Aasra' (1966).
In 1969, he was awarded the Padma Shri.
For his travelogue Mera Rusy Safarnama (1969), he won the Soviet Land Nehru Award.
In 1975, he won the BFJA Awards For Most Outstanding Work Of The Year in Hindi language for the film 'Garam Hava' (1973).
In 2013, the Government of India issued a postal stamp to honour Balraj Sahni on the occasion of 100 Years of Indian Cinema.
Death
Balraj Sahni passed away on 13 April 1973 at the age of 59 due to cardiac arrest, in Mumbai, India. Parikshit Sahni talked about how deeply impacted he was in an interview, due to the death of his daughter Shabnam, who passed away in the previous year and could not recover from the grief. He further said,
My sister Shabnam had a bad marriage. She came back to live with us. She felt unwanted and had a nervous breakdown. Then one day she suffered a brain haemorrhage and died. She was around 26-27, the same age at which my mother had died. She was the carbon copy of my mother. Dad was a broken man and didn't recover from the grief. Shabnam passed away in 1972. Dad passed away in 1973. He felt somewhere responsible for her death."
Facts/Trivia
He was the founder of 'The Juhu Art Theatre', a drama group that comprised his wife Santosh and his friends Nitin Sethi, and Mohan Sharma among other group members.
He was one of the founders of Punjabi Kala Kendra. It was founded in 1973 in Bombay (now Mumbai). [2]

The Tribune Balraj Sahni would often visit Punjab to act in plays conducted by Punjabi Kala Kendra.
He would occasionally smoke cigarettes and drink alcohol.
He was proficient in multiple languages including English, Hindi, Urdu, Punjabi, Bengali, Marathi, and Gujarati.
He wrote two travelogues, Mera Pakistani Safarnama (1960) and Mera Rusy Safarnama (1969).
He began his career as a Hindi short story writer.
He wrote his last play in Punjabi, 'Bapu Ki Kahega' in 1973.
He was once offered the nomination for the Rajya Sabha seat but refused.
In 1951, he wrote the script of 'Baazi' which was directed by Guru Dutt.
He is also the founder of the All India Artists Association.
He wrote short stories throughout his life.
His films often contained social messages.
He would often bring his typewriter to the film sets. Recalling how his father started this practice, Parikshit in an interview said,


He was called at 9 am and asked to put on make-up for a shoot. Till 6 pm, he wasn't called for a single shot. Finally, he was told it was pack-up. Dad was livid. Then on he began carrying his typewriter on the set."
He was encouraged to start writing in Punjabi at Visva-Bharati University, Santiniketan, West Bengal, by Rabindra Nath Tagore.