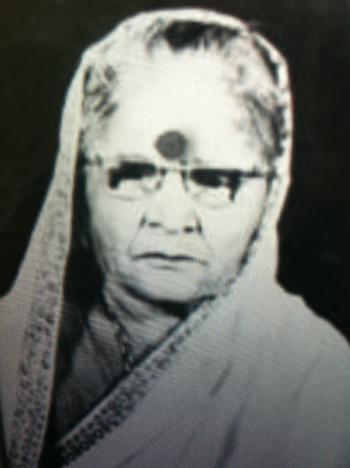 Gangubai Kothewali was one of the most dreaded women of Mumbai's underworld. She used to run many brothels in Mumbai during the 60s. She was popularly known as the 'Madam of Kamathipura' [1]The New Indian Express.
Wiki/Biography & Career
Gangubai Kothiawadi was born in 1939 as Ganga Harjivandas [2]India TV into a prestigious family in Kathiawad, Gujarat. Opposed to the prevailing norms in the society in the 1940s, Ganga's father and brothers were very stern about her education. However, she wanted to become an actress since childhood. Captivated by films and acting, Gangu became obsessed with the desire to visit Mumbai after hearing the talks of big buildings, cars, and movies from her friends who visited the place. While in college, she fell in love with Ramnik Lal, her father's accountant, and ran away with him from her home. Reportedly, they had secretly tied the knot with each other at a small temple in Kathiawad. Ganga then packed some of her clothes, cash, and her mother's jewellery (on Ramnik's insistence) in a small bag. The duo then relocated to Mumbai on a train. They reached Mumbai after two days and stayed in a lodge. At the lodge, Ramnik made love to Ganga for the first time. The couple then travelled across the city for the next few days. After almost a week, Ramnik requested Ganga to stay with his aunt for a few days as the lodge was becoming very expensive. He said, "The lodge is becoming expensive … I am going to search for a small room on rent until then you can stay with my maasi." Ganga agreed to him and soon, her aunt, who introduced herself as Sheela, came to collect her from the lodge. Ramnik's aunt didn't make a good impression on Ganga, however, she went with Sheela at the request of Ramnik who promised to return in a day. After Gangu reached Sheela's place, she came to know about the fact that she was sold into prostitution by her husband for just Rs. 500. [3]India TV The hard life of Mumbai's red-light area turned her into a tough lady. During that era, the infamous don, Karim Lala, used to rule a locality in Mumbai. Kamathipura was also a part of that locality. Once, one of the goons of Karim Lala had raped Gangubai after which she rushed to Karim for justice and had even tied a Rakhi to Karim. Later, Gangubai, who was herself a victim of the prostitution trade, went on to become one of the most dreaded pimps of Kamathipura during the 60s. She piled her trade in Hera Mandi red-light district and owned a brothel in Kamathipura. Many famous underworld mafias and gangsters were her regular clients. Despite being a dreaded lady, she had a soft corner for women who were sold into prostitution. She used to fight for such women and cared for them like a mother. One such incident includes her fight with one of the significant members of a famous gang in Mumbai. She fought for a girl from her brothel who was allegedly raped by a gangster. Gangubai was the undisputed queen of the brothel business in Mumbai. Apparently, she never forced any girl into prostitution, instead, she used to work for improving the conditions of the sex workers and Orphan kids.
Physical Appearance
[4]Mafia Queens of Mumbai Height: 5′ 0″
Family, Caste & Boyfriend
Gangubai Kothwali belonged to a Gujarati Family that shared strong ties with the royal Kathiawadi family. [5]Mafia Queens of Mumbai Her family comprised reputed lawyers and educationists. Not much is known about her parents. At an early age, she flew away from her home with her boyfriend, Ramnik Lal, who first got married to her and ultimately sold her into prostitution. She had adopted four children. One of her son's name is Babu Rawji Shah/Babu Raoji Shah. She also had a granddaughter Bharti who is the daughter of his son Babu Raoji Shah.
Facts
Gangubai was well-known for her efforts to bring about better living conditions in Kamathipura.
She had connections with some of the most dreaded gangsters in Mumbai as most of them were her regular clients.
With the money that Gangu earned from her clients at the brothel, she made herself Gold jewellery. This was her only indulgence, besides watching movies at a nearby cinema hall.
She was the first woman to open franchise brothels in different cities of the country. She even peddled drugs and gave orders for murders.
Gangubai once approached Jawahar Lal Nehru, the then-Prime Minister of India, to discuss the problems faced by the sex workers in her district. Reportedly, Nehru was quite impressed with her leadership qualities and clarity of thoughts.
Apparently, Gangu had thrown a proposal at Nehru when Nehru asked her why she had got into the brothel business when she could have got a good job and a husband.
Although Gangubai lived in the slums of Kamathipura, she was a rich lady. She was the only brothel madam, who owned a black Bentley in those days.
Gangubai was reported to be the guardian of many dons. She would give them shelter and even provided guidance to them whenever needed.
Kothewali believed that if she had offered her body for other people's pleasure, it didn't mean that anybody would get a right to abuse her or downgrade her dignity.
Gangubai's kind heart had won her many admirers. Even today her idols and photo frames adorn many walls in Kamathipura.
Gangubai is also featured in one of the chapters of Hussain Zaidi's book "Mafia Queens Of Mumbai."
In 2019, the Bollywood director, Sanjay Leela Bhansali, decided to make a film titled 'Gangubai Kathiawadi' based on the real-life story of Gangubai. The Bollywood actress, Alia Bhatt, has been offered the role of 'Gangubai' in the film. The film was put on hold in 2020 due to the COVID-19 lockdown in India. It is now set to release on 25 February 2022.
Alia Bhatt was not the first choice for the film, the role was first offered to Priyanka Chopra who could not take up the project due to date clashes with her another film. It was then offered to Rani Mukerji who declined the offer.
In April 2021, a criminal case was registered against actress Alia Bhatt, director Sanjay Leela Bhansali, and writer Hussain Zaidi by Gangubai's adopted son, Babuji Rawji Shah. [6]

The Indian Express In a conference, Gangubai's family lawyer, Narendra Dubey, said,


The way Gangubai was portrayed is completely wrong and baseless. It is vulgar. You are representing a social activist as a prostitute. Which family would like it? You have made her [Gangubai] a vamp and lady don."

He further said that the case was pending in the court and the court had asked Shah to produce the proof that he was indeed Gangubai's son. He further said,

Although we have proved it in court, there is no hearing in this matter now."

In the end, he said,

They have been asking the family if Gangubai was really a prostitute and not a social worker as they had said. The family's mental state is not good. No one is able to live in peace."
During an interview, Shah expressed his displeasure with the film and said,


My mother has been turned into a prostitute. People are now saying inexplicable things about my mother."