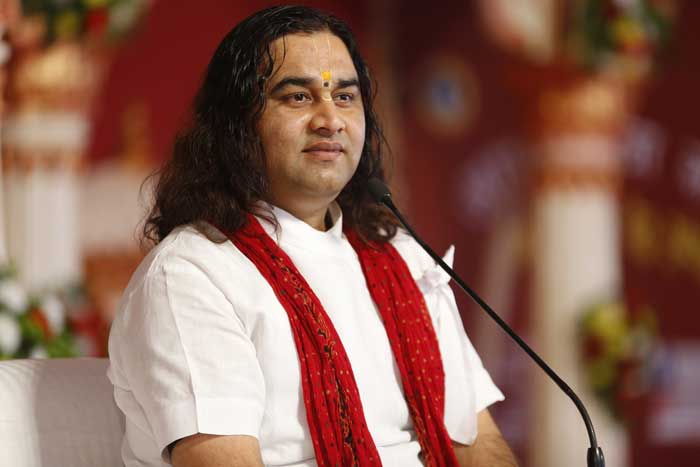 Devkinandan Thakur is a narrator and a spiritual guru. His preachings sanctify the soul of the human heart. Thousands of people are enchanted by his narrating spell. He is a great orator of the Bhagavad Gita. Devkinandan Thakur is renowned for his hypnotizing power of music and preachings throughout the world. Check out Devkinandan Thakur, age, wife, children, parents, siblings, net worth & some lesser known facts about him.
Biography/Wiki
Devkinandan was born in a Brahman family on 12 November 1978 in Ohawa village of Mathura, Uttar Pradesh. Since childhood, he was inclined towards spirituality and took a keen interest in it. At the age of 6, Devkinandan left his home and went to Vrindavan. There, he studied Sastras, Vedas, and the Bhagavad Gita. He used to participate in plays in Vrindavan. He met his spiritual guru Purushottam Sharan Shastri in Vrindavan.
Family
His father Rajveer Sharma and his mother are very religious.
He is married to Andmata.
Devkinandan is blessed with a son, Devansh.
Career
Since 2001, he has been active in preaching the Bhagavad Gita and Rama Katha. For the propagation of Dharma, he travels throughout the country as well as abroad. He founded the Vishwa Shanti Sewa Charitable Trust to spread peace in the World. His works have been praised by the Prime Minister Narendra Modi, Mathura M.P. Hema Malini, and UP Chief Minister Yogi Adityanath. He was given the U.P. Ratna Award by Uttar Pradesh Government for his charitable works.
Controversies
Once in a 'pravachan sabha,' a young girl asked some questions regarding offerings in Hindu religion and girl addressed him 'Yaar' unknowingly. Because of this, he got angry and rebuked the girl in the middle of the conversation. This video went viral on social media.
He got into another controversy when he opposed the SC/ST act in 2018. He was arrested and held in prison for disrupting peace in society.
Facts
He used to perform as Rama and Krishna in stage plays, so his parents nicknamed him Thakurji.
According to his parents, when he was a child, he would not take food until he memorized the religious verses.
At the age of 18, Devkinandan started propagating the Bhagavad Gita.