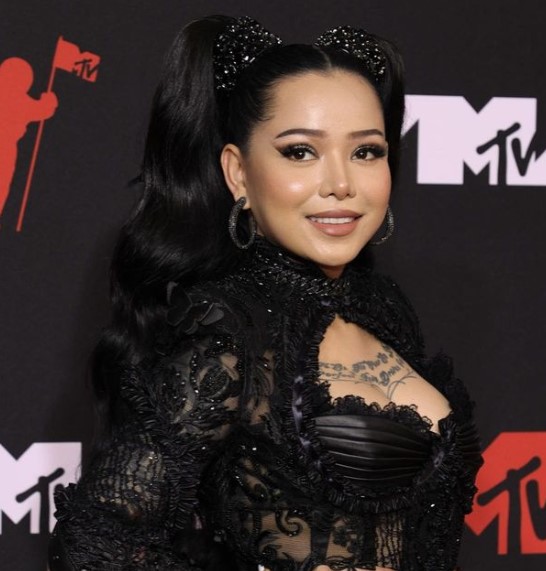 Bella Poarch is a famous Philippine-born American social media personality and musician. Bella also served in the United States Military on E-4 rank from 2017 to 2020. On TikTok, she is well-liked and has a large number of followers, ranking third after Khaby Lame and Charli D'Amelio.
Wiki/Biography
Denarie Bautista Taylor was born on Saturday, 8 February 1997 (age 26 Years; as of 2023) in Pangasinan, Philippines. [1]Pop Buzz Her zodiac sign is Aquarius. Her birth name is unknown as she was adopted. Bella Poarch's biological parents were both from the Philippines. Until she was three years old, she lived with her grandmother in the poor neighbourhoods of the Philippines. Then, at the age of four, she was adopted by a Filipino woman, whose husband was an American soldier in the US military. Bella's adoptive parents met each other in Saudi Arabia, where her adoptive father was stationed before they moved to the Philippines.
In an interview with a media house, Bella Poarch once said that she and her adopted brother went through very tough times when they were kids until she joined the military in 2015. She used to live on a farm in the US with her adoptive parents, a brother, two older adopted sisters, and other family members. When Bella Poarch was seven years old, she had to take care of the farm. She recalled how her adoptive sisters were treated differently from her. Poarch said her adoptive father was sometimes harsh with his words and actions. When she turned 13, her family moved to Texas because her father needed bypass surgery. During that time, they lived with her aunt in San Francisco for a few months. Her two elder sisters remained in the Philippines. [2]Vogue
Physical Appearance
Height (approx.): 5′ 2″
Weight (approx.): 50 kg
Hair Colour: Black
Eye Colour: Black
Figure Measurements (approx.): 28-24-35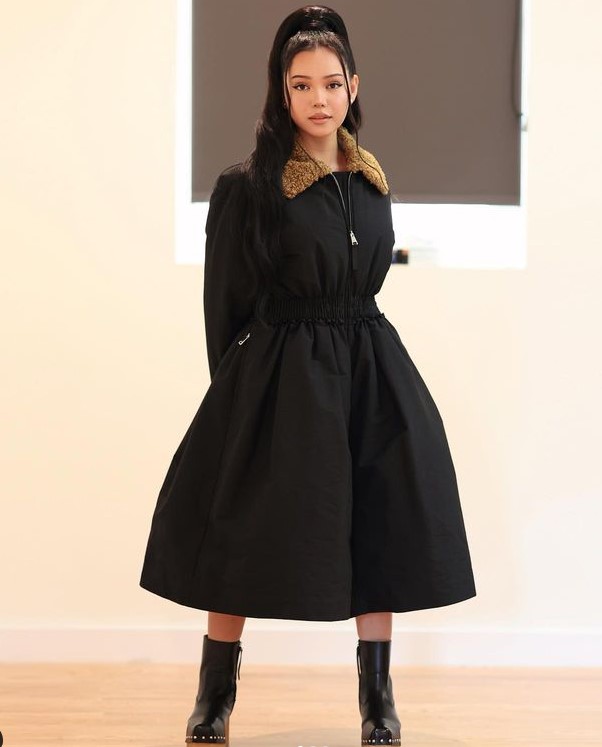 Family
Parents & Siblings
Not much is known about her parents. She has two elder sisters and a brother. [3]Vogue Bretman Rock, a well-known YouTuber, and Bella Poarch are cousins from the Philippines. In June 2021, they collaborated on a YouTube video, where they showed how to tie-dye clothes. Later that year, Bretman publicly talked about their relationship in the media. He said,
We met when we were kids. We're actually cousins, you guys. We met all the way back in Pangasinan where she's from. She's Ilocano as well."
Husband
Bella Poarch supposedly got married to Tyler Poarch in January 2019.
In November 2022, Bella Poarch, who had been married for almost four years, decided to get a divorce. It is said that she kept her relationship hidden on social media while she became famous on TikTok. In the divorce papers, she mentioned "irreconcilable differences" as the reason for their separation. [4]CNN Philippines Bella filed for divorce from Tyler using her maiden name. The public was surprised to find out that her real last name is not Poarch but instead the same as her spouse. Her real name is Denarie Bautista Taylor, which was revealed in the divorce petition. This revelation about her real name shocked her fans. Bella's fans started to think if she had a secret relationship with a rapper 'Tyga' outside her marriage when they found out about her secret marriage that she was ending. [5]Pinkvilla
Relationships/Affairs
Bella Poarch was in a relationship with Tyler Poarch before getting married to him in 2019.
In September 2021, many TikTok users believed that Bella was dating rapper Tyga because they were seen together in several TikTok videos. A popular media house reported that they were dancing to Tyga's music in a Los Angeles home. There were also rumours that an intimate video of the two was posted online, but it was not actually viewed by anyone. Despite the persistent dating rumours, Bella clarified that all the assumptions were false. She said that she only considers herself Tyga's friend and nothing more.
Autograph
Career
US Military
In 2015, Bella Poarch's name was enlisted in the US military. According to her, she joined the military because she wanted to be free and independent. Soon after her joining, she was deployed to Japan, and it was there that she grew a strong interest in Japanese culture.
Social Media Influencer
Bella Poarch made her TikTok account in January 2020 and began sharing videos in April 2020. On 17 August 2020, Bella Poarch shared a TikTok video where she lip-synced to the song "M to the B" by British rapper Millie B. Shortly after posting it, the video became the most-liked TikTok video, receiving around 34 million likes.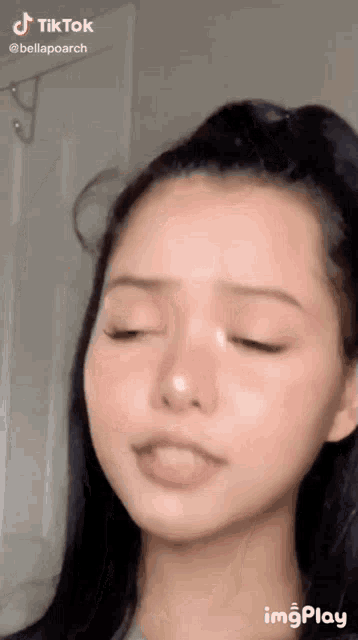 In 2022, Forbes reported that she was listed as one of the highest-earning creators in 2022. They also stated that Bella earned around $5 million in 2022, and she ranked #4 on the Highest-Paid TikTok Stars (2022) list and #29 on the Top Creators (2022) list.
Singer
In May 2021, Bella Poarch released her very first music album called "Build a Bitch." The music video featured some famous internet celebrities like Valkyrae, Mia Khalifa, Bretman Rock, and ZHC. During that same month, Bella signed a music contract with Warner Records.
In September 2021, Bella Poarch and rapper Tyga teamed up to create TikTok videos together. They were seen pretending to sing along to some of Tyga's popular songs in the videos, and they filmed them at his mansion.
In 2022, Bella Poarch made a music video called 'Inferno,' where she shared her experience of facing sexual assault during her childhood. In the video, it shows Bella being drugged and taken to an elevator, but then something magical happens, and she gains special powers to fight back against her attackers. After she uploaded the video on YouTube, she wrote a message along with it. Bella Poarch said,
As a victim of sexual assault, this song and video mean a lot to me. It's very hard for me to talk about. I decided to express myself by creating a song and video with Sub Urban based on how I wished my experience went. It's a fantasy I wish was true."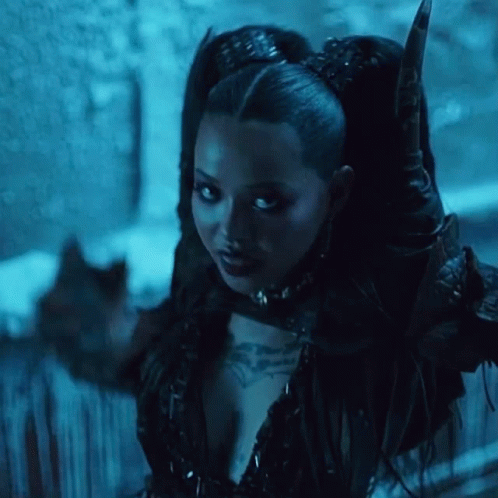 On 12 August 2022, Bella Poarch released her first extended play (EP) called 'Dolls.' The EP included her previous singles, "Build a Bitch," "Inferno," and "Dolls," along with new songs like "Villain," "No Man's Land," and "Living Hell." She also launched a music video for "Living Hell." Grimes, a famous Canadian musician, appeared in Bella's music videos for "No Man's Land" and "Dolls." Later, the American magazine Rolling Stone praised the EP's pop dark and pop music. Additionally, Bella's song "Villain" was used in WWE's Extreme Rules premium live event in 2022.
Entrepreneur
In 2020, Bella Poarch started her own apparel brand called RIPNDIP x Paca Collaboration. Her popularity grew a lot in December 2020, and two big Esports organizations, 100 Thieves and FaZe Clan showed interest in having her as a content creator for their brands. During that time, Bella Poarch was known for live streaming and playing video games.
Controversies
Controversial Rising Sun Flag Tattoo
In September 2020, lots of people on social media in Korea criticized Bella Poarch because she had a tattoo on her left arm that looked like the Rising Sun Flag. This tattoo resembled a symbol from Japan's colonial past, which East Asians found offensive. In 2020, Bella Poarch said sorry for having this controversial tattoo on one of her social media accounts. Afterwards, she covered it up and eventually got it removed. Bella Poarch tweeted,
At that time, I didn't know the history. But when I found out, I immediately had it covered and scheduled for removal. I am ashamed of myself for not doing my research. I sincerely apologise."
Awards, Honours, Achievements
US Military
National Defense Service Medal
Enlisted Aviation Warfare Specialist insignia
Music
2021: Bella Poarch won the Social Star award and Breakout Creator of the Year during Streamy Awards
2023: She won the Favorite Social Music Star award during Nickelodeon Kids Choice Awards
Car Collection
Bella Poarch owns a Tesla Model X.
She has a Land Rover Discovery.
Tattoos
Bella Poarch got a big ship tattooed on her back, featuring feathered wings.
 Bella Poarch inked a tattoo on her thigh.
Bella Poarch tattooed flowers and coconut trees on her lower arms.
 Bella Poarch inked feathers on the sides of her both arms.
Bella Poarch inked a tattoo on her chest. The tattoo means "There is no fear in love, but perfect love drives out fear"
Bella Poarch has inked butterflies tattoo on the back of her thighs.
Bella Poarch has a tattoo on her right thigh and front arm.
Bella Poarch has inked a tattoo on her left butt and side abdomen.
Bella Poarch got a tattoo on her cleavage.
Favourites
Food: Miso Soup, Sushi, Pickle juice, Coconut Cake
Singing Voice Synthesizer: Hatsune Miku
Facts/Trivia
Bella Poarch mostly dances and pretends to sing along to popular songs in her videos. She often wears clothing inspired by anime characters. What sets her apart on social media is that she supports equality for Asian Americans and uses animated facial expressions to express herself.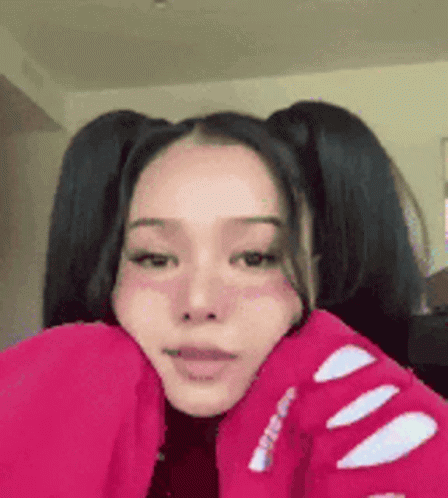 In her leisure time, she likes travelling, playing musical instruments, and dancing.
In May 2021, Bella Poarch was a guest on a show called "The CouRage and Nadeshot Show" on the 100 Thieves podcast channel. During the conversation on the show, Poarch shared that her song 'Build a Bitch' was inspired by her own experience of being bullied when she was younger. She also talked about her dream of becoming a singer.
In May 2021, when there was an increase in hate crimes against Asian Americans, Bella Poarch used her social media to show her support for them. She also spoke to Vogue magazine about her own experiences. Bella shared that she could relate to the situation because when she was a child, she moved from the Philippines to the United States, and she had been treated differently and faced random attacks and assaults because of her Asian background. [8]

Vogue
According to Bella, she finds inspiration in Japanese culture. In 2021, during an interview with a media outlet, she mentioned that she spent some years serving in Japan with the US Navy. It was during this time that she fell in love with Japanese culture, especially fashion and art. She is a big fan of 'Hatsune Miku,' a Japanese voice synthesizer known as a Vocaloid, and she really admires and follows it.
Bella Poarch has also participated in fashion shows, where she walked on the ramps during various events.
Apart from being a social media entertainer, Bella Poarch is also talented in singing, songwriting, and playing the ukulele. In one of her Instagram posts, she talked about how singing has always been a way for her to cope with anxiety and depression. Bella Poarch captioned the post,


Singing has always helped me get through anxiety, depression & ptsd. I stopped singing for a really long time because of something that happened to me a few years ago. Thank you guys for helping me gain my confidence and share my happiness."
Bella Poarch loves animals and is a kind-hearted animal lover. She has pet dogs and a cat. Her cat is named Pee Pee, and her dog's name is Poo Poo. She enjoys posting pictures of her adorable pets on social media.
Once, during a media interview, Bella Poarch shared some interesting facts about herself. She mentioned that despite being a Navy officer for four years, she didn't know how to swim. At the age of sixteen, she worked as a cashier at a supermarket in the US. Bella also revealed that she never learned how to ride a bike, and she had a love for eating pickles. [9]

Seventeen
Many renowned Indian magazines and tabloids have highlighted Bella Poarch on their cover page as a celebrity singer.