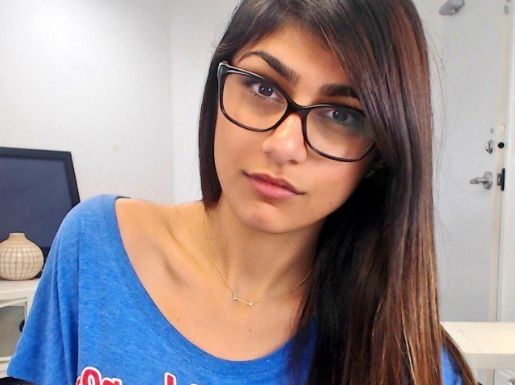 Mia Khalifa is an American Social media personality and a former pornographic actress. Born in Beirut, she immigrated to the United States in 2001. Starting her career in pornography in 2014, Khalifa became no. 1 performer on the website, Pornhub. However, later, she abandoned the adult film industry for other pursuits.
Biography/Wiki
Mia Khalifa was born on February 10, 1993 (Age: 26 years, as in 2019) in Beirut, Lebanon. In her childhood, she went to a private French School in Beirut where she studied speaking French and English. In 2001, in the wake of the South Lebanon conflict, her family immigrated to the United States. She was brought up as Catholic but, now, she is not religious anymore. When she shifted to America, she lived in Montgomery County, Maryland. In High School, she used to play Lacrosse.
During her High School, she was bullied for being a dark and ugly girl. After High School, Khalifa attended Massanutten Military Academy in Virginia and later moved to Texas to be enrolled at College. She received a Bachelor of Arts degree in History from the University of Texas at El Paso.
Physical Appearance
She is 157 cm or 5 feet 2 inch tall and weighs in about 55 kg or 121 lbs. Her eye color is Black and hair color is Dark Brown.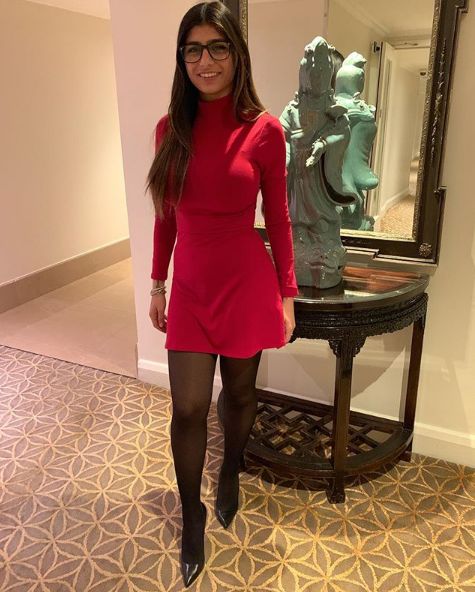 Family
Her family members' name is not known. She married her high school boyfriend in February 2011 and the couple lived in Florida before being divorced in 2016. [1]CNN
Career
When she was in college, she used to work as a bartender and sometimes she worked as a model. She also appeared as a briefcase girl on a Spanish language TV game show. After her graduation, she moved to Miami for nude modeling.
In October 2014, she entered pornographic industry. She received the wide-spread attention when she appeared in a BangBros scene for wearing Hijab in a threesome porn movie. With that scene, she received a good amount of popularity; around 1.5 million views and became the most-searched adult performer on the Pornhub website. On December 28, Pornhub revealed that she was the number one performer of the year on their website. In 2015, she signed a contract with BangBros's parent company to perform in multiple films each month, however, just two weeks later, she changed her mind and quit. The negative popularity prompted her to leave. "It was an eye-opener for me. I don't want any of this, whether it's positive or negative – but all of it was negative. I didn't think too much into it about how my friends and family and relationships were suffering." She said. In 2016, she started performing as a Webcam model and Sports Commentator.
After leaving the adult industry, she worked as a paralegal and bookkeeper in Miami, Florida, however, later, she shifted back to Texas. She also runs a YouTube Channel.
Controversies
When she wore hijab in a porn video, it caused an uproar in Muslim World, especially in the Middle-East. She received criticism from writers and religious figures. Khalifa received online death threats also. The Islamic State of Iraq and Levant prepared to behead her. She received a message on that it was written that she would go to hell whereupon she replied: "I've been meaning to get a little tan recently." In an interview with the Washington Post, Khalifa disclosed that the controversial scene was satirical.
Due to her decision of being a porn actor, her family stopped speaking to her. They distanced themselves from her citing her image did not honor her family or her native country.
In October 2023, Mia was fired by Playboy magazine due to her posts in support of Palestine amid the Israel–Hamas war. Due to her comments on the war, Mia lost a podcast deal with Canadian broadcaster and radio host Todd Shapiro as well. [2]

The Financial Express

Mia, however, later addressed the matter through a post on X and clarified that she did not mean to spread violence.
I just wanna make sure there's 4k footage of my people breaking down the walls of the open air prison they've been forced out of their homes and into so we have good options for the history books that write about how how they freed themselves from apartheid. Please worry about… https://t.co/sgx8kzAHnL

— Mia K. (@miakhalifa) October 8, 2023
Favourite Things
Favourite Sport(s): American Football and Lacrosse
Favourite Football Team: Florida State Seminoles Football
Favourite Football Player: Braxton Miller
Favourite Ice Hockey Player: André Burakovsky
Net Worth
As in 2018, Khalifa's net worth is around $4 million. [3]Dailymail
Facts
She likes smoking and drinking.
Before getting into the adult industry, Khalifa worked at a burger restaurant 'Whataburger.'
In January 2015, Timeflies (a pop band) released a song titled "Mia Khalifa" in a respect to her.
In July 2016, a British magazine, Loaded, ranked her at no. 5 among "The world's 10 most notorious porn stars" due to her hijab related controversy.
In November 2016, an online petition demanded Khalifa to be appointed by the President Donald Trump as the next United States Ambassador to Saudi Arabia.
In January 2017, another porn website, xHamster reported that Khalifa was the most searched adult actress of 2016 on their website.
In 2018, she was announced to co-host SportsBall alongside Tyler Coe.
Right after ending her pornographic career, Khalifa had 2.3 million followers on Twitter and over 11 million followers on Instagram. She requested her followers to support the professional sports teams from the Washington, D.C. area, including the Washington Wizards, Washington Redskins, and the National Hockey League's Washington Capitals.
She has a tattoo on her right hand on which an opening line of the Lebanese National Anthem is written and on the left hand, she bears the Lebanese Forces Cross.
During the 2018 Stanley Cup playoffs, Khalifa was struck in the left breast by a wandering puck and ruptured her breast implant.