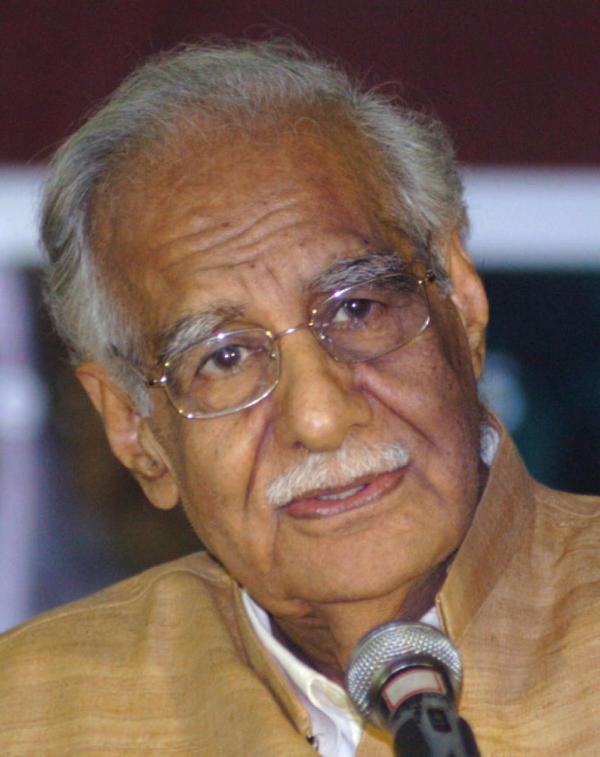 Kuldip Nayar was an eminent Indian Journalist, Diplomat, Columnist, and an Author whose contribution towards India will be remembered and cherished by all Indians. He started his career as a press reporter to being a powerful and bold journalist, Kuldip had taken the responsibilities in various different capabilities like that of being a press information officer to former Prime Minister Lal Bahadur Shashtri and Congress leader and Union Home Minister Govind Ballabh Pant, a writer, a High Commissioner to Great Britain, etc. He had played an important role in media during the 1975 emergency and was even put behind the bars for his active media coverage on the emergency. Here are some interesting facts about Kuldip Nayar that you must know.
Biography/Wiki
Kuldip Nayar was born on 14 August 1923 in Sialkot, Punjab, British India (now, in Punjab, Pakistan). After the partition of India and Pakistan, he moved to India on 14 August 1947. He worked as a reporter for an Urdu press, an editor of an English newspaper, and was selected as a High Commissioner to Great Britain. He was also nominated as Rajya Sabha member in the Indian Parliament, are some of his jobs, among others. Kuldip Nayar was also a peace activist and a human right activist. On 23 August 2018, India lost and mourned the death of Kuldip Nayar.
Health Issues/Death
He was suffering from Pneumonia (An infection that inflames air sacs in one or both the lungs, which may fill it with fluid) and passed away on 23 August 2018 after celebrating his 95th birthday earlier that month. Prime Minister Narendra Modi and President Ram Nath Kovind expressed their condolences and tweeted over his death.
Kuldip Nayar was an intellectual giant of our times. Frank and fearless in his views, his work spanned across many decades. His strong stand against the Emergency, public service and commitment to a better India will always be remembered. Saddened by his demise. My condolences.

— Narendra Modi (@narendramodi) August 23, 2018
Family
On 14 August 2018, he was born to father, Gurbaksh Singh Nayar, and mother, Pooran Devi Nayar in Sialkot, Punjab, British India (now in Punjab, Pakistan). He was married to Bharti Sachar and the couple was blessed with two sons,  Rajiv Nayar who is a Senior Advocate of Supreme Court and Sudhir Nayar.
After India got divided into two nations, i.e. India and Pakistan in the year 1947, Kuldip's family left Pakistan to get settled in India.
Education & Career
Kuldip completed his graduation in B.A. (Hons.) from the Forman Christian College, Lahore and then pursued  LL.B. from the Law College, Lahore.  In 1952, he took admission in the Medill School of Journalism, Northwestern University on scholarship basis and completed his degree in journalism. He began his career as a press reporter working with an Urdu Press and went on to become an editor of an English newspaper, 'The Statesman.' During the emergency of 1975, declared by the former late Prime Minister Indira Gandhi, he was among the few journalists who were detained.
In the year 1990, he was selected as High Commissioner to Great Britain. Being a peace activist and a human right activist, he later became a part of India's delegation to the United Nations. In August 1997, he was nominated as Rajya Sabha member in the Indian Parliament. He also worked as press information officer to the former Prime Minister Lal Bahadur Shashtri and veteran Congress leader and the Union Home Minister, Govind Ballabh Pant.
Awards & Honour
In 1999, he was awarded the Alumni Merit Award by the Northwestern University.
He was conferred with the Astor Award for Press Freedom in 2003.
In 2007, he was awarded the Shaheed Niyogi Memorial Award for Lifetime Achievement in Journalism.
He was honoured with the Ramnath Goenka Memorial Award For Lifetime Achievement in Journalism in 2015.
An award by his name 'Kuldip Nayar Journalism Award' was set up with a motive to honour people who are serving in vernacular media or have played an outstanding role in the world of Journalism. Ravish Kumar from NDTV became the first journalist recipient of this award on March 19, 2017.
Facts
He was a huge admirer of India's first Prime Minister Jawaharlal Nehru.
Kuldip loved eating mangoes.
He used to read books, articles, biographies and also loved writing in his leisure time.
He wrote 15 books in his career including Between the Lines, India after Nehru, Beyond the Lines, The Judgement, India- Pakistan Relationship, Distant Neighbours: A Tale of the Subcontinent, Scoop, Wall at Wagah, India House, and The Martyr.
He wrote op-eds (opinion editorials) and columns for almost 80 newspapers in 14 different languages such as Deccan Herald (Bengaluru), The News, The Daily Star, The Statesman, Dawn (Pakistan), The Sunday Guardian, PrabhaSakshi, The Express Tribune (Pakistan), etc.
He was a close acquaintance of the late Prime Minister Atal Bihari Vajpayee. Though they shared a good relationship with each other yet Kuldip was critical of Atal Ji as a politician.