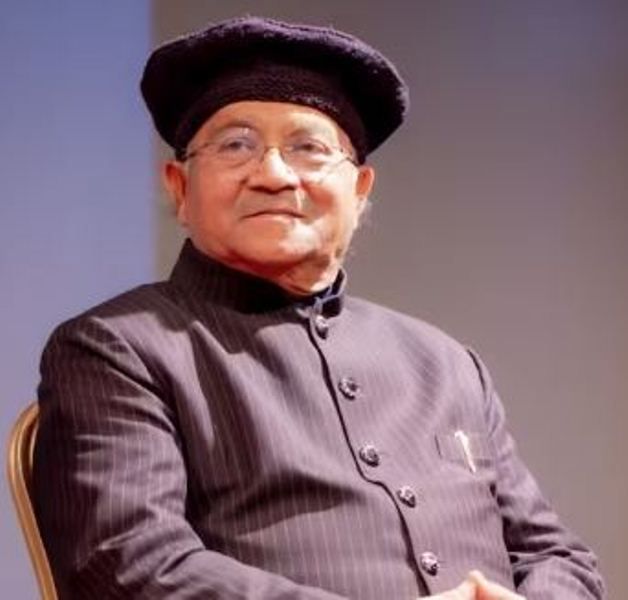 Ved Pratap Vaidik (1944-2023) was an Indian journalist, orator, political analyst, and freelance columnist. He is known for creating history by bestowing the right to all Indian languages to be the medium of expression at the highest academic level. He was the chairman of Bharatiya Bhasha Sammelan, an organisation made to protect the rights of Indian languages. He is best known for his meeting with the terror mastermind Hafiz Saeed in 2014. On 14 March 2023, he died following a heart attack at the age of 78. 
Wiki/Biography
Ved Pratap Vaidik (also known as Dr Vaidik) was born on Saturday, 30 December 1944 (age 78 years; at the time of death) in Indore, Madhya Pradesh. He pursued BA in Political Science, Philosophy, Sanskrit, Hindi, and English at Vikram University, Ujjain in 1963. He completed his master's degree in Political Science at Indore Christian College, Indore University in 1965. He learnt the Russian language in 1967 and the French language in 1968 at the School of International Studies, JNU. He completed his PhD in International Affairs at the Jawaharlal Nehru University in 1971. During his research work on Afghan Foreign Policy for his PhD thesis, Vaidik studied at Columbia University in New York, the School of Oriental and African Studies, the University of London, and the Institute of the Peoples of Asia in Moscow. He also went to Afghanistan for extensive fieldwork for his research.
Scholarships and Fellowships 
Dr Vaidik has earned many scholarships and fellowships. From 1963-1964, he got the National Merit Scholarship. He also earned University Grants Commission Fellowship (1964-1966). He was a Senior Research Fellow at the Indian Council of Social Science Research for two years (1981-1983). He did his research work as a senior fellow at the Institute for Defense Studies and Analyses and the School of International Studies (JNU).
Physical Appearance
Height (approx.): 5′ 8″
Hair Colour: Half bald
Eye Colour: Black
Family
He belonged to an Arya Samaj family in Indore. [1]Business Standard
Parents & Siblings
There is not much information about his parents and siblings.
Wife & Children
He was married to Dr Vedavati Vaidik, who died in April 2019. She was a retired professor from the South Campus of the University of Delhi.
He is survived by a son named Suparna Vaidik and a daughter named Aparna Vaidik.
Career
Journalist
Ved Pratap Vaidik started his career in Journalism as a proofreader in 1958. He worked as an editor (views) at the 'Navbharat Times' of the Times Group for 12 years. He was the first co-editor of the 'Navbharat Times' and later became editor of the Thought Department. He was the founder of the Press Trust of India's Hindi news agency 'Bhasha' and worked there as an editor for more than a decade. He worked as an Editorial Director at 'netjall.com,' a multilingual portal. He wrote columns independently for various news portals such as Prabhasakshi. In a career span of more than four decades in the field of Journalism, he wrote more than 1000 articles, 2000 editorials, 50 research papers, and hundreds of reviews for various newspapers and magazines including 'Nai Duniya,' 'Dharmyug,' 'The Times of India,' 'Weekly Hindustan,' 'Strategic Analysis,' and 'World Focus.'
Teacher
Dr Vaidik was a visiting professor of International Politics and Journalism at many Indian and foreign universities. He taught Political Science at Hastinapur College (now Motilal Nehru College), Delhi University for four years (1970-1974).
Orator
Ved Pratap Vaidik used to participate in speech competitions in his school and college days. He started addressing public gatherings when he was a teenager. Many Indian and foreign institutions and universities invited him to deliver special lectures. He represented India in international seminars several times. In 1962, he worked at All India Radio and Doordarshan, where recorded more than a hundred programs. Dr Vaidik has also interviewed at various foreign news channels such as BBC, Voice of America, and many European and Asian radio and TV stations. In 1999, he delivered three lectures as a member of the Indian Delegation to the United Nations. In the same year, he addressed the South Asian World Conference, which was organized by Wisconsin University.

Satyagraha for Hindi
Dr Vaidik had an ardent love for the Hindi language. He started a literary movement 'Satyagraha for Hindi' and went to jail in 1957 for the first time, at the early age of 13. His PhD thesis titled 'A Comparative Study of Afghanistan's Relations with the US and the Soviet Union' was rejected by JNU because he wrote it in the Hindi language and was also expelled from the university for the same. After his expulsion from the university, he took the matter to the Indian Parliament, and many famous political leaders like Dr Rammanohar Lohia, Madhu Limaye, Acharya Kriplani, Hiren Mukherjee, Prakashveer Shastri, Atal Bihari Vajpayee, Chandrashekhar, Hem Barua supported him and kept the uproar in the Parliament for two years (1966-1967). After which Mrs Indira Gandhi, Dr Zakir Hussain, Dr Sampurnanand, Pandit Deendayal Upadhyay, Dr Trigun Sen, Ramdhari Singh Dinkar, Dr Harivansh Rai Bachchan also cooperated and along with Hindi, all other Indian languages also got recognition for the first time to become the medium of PhD thesis. 
Meeting with Hafiz Saeed
In 2014, Dr Vaidik went to Pakistan with a group of journalists, foreign policy experts, and politicians to attend a Track-II conference on the Indo-Pakistani relationship organized by the Regional Peace Institute. During his tour in Pakistan, he met the terror mastermind Hafiz Saeed on July 2 after which Congress Party leaders (which was an opposition party at that time) questioned his meeting with the terrorist and asked for his arrest. The opposition parties raised the issue of Dr Vaidik's meeting with Hafiz Saeed in Parliament, claiming the meeting could not be possible without the permission of government authorities; however, the government denied the claims. [2]Hindustan Times The then Vice-President of Congress Rahul Gandhi asserted that Dr Vaidik was an RSS member; however, Gandhi's claims were later denied by former RSS spokesperson Ram Madhav. He was also called the envoy of Prime Minister Narendra Modi by opposition parties. He replied to it in an interview and said,
I have never been a special envoy for any PM; I am my own envoy. I have been meeting presidents and PMs of many countries and rebel forces. I wasn't envoy of any PM."
He caught himself in another controversy after he made a statement at the Ajmer Literature Festival that he would "spit on all 545 MPs" if they supported the parliamentarians who wanted to declare him a "traitor and anti-national" on his meeting with Hafiz Saeed. [3]Hindustan Times He believed a Journalist should meet all kinds of people.
Books
Ved Pratap Vaidik wrote many books on International Politics and Journalism some of which include 'Indian Foreign Policy: New Pointers' (1971), 'Afghanistan: Kal, Aaj Aur Kal' (2002), 'Mahshakti Bharat' (2005), 'Ethnic Crisis in Sri Lanka: India's Options' (1986), and 'Modi ki Videshniti' (2017). His book 'Soviet-American Rivalry in Afghanistan' (National Publishing House, 1973), which was his PhD thesis, was the first book on International Politics that was written in the Hindi language. His book 'Hindi Journalism: Various Dimensions' (1976) is called 'The Encyclopedia of Hindi Journalism' by critics. He also wrote many books on the Indian languages some of which include 'Bhartiya Bhashayen Lao: Kyon Aur Kaise,' 'Hindi ka Sampurna Samachar Patra Kaisa ho ?' (1994), and 'Angrezi Hatao: Kyon Aur Kaise?' (1973). He wrote a short booklet titled 'English in Abroad' in which he asserted that any self-respecting and developed nation should not be enforced to work in the English language; rather, should have the freedom to work in its mother tongue.
Controversy
Controversial remarks on the separation of Kashmir
Dr Vaidik was heavily slammed by the media and politicians from different allegiance after he made a controversial statement about Kashmir in an interview during his visit to Pakistan to attend the Track-II conference on Indo-Pakistani relationships organized by the Regional Peace Institute in 2014. Reportedly, Dr Vaidik said it was fine to make Kashmir a separate nation. However, he later said in an interview that he was talking about the freedom of Kashmir and not the separation. He said,
I have always been in favour of azadi (freedom) for the people Kashmir..Azadi yes and separation no. Kashmiri people should get the azadi same as the people of Delhi." [4]Deccan Chronicle
Awards, Honours, Achievements
In 1972, Kabul University awarded him Rs 10,000 for writing a thesis on

Afghanistan.
In 1976, Ved Pratap Vaidik was awarded the

Govindvallabh Pant Award for the book 'A Comparative Study of Afghanistan's Relations with the US and the Soviet Union' by the Government of Uttar Pradesh.
He was presented with the Purushottam Das Tandon

gold medal in 1988 by Uttar Pradesh Hindi Sahitya Sammelan for promoting the Hindi language

.
In 1989, he was honoured with the

title 'Best Kala Acharya' for Journalism by Madhuvan (Bhopal) award

. 
He was honoured with an amount of twenty-one

 thousand rupees

by the Hindi Academy, Delhi for Journalism in 1990.
In 1990, he was honoured with the Dr Ram Manohar Lohia Award.
In 1992, he was awarded the 'Lala Lajpat Rai Award' by the Indian Cultural Society.
Dr Vaidik was presented with the '

Ramdhari Singh Dinkar Shikhar Samman' conferred by the then Prime Minister P. V. Narasimha Rao in 1992. 
He was honoured with the Vishwa Hindi

Sammelan

Samman in 2003.
He was presented with the 'Anuvrat Writer Award' in 2021.
In 2022, he was presented with Newsmakers Achievers Award.
During his school and college days, he received the 'Special Merit Certificate' several times for getting the highest marks in Political Science, Philosophy, and Hindi.
Death
Ved Pratap Vaidik died on 14 March 2023 following a heart attack. Reportedly, he fainted in his bathroom at his residence in Gurugram after which he was taken to the hospital, where he was declared dead.
Facts/Trivia
He was well-versed in various foreign and Indian languages including Russian, Persian, German, and Sanskrit.
Dr Vaidik was a travelled scholar-journalist and has visited more than 80 countries.
In 1999, Ved Pratap Vaidik became a member of the Indian Delegation to the UN.
Dr Vaidik served as a member of several Advisory Committees of the Government of India.
He was the head of the Bharatiya Bhasha Sammelan, an organisation that campaigned against the compulsion of teaching the English language in academic institutions.