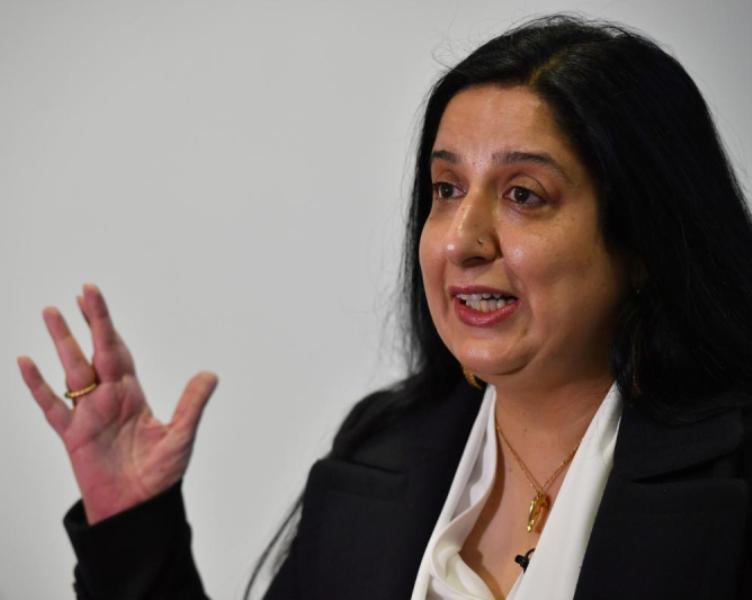 Swati Chaturvedi is an award-winning Indian journalist, who specifically works as a print and broadcast journalist. She extensively contributes investigative stories and analyses to several Indian news channels and newspapers. As a political commentator, she appears regularly on Indian television.
Wiki/Biography
Swati Chaturvedi was born on 7th January in Gorakhpur, Uttar Pradesh. Her zodiac sign is Aquarius.
Physical Appearance
Hair Colour: Black
Eye Colour: Black
Family
Her father is a retired IAS officer.
Career
Swati Chaturvedi is a freelance self-proclaimed Indian journalist who regularly contributes to various newspapers and news channels including The Statesman, The Indian Express, Hindustan Times, The Tribune, NDTV, Gulf News, Deccan Herald, DailyO, The Wire, News Central 24×7. She has received a lot of publicity for her two books. The name of the first book is 'Daddy's Girl' that she published in 2016.
'I am a Troll: Inside the Secret World of the BJP's Digital Army' (2018) was her second book.
She received the 'Prize for Courage' by Reporters Without Borders in 2018. The RWB stated on presenting this ward to Swati,
Chaturvedi has been subjected to virulent online harassment for investigating the 'IT cell' within the Bharatiya Janata Party, that is notorious for keeping an army of angry trolls."
While addressing the media after getting the Courage prize, Swati stated,
I get a dozen death threats every day and around 15 to 20 rape threats. The whole idea of a democracy is that you are allowed to have a dissenting view. Unfortunately, the way politics has panned out across the world, journalists are really under threat. It is sad that you are called courageous just for doing your job."
Apparently, several international media houses including Daily Mail, Public Radio, New York Times, BBC, Associated Press, Guardian, and Washington Post interviewed her on various controversial statements given by her.
Controversies
Swati Chaturvedi wrote most of her articles against Modi and his government during her career span. Reportedly, she is an AAP supporter. In 2018, Swati accused Rahul Gandhi of being a secret arm of Indian Prime Minister Narendra Modi when Rahul met the PM over the issue of loan waivers for the farmers in India. Earlier, she was a massive supporter of Rahul Gandhi when he opposed the imposition of demonization in 2016 by the Modi government. In 2014, it was said that only 31% of the votes were secured by the Modi wave in the general elections and Modi lost around 5-10% of the vote share. Apparently, Swati Chaturvedi seeks to be the face behind that 75% of people who were not in favour of the BJP government as it appeared at that time that her agenda was to impact and target 75% of the audience in India. [1]

Indipulse
'I Am a Troll' was released by Swati Chaturvedi, and it made waves in 2016. [2]

She The People After the release of the book, in an interview, she said,


I am a journalist and not a cheerleader of the government. My job is to bring to light what the government is seeking to hide."

She was further asked about her finding of the BJP government and Narendra Modi that she incorporated in her book. She explained her investigations,

We seem to be having a situation where the BJP is completely dominated by Narendra Modi and this is not the BJP that was of Atal Bihari Vajpayee. Name me one world leader who follows trolls. Narendra Modi follows only about 1500 people and he has given RTIs as replies which say that he manages his own account. So as a citizen of India, I want to ask the PM- why does he follow abusive trolls who give death threats and rape threats and who have been suspended by Twitter?"
In 2019, Swati Chaturvedi Tweeted a picture in which Amit Shah was seen taking a nap. She tweeted the picture with the caption "Shah in deep chintan or as we call it sleeping." Later, it was revealed after watching the whole session of Lok Sabha that Amit Shah was looking at Ravi Shankar Prasad while Ravi Shankar was delivering a speech. After a while, Amit Shah picked some papers from the desk and started reading them. The screenshot was taken from the video when he was reading those papers with his face down.
On 24 August 2019, Swati Chaturvedi Tweeted an image of Indian Prime Minister Narendra Modi while wearing Arabic attire on his arrival in Abu Dhabi. The original picture was tweeted by the Ministry of External Affairs on their Twitter handle. A Twitter user tagged her with the original picture and in return, she threatened him with a defamation suit.

Later, Swati deleted her tweet and tweeted again for an apology and admitted that the image she shared was photoshopped.
In March 2020, Ayyub Rana, an Islamist journalist, took to Twitter to say that a virus could not kill the people in India, as all of them were already killed by moral corruption in the country. At that time only 126 general civilians were tested positive in India due to the COVID-19 virus. Swati Chaturvedi called Ayyub Rana a vile person and a leper journalist.
On 18 August 2020, she attracted controversy when she shared a cropped image of union minister Ravi Shankar Prasad with the senior Facebook India official Ankhi Das on her social media account. She allegedly claimed that Ravi Shankar Prasad met Ankhi Das exclusively for a meeting. Later, she deleted her tweet, and it was revealed that on 3 July 2020, Ravi Shankar Prasad met Facebook's COO Sheryl Sandberg, Vice-President Marne Levine, and India Head of Public Policy Ankhi Das, and he did not meet Ankhi Das alone as mentioned by Swati Chaturvedi.
On 15 December 2020, Swati Chaturvedi tweeted a picture and captioned it that the lady in the image with PM Modi was his estranged wife Jashodaben. She wrote the caption of the picture by wondering whether the picture looked like that of a 'child marriage.' In the other post, she particularly mentioned that she found the picture of young Modi on 'goggle' as a disclaimer. Reportedly, the former BJP leader Kashiram Rana was identified at the extreme corner of the picture, and the reports suggested that it was his daughter's wedding that Narendra Modi attended as a guest.
In April 2021, Swati Chaturvedi shared a photo of Amit Shah in which he was seen attending a massive roadshow during the Kolkata elections. She wrote,


How shameless is Shah? States fighting over oxygen, domain of his ministry and this man rallies in Kolkata."

Soon after her Tweet, she was corrected by a Twitter user stating that it was an old picture of Amit Shah. In the tweet, she used derogatory language against Indian Home Minister Amit Shah. Reportedly, the picture was shared by a renowned Indian News Media channel on their Twitter handle when there was no acute shortage of oxygen amid the second wave of the corona pandemic in India. Later, when the picture with an actual reality gone viral on social media, Swati Chaturvedi realized that her cleverness was up, and soon, she deleted the tweet.
In May 2021, the associate editor of the Indian news channel Hindustan Times blamed Swati Chaturvedi for copying his article. She was accused of plagiarism by Zia Haq.
Facts/Trivia
Swati Chaturvedi started her career by working with the renowned newspaper The Statesman. She is an active journalist on the Indian news channel NDTV.
She has more than 20 years of work experience in Print and Broadcast journalism. Thriller, fiction, and non-fiction are her genre of writing books and articles.