Dr Vikas Divyakirti is an IAS trainer, author, and lecturer. He is the founder and director of the Drishti IAS Coaching Classes, a UPSC coaching institute in Delhi.
Wiki/Biography
Dr Vikas Divyakriti was born on Wednesday, 26 December 1973 (age 49 years; as of 2022) in Haryana. His zodiac sign is Capricorn. He did his schooling at Saraswati Shishu Mandir, Bhiwani, Haryana.
After completing his schooling, he attended Zakir Husain Delhi College, Delhi University, where he pursued a Bachelor of Commerce (Hons.); however, he later changed his stream from commerce to arts as most of his friends started preparing for the UPSC examination, and they suggested him to follow the same following which he pursued a BA in History at Delhi University. According to Dr. Vikas, while he was in the third year of his graduation, his family relocated to Faridabad from Bhiwani in Haryana. He then pursued an MA in Hindi Literature at Zakir Husain College through evening classes as he could not get himself enrolled at the Delhi University campus in the course. He completed his MA final at Hindu College. While he was pursuing his MA final year, he cleared the UGC NET JRF examination and received a scholarship of Rs 2,500 per month. Vikas also holds MA (Sociology), M. Phil, LLB, and Ph.D. degrees. Vikas had an interest in language translation, so he also received a postgraduate degree in English to Hindi translation from Delhi University. [1]Facebook- Dr Vikas Divyakirti
Physical Appearance
Height (approx.): 5′ 6″
Hair Colour: Black
Eye Colour: Black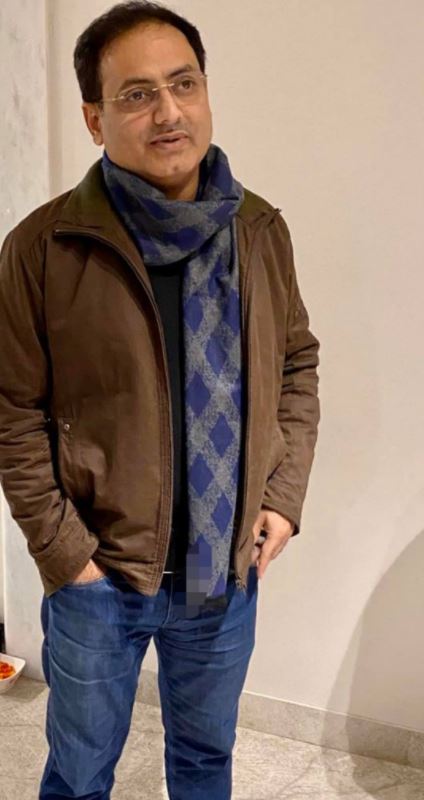 Family
His ancestors belong to Punjab.
Parents & Siblings
His father was a lecturer of Hindi literature at a college affiliated with Maharshi Dayanand University, Rohtak, Haryana. According to Dr. Vikas, his parents follow Arya Samaj.
He has two brothers. His eldest brother lives in the United States, where he works as a software engineer. His elder brother is a civil servant, who is posted as a DIG at the CBI.
Wife & Children
He got married to Dr. Taruna Verma (MD at Drishti- The Vision) on 26 May 1997. The couple has a son named Satwik Divyakirti.
In an interview, he revealed that it was a love marriage. According to Dr. Vikas, his wife follows Sanātana Dharma.
Religion/Religious Views
Dr. Vikas believes in agnosticism. In an interview, he revealed that while he was studying at Delhi University, he was highly influenced by Osho after reading his books. He also revealed that he was highly influenced by Karl Marx and Max Weber and lived like an atheist for a few years.
Student Politics
Since his school days, he was interested in politics and won almost every parliamentary election held in his school. After completing his schooling in Bhiwani, Haryana, he moved to Delhi, where he attended Zakir Husain Delhi College, Delhi University. According to Dr. Vikas, he went to Delhi University to pursue a career in politics as his father wanted him to become a politician, and he became a member of Akhil Bharatiya Vidyarthi Parishad (ABVP). Within his first year at Zakir Husain, he became very popular, and he actively participated in the nationwide agitation against the Mandal Commission, established by the Janata Party government under Prime Minister Morarji Desai in 1979. According to Dr. Vikas, he wanted to contest the student election and become the president of the Student Union; however, he was suggested not to contest the election as it would put his life in danger, and he quit the idea of contesting the election. In an interview, he revealed that he was very good at debates and won many cash prizes in various debates held at Delhi University.
UPSC
After earning a Master of Arts degree, he decided to appear for the UPSC examination. In 1996, he appeared for the UPSC examination and cleared it on his first attempt with sociology as optional; he secured the 384 rank. Vikas was assigned the post of Assistant Commandant of the CISF; however, he was found medically unfit for the post as he had flat feet. Later, he joined the central secretariat under the Ministry of Home Affairs. The following year, he gave his second attempt; however, he could not clear the mains examination. While pursuing his PhD, he gave his third attempt with philosophy as an optional; however, he could not clear the interview round. In 1999, he received his joining letter for the central secretariate; however, he did not join. Later, he joined the service as he was debt-ridden at that time, and the only motive for his joining was to get rid of his debts. He was assigned a post in the home ministry, and on his request, he was allotted the Rajbhasha department, where he was appointed as a desk/section officer; however, after six months of his service, he resigned. In 2003, he gave his 4th and last attempt but could not qualify for the examination again; he gave this attempt while he was teaching at his coaching institute, Drishti IAS.
Drishti IAS Coaching Classes
In 1999, he founded the Drishti IAS Coaching Classes in Delhi with the aim to provide simplified coaching for UPSC aspirants. Vikas adopted a unique teaching style to help the students prepare for the UPSC exam.
Vikas is also the editor of the current affairs monthly magazine called 'Drishti Current Affairs Today.'
In 2017, he started his YouTube channel named 'Drishti IAS' on which he uploads study material, lectures, and exam preparation strategy videos. The channel has more than 6 million subscribers (as of 2021). He has also authored the book 'Nibandh Drishti.'
According to Dr. Vikas, he started Drishti IAS after he was rejected for the post of Hindi lecturer at Shivaji College, Delhi University. He started Drishti IAS after borrowing around Rs 15 thousand from his friends, and he rented chairs and classrooms to start the coaching classes. He started off by giving his lectures in Hindi which made it easier for the students to understand the topics, and the first batch had around 12-15 aspirants. Later, he started teaching philosophy and taught the subject for around 11 years till 2011.
Controversy
Controversial Remarks on Sita
When Dr. Vikas gave a lecture to UPSC aspirants in November 2022, he compared Sita with 'Ghee Licked By Dog' in a viral video. During his lecture, he cited the Ramayana to explain that Rama did not fight the war with Ravana for Sita since she was not 'eligible' for him, and Rama found her like the 'ghee licked by a dog.' Social media users heavily trolled him after his remarks, and #BanDrishtiIAS became a trending hashtag. [2]Outlook
Favourites
Travel Destination: Kashmir
Films: The Lunchbox (2013), Eklavya: The Royal Guard (2007), Gulaal (2009), Masaan (2015)
Philosophers: Socrates, Plato, Immanuel Kant, Osho
Sociologists: Karl Marx, Max Weber
Facts/Trivia
In an interview, he revealed that he was not good at his studies during his school days, and he failed in English in almost every class; however, he somehow got passing marks in annual examinations.
Vikas loves reading books and writing a diary in his leisure time.
In an interview, he revealed that he starts his day listening to the song "Chadhta Sooraj Dheere Dheere" from the Bollywood film Indu Sarkar (2017).
He is an avid animal lover and owns a pet dog.
Divyakirti is often spotted drinking alcohol at various events.
Vikas has a keen interest in psychology, philosophy, social issues, cinema studies, and political pcience.
According to Dr. Vikas, he taught the UPSC aspirants for the first time at the age of 24. Interestingly, by that time he had cleared the UPSC examination on his first attempt; however, his posting was awaited, and he decided to teach to earn money so that he could become debt-free as he was heavily debt-ridden at that time.
In an interview, he revealed that although he belonged to an affluent family, the family underwent a huge financial crisis while he was pursuing his first year at Zakir Husain College following which he had to do some odd jobs like selling calculators. Later, he assisted his elder brother in his printing business; he also worked at a printing firm for some time before starting their own printing business.
While preparing for his third attempt of the UPSC examination, he taught at DAV College in Delhi for four months.
He is a passionate traveller, and he loves to go on long drives. According to him, he has driven his bike non-stop from Delhi to Mumbai, Delhi to Patna, and Delhi to Goa.
In an interview, he revealed that he wanted to become a filmmaker, and he even tried to pursue his PhD in arts and aesthetics at JNU. Later, he pursued a course in filmmaking at the FTII, Pune, and studied film studies at an institute in Mumbai for three days.
In 2012, he went to New York, where his brother lived, and watched the US Open Women's final and Men's semi-final matches. In an interview, he revealed that it was a deal with his brother that his brother would once invite him to watch the US Open final after getting settled in the United States. During his stay in the United States, he tried skydiving after being inspired by the 2011 Bollywood film Zindagi Na Milegi Dobara. According to Dr. Vikas, he has attempted paragliding 5-6 times.
In 2015, he contested the Resident Welfare Associations (RWA) election in his locality in Delhi and won.
In an interview, he revealed that he liked Nitin Gadkari's style in politics.