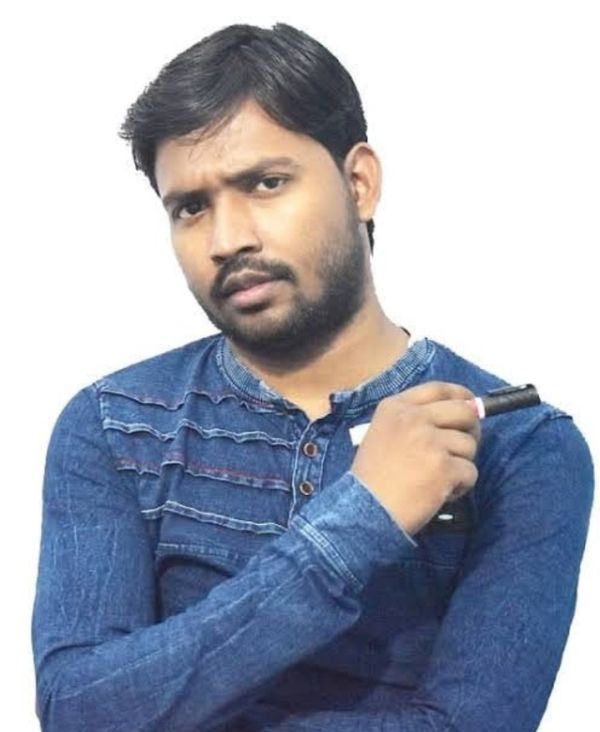 Khan Sir is an Indian teacher and social worker. He is popular for his way of teaching current affairs. He is the founder and owner of Khan GS Research Centre. In 2023, he appeared as a guest on 'The Kapil Sharma Show.'
Wiki/Biography
Faisal Khan [1]Aaj Tak was born in 1992 (age 31 years; as of 2022) in Gorakhpur, Uttar Pradesh, India. He studied at Parmar Mission School in Bhatpar Rani, Deoria, Uttar Pradesh. When he cleared his 8th standard examinations, he developed an interest in joining the Indian Army. To achieve his dream, he appeared in the entrance exam for Sainik School while studying in 9th standard; however, he could not clear the exam. Later, he took the entrance exam for polytechnic and did not score a good rank. He completed his high school studies at an English medium school and his 12th standard studies at a Hindi medium school. While studying in school, he was a member of NCC. In an interview, he revealed that on the day of his IIT entrance exam, he woke up late in the morning and missed the examination. Later, he took the exam for NDA and cleared the written examination, but was disqualified in the medical checkup round. [2]Aaj Tak He did his graduation in science and then pursued a Master of Science at the University of Allahabad in Allahabad, Uttar Pradesh. [3]Zee News He also holds a Master of Arts degree in geography. [4]Rediff In an interview, he revealed that when he was studying in college, the economic condition of his family was not stable and his father would often ask him to learn something or do a job. Later, he began doing welding work and learned to drive JCB. [5]The Lallantop
Physical Appearance
Height (approx.): 5′ 8″
Hair Colour: Black
Eye Colour: Black

Family
Parents & Siblings
His father is a contractor, and his mother is a homemaker. He has an elder brother, who serves in the Indian Army. His grandfather's name is Iqbal Ahmed Khan.
Wife 
He is unmarried; however, he is reportedly engaged. [6]Rediff
Career
Teacher
His three friends named Hemant, Sonu, and Pawan helped him in getting tuition. Hemant took him to a coaching institute, where Khan Sir began his career by teaching a group of 6 students. His teaching skills and quality became very popular; the number of students in his class increased from 40, 50, and went on to teach more than 150 students. In an interview, he revealed that his popularity among the students increase so much that the owner of the coaching institute was scared that if he left the coaching institute, they would also leave the institute. The institute owner told him not to reveal his real identity and keep teaching in disguise. Later, he became popular by the name of 'Khan Sir.' He has a coaching centre in Patna, Bihar, Khan GS Research Centre, where he teaches students aspiring for UPSC, BPSC, Indian railway, SSC, and others.
In 2019, he created his YouTube channel named 'Khan GS Research Centre.' He posts educational videos on his YouTube channel related to various subjects, especially current affairs. Soon, he became very popular on YouTube for his unique teaching style and earned more than 19 million YouTube subscribers. In 2020, he launched his own education application on Google Play Store named 'Khan Sir Official.'
Controversies
FIR Against Khan Sir
In 2022, protests were held across Bihar, Uttar Pradesh, and Jharkhand for the cancellation of the Railway Recruitment Boards' Non-Technical Popular Categories (NTPC) examination. On 27 January 2022, an FIR was filed at Patrakar Nagar police station in Patna against Khan Sir, five other teachers, and 16 students of his coaching institute for allegedly encouraging the mob to set the trains on fire and destroy the property of the Indian railway. After the vandalism, some protestors were taken into custody by the police. Later, when the police recorded their statements, some of the protestors revealed the name of Khan Sir. Reportedly, after Khan Sir realised that an FIR had been lodged in his name and five other teachers of his coaching institute, he went underground. Khan Sir, S. K. Jha, Navin, Amarnath, Gagan Pratap, and Gopal Verma, all six teachers were booked under sections 147, 148, 151, 152, 186, 187, 188, 323, 332, 353, 504, 506, and 120 (B) of IPC. [7]The New Indian Express
Controversial 'Suresh-Abdul' Video
In December 2022, a video of him sparked controversy in which he was explaining how the meaning of a sentence can be changed when a Hindu name is replaced with a Muslim name. In the example, he explained that the meaning of a sentence is changed when the name 'Suresh' is used instead of 'Abdul.' He said,
There are some sentences which have two meanings. For example, if you say Suresh was flying an aeroplane, then it will have one meaning. But if you say Abdul is flying a plane, then it will mean different to people…" [8]Mint
Many Indian National Congress leaders including Surpiya Shrinate, came heavily on Khan Sir. Supriya Shrinate reacted to the tweet of author Ashok Kumar Pandey and demanded Khan Sir's arrest. [9]ABP News
FIRST सेंचुरी | पटना वाले खान सर पर कार्रवाई की मांग@aparna_journo | @vivekstakehttps://t.co/p8nVQWYM7F#TopNews #Breaking #Patna #KhanSir pic.twitter.com/uoTqmXt2Vi

— ABP News (@ABPNews) December 6, 2022
Call for Ethnic Cleansing in Kashmir
In 2023, Khan Sir stirred another controversy when he talked about the ethnic cleansing of Kashmir. In a tutorial video, Khan Sir was teaching his students about how China captured Tibet in 1959. He continued by saying that after China occupied Tibet, it beat the people of Tibet, separated their family members, and sent them to different parts of China, which kept them focused on searching for their family members rather than fighting for their independence. Later, he compared the China-Tibet situation with Kashmir and said that the Indian government should also send the Kashmiris, who were pelting stones, to different parts of India after which Kashmir would become completely peaceful. [10]The Free Press Journal
Facts/Trivia
Reportedly, Khan Sir also goes by the name Amit Singh and Khan Sir Patna among his students. [11]

YouTube – News Tak
According to sources, he used to play Gilli Danda in his childhood.
In 2023, he was invited to Sony TV's talk show 'The Kapil Sharma Show.' He appeared on the show along with Gaur Gopal Das, who is an Indian monk, lifestyle coach, and motivational speaker, and Vivek Bindra, CEO & founder of Bada Business Pvt Ltd and a motivational speaker.
Reportedly, he charges only Rs 7500 to teach the UPSC curriculum, which generally costs 2.5 lakhs.
In an interview, when he was asked about what's the mantra of his life, he said,


Be last, but be fast. Look at Baba Ramdev. He was the last one to join the race of selling Ayurveda products. Hamdard and other Ayurvedic companies were already selling these products, but it was Baba Ramdev who won the race. The same is the case with Reliance Jio. They too were the last ones to enter the telecom sector and they too beat all others." [12]Rediff
According to him, he has taught many students free of cost, who were not financially stable.
In 2019, his coaching institute, Khan GS Research Center located in Musallahpur Hat in Patna, Bihar, was bombarded. According to the CCTV cameras installed in the coaching institute, a masked person was seen at the location of the bombing, who turned out to be a boy. According to sources, before the vandalism, the boy had a fight with Khan Sir and his staff for taking books from the library's locker. Later, the boy, along with his friends, vandalised the coaching centre. Khan Sir's office and one student's scooty were damaged during the bombing. [13]

Jagran
On 24 April 2021, he posted a video on his YouTube channel in which he talked about France-Pakistan relations and criticised the children in Pakistan who took part in the protest against the French ambassador. He said,


ई रैली में ये बेचारा बचवा है. इसको क्या पता कि राजदूत क्या चीज होता है. कोई पता नहीं है. लेकिन फ्रांस को राजदूत को बाहर ले जाएंगे. इनको कुछ पता नहीं है. बाबू लोग, तुम लोग पढ़ लो. अब्बा के कहने पर मत आओ. अब्बा तो पंचर साट ही रहे हैं (माने बना ही रहे हैं). ऐसा ही तुम लोग भी करेगा तो बड़ा होकर तुम लोग भी पंचर साटेगा. तो पंचर मत साटो वरना तुमको तो पता ही है कि कुछ नहीं होगा तो चौराहा पर बैठकर मीट काटेगा तुम. बकलोल कहीं के. बताइए, ये उमर है बच्चों को यहां पर लाने का? लेकिन क्या ही कीजिएगा? 18-19 पैदा होंगे तो किस काम में आएंगे? कोई बर्तन धोयेगा, कोई बकरी काटेगा, कोई पंचर बनाएगा."

After the release of his France-Pakistan relations video, the video went viral and #ReportOnKhanSir began to trend on Twitter.
On 4 September 2021, he gave a speech on Josh Talks.
He has published many books on subjects like science and general knowledge for students, who prepare for competitive examinations.
Khan sir is also known for using humour while teaching to make the teachings more interesting. He also uses real-life examples to make his study material easy to understand.
In 2023, he organised an event on the occasion of Raksha Bandhan at his coaching centre which drew a crowd of over 10,000 students from various batches. According to sources, Khan Sir personally met each of the girls and had the rakhi tied; this event lasted for about two and a half hours. He later claimed that over 7000 students tied him rakhi. He further said that this was a world record as nothing like this ever happened before. [14]

India Today
In September 2023, Khan Sir appeared on the show Kaun Banega Crorepati Season 15 along with comedian and poet Zakir Khan. In the show, Khan Sir used a distinctive teaching method to explain the concepts of electrons, protons, and neutrons to host Amitabh Bachchan. Bachchan later expressed his appreciation and said that he would always remember this lesson.