Masrat Zahra is one of the few emerging female photojournalists from Hawal, Srinagar, Jammu and Kashmir, [1]The Hindu who presents the stories in the form of visuals, from women's perspective, which are mainly about the Human Rights violations in Kashmir and the matters of conflicts between Indian security forces and Kashmiri protesters and the conditions of people suffering because of it, especially women and children. She focuses majorly on covering the stories of Srinagar, Jammu and Kashmir.
Wiki/Biography
Masrat Zahra was born on Thursday, 8 December [2]Masrat Zahra – Twitter 1994 [3]The Hindu (age 28 years; as of 2022) in Srinagar, Jammu and Kashmir. [4]Al Jazeera Masrat Zahra was a science student in school as her mother wanted her to become a doctor. Later, she decided to pursue her further studies in journalism for which, in 2017, she went to the AKS School of Visual Journalism and Documentary Photography in Srinagar, Jammu and Kashmir. [5]Masrat Zahra – Linkedin Masrat Zahra completed her Masters' in Arts (2016-18) in Convergent Journalism, Audiovisual Communications Technologies/Technicians from the Central University of Kashmir. [6]Masrat Zahra – Linkedin [7]The Wire According to Masrat Zahra, she initially faced challenges in convincing her parents to accept her profession as a journalist as they believed that it would be hard for her to be a journalist, and she would have to face social, cultural, and psychological barriers as a journalist. [8]Free Press Kashmir There was no female journalist in Kashmir then, which made it more difficult for her to convince her parents. [9]ASAP Connect In an interview, held in 2020, Masrat Zahra revealed the kind of hurdles she faced from the side of her family; however, according to Zahra, it didn't stop her to become a photojournalist. She said,
It was hard for me to convince my parents as there were only a few women journalists and visual storytellers in Kashmir. They did not understand the role of a woman in this field. Therefore, for them, it was a very rebellious decision. Sometimes, my parents would even hide my camera. But I would still go out, sometimes asking my friends for their cameras, sometimes clicking with a phone. But I never stopped clicking. They are extremely scared for me of course. I was hit by a pellet fired by the armed forces once, that time the fear increased manifold. Then there is societal pressure as well. People talk and blame my parents for a 'bad' upbringing. I go through a lot of moral policing. Whenever I come home late after a day of shoot, the neighbours raise their eyebrows and talk amongst themselves." [10]Free Press Kashmir
On 31 March 2021, Masrat Zahra moved to Hamburg, Germany, where she was invited by the Hamburg Foundation, a non-governmental organisation.
Physical Appearance
Height (approx.): 5′ 3″
Hair Colour: Black
Eye Colour: Dark Brown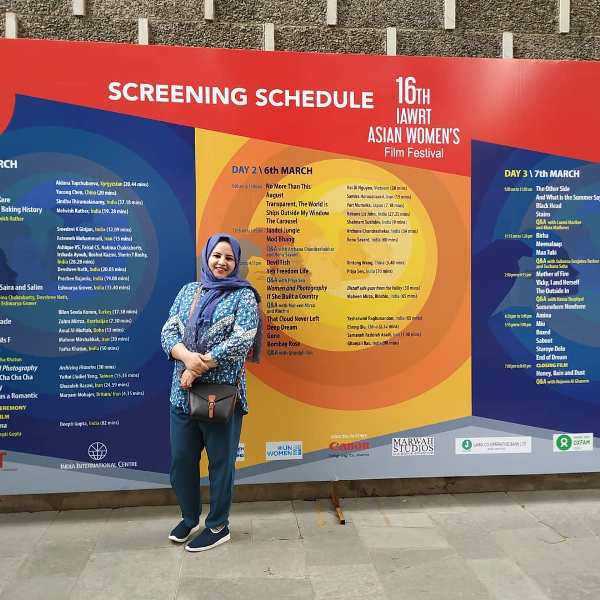 Family
Masrat Zahra belongs to a Muslim family. [11]Al Jazeera
Parents & Siblings
Her father, Mohammad Amin Dar [12]The Wire, is a former truck driver, and her mother, Fatima [13]The Wire, is a homemaker. [14]Al Jazeera She has a brother named Muddasir Dar, and a sister named Fatima Alia. [15]Masrat Zahra – Facebook
Religion
Masrat Zahra follows Islam. [16]Al Jazeera
Career
Photojournalist
Masrat Zahra has worked as a freelance photojournalist to highlight the issues of Kashmir. In an interview, she said,
I think all my pictures reflect day-to-day life in my homeland. In a conflict zone like ours, every picture in its own way, even in this beautiful Himalayan landscape, describes the tragedy of Kashmir."
Masrat Zahra, as a photojournalist, has worked with many well-known national and international news agencies such as Al Jazeera, The Caravan, The Sun, and The Washington Post. [17]The Print According to Zahra, her first assignment was in August 2017 when she was supposed to cover a story on a labourer named Firdous Ahmad Khan, who was shot dead by the armed forces in Pulwama, a district in South Kashmir. In an interview, Zahra revealed that she was nervous while covering this story as she feared that the security personnel would stop her from covering this story; she also feared that the family of the deceased would not speak to her. She said,
I was worried that his family would not speak to me, or that security forces would stop me. I was afraid of failing to tell the story." [18]Al Jazeera
In an interview, Masrat Zahra also talked about the experience she had when she met the family of that civilian. She said,
But when I met Firdous' widow Ruksana, then 25 and soon to give birth to their second child, she hugged me and cried and told me about the pain of losing her husband. She was burdened and desperate to speak, and could open up to another woman. While her story made me extremely sad, I felt a responsibility to tell it. I watched Ruksana's two-year-old daughter embracing her father on a metal bed, kissing and touching his face for the last time before he was separated from them forever and another empty bedframe returned to the hospital." [19]Al Jazeera
The Funeral of Zakir Rashid Bhat (aka Zakir Musa)
One of the challenging reportings of Masrat Zahra was the funeral of Zakir Rashid Bhat (aka Zakir Musa), a student who was converted into a militant and later became the founder and chief of Ansar Ghazwat-ul-Hind, an association that had vowed to al-Qaeda. On 24 May 2019, Zakir Musa, who joined a terrorist organisation in 2013 [20]NDTV, was shot dead. The inhumation of Zakir Musa was held in Noorpora village in Trial Block in the Pulwama district of Jammu and Kashmir. According to Masrat Zahra, the roads were full of security checkpoints, and the entry of journalists was restricted. She somehow managed to get in and took a picture of an empty bed on which the body of Zakir Musa was laid down. In 2020, in an interview, Masrat Zahra shared her viewpoint about that empty bed she captured. She said,
For me, the empty bed had a different story to tell, far more haunting than the story it told with a dead body on it. It was the void the frequent killings of fighters and ordinary women and men leave behind in their families. This picture makes me think of how these beds carry the bodies of young men, women, children, mothers, fathers, sisters, brothers before they are gone forever. I think about families coming to kiss them for the last time on those beds. These beds share a connection of death and grief. Although there are largely men in this picture, I imagine the women – a mother, sister, wife or daughter, looking at the bed a loved one once slept in, and the loneliness and emptiness this brings. I think of their pain." [21]Al Jazeera
While eulogizing Zakir Musa as a fighter, Masrat Zahra quoted,
The bodies of Kashmiris killed by the Indian armed forces are not taken to the graveyard in a closed coffin." [22]Al Jazeera
The Story of Abdul Qadir Sheikh
After more than two decades of the killing of Abdul Qadir Sheikh, who was shot dead by the Indian Army in 2000, Masrat Zahra shared his story; she also shared the story of meeting Abdul Qadir Sheikh's wife, Afra Jan, on social media through a post. [23]The Print She wrote,
Arifa Jan suffers frequent panic attacks nearly 2 decades after her husband was gunned down in a fake encounter by Indian army in 2000,she can still hear the gunshots and sees her husband's blood-soaked body when she thinks of him,"There were 18 bullet holes and I still remember how deep they were." [24]Masrat Zahra – Instagram
Masrat Zahra also shared the picture of things belonging to Abdul Qadir Sheikh that Afra Jan showed her. While sharing these pictures on social media, Zahra wrote,
Arifa Jan keeps newspaper clippings and the blood-stained notes of her husband, Abdul Qadir Sheikh, was carrying when he was gunned down by Indian army suspected being a militant."I couldn't come to terms with the agony and pain inflicted on me," she said." [25]Masrat Zahra – Instagram
Reportedly, this story came out to be called an "anti-national post" by the J&K Police officials. [26]The Indian Express
Controversy
Framed under the Unlawful Activity (Prevention) Act
Masrat Zahra was framed under the Unlawful Activity (Prevention) Act, which refers to the offences against any class or community causing fear to the public, for sharing "anti-national posts," in the Cyber Police Station, Kashmir Zone. The police dropped the summon when The Kashmir Press Club and Directorate of Information had a word with them. Later, the police registered a case against Masrat Zahra to initiate an investigation regarding the offence of provoking the public and disturbing the law and order. [27]Outlook The statement was,
Accordingly, a case FIR No. 10/2020 U/S 13 UA (P) Act and 505-IPC dated 18-04-2020 stands registered in Cyber Police Station, Kashmir Zone, Srinagar and investigation set into motion." [28]Outlook
Masrat Zahra was the second Kashmiri journalist to be booked under UAPA Act. [29]The Indian Express The posts were not specified by the police for which she was booked under UAPA Law (in which an individual can be denominated as a terrorist and sentenced to jail for up to seven years), but a post she tweeted from one of her articles, published in 2019 in The New Humanitarian, was quoted by them in which Masrat wrote about Afra Jan's husband whose life was put to an end by the Indian Army in 2000. [30]The Print According to Masrat Zahra, Afra Jan's husband was shot with 18 bullets by the Indian Army. [31]Masrat Zahra – Twitter A statement was given by the Jammu and Kashmir Police on 20 April 2020. The statement was,
Cyber Police Station received information through reliable sources that one Facebook user namely "Masrat Zahra" is uploading anti-national posts with criminal intention to induce the youth and to promote offences against public tranquillity," [32]The Indian Express
Arifa Jan suffers frequent panic attacks nearly 2 decades after her husband was gunned down by Indian army in 2000,she can still hear the gunshots and sees her husband's blood-soaked body when she thinks of him,"There were 18 bullet holes and I still remember how deep they were." pic.twitter.com/QOw2wHzllU

— Masrat Zahra (@Masratzahra) April 17, 2020
Reportedly, the main reason Masrat was booked by Cyber Cell after being summoned under UAPA Act, was the post about Burhan Wani that she shared on social media; she shared a poster of Burhan Wani and mentioned him as "Shaheed" (martyr). [33]News 18 In this interview, while talking about this, she said,
Two small apostrophes around the word Shaheed could have kept me away from harm's way. I am not sure though." [34]News 18
Awards and Achievements
Facts/Trivia
Posting the picture of my father who was thrashed by police. One can clearly see his bruised arm. I didn't want to post these pictures but yesterday's police statement is ridiculous and they cannot thrash people in the day and at the end of day when questioned deny the thrashing. pic.twitter.com/TM6wzEXUdO

— Masrat Zahra (@Masratzahra) July 27, 2021
References

↑

1,

↑

3
The Hindu

↑

2
Masrat Zahra – Twitter

↑

4,

↑

11,

↑

14,

↑

16,

↑

18,

↑

19,

↑

21,

↑

22
Al Jazeera

↑

5,

↑

6
Masrat Zahra – Linkedin

↑

7,

↑

12,

↑

13
The Wire

↑

8,

↑

10,

↑

40
Free Press Kashmir

↑

9,

↑

41
ASAP Connect

↑

15,

↑

38
Masrat Zahra – Facebook

↑

17,

↑

23,

↑

30
The Print

↑

20
NDTV

↑

24
Masrat Zahra – Instagram

↑

25
Masrat Zahra – Instagram

↑

26,

↑

29,

↑

32
The Indian Express

↑

27,

↑

28
Outlook

↑

31
Masrat Zahra – Twitter

↑

33,

↑

34
News 18

↑

35
Masrat Zahra – Instagram

↑

36
Punch Magazine

↑

37
Kashmir Walla

↑

39
Masrat Zahra – Instagram

↑

42,

↑

43
Newslaundry