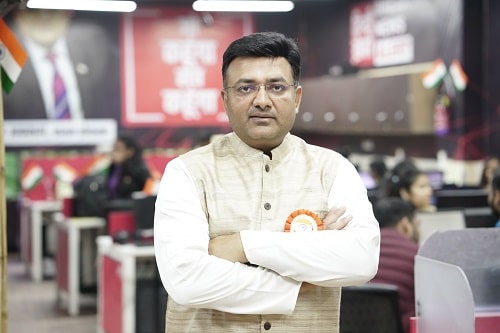 Atul Agrawal is an Indian news reporter and anchor. He is the founder of the Hindi news channel Hindi Khabar. He has more than 20 years of experience in journalism. Atul is the husband of the famous Indian reporter Chitra Tripathi.
Wiki/Biography
Atul Kumar Agrawal [1]Facebook – Atul Agrawal was born on 29 July in Banda, Uttar Pradesh. His zodiac sign is Leo.
He completed his schooling in 1994 at DAV Inter College, Banda, Uttar Pradesh. From 1994 to 1997, he pursued BSc. in Applied Geology/Earth Science at Mahatma Gandhi Chitrakoot Gramodaya Vishwavidyalaya, Haryana. In 1997, he pursued a Bachelor of Journalism and Mass Communication at Mahatma Gandhi Chitrakoot Gramodaya Vishwavidyalaya. From 1999 to 2001, he did MBA in Marketing & Human Resource Management at Bhilai Institute of Technology, Durg.
From 2009 to 2012, he pursued LLB at Bundelkhand University, Jhansi. [2]LinkedIn – Atul Agrawal
Physical Appearance
Height (approx.): 5′ 9″
Hair Colour: Black
Eye Colour: Black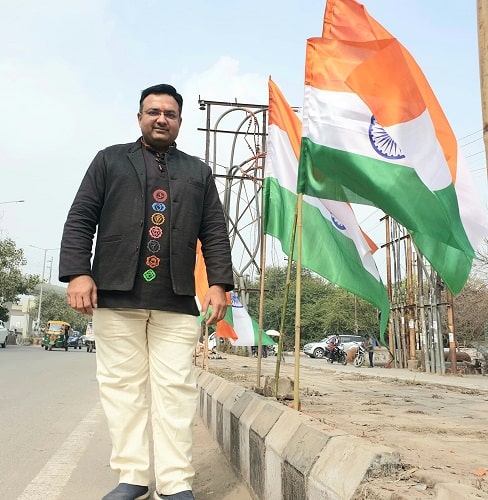 Family
He belongs to a Hindu family. [3]Facebook – Atul Agrawal
Parents & Siblings
His father's name is Shankar Dyal Agrawal.
Wife & Children
On 23 November 2008, he got married to his girlfriend Chitra Tripathi, who works as a news reporter and journalist. The couple has a son named Aum Agrawal.
Career
In March 2002, he started working as a news anchor at Doordarshan Kendra in New Delhi. After working there for almost two years, he joined Zee Media Corporation Ltd. in Noida, India, as an associate producer and anchor. In March 2005, he started working at Network18 Media & Investments Ltd., Noida, as a news anchor and senior producer. He worked there for more than two years. He covered the Maya Sting Operation against Hindu Gurus and Saints while working there. In November 2007, he started working as an AEP/senior anchor at News24 in Noida. Two major stories covered by him there was the Cash for Vote scam in Lok Sabha and Delhi Blast Special Report. In November 2008, he joined Voice of India Television Network in Noida as a group editorial head. He worked there for almost a year, and in March 2010, he joined India News as channel head, India News Bihar & Jharkhand. He covered the special report on the union rail budget by Mamata Banerjee. From October 2011 to March 2012, he worked as an associate executive editor and anchor at Sai Prasad Group of Companies in Noida. In April 2012, he joined Samachar Plus, Noida, as an executive editor. Some major stories covered by him on the channel were Conspiracy against IPS Uday Shanker Jaiswal exposed, Lokayukt of Uttar Pradesh NK Mehrotra LIVE, and Pagal Ho Gayi Panchayat. After working there for around 2 years, he joined News18 India as an executive producer in New Delhi. There, he anchored the news show Bulletin with Atul Agrawal. In December 2015, he worked as an editor for News World India in Noida. He has also worked with the news channel IBN7 Live.
In June 2016, he started the Hindi news channel Hindi Khabar.
In June 2016, Atul started an international consulting company named MBIZ Tech Consulting Pvt. Ltd., Noida. The company is headquartered in Dhaka, Bangladesh. Some of his popular TV news shows are News Show Jo Kahunga Sach Kahunga and Big Bulletin. He has also worked as the event manager for various TV productions, satellite affiliations & operations management, brand positioning, relationship management, and web analytics.
Controversies
Accused of Domestic Violence
In the year 2016, his wife Chitra lodged an FIR for domestic violence against him at the Police Station located in Sector 24 of Noida. Nonetheless, 0the couple resolved their issues. [4]Khabar Tak
Criticised for Filing a Fake Robbery Complaint
In 2021, Agrawal shared a Facebook post alleging that he had been robbed of Rs 5,000 by a few attackers near Noida Extension. According to his Facebook account, while driving his Safari car, he was intercepted by a group of five individuals on motorcycles close to a police booth in Bisrakh, Noida Extension, in the Gautam Buddha Nagar. Agrawal claimed that one of the goons brandished a firearm and demanded his valuables after he pulled down the window of his car. Despite the alleged robbery, Agrawal did not file a formal complaint or an FIR. Nevertheless, the Noida Police initiated an investigation into the incident based on Agrawal's social media post. However, their inquiries quickly dispelled Atul Agrawal's fabricated narrative as they confirmed that he had actually visited an OYO establishment during the reported time, making it impossible for a robbery to have taken place. A team of five COG officers probed the case. While addressing the media, the Noida Police said,
We investigated all electronic and CCTV evidence pertaining to the alleged incident. The scribe had alleged the robbery had taken place around 1 am near Hindon Pul after which he went home. It was found through CCTV footage that he had reached an Oyo hotel room in Sector 121 after 1 am where he spent the night. The distance between the hotel room and his house indicate that it was not possible that the incident occurred."
Based on digital evidence collected by the Noida Police, it was confirmed that Agrawal made a payment for an OYO room using his bank account, and the presence of Agrawal in the hotel has been verified through CCTV footage. The Noida Police then said,
Taking all these pieces of evidence into consideration, it is proved that there has been no robbery incident with Atul Agrawal and this fake case was spread on social media by him due to his personal family reasons."
During the police investigation, it was discovered that Agrawal had visited the residence of a female friend for dinner on June 19 around 7 pm. According to Agrawal's colleague, he left the friend's house at approximately 10:40 pm after receiving a call from his wife, Chitra. [5]The Indian Express
Awards
2021: Bharat Gaurav Award
2022: 16th Edition Media Excellence Award
2022: Icons and Trailblazers Award
2022: Golden Star Icon Award
2022: Global India National Excellence Award
Facts/Trivia
While he was studying in college, he used to participate in various stage plays.
In his leisure time, he loves to travel to different places.
Some of his favourite quotes are,


कोशिश करने वालों की कभी हार नहीं होती, लहरों से डर कर नौका पार नहीं होती। असफलता एक चुनौती है, इसे स्वीकार करो, क्या कमी रह गई, देखो और सुधार करो, जब तक न सफल हो, नींद चैन को त्यागो तुम, संघर्ष का मैदान छोड़ कर मत भागो तुम, कुछ किये बिना ही जय जय कार नहीं होती, कोशिश करने वालों की कभी हार नहीं होती।"
Atul has been playing cricket for a few cricket clubs like Delhi Panthers.
He is a spiritual person and often visits various religious places along with his family.
He is often spotted consuming alcohol at parties and events.