Surendra Pal is an Indian film and television actor who is best known for playing the role of 'Dronacharya' in B. R. Chopra's epic television serial 'Mahabharat' and 'Tamraj Kilvish' in the Indian superhero television show 'Shaktimaan.' He has acted in about 40 films and over 30 TV serials in his career.
Wiki/Biography
Surendra Pal was born on Friday, 25 September 1953 (age 66 years; as in 2019) in Lucknow, Uttar Pradesh. He grew up in Lucknow where his father was posted as a DSP in Uttar Pradesh Police. He did his schooling from UP Board. Although his father wanted him to join either the Indian Army or police service, he was reluctant to both; as he wanted to pursue a career in acting. After his graduation from Ghaziabad in Uttar Pradesh, he left his home and moved to Mumbai at the age of twenty-four in 1980. When he reached Mumbai, he didn't have much knowledge about films, and he didn't even know the difference between a producer and a director. [1]News 18 Rajasthan
Physical Appearance
Height (approx.): 6′ 2″
Eye Colour: Black
Hair Colour: Salt & Pepper (semi-bald)
Family & Caste
Although he was born in Lucknow (Uttar Pradesh), his forefathers belong to Pali in Rajasthan. [2]Dainik Bhaskar
Parents & Siblings
His father was a DSP in Uttar Pradesh Police. He has five elder brothers. His two elder brothers joined the Indian Army while another elder brother joined the police service. [3]News 18 Rajasthan
Relationships, Wife & Children
Surendra Pal got married to Barkha Sharma Singh in 1996. The couple went on to have three children – two sons and a daughter. In 2002, he got divorced with Barkha Sharma Singh, and all the three children are living with him in Mumbai. [4]Dainik Bhaskar
His elder son, Shivam Singh is a television anchor and his youngest son, Shubham Singh is a Commerce graduate from Delhi University.
His daughter, Shivangi Singh is a Gym Manager at a five-star hotel in Goa.
Career
Film
He made his debut with the 1981 Hindi film Shama (produced by Kader Khan) in which he played a negative role alongside Shabana Azmi and Girish Karnad. [5]News 18 Rajasthan
Then, he did Grahasti in 1984 in which he worked alongside Ashok Kumar. In 1985, he did J. P. Dutta's film Ghulami (1985) in which he played the role of 'Daku Suraj Bhan.' It was during the shoot of Ghulami that he first visited his native place Rajasthan. Thereafter, he went on to appear in over 40 films in his career and has appeared in many popular Bollywood films, such as Khuda Gawah (1992), Lakshya (2004), Jodhaa Akbar (2008), Airlift (2016), and Rangoon (2017). He made his Malayalam debut with the film Prayikkara Pappan (1995).
Surendra Pal's Tamil debut is Mr. Romeo (1996).
In 2010, he made his Bhojpuri debut with the film 'Aisan Pyar Se Dekhbu T Pyar Ho Jai.' He has also acted and produced a few Rajasthani films, like Nani Bai Ro Mayro (2017) and Pakki Herogiri (2016).
Television
He made his television debut with B. R. Chopra's epic historical television serial Mahabharat (1988) in which he portrayed Guru Dronacharya; a character that made him a household name in India.
His dialogues as Dronacharya became very popular. Here's a popular dialogue of Dronacharay from Mahabharat –
अपनी सीमाओं का उल्लंघन मत करो दुर्योधन। ये मत भूलो कि तुम आचार्य द्रोण से बात कर रहे हो, उन असहाय पांडव पुत्रों से नहीं। मैं तुम्हारे एक-एक शब्द का उत्तर अपने बाणों से दे सकता हूं। रणभूमि और क्रीड़ा भवन में अंतर करना सीखो। युद्ध भूमि हमारे पक्ष में है, लेकिन युद्ध का परिणाम नहीं।"
Riding high on the success of Mahabharat, Surendra Pal started getting many offers to play titular roles in various television projects, and he went on to give many other popular performances, such as 'Mahamatya Rakshas' in Chanakya (1991), 'Dhundh' in The Zee Horror Show (1995), 'Tamraj Kilvish' in Shaktimaan (1997), 'Kailashnath' in Shagun (2001), 'Guruji' in Woh Rehne Waali Mehlon Ki Season 2 (2005), and 'Prajapati Daksha' in 'Devon Ke Dev…Mahadev' (2011).
Controversy
In 2019, he was named by Cobrapost among the celebrities who were involved in paid promotions for political parties. When a team of Cobrapost met Pal at the Lokhandwala Love & Latte coffee shop, he fell into the trap and accepted to do paid promotions for the BJP. When Cobrapost offered him an eight-month contract according to which he would be paid Rs. 30 lakh per month for 15 messages on Twitter, Facebook, and Instagram, he happily agreed to that and said,
Bas aap ye dhyan rakhiyega ki aath mahine continue rakhein ye nahi ki beech mein chhod dein aap mujhe … aur agar ho sake toh fir aath mahine ke baad bhi fir continue rakhein usko aage bhi zaroorat padegi (Please see to it that you honour the contract for eight months. Don't leave me half way through it … and if it is possible continue it after eight months. You may need it further)." [6]Cobrapost
Favourite Things
Travel Destination: Rajasthan
Music Genre: Rajasthani Folk
Facts & Trivia
He is semi-bald and most of the time, he wears a wig.
He was just 26 years old when he got the role of Dronacharya in Mahabharat.
He was very sceptical about playing the role of Dronacharya in Mahabharat; as he feared it would typecast him with that particular role in the industry.
After Mahabharat, it took about 23 years to him to do another mythological role when he appeared in 'Devon Ke Dev…Mahadev' (2011) as 'Prajapati Daksha.'
Tamraj Kilvish's face was revealed after 50 episodes of Shaktimaan.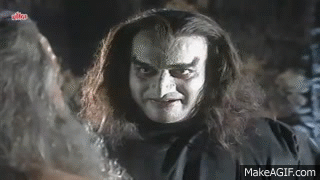 He experimented a lot with Tamraj Kilvish's makeup, and he even used an old wig that he had used in Amitabh Bachchan starrer Khuda Gawah.
He is a passionate dog lover and has a pet puddle dog "Kaju."
He is a sportsperson too and in his leisure time, he loves to play Polo.