Girish Karnad was an Indian actor, director, playwright, writer, professor, etc. He predominantly worked in South Indian Cinema. He rose to fame as a playwright in the 1960s. He worked in Cinema for over a period of four decades. In 1998, he received Jnanpith Award, the highest literary honour conferred in India.
Wiki/Biography
Girish Raghunath Karnad was born on 19 May 1938 (Age: 81 years, at the time of death) in Matheran, Bombay Presidency (Now, Maharashtra, India), British India. His mother, Krishnabai was a widow before his birth. She was practicing as a nurse in the hospital where she met Dr. Raghunath Karnad. They fell in love but could not marry due to prevailing prejudice against widow remarriage. However, after five years, they married and Girish was the third child of their four children. Initially, he received Marathi education. Since childhood, he was very interested in theatre and joined 'Natak Mandalis' (Travelling theatre groups). Girish was the admirer of 'Yakshagana' (A traditional theatre form). When he was 14 years old, his family moved to Dharwad, Karnataka where he was brought up with two sisters and a niece. For his higher education, he enrolled at Karnatak Arts College, Dharwad and received his Bachelor degree in Mathematics and Statistics in 1958.
In 1960, he was awarded the Rhodes Scholarship and went to England to study Masters' at the University of Oxford. He received his master degree in Philosophy, Political science, and Economics. In 1963, he was elected the President of Oxford Union.
Family
Karnad was born to Dr. Raghunath Karnad and Krishna Bai Mankeekara. His father was a doctor and his mother was a nurse. He had two brothers; Vasant Karnad and Bhalchandra Raghunath Karnad and two sisters. The names of his sisters are not known.
He married Dr. Saraswathy Ganapathy and had a son, Raghu Karnad.
Career
In 1963, he returned from England and started working with the Oxford University Press in Chennai. In 1970, he resigned from the press and joined the local amateur theatre group, 'The Madras Players.' From 1974 to 1975, he served as director of Film and Television Institute of India. In 1987, he was the visiting professor at the University of Chicago. In 1988, he had also been the chairman of 'Sangeet Natak Akademi,' the National Academy of Performing Arts. From 2000 to 2003, he served as director of Nehru center and as Minister of Culture in the Indian High Commission, London.
Writing
Karnad was famous as a playwright. He wrote in the Kannada Language. His work has been translated into English and some other Indian languages. When the play 'Mahabharata' of C. Rajagopalachari, the last governor-general of India, was published, it really put a huge impact on Karnad's life. In an interview, he said, "I could actually hear the dialogues being spoken into my ears … I was just the scribe." In 1960, he wrote his first play, 'Maa Nishaadha.' In 1961, he published his drama book, 'Yayati' which won Mysore State Award in 1962. His next play was 'Tughlaq' (1964) which was based on 14th century's Sultan of Delhi, Muhammad bin Tughlaq.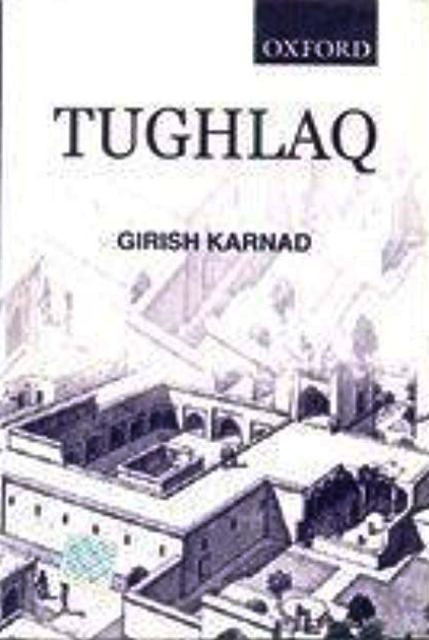 At the age of 26 only, he was the promising playwright in the country and his play 'Tughlaq' earned him popularity. In 1971, his another play, 'Hayavadana' was published. It was based on the theme of 'The Transposed Heads,' a 1940 novella by Thomas Mann. In 1988, his another play, 'Naga-Mandala' was published. It won him the Karnataka Sahitya Academy Award for the Most Creative Work of that year. His other plays are Agni mattu Male (1995), Odakalu Bimba (2006), Maduve Album (2006), Flowers (2012), etc.
Acting 
He made his acting and screenwriting debut with a Kannada movie, Samskara (1970). The movie won the first President's Golden Lotus Award for Kannada Cinema.  In 1971, he made his directorial debut with the film, Vamsha Vriksha. The film won him the National Film Award for the best direction along with B. V. Karanth who co-directed the film. Later, he directed several other Kannada and Hindi movies including 'Godhuli' (1977) and 'Utsav' (1984). He also directed some other films; Nishaant (1975), Manthan (1976), Swami (1977), and Pukar (2000). He made his TV debut with the TV series, 'Malgudi Days' in 1986. He played the key role in the film 'Ek Tha Tiger' (2012) and its sequel, 'Tiger Zinda Hai' (2017).
He provided the voice of former President of India, A. P. J. Abdul Kalam in the audiobook of Kalam's autobiography, 'Wings of Fire.'
Controversies
In 2012, Karnad was invited at the Tata Literary Festival in Mumbai to speak about his life. When he came to speak, he did not speak about himself, instead, he started hitting out at Trinidadian-British writer and Nobel laureate, V. S. Naipaul for his antipathy towards Indian Muslims.
In November 2015, during the celebration marking the birth anniversary of an 18th century Muslim ruler, Tipu Sultan, he said that Banglore International Airport should be named after Tipu Sultan instead of Kempe Gowda. After the outbreak of the public anger, he apologized on the following day. [2]

NDTV
Awards/Honours
For Literature
Sangeet Natak Akademi award and Varthur Navya Award (1972)
Padma Shri (1974)
Padma Bhushan (1992)
Kannada Sahitya Parishat Award (1992)
Sahitya Academy Award (1994)
Jnanpith Award (1998)
Kalidas Samman (1998)
National Film Awards
Best Direction: Vamsha Vriksha (along with B. V. Karanth) (1971)
Best Feature Film in Kannada: Vamsha Vriksha (1971)
Best Feature Film in Kannada: Tabbaliyu Neenade Magane (1977)
Best Screenplay: Bhumika (along with Shyam Benegal and Satyadev Dubey) (1978)
Best Feature Film in Kannada: Ondanondu Kaladalli (1978)
Best Non-Feature Film: Kanaka Purandara (1989)
Best Non-feature Film on Social Issues: The Lamp in the Niche (1990)
Best Film on Environment Conservation: Cheluvi (1992)
Best Feature Film in Kannada: Kaanuru Heggadathi (1999)
Filmfare Awards South
Best Director for the Kannada film: Vamsha Vriksha (1972)
Best Director for the Kannada film: Kaadu (1974)
Best Director for the Kannada film: Ondanondu Kaladalli (1978)
Best Actor for the Kannada film: Ananda Bhairavi (1983)
Filmfare Awards Hindi
Best Screenplay Award: Godhuli (along with B. V. Karanth) (1980)
Honour
Honorary Doctorate from the University of Southern California, Los Angeles (2011)
Favourite Things
Food(s): Kanda Batata Poha, Misal Pav, Vada-Pav, Aloo Methi, Lacha Prantha, Sabutdana Khichdi
Colour(s): Grey, Black, Brown, Blue
Book: 'Why Survive? Being Old in America' (Robert Neil Butler)
Poet(s): Amoghavarsha, Kappe Arabhatta
Death
On 10 June 2019, at the age of 81, Karnad passed away in Bangalore due to prolonged illness.
Facts
Karnad belonged to Saraswat Brahmin Konkani Family.
His work as the Swami's Father in TV series, 'Malgudi Days' (1987) was highly appreciated by the viewers in India.
He first met his wife at a party when he used to work at the Oxford University Press in Madras and married her at the age of 42.
In the 2014 general elections, he opposed Narendra Modi for the post of the Prime Minister.
He was a strong critic of religious fundamentalism and Hindutva.
His hobbies were reading, writing, listening to music, doing yoga, etc.
Here is an interview of Girish Karnad.