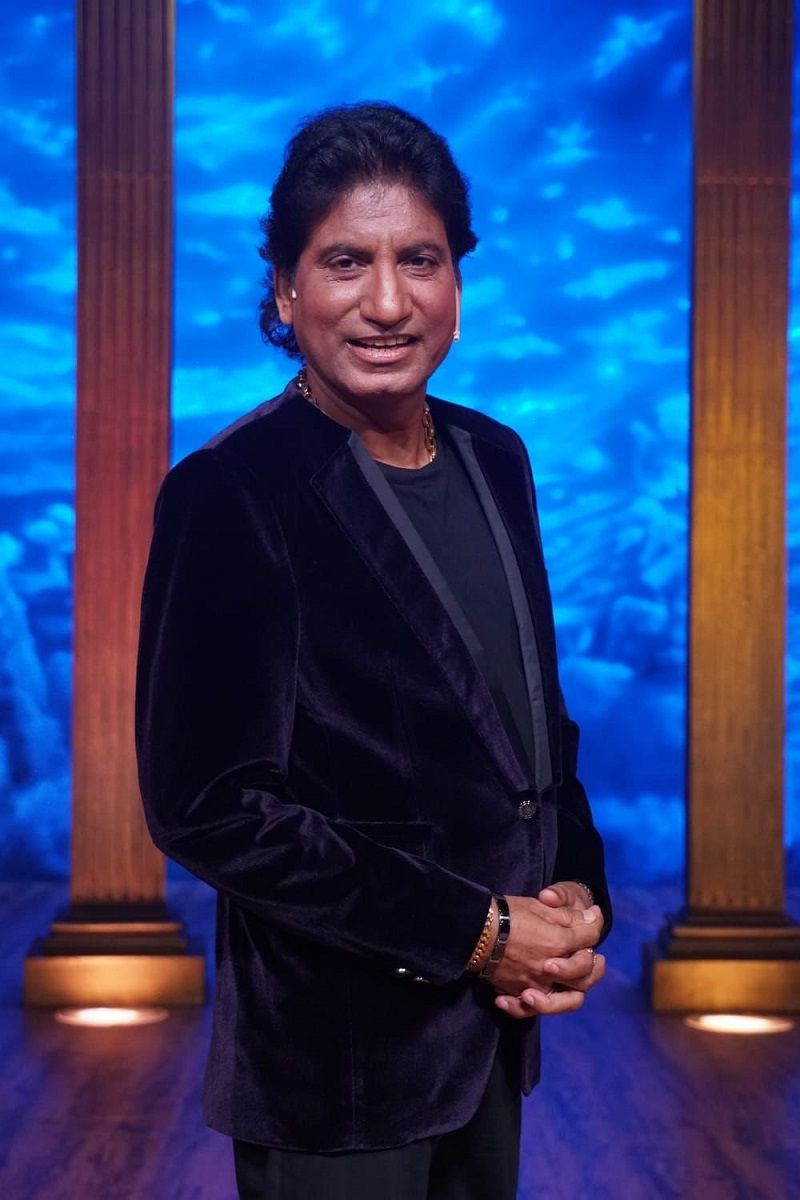 Raju Srivastava (1963-2022) was an Indian comedian, actor, and politician who was known for participating in the show 'The Great Indian Laughter Challenge' in 2005 and becoming the second runner-up. He gained popularity for his character as Gajodhar Bhaiya in the show 'The Great Indian Laughter Challenge.' He died at New Delhi's AIIMS while undergoing treatment on 21 September 2022. [1]Twitter – ANI
Wiki/Biography
Raju Srivastava was born Satya Prakash Srivastava [2]The Times of India on Wednesday, 25 December 1963 (age 58 years; at the time of death) in Kanpur, Uttar Pradesh. His zodiac sign is Capricorn.
Physical Appearance
Height (approx.): 5′ 7″
Weight (approx.): 70 kg
Hair Colour: Black
Eye Colour: Black

Family
Parents & Siblings
Raju Srivastava's father's name was Ramesh Chandra Srivastava, who was also known as Balai Kaka. He was a government employee and a poet.
His mother's name was Saraswati Srivastava, who was a homemaker. He has five brothers, one of whose name is Deepu Srivastava, who is a comedian, and one sister, Sudha Srivastava.
Wife & Children
Raju got married to Shikha Srivastava, who is a homemaker on 17 May 1993. He is survived by two children, one son, Aayushmaan Srivastava, who is a sitar player, and one daughter, Antara Srivastava, who is a director.
Signature
Career
Film
Raju started his acting career with the film Tezaab in 1988.
He appeared in many more Bollywood films including Baazigar (1993), Waah! Tera Kya Kehna (2002), Main Prem Ki Diwani Hoon (2003), Bombay to Goa (2007), and Firangi (2017).
Television
He made his debut on television with the show Dekh Bhai Dekh in 1994.
He participated as a contestant in various shows including Shaktiman (1998–2005), Comedy Circus (2007-2014), Laugh India Laugh (2012), Comedy Nights with Kapil (2013–2016), and Adaalat (2015).
In 2016, he appeared in a TV Commercial for 'PetSaffa.'
Politics
Raju started his political career when he won a ticket to the election in the 2014 Lok Sabha election by the Samajwadi Party from Kanpur. On 11 March 2014, he left the party because he did not receive much support from the local units of the party. On 19 Mach 2014, he joined Bharatiya Janata Party. In the same year, he became a part of the Swachh Bharat Abhiyan started by Prime Minister Narendra Modi.
Controversies
Hate from Pakistan
Raju was threatened by some people from Pakistan in 2010 when he received threat calls to stop making jokes about gangster Dawood Ibrahim and Pakistan during his shows. He received the same calls from Pakistan in 2021 in which the caller threatened him and said that they would kill him and his family just as they killed Kamlesh Tiwari, president of the Hindu Samaj Party (HSP), who was murdered in his home in Lucknow in 2019. Raju shared a video on Twitter in which he said,
When India was attacked by Pakistan and China, I was very angry. My anger flows through comedy. I'm being bullied. My condition will be like that of Kamlesh Tiwari of Lucknow. My children will be killed, but I will speak only about my country. I am working my way up. I was happy when my country's soldiers carried out surgical strikes."
Raju requested Home Minister Amit Shah to launch an inquiry against the caller. [3]India Today
Memes against Raju
In 2017, a person made memes on Raju by using his pictures for disgraceful jokes about Prime Minister Narendra Modi and other members of the BJP. Raju filed a police complaint against the person at Oshiwara police station. [4]Mid-day
Raju Srivastava blackmailed
In 2019, a person named Rahul demanded Rs. 10 Lakh from Raju and blackmailed him into leaking the video of Raju romancing women in his house in Lucknow. Rahul claimed to be a worker of SP's Yuvjan Sabha. Later, Raju sent an application to the DGP of Hazratganj, OP Singh after which Rahul was arrested. [5]Amar Ujala
Awards, Honours, Achievements
2016: Award at Gata Rahe Mera Dil- PHD Excellence Awards & Musical Evening
2017: Dada Sahab Phalke Excellence Award
2020: Award for one of the top 100 personalities of India
Death
On 21 September 2022, Raju Srivastava died at New Delhi's AIIMS while undergoing treatment. He was admitted to AIIMS in August 2022, where he underwent angioplasty after he suffered a heart attack while exercising on the treadmill at the Cult gym in Delhi. Many celebrities and politicians came forward to keep a check on his health. Some of them include Defence Minister Rajnath Singh, Bollywood actor Amitabh Bachchan, Chief Minister of Uttar Pradesh Yogi Adityanath, and Prime Minister Narendra Modi. According to many media reports, on 18 August 2022, it was reported that Raju was brain dead, but his manager clarified the rumours and said,
There is nothing like this. He is unconscious. There was swelling in his brain nerves. With some medicines, he was unable to respond. Then some injections were given which caused swelling in some of his brain nerves. Doctors are treating it."
Comedian Raju Srivastava passes away in Delhi at the age of 58, confirms his family.

He was admitted to AIIMS Delhi on August 10 after experiencing chest pain & collapsing while working out at the gym.

(File Pic) pic.twitter.com/kJqPvOskb5

— ANI (@ANI) September 21, 2022
Favourites
TV Shows: Bhabiji Ghar Par Hai (2015), Happu Ki Ultan Paltan (2019)
Facts/Trivia
He was popular by the name Gajodhar Bhaiya. [6]

The Tribune In an interview, he said that Gajodhar was his barber during childhood.
Raju was the chairman of the Film Development Council, Uttar Pradesh.
When he was in school, he used to imitate his teachers who thought of it as an insult. In an interview, he said that he used to mimic Indira Gandhi in front of his relatives when they came home. He further said that he used to learn about a person by listening to the radio because there was no TV in their home.
When Raju told his family about choosing a career in comedy, they did not like it. In an interview, he talked about this and said,


My relatives felt insulted by my comedy. They used to think that, children need to study and not recite jokes at the homes of other people. They used to complain to my parents and thought would bring dishonour to my family. Comedy as an art was not known. They opposed the same."
As Raju was growing up, he became a fan of Bollywood actor Amitabh Bachchan. He used to bunk his school and watch Amitabh Bachchan's films. He was so fond of him that he kept his look just like him. In an interview, he said that his neighbours used to call him on functions to perform mimicry of Amitabh Bachchan.
In an interview, he said that once he got Rs. 50 for his performance and that was the day he realized that he could earn money with his comedy.
He used to drive an auto during the initial phase of his career in Mumbai. After some time, he released his first audio jokes cassette 'Hasna Mana Hai' after which he came into recognition.
He was called the King of Comedy on The Great Indian Laughter Challenge show.
Raju got married in 1993, but he had to wait for twelve years to get married to his wife Shikha. He fell in love with her in 1982, when he attended his brother's wedding in Fatehpur. He did not tell his feelings to Shikha and went to Mumbai to become a comedian. He worked hard there, became a famous comedian, and earned a lot of money to impress Shikha's family. While he was in Mumbai, he used to write letters to her to confirm that she did not get married to someone else. Later, he sent the marriage proposal to her family and they went to see his house in Mumbai after which they were impressed by him, and they got married.
In 2019, he offered to make a film city in Varanasi to the Chief Minister of Uttar Pradesh Yogi Adityanath. In the offer proposed to him, he said that the talent in Varanasi would not have to leave the city and the film city would become a tourist place for the city. He was allotted a 106-acre plot in Varanasi to make the film city.
In 2021, Raju came forward to criticise the web series Tandav. In a video posted on his social media account, he said,


How dare you make fun of Hindu deities? I dare you to make shows critiquing other religions. You won't be able to do because you will be killed. Saif Ali Khan has been supporting this again and again because it's given that Hindus are kind enough to forgive. But it's time for stringent action. Merely removing a scene isn't enough, perpetrators should be punished."
Later, filmmaker Vinod Kapri took to Twitter and posted an old video of Raju making fun of lord Brahma.
#Tandav पर शोर मचाने वाले #RajuSrivastava ने ख़ुद भगवान ब्रह्मा का भद्दा मज़ाक़ उड़ाया है#BhagwanBrahma को माधुरी दीक्षित से मिलाने का बेहुदा मज़ाक़ #Brahma की सफ़ेद दाड़ी , लाल हो जाने का भौंडा मज़ाक़

इस गंभीर अपराध पर कब मुक़दमा करेगी @Uppolice? @myogiadityanath (part 1) pic.twitter.com/ag6B87tWxA

— Vinod Kapri (@vinodkapri) January 19, 2021