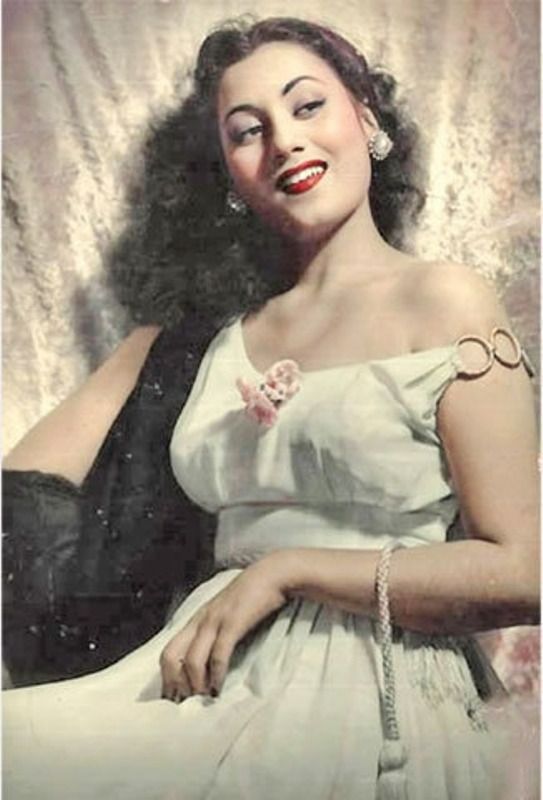 Madhubala (1933-1969) was an Indian actor and producer who worked in the Bollywood film industry and grasped the attention of the viewers with her impeccable performances, natural beauty, and charm.
Wiki/Biography
Mumtaz Jehan Begum Dehlavi popularly known as Madhubala was born on Tuesday, 14 February 1933 (age 36 years; at the time of death) in Delhi, British India. She spent the initial eight years of her life in Delhi and later moved to Bombay (now Mumbai) with her family. Reportedly, Madhubala did not attend any school, but she was taught by an English tutor at home. [1]Filmfare
Physical Appearance
Height (approx.): 5′ 7″
Weight (approx.): 55 kg
Hair Colour: Black
Eye Colour: Black
Figure Measurements (approx.): 34-26-30
Family
Madhubala belonged to a conservative Muslim Pashtun family. [2]Filmfare
Parents & Siblings
Madhubala's father, Ataullah Khan, worked with the 'Imperial Tobacco Company' in Peshawar with the British. Her mother's name is Ayesha Begum. According to sources, Ataullah and Ayesha Begum had 11 children, four boys and seven girls; however, the boys didn't survive. [3]Filmfare Madhubala's sisters were, Altaf, Chanchal, Madhur Bhushan (Zahida), Kaneez Fatema, and Shahida Kazi.
Husband & Children
Madhubala and Kishore Kumar, an Indian playback singer and actor, tied the knot in 1960. Madhubala had no children.
Religion/Religious Views
Madhubala followed Islam.
The Childhood in Bombay
According to Madhur, after losing his job at Imperial Tobacco Company in Delhi, her father, Ataullah Khan, decided to move to Bombay with his family. Madhubala and her family were located in Kandivali/Malad suburb, close to Bombay Talkies, a movie studio. On 14 April 1944, they lost their house in the explosion at the Victoria Dock of Bombay, British India. According to sources, Madhubala, along with her family, moved to Andheri in a villa named 'Kismet,' which was allegedly sold due to the failure of the film 'Naata' (1955) at the box office. The family eventually started living at 'Arabian Villa,' a bungalow rented by Madhubala on Peddar Road in Bombay that went on to be her permanent residence until her death.
The Meteoric Rise of "The Venus of Indian Cinema"
Actor
In 1942, Madhubala, at 9, made her debut as a child actor in the film 'Basant,' which became the highest-grossing Indian film of that year. Madhubala appeared as baby Mumtaz in the film.
Madhubala did her first lead role in the film 'Neel Kamal' in 1947. [4]Filmfare The diligent actor Madhubala gave remarkable performances in many films such as 'Amar Prem' (1948), 'Mr. & Mrs. 55' (1955), 'Kala Pani' (1958), 'Howrah Bridge' (1958), 'Chalti Ka Naam Gaadi' (1958), 'Half Ticket' (1962), and many more.
Madhubala's notable work in 'Mughal-E-Azam' (1960), which is considered to be a milestone of its genre, left the audience besotted.
Producer
In 1955, Madhubala marked herself as a producer with the film 'Naata.' Other films such as 'Mehlon Ke Khwab' (1960) and 'Pathan' (1962) were produced by Madhubala under her production house 'Madhubala Private Ltd.,' which was co-founded by her in 1953. Madhubala also acted in the films that she produced.
Relationships/Affairs
Prem Nath – Madhubala's First Love
In 1951, Madhubala came into a relationship with Prem Nath, an Indian actor and director. After nearly six months, they parted ways due to religious differences. According to sources, Prem Nath asked Madubala to convert to Muslim; however, Madhubala did not agree to it. In an interview, Madhubala's youngest sister Madhur Brij Bhushan told about Madhubala's relationship with Prem Nath and mentioned the reason for the separation of the couple. Madhur Brij Bhushan said,
Apa first fell in love with Premnath. The relationship lasted six months. It broke on grounds of religion. He asked her to convert and she refused." [5]Hindustan Times
Dilip Kumar – The Nine-Year Relationship
After parting ways with Prem Nath, Madhubala came across Dilip Kumar through a project. Reportedly, the duo met on the sets of 'Tarana' (1951) and got connected while working in the film.
Madhubala and Dilip Kumar, one great love of her life, were deeply in love. The couple went on working in different films which included Sangdil (1952) and Amar (1954).
Engagement
After dating for some time, the shy and reticent Dilip Kumar and the vivacious Madhubala got engaged. [6]Filmfare
The 'Naya Daur' Case – Disagreement That Affected Their Relationship
Reportedly, a disagreement between Dilip Kumar and Madhubala's father, Ataullah Khan, rose during the making of the film 'Naya Daur' (1957). According to sources, the crew of Naya Daur was going to shoot in Gwalior, where a mob attacked women during the shooting of another film, and their clothes were torn by them; concerned about the safety of his daughter, Ataullah Khan demanded that the shooting should be done somewhere else. [7]Filmfare The film's director and producer, B. R. Chopra, however, did not change the locale for the shoot and eventually replaced Madhubala with Vyajayantimala. [8]Hindustan Times Following the decision of B. R. Chopra, Ataullah Khan filed a complaint against him. Dilip Kumar, on the other hand, sided with B. R. Chopra and stood by him during the court hearing as well which created an unforeseen conflict between Dilip Kumar and Ataullah Khan resulting in an adverse effect on Madhubala and Dilip Kumar's relationship. In an interview, while talking about Madhubala and Dilip Kumar's failed relationship, Madhur Bhushan said,
The breakup with Dilip Kumar happened due to the court case during Naya Daur in the mid '50s. The unit was to shoot somewhere in Gwalior.  During the shooting of another film Jabeen Jaleel, at the same location, a mob had attacked the women and even torn their clothes off. My father was wary and just asked that the locale be changed. It's not that he didn't let her go outdoors. Apa had shot in Mahableshwar, Hyderabad and other places before. Bhaijan called my father 'a dictator' in court and sided with the Chopras (late BR Chopra was the director). Darare padh gayee, rishtey toot gaye (relationships were broken)." [9]Filmfare
An Unfinished Love Story
Born on the day of According to Madhubala's sister Madhur, the unexpected support of Dilip Kumar to the Chopras in the case made Madhubala so disturbed that she used to cry a lot those days. After some time of distance, Madhubala and Dilip Kumar tried to get back together and communicated on phone calls discussing the same. Madhur mentioned that the whole discussion would come to just one point where Dilip Kumar would ask Madhubala to leave her father and get married to him, and Madhubala would ask him back to come to her house and apologise to her father for standing against him and only then she would get married to him. According to Madhubala's sister Madhur Brij Bhushan,
They had conversations on the phone trying to patch up. He kept saying, 'Leave your father and I'll marry you'. She'd say, 'I'll marry you but just come home, say sorry and hug him'." [10]Hindustan Times
None of them wanted to give up their "demands" as a result of which 'the perfect match' never got back together.
Marriage – A Deal of Business Venture (Dilip Kumar: The Substance and The Shadow)
Some media outlets claim that Dilip Kumar and Madhubala did not get back together because of Ataullah Khan's objection to their relationship. Contrary to the media's claim, Dilip Kumar, in his autobiography, 'Dilip Kumar: The Substance and The Shadow,' clearly mentioned the motive of Madhubala's father, Ataullah Khan, of turning their marriage into a "business venture" the reason for their unfinished love story. Reportedly, Ataullah Khan owned a production house during that period and wanted Dilip Kumar and Madhubala to work for his production only which was unacceptable to Dilip. While recalling the moments from the making of the iconic historical drama film 'Mughal-E-Azam,' Dilip Kumar wrote,
I sensed Asif was seriously trying to mend the situation for her when matters began to sour between us, thanks to her father's attempt to make the proposed marriage a business venture. The outcome was that half way through the production of Mughal-e-Azam, we were not even talking to each other." [11]Hindustan Times
Kishore Kumar
Before entering into wedlock, Madhubala and Kishore Kumar dated each other. Reportedly, while going through heartbreak from the relationship with Dilip Kumar, Madhubala met Kishore Kumar who was going through a divorce with Ruma Devi Guha Thakurta. [12]Filmfare According to Madhur Bhushan, their love relationship kept going for almost three years.
Controversy
Charity Caught By Religious Beliefs
Reportedly, in 1950, Madhubala's donation of Rs 5000 each to the Jammu and Kashmir relief fund and to children suffering from poliomyelitis and Rs 50,000 to the refugees from East Bengal, heated controversy due to her religious beliefs, which received wide coverage in the media at that time; however, Madhubala did not stop donating.
Fatal Illness
Reportedly, Madhubala was diagnosed with a Ventricular septal defect. She allegedly suffered from a lung issue, pulmonary pressure of the lungs, due to which she used to cough all the time. According to Madhur, in 1954, while shooting for 'Chalak' in Madras, Madhubala's illness was detected for the first time when she vomited blood. Kishore Kumar flew to London with Dr Rustom Jal Vakil from Mumbai for Madhubala's treatment. [13]Filmfare As claimed by some media outlets, Kishore Kumar and Madhubala went to London for their honeymoon where her specialised treatment was also taken care of. According to Madhur, the doctors in London said that Madhubala's heart was completely damaged, and she had only two years of her life ahead. While explaining the health condition of her sister, Madhur said,
Kishore Bhaiyya flew her to London about 10 days later. The doctors said, 'her heart is finished'. And that she wouldn't live beyond two years." [14]Filmfare
According to sources, Ashok Kumar (Kishore's elder brother) recalled that her sickness turned her into a "bad-tempered" person and she spent most of her time in her father's house. Madhubala's sister Madhur Bhushan, in an interview, disclosed that Kishore Kumar left Madhubala at her father's house saying that he could not take care of her as he would often be out of the city for work. Madhur added that Kishore Kumar bore Madhubala's medical expenses and would visit her once in two months. According to Madhur Bhushan, Kishore Kumar said,
I can't look after her. I'm on outdoors often." [15]Filmfare
According to sources, she had to be given oxygen after a regular interval of four to five hours. [16]Hindustan Times Moreover, the doctor would come to the house and extract blood in bottles from Madhubala's body as extra blood was being produced in the body. [17]Filmfare Madhubala's deteriorating health made her reduced just to skin and bones. Looking at herself in the mirror, Madhubala would say,
Dekho main kya se kya hogayee!' If people comment on my looks I'll cry all the more." [18]Filmfare
According to Madhubala's sister Madhur, Madhubala would cry and say,
Mujhe zinda rehna hai, mujhe marna nahin hai, doctor kab ilaaj nikalenge (I want to live, I don't want to die, wonder when the doctors will find a cure)." [19]Filmfare
Death
Madhubala, an actor with angel grace, died nine days after turning 36, i.e., on 23 February 1969.
The Funeral
Reportedly, Madhubala was buried in the Juhu Muslim Cemetery in Santacruz, Bombay. [20]The Times of India
According to Madhur Bhushan, Madhubala's grave was carved in pure marble and bore 'aayats' from the Koran as well as verses which were dedicated to her memorial, and her father spent weeks at the graveyard, making sure the artisans crafted it well. [21]The Economic Times
The Demolition of Madhubala's Grave
Reportedly, Madhubala's grave, along with others,' in the Juhu Muslim Cemetery was demolished to create space for the new bodies. The cemetery included the gave of many renowned personalities like Naseem Bano, Ludhianvi, Naushad, Ali Sardar Jafri, Khwaja Ahmed Abbas, Jan Nisar Akhtar, Rafi, and Parveen Babi. Asgar Ali, the president of the Muslim Majlis, a trust which manages the burial ground, said that the construction of memorials to the dead was prohibited by Islamic law. While justifying the demolition of the graves in the Juhu Muslim Cemetery, Asgar Ali said,
Islamic law or Sharia does not permit the construction of memorials to the dead, Moreover, there is an acute shortage of space since the Muslim population in the area is expanding and everyone wants to be buried in our graveyard given how clean and high-profile it is. Poet Ali Sardar Jafri lived near Malabar Hill but he was brought here." [22]The Economic Times
Car Collection
Madhubala had a collection of swanky cars which included Hillman, Buick, and Station Wagon. [23]Filmfare
Favourites
Tributes and Commemorations
A Greek song 'Mandoubala,' produced by Stelios Kazantzidis, was dedicated to Madhubala and was performed at the closing ceremonies of the 2004 Athens Olympics.
Reportedly, in 2008, a postage stamp was issued by the Indian Post, featuring Madhubala's image on it.
On 10 August 2017, the New Delhi centre of Madame Tussauds unveiled Madhubala's statue – inspired by her look in the film Mughal-E-Azam. Reportedly, Madhur Bhushan attended the event.
In 2018, The New York Times, an American newspaper, published an obituary in 'Overlooked' in which her life was compared to Marilyn Monroe, an American actor. [30]

The New York Times
Reportedly, Madhubala's entry in "Mughal-E-Aazam" was included in Rediff.com's list of "20 scenes that took our breath away" by Sukanya Verma, an Indian journalist and film critic.
On 14 February 2019, the search engine Google commemorated the legendary Madhubala with a doodle on her 86th birthday.

Reportedly,  Google commented,

While her breathtaking appearance earned comparisons to Venus, Madhubala was a gifted actor with an understated style well suited for comedies, dramas, and romantic roles alike. Appearing in over 70 films over the course of a tragically brief career, Madhubala "who would have turned 86 today" was called 'The Biggest Star in the World' in 1952 by Theatre Arts magazine." [31]Google
Facts/Trivia
Reportedly, on the sets of 'Basant' (1942), Devika Rani, the producer of the film, was grasped by Madhubala's translucent beauty, and she asked her to keep 'Madhubala' as her stage name.
In an interview, Madhur revealed that Madhubala continued working even after the doctor's advice of taking bed rest for at least three months so that the films won't suffer. She mentioned that while shooting for Mughal-e-Azam, she was supposed to give a shot in which she was tied with chains and had to walk around wearing them as a result of which her hands, at the end of the day, turned blue. While sharing the moments from the stressful life of Madhubala, Madhur said,


She was advised bed rest for three months but continued working as her films would suffer. While shooting for Mughal-e-Azam she was tied with chains and had to walk around with them. That was stressful. By the end of the day her hands would turn blue. She'd even refuse food saying that she had to look anguished and weary for the jail scenes." [36]Filmfare

According to Lata Mangeshkar, Madhubala, after the success of the song 'Aayega Aanewala' of the film Mahal (1949), would specify in her contracts that she wanted only Lata Mangeshkar to do her playback singing. While talking about Madhubala's love for her, Mangeshkar said,


She stipulated in her contracts that she wanted only me to do her playback singing. This was after the success of Aayega Aanewala in Mahal (1949). During those days, we'd meet socially quite often. That kind of camaraderie no longer exists… Madhubala mujhe bahut pyar se milti thi (She would meet me with a lot of affection)." [37]The Indian Express

Madhubala, the beauty with the kind heart, used to donate as much as she could. According to sources, in 1954, it was revealed that Madhubala used to give monthly bonuses to the lower staff of her studios, and she also gifted a camera crane to the Film and Television Institute of India (FTII) in 1962.
Madhubala, due to her deteriorating health, used to work intermittently. Her last film happened to be 'Sharabi' (1964).
The film 'Hanste Aansoo' (1950) was the first film to receive an "A" – adults only – rating from the Central Board of Film Certification. [38]

The Dispatch
In 1960, Madhubala was nominated for Filmfare Award for best actress.
The film 'Jwala' (1971), was the only colour film that was released posthumously.
According to Madhur, Madhubala was an emotional and jolly person. She would laugh as easily as she would get tears in her eyes. During an interview, Madhur said that the moment Madhubala started laughing, there would be no end to it and many times the shooting had to be cancelled because of this. [39]

Filmfare
It is claimed by the media that Madhubala, as a child, had a friend named Latif whom she gave a rose as a token of love before leaving for Bombay (now Mumbai). According to sources, Latif who became an IAS officer kept the rose to herself and on the demise of Madhubala, he put that rose on her grave. Reportedly, Latif, a retired IAS officer would visit Madhubala's grave on 23 February every year. [41]

The Dispatch
Madhubala earned many titles which included 'The Venus of Indian Cinema,' 'The Marilyn Monroe of Bollywood,' and 'The Beauty With Tragedy.' [42]

The Dispatch
References

↑

1,

↑

2,

↑

6,

↑

7,

↑

9,

↑

12,

↑

15,

↑

17,

↑

19,

↑

23,

↑

24,

↑

25,

↑

26,

↑

33,

↑

34,

↑

35,

↑

36,

↑

39
Filmfare

↑

3,

↑

4,

↑

13,

↑

14,

↑

18
Filmfare

↑

5,

↑

8,

↑

10,

↑

11,

↑

16
Hindustan Times

↑

20
The Times of India

↑

21,

↑

22
The Economic Times

↑

27
Outlook

↑

28
News 18

↑

29
Tanqeed

↑

30
The New York Times

↑

31
Google

↑

32,

↑

38
The Dispatch

↑

37
The Indian Express

↑

40
Filmfare

↑

41,

↑

42
The Dispatch