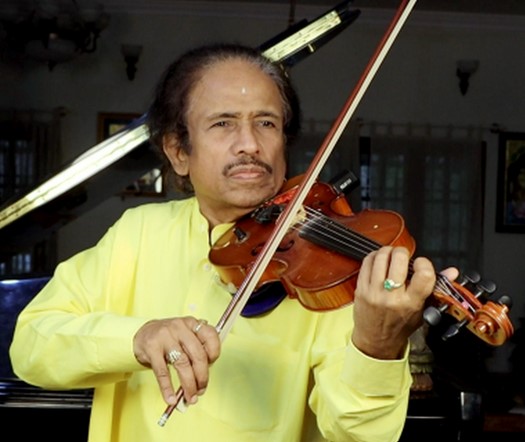 Subramaniam Lakshminarayana is a prominent Indian violinist, music composer, multi-instrumentalist, record producer, and pedagogue. He is well-versed in Classical, Carnatic, Jazz fusion, Indo-jazz, World fusion, and Western classical music.
Wiki/Biography
L. Subramaniam was born on Wednesday, 23 July 1947 (age 75 years; as of 2022) in Madras, Madras Presidency, British India (now Chennai, Tamil Nadu, India). His zodiac sign is Leo. Soon after completing his school education at local schools, he went to Madras Medical College to pursue an M.B.B.S. degree. Later, he completed a master's degree in Western classical music at the California Institute of the Arts. In 2016, he earned a D.Litt. Honoris at ITM University, Gwalior (M.P.). In 2017, L. Subramaniam completed a PhD in music (Thesis on Raga Harmony for Orchestral compositions) at Jain University, Bengaluru, Karnataka. Before attending school, he began learning violin at home under the direction of his father, Professor V. Lakshminarayana, when L. Subramaniam was five years old. His father was a music teacher at a college in Jaffna, Sri Lanka. His family members and his fellow beings fondly called him with the name Mani. [1]Concord When he was six years old, he began doing musical shows publicly. In an interview with a media house, L. Subramaniam talked about his childhood memories and stated that his routine life in childhood was to spend most of his time learning music from his father and mother. He said,
We were either listening to our parents (especially my father) practicing or teaching my elder siblings or other students. We used to spend most of the time listening to music. My father used to play the violin while my mother sang, and it was a routine life."
L. Subramaniam added in the same discussion that in 1965, the anti-Tamil riots broke out in Sri Lanka, and his family members fled from Sri Lanka to India. According to him, during their escape from Sri Lanka, they had only violins and clothes with them.
Physical Appearance
Hair Colour: Salt and Pepper
Eye Colour: Black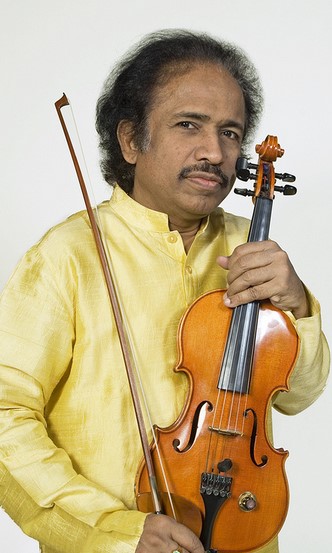 Family
Parents & Siblings
His father's name is V. Lakshminarayana, and he was a Carnatic violinist.
His mother's name is Seethalakshmi, and she was a vocalist and a Veena player. V. Lakshminarayana and Seethalakshmi had six children. He has two brothers named L. Shankar (alias. Shenkar), who is a musician and Late L. Vaidyanathan, who was an Indian musician.
His two uncles Ramnad Raghavan and Ramnad Krishnan were famous Indian musicians.
Wife & Children
He was married to Vijayashree Subramaniam. She died on 5 February 1995 due to cancer. She was a prominent Indian singer, who worked as an announcer on the AIR and DD during her career. She was well versed in classical music and sang songs in the films "Salaam Bombay" and "Mississippi Masala." Vijayashree Subramaniam attended the California Institute of Arts to pursue a degree in music and lent her voice to several songs under her own label "Viji Records."
L Subramanium has four children with Viji. The names of his sons are Dr Narayana Subramaniam (doctor and musician) and Ambi Subramaniam (violinist).
The names of his daughters are Gingger Shankar (a singer, composer, and multi-instrumentalist) and Bindu Subramaniam (a law graduate and singer-songwriter).
In November 1999, L Subramanium got married to noted Indian singer Kavita Krishnamurthy. The couple has a son named Sai Prashant Krishnamurthy.
Career
Songs and Recordings
Since 1973, L Subramaniam has composed many songs and recorded several music albums under his own label along with famous musicians including Yehudi Menuhin, Stéphane Grappelli, Ruggiero Ricci, and Jean-Pierre Rampal. He shared many live music stage performances with renowned musicians including Ruggiero Ricci, Herbie Hancock, Joe Sample, Jean-Luc Ponty, Stanley Clarke John Handy, and George Harrison. He is credited with more than two hundred recordings, which include many solo albums and recording collaborations. During his live musical shows, L Subramanium is often accompanied by prominent vocalists such as Chembai Vaidyanatha Bhagavatar, K. V. Narayaswamy, Dr Sripada Pinakapani, Semmangudi Srinivasa Iyer, M. Balamuralikrishna and M. D. Ramanathan. He gave many memorable live musical performances along with famous Indian musician Palghat Mani Iyer on the Mridangam. During his musical career, he worked with several North Indian Hindustani instrumentalists and artists. In 1983, he became popular globally when he composed a Double Concerto for violin and flute by fusing western scales with micro intervals music forms. Later, he composed the song 'Spring–Rhapsody,' which he dedicated to Bach and Baroque music. L Subramaniam earned wide critical acclaim for his music album Global Fusion in 1999 and received immense popularity for his fine playing.
Orchestras
L Subramanium collaborated with many popular orchestras to create music. These orchestras include Fantasy on Vedic Chants with the Mariinsky Theatre Orchestra, which was led by Djemal Dalgat, Turbulence with The Swiss Romande Orchestra, "The Concert of Two Violins" with the Oslo Philharmonic, and Global Symphony with the Berlin State Opera. During the same time, he performed on a live concert tour along with the Beijing Symphony Orchestra in Beijing, China. In September 2007, L Subramanium earned a strong standing ovation for his performance with the Fairfax Symphony Orchestra, Warrenton Chorale and Carnatic percussionists after he played "The Freedom Symphony."
Films
L Subramanium composed several songs for Indian films such as Salaam Bombay in 1988, and Mississippi Masala in 1991, and the director of this film was Mira Nair. In 1993, he gave a special performance as a violin soloist in Bernardo Bertolucci's film Little Buddha. L Subramanium was then cast in the film Cotton Mary in 1999 as a violin soloist. This film was produced by Merchant Ivory productions.
Lakshminarayana Global Music Festival (LGMF)
In 1992, L Subramanium established the Lakshminarayana Global Music Festival (LGMF) in memory of his late father, Professor V. Lakshminarayana, who died in 1990. According to L Subramanium, Violins for Peace, Visions of India, and Sounds of India are the three basic concepts to establish this festival. This festival had been organised in more than fifty-five countries across the world till 2018 under his guidance. In a media interview, in 2018, L Subramanium said that LGMF had featured some of the world's noted musical icons. He said,
LGMF has featured some of the world's greatest musical icons since its inception, including MS Subbulakshmi, Bismillah Khan, and Pandit Jasraj, among others. lGMF has been held in over 55 countries so far and will take place in the UK and Germany for the first time this year."
In 2004, L Subramanium promoted this festival by conducting many live music concerts in the US (Lincoln Center, New York), the Asian Pacific region including in Perth, Australia, and at the Esplanade, Singapore, the Sri Dewan Penang Hall in Penang, and the Putra World Trade Centre in Kuala Lumpur, Malaysia. In 2005, he was accompanied by many noted instrumentalists to promote this festival. These artists included violin maestro Arve Tellefsen, the Oslo Camerata, Stanley Clarke, George Duke, Al Jarreau, Earl Klugh, and Ravi Coltrane.
Stage Presentations
His musical compositions are frequently used for stage performances by several dance companies such as San Jose Ballet company and the Alvin Ailey American Dance Theater. One of his memorable stage presentations written by him was "Shanti Priya" for the Mariinsky Ballet in December 2014. He gave a memorable music performance in 2011 in the United States. In 2012, L Subramanium attended a live musical show along with American singer and songwriter, Stevie Wonder at the UN as a Special Guest Artist. Stevie Wonder organised this event to promote peace missions across the world. His music compositions were praised by his colleague and musician Yehudi Menuhin during the event. Yehudi Menuhin said,
I find nothing more inspiring than the music making of my very great colleague Subramaniam. Each time I listen to him, I am carried away in wonderment."
Literary Works
In 1999, L Subramaniam published his book Euphony. He is also an acclaimed writer who composed music for many orchestras, ballets, and Hollywood film scores.
Awards, Honours, Achievements
2012
 Lifetime Achievement Award, Limca Book of Records
GiMA (Best Carnatic Instrumental Album – Innovations) by Global Indian Music Academy
2011
Uttam Vag Geykar Jialal Vasant Award, Ajivasan
Big Star IMA Award (Best Classical Instrumental Album – Violin Maestros) by Indian Music Academy
2010
GiMA (Best Carnatic Instrumental Album – Violin Maestros) by Global Indian Music Academy
GiMA (Best Fusion Album – Live at Neues Gewandhaus, Leipzig) by Global Indian Music Academy
2009
Tantri Nada Mani, Kanchi Kamakoti Peetham, Kanchipuram
Asthana Vidwan, ISKCON, Bangalore
2004
Viswa Kala Bharathi Bharat Kalachar, Chennai,
Sangeetha Kalaratna by Bangalore Gayana Samaja
Sangeetha Kalaa Shiromani, Percussive Arts Centre, Bangalore
2003
Honorary Doctorate, Bangalore University
2001
Padma Bhushan by the Government of India
Manaviyam (Millennium) Award by the Government of Kerala
1998
Lotus Festival Award, City of Los Angeles
1997
Special Medal of Honour by HH King Birendra of Nepal
1996
Best Composer Award/Commission, NRK P2, Norway
Sangeeta Ratna Mysore, T. Chowdaiah Memorial National Award
1995
Awarded at the World Music Festival at Madison Square Gardens, Bharatiya Vidya Bhavan, New York
1993
Nada Chakravarthy, Ganapathi Sachchidananda Swamiji, Trinidad
Onida Pinnacle Award (Best title track composer: Surabhi)
1990
Creative Music Award, Sangeet Natak Akademi
1988
Padma Shri, Government of India
Award for outstanding contribution to Indo-American goodwill, understanding and friendship, Indo-American Society
1984
Sangeeta Sagaram, Cultural Centre of Performing Arts
1981
Grammy Nomination (for the album Indian Classical Music)
1972
Orpheus of the East Kala Samarpana, Alliance Francaise, Chennai
Violin Chakravarthy, Governor of Madras,
Best Western Instrumentalist, IIT Madras
1963
President's Award for Best Violinist, All India Radio
Facts/Trivia
L Subramanium is proficient in playing musical instruments such as Violin, Percussion, Synthesizers, and Vocals. He is a part of the music company KM Music Conservatory in Kodambakkam, Chennai as its advisory member. The Indian composer A. R. Rahman is the owner of this company.
Once, he was honoured with the name "Paganini of Indian violin" by the western press.
According to L Subramaniam, his father is the one who struggled for the status of Indian violin in India. While talking to a media reporter, once, he stated that the violin was used as an accompanying instrument in the British period. He added in the same conversation that while living in Sri Lanka, his father struggled a lot to raise its stature. L Subramanium said,


We lacked the technical know-how as violin was introduced in the British era and its status was more of the accompanying instrument which was in stark contrast to the solo style of playing. My father struggled a lot to raise its stature, we were in Sri lanka and this journey of becoming soloists began from there."
L Subramaniam, along with his wife, founded a music school in 2007 and named it the Subramaniam Academy of Performing Arts (SAPA), in Bangalore, India. It was established under the Subramaniam Foundation.
While talking about his musical accomplishments, L Subramaniam always replies that music is an eternal quest and a vast ocean. According to him,


Music is a vast ocean and no one can claim to know it all. The more you know, the more you realise how little you know. It is an eternal quest."
L Subramaniam regularly appears on stage for many memorable live music concerts along with his daughter Bindu Subramaniam and sons, Ambi Subramaniam and Dr Narayana Subramaniam.
His wife and notable Indian classical singer Kavita Krishnamurthy often accompany him during the live music shows.
With the passage of time, his family earned the nickname 'Subramaniam Gharana' as his all family members are musicians and violinists. This 'Subramaniam Gharana' also includes many other famous instrumentalists and artists such as Al Jarreau, George Duke, Solo Cissokho, Miya Masaoka, Mark O'Connor, Loyko, Jean-Luc Ponty, Ustad Bismillah Khan, Larry Coryell, Arve Tellefsen, Pandit Jasraj, Dr M. Balamuralikrishna and Corky Siegel.
According to L Subramanium, he is well versed and trained in a range of Western music such as African music and Indonesian music, which always helps him to compose new songs with a better approach. In a conversation with a media house, he said, he learnt how to compose songs during his postgraduation. L Subramanium said,


As a composer, I learned the art of compositions in my masters degree. I learned African music, Indonesian music, and various other forms to have the right ingredients in the composition."