Madhur Jaffrey is an actress, food and travel writer and television personality. She is famous for bringing Indian cuisine to the West. She made her debut by writing the cookbook 'An Invitation to Indian Cooking' in 1973.
Wiki/Biography
Madhur Jaffrey was born on Sunday, 13 August 1933 (age 88 years; as of 2021) in Delhi. Her zodiac sign is Leo. [1]IMDB She studied at St. Mary's Convent School, Kanpur and Queen Mary's Higher Secondary School, Delhi. She did her graduation from Miranda House, Delhi in 1950 and the Royal Academy of Dramatic Art, England in 1955. She has done a B.A. degree in English Honours. Jaffrey was born in Delhi but shifted to Kanpur when she was two years old. When she was five years old, she played the role of a mouse in the play 'Pied Piper of Hamelin. She moved back to Delhi in 1944. During her high school, she played the role of Titania in the play 'A Midsummer Night's Dream' and was also a lead actor in the play 'Robin Hood and His Merry Men.' During her summer holidays, she worked at the All India Radio and got paid for it. While Jaffrey was pursuing graduation in 1950, she took part in many plays. She joined Unity Theatre in Delhi in 1951. The theatre was founded by Saeed Jaffrey. After her graduation, she worked as a disc jockey in All India Radio where Saeed worked as an announcer. They fell in love with each other. She met British novelist Ruth Prawer Jhabvala who wrote the book 'To Whom She Will' in 1955 that was based on the love story of Saeed and Madhur. In 1955, she played the role of the mother in the play 'Auto-da-Fe'. She took admission to the Royal Academy of Dramatic Art to pursue a course in acting. The food she used to eat there was tasteless and she did not like it at all. She asked her mother to give her the recipe so that she could cook food easily. [2]The Hindu
Physical Appearance
Height (approx.): 5′ 0″
Weight (approx.): 60 kg
Hair Colour: Black
Eye Colour: Black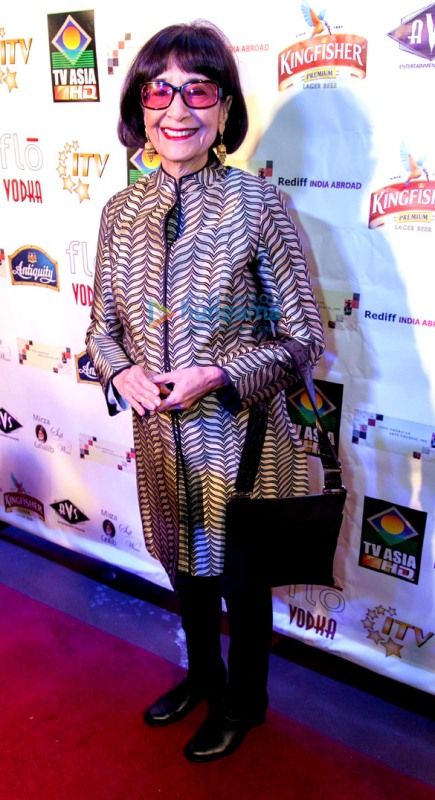 Family
Parents & Siblings
Jaffrey`s father`s name is Lala Raj Bans Bahadur and her mother`s name is Kashmiran Rani. She has two brothers. Their name is Brij Bans Bahadur and Krishen Bans Bahadur. She has three sisters. Their names are Lalit, Kamal and Veena.
Husband & Children
Madhur Jaffrey got married to actor Saeed Jaffrey in 1958. Their marriage lasted for seven years and in 1965 they got divorced.
In 1969, Madhur remarried Sanford Allen who is a Violinist.
She has three daughters. Their names are Zia Jaffrey who is an Assistant Professor, Meera Jaffrey who is a Teacher and Sakina Jaffrey who is an Actress.
Career
Film
Madhur was seen in the film 'Shakespeare Wallah' (1965), The Guru (1969), Autobiography of a Princess (1976), Heat and Dust (1983), and The Perfect Murder (1988).
Television
Madhur appeared on the shows 'Madhur Jaffrey's Far Eastern Cookery' in 1989 and 'Madhur Jaffrey's Flavours of India' in 1995. In 2019, she featured in a rap video with Zohran Mamdani (director Mira Nair's son).
Cooking
Madhur wrote her first cookbook in 1973. The title of the book is 'An Invitation to Indian Cooking'. [3]The Hindu
In 2006, the memoir written by her was published. The name of the memoir was 'Climbing the Mango Trees'.
Controversy
In 2014, Madhur Jaffrey said in a show (Cheltenham Literature Festival) that the dish Balti was not very popular. Balti is a dish that was introduced in 1977 in Birmingham curry house. The dish gained a lot of fame during the 1980s and 1990s. The experts of the dish said that they were unhappy with what Jaffrey said about the dish and also said that the dish was still important for them. [4]TheAsianToday
Awards, Honours, Achievements
She won the best actress award from the Berlin International Film Festival in 1965 for her performance in Shakespeare Wallah
She won the Taraknath Das Foundation Award presented by the Taraknath Das Foundation of the Southern Asian Institute of Columbia University in 1993
She was named 'Who's Who of Food and Beverage' in America by the James Beard Foundation in 1995
She won the muse award presented by New York Women in Film & Television in 2000
She received the honorary CBE award on 11 October 2004 for her services to the United Kingdom, India and the USA
Facts/Trivia
Madhur Jaffrey eats non-veg food.
During her school days, she used to visit her brother`s college and watch plays there.
She was a follower of Mahatma Gandhi. She witnessed the partition of India. Her school friends who were Muslim had parted. In 1948, when Mahatma Gandhi died, she attended the prayers at the Birla house.
Jaffrey said in an interview that after the partition, there were Punjabis who had settled in India. They used to cook Tandoori Chicken, Dal Makhani, Butter Chicken, etc. She further added that she liked the cooking style of the Punjabis.
In an interview, she talked about her cooking skills and said,


I wasn't taught cooking. I am self-taught through my mother's handwritten recipes. But I must have had a good palate, although I didn't know the word 'palate' at the time. I could instinctively translate a three-line recipe into a dish and through trial and error I got it right."
In 1956, Saeed asked Madhur`s parents if Saeed and Madhur could get married. Her parents denied it and said that he was not earning enough. However, after convincing her parents, they got married.
After Madhur graduated from the Royal Academy of Dramatic Art in 1957, she was confused between staying in London or returning to India. She started teaching at St. Michael's Playhouse at Winooski and also worked at the Drama School Library in Catholic University where Saeed studied.
In 1958, after getting married, she moved to New York. She worked as a Tourist guide there.
She got divorced in 1965. After getting divorced, she started her acting career. Her ex-husband Saeed took to Facebook and posted about how much he misses his wife. The message was as below:


I was 19 when I was married to Mehrunima and she was 17. As I grew up, I learned to speak English fluently, wore suits, and developed impeccable etiquettes. But Mehrunima grew up to be my complete opposite – a typical housewife. And she was not what I wanted. All my advice and admonishments couldn't change her basic personality and I didn't want her. The more I tried to change her, the more we drifted apart. After 10 years, l gave her a divorce and left her. For about 6-7 months everything went well. Then I started realizing, my new wife was not caring and affectionate. She was only concerned about her beauty, her ambitions, her wants, and desires. Sometimes I missed Mehrunima's caring touch and concern for my welfare. But, life moved on and we were 2 different persons living in the same house."
For the movie Shakespeare Wallah, Jaffrey won Silver Bear for Best Actress. [5]

Hindustan Times In an interview, she remember her shooting days and said,


I was very young, I introduced James [Ivory] and Ismail [Merchant] to each other in England, we were all friends. The initial plan was that my ex-husband, Saeed Jaffrey, and I would go back to India and start a touring theatrical company there. Jim said that was a wonderful idea for a film and we would sit and discuss it in his apartment. Then he went to India and met the Kendals, whom he wanted in his film. Jhabvala [the story and screenplay writer] created the character of Manjula so that I could be in it as well."
During the shoot of the movie in 1965, she started dating Sanford Allen. They got married in 1969.
Once she was asked about the word 'Foodie' in an interview, to which she replied,


That I think is being obsessed with taking pictures of food and showing off. The younger generation is very much into that little gadget you have there [pointing at my phone] and into sending around what they are doing to all their friends — it's a new attitude that I don't have. I don't want to tell the world what I am eating, I just want to enjoy it."