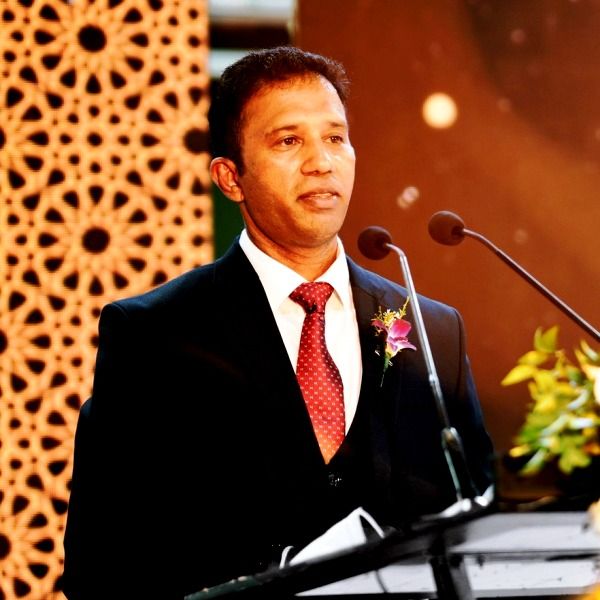 Kumar Dharmasena is a Sri Lankan umpire and former all-rounder cricketer. He batted right-handed and bowled right-arm off-break. He is the only person to have both played and officiated in a cricket world cup. He has won the Umpire of the Year award twice and was nominated once. After Ashok de Silva, he is the second Sri Lankan to join the Elite Club of ICC Umpires.
Wiki/Biography
Kumar Dharmasena was born on Saturday, 24 April 1971 (age 52 years; as of 2023) in Colombo, Sri Lanka. His zodiac sign is Taurus. He completed his school education at the Campbell International School Colombo, and then graduated from Nalanda College in Colombo, Sri Lanka.
Physical Appearance
Height (approx.): 5′ 8″
Weight (approx.): 70 kg
Hair Colour: Black
Eye Colour: Black
Family
Kumar Dharmasena belongs to a Sri Lankan Sinhalese family.
Parents & Siblings
His father's name is Handunettige Dharmasena and his mother's is Chandrani Dahanayake. Kumar's father was a government servant and lived in Torrington, Colombo, Sri Lanka.
Wife & Children
Kumar Dharmasena is married to Dushanthi Gunewardena. The Couple has four children, 3 daughters, Ashi, Amanya, and Ashalya, and a son Kavishka Dharmasena.
Religion
Kumar Dharmasena is a follower of Buddhism.
Address
He resides at Wijerama Junction, Nugegoda, Colombo, Sri Lanka, with his family.
Signature/Autograph
Career
Cricket
Player
Kumar Dharmasena started playing cricket in his childhood and was elected to the under-13 team of his alma mater, Nalanda Vidyalaya, Colombo in 1988. From 1988 to 1990, he played in 'Big Match' popularly known as 'Battle of Maroons' which is played between Nalanda and Ananda College in Colombo, Sri Lanka.
In 1988, he was the vice-captain and, in 1990, the captain of the Nalanda team. [1]Battle Of The Maroons
He made his First-class and List-A debut in 1988-89 and played for Bloomfield Cricket and Athletic Club, Nondescripts Cricket Club, and Moratuwa Sports Club. He played his last List-A match, Nondescripts vs Bloomfield at Colombo (SSC), on 24 December 2005, and his last First-class match, Bloomfield vs Colts at Colombo (Moors), on 3 March 2006.
He made his Test cricket debut in Sri Lanka vs South Africa match held at Sinhalese Sports Club Ground, Colombo, Sri Lanka, between 6-10 September 1993. While batting, he scored 5 runs off 18 balls. However, his bowling performance was noteworthy as he bowled 45 overs, including 12 maiden overs, and conceded only 91 runs with an economy rate of 2.02. He played his last match against Australia at Galle International Stadium, Sri Lanka, between 8-12 March 2004. In his test match career, he played 31 matches and took 69 wickets while scoring 868 runs.
On 24 August 1994, he made his ODI (One Day International) debut during the Sri Lanka vs Pakistan match held at the R Premadasa Stadium in Colombo, Sri Lanka. Kumar Dharmasena took 2 wickets with an economy rate of 3.77, bowling 9 overs and conceding 34 runs. He was part of the victorious 1996 Cricket World Cup Sri Lanka team.
In his ODI career, he played 141 matches and scored a total of 1222 runs; his best score was 69/83 with a strike rate of 83.13 against South Africa on 6 November 1997 at the Gaddafi Stadium in Lahore, Pakistan. He took a total of 138 wickets with his best performance being on 21 December 1994 in a match against South Africa where he took 4/37 wickets with an economy rate of 3.70.
Umpire
Before he retired from international cricket, Dharmasena had already umpired a few domestic matches including in Sara Trophy, a major first-class cricket tournament in Sri Lanka. In 2006, he took retirement from playing and set out to become an umpire. He officiated his first ODI match on 28 January 2009 between Sri Lanka and India held at Rangiri Dambulla International Stadium Sri Lanka. He made his Twenty20 debut on 2 September 2009 in a match between Sri Lanka and New Zealand in Colombo, Sri Lanka, and his test match debut between 4-8 November 2010 in India vs New Zealand at Ahmedabad, India.
In 2011, he officiated a few matches in the ICC World Cup and was appointed to the ICC Elite Panel of ICC Umpires in the same year. He was selected as one of the twenty umpires to stand in matches during the 2015 Cricket World Cup and umpired in the final match. He supervised the final match of the ICC Twenty20 World Cup 2016 and 2022 ICC Men's T20 World Cup between Pakistan and England.
Business
Kumar Dharmasena owns Pintanna Plantations Pvt Ltd, a company that specializes in the cultivation, inoculation, and export of Agarwood trees. In addition to the plantation, the company produces Oud oil, perfumes, and other Agarwood-related products. To export these products, Kumar has obtained a license from the government.
Controversy
Controversial Decision in World Cup 2019
In July 2019, Dharmasena was selected as one of the two on-field umpires for the Cricket World Cup Final between England and New Zealand. His controversial decision of awarding 6 runs to England instead of 5 put him at the centre of criticism. The match ended in a tie, and even the super-over was tied. England ultimately won the trophy due to scoring more boundaries, resulting in an unexpected loss for New Zealand.[2]The Guardian Later, Dharmasena admitted an error and said in an interview,
I agree that there was an error of judgement when I see it on TV replays now. But we did not have the luxury of TV replays at the ground and I do not regret the decision I made. So, I did consult the leg umpire (Erasmus) through the communication system which is heard by all other umpires and the match referee. While they cannot check TV replays, they all confirmed that the batsmen have completed the second run. This is when I made my decision." [3]Hindustan Times
Awards, Honours, Achievements
ICC Umpire of the Year 2012 and 2018 – David Shepherd Tr0phy
Deshbandhu Award 1996 (Third Highest National Honour in Sri Lanka)
Schoolboy Cricketer of the Year Award 1989
Car Collection
He owns two cars, a Porche, and a Jeep.
Favourites
Umpire: Srinivasan Venkateraghavan, David Shepard, Steve Bucknor
Player: Brian Lara, Aravinda De Silva, Salim Malik
Facts/Trivia
Kumar Dharmasena holds the unique distinction of being the only individual to have participated in an ICC Cricket World Cup final both as a player and an umpire. He was a victorious Sri Lankan team member in the 1996 Cricket World Cup and officiated the 2015 and 2019 Cricket World Cups as an on-field umpire.
His complete name is Handunnettige Deepthi Priyantha Kumara Dharmasena. [4]

ESPN cricinfo
Kumar Dharmasena's ODI t-shirt no was 66.
His teammates gave him the nickname, Unanduwa, for his inspiring acts as a team man and motivating his fellow players even at difficult times.
Kumar Dharmasena's career was halted after the 1998 Oval Test when the ICC questioned his bowling action of overstretching at illegal proportions. However, in July 2000, the Sri Lankan cricket board cleared him to play again.
Kumar Dharmasena holds the record for the most ODI innings (72) played before being dismissed for a duck.
He was featured on the cover page of the Youth Observer magazine in November 2020 edition. [5]

Sunday Observer
Kumar Dharmasena follows a non-vegetarian diet and consumes alcohol occasionally.
He was Sri Lanka's youngest-ever international umpire on his debut in an ODI (One Day International) in 2009.
Dharmasena was coached by C.H. Gunasekera Jr. in his school days and then by Jayantha Seneviratne.
According to him, meditation has improved his focus, an important and valuable skill for umpiring. Fitness is also crucial for the job, so he walks for 5-6 km daily.
After completing his formal education at Nalanda, Kumar Dharmasena got a job at the Hatton National Bank (HNB) in Colombo, Sri Lanka, which helped him to pursue a career as a club cricketer and then as an international cricketer. [7]

Sunday Observer
He was the runner-up for the Observer Schoolboy Cricketer of the Year Award thrice in 1988, 1990, and 1991. [8]

Sunday Observer
He is guided and coached by Peter Manuel to become an umpire.
Kumar Dharmasena holds the record for officiating the most matches as a foreign umpire in IPL history. [9]

ESPN cricinfo
94 – Kumar Dharmasena holds the record for most matches as foreign umpire in IPL history.#kumardharmasena #ipl #ipl2021 #umpire #cricket #cricket #viratkohli #csk #msdhoni #rohitsharma #rcb #india #dhoni #icc #mumbaiindians #indiancricket #bcci #indiancricketteam #msd pic.twitter.com/JdGpcb0SYG

— SportsMint Media (@sportsmint) April 24, 2021