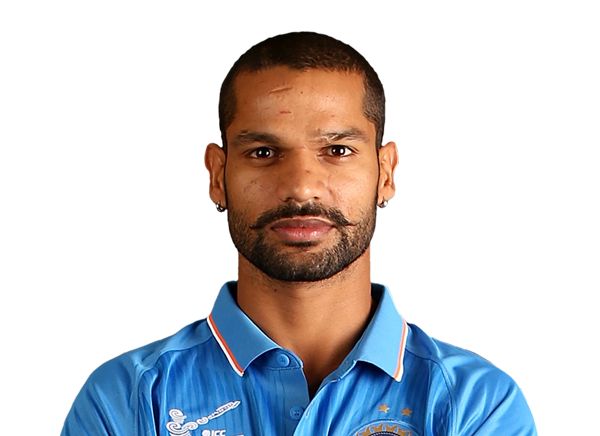 Shikhar Dhawan is an Indian opening batsman. Switching his role from wicket-keeping to opening batsman, his cricket journey is remarkable. Apart from his stylish batting, he is also known for his stylish mustache and hairstyle. Due to his assertive personality on and off the ground, he truly deserves to be called "gabbar." Check out Shikhar Dhawan Height, Weight, Body Measurements, Age, Girlfriend, Wife, Children, Family, Biography & Some Interesting Facts about him.
Biography/Wiki
Shikhar Dhawan was born in a Punjabi Hindu family on 5 December 1985. He finished his schooling from St. Mark's Senior Secondary Public School in Paschim Vihar, Delhi. Watching his cousin play for Sonnet Club, he developed his interest in cricket, after which his parents enrolled him at the Sonnet Club at the age of 12. He was trained under the guidance of coach Tarak Sinha. Initially, he was a wicket-keeper at the club, but later he turned himself into an opening batsman. He scored a century in a U-15 tournament for the club. Since then, he practiced a lot to be a good cricketer. When he was playing domestic cricket, he got neglected by the selectors often, due to this, once he set up his mind to quit the game.
Family
Dhawan was born to Mahendra Pal Dhawan and Sunaina Dhawan in a Kshatriya family.
He has a younger sister Shreshta, who got married in 2017.
Shikhar Dhawan got married to former kickboxer and Melbourne-based Ayesha Mukherjee in Vasant Kunj, New Delhi on 30 october 2012. Ayesha was divorced from her previous husband and has two daughters.
He has two step-daughters; Rhea and Aliyah. In 2014, his son, Zoravar was born.
In September 2021, Shikhar Dhawan and Ayesha Mukherjee parted ways after nine years of marriage. Ayesha took to Instagram to announce their divorce. She wrote,
I THOUGHT DIVORCE WAS A DIRTY WORD UNTIL I BECAME A 2 TIME DIVORCEE. Funny how words can have such powerful meanings and associations. I experienced this first hand as a divorcee. The first time I went through a divorce I was soooooooo fu@kn scared. I felt like I had failed and I was doing something so wrong at that time. I felt as if I had let everyone down and even felt selfish. I felt that I was letting my parents down, I felt that I was letting my children down and even to some extent I felt as if I was letting God down. Divorce was such a dirty word. So now imagine, I have to go through it a second time. Woooahhhhhh. That is terrifying. Being divorced once before already, felt like I had more at stake the second time round. I had more to prove. So when my second marriage broke down it was really scary."
Career
He first played for the Delhi in Vijay Merchant Trophy in 1999. He was the leading run-scorer in Vijay Merchant Trophy in which Delhi finished runners-up. Dhawan scored 755 runs out of 9 innings at an average of 83.88 with two hundreds. His impressive performance for Delhi earned him a selection in India's Under-17 squad for the 2000/01 Under-17 Asia Cup. Dhawan was selected for the 2004 Under-19 World Cup in Bangladesh in which he was the leading run-scorer. He scored 505 runs from 7 innings; It is still a record for a single tournament.
In November 2004, he made his first class debut for Delhi against Andhra Pradesh. In his first season of Ranji Trophy, he was the Delhi's leading run-getter, scoring 461 runs from 6 matches. In the 2005-06 Challenger Trophy, he played for India B Team. However, that trophy was very disappointing for him. During 2007-08 season, he performed well consistently in the Duleep Trophy and Vijay Hazare Trophy.
In October 2010, he made his International ODI debut against Australia. He made his test debut in 2013 against Australia. He made a century in his test debut. He completed his century from 85 balls; fastest century on test debut.
He made his IPL debut for Delhi Daredevils in April 2008, and scored four half centuries for the team. For the second and third season of IPL, he was traded to Mumbai Indians in exchange for Ashish Nehra. For the 2011 IPL, he was bought by Deccan Chargers. Prior to starting of the 2013 IPL, he was made captain of Sunrisers Hyderabad.
Controversy
On 29 December 2017, he and his family was stopped at Dubai airport when he was travelling to Cape Town to play against South Africa; he had not birth certificate of his kids.
In February 2023, Delhi's Patiala House Court passed an order against his estranged wife, Ayesha Mukherjee, and asked her to refrain from making any defamatory allegation against the cricketer. Earlier, Dhawan, in his plea in the court, claimed that she had been threatening him to ruin his career. [1]

The Economic Times
Salary/Net Worth
He charges ₹15 lakh for a test match, ₹6 lakh for an ODI match, and ₹3 lakh for a T20 match. He was bought by Sunrisers Hyderabad for ₹5.2 crore for IPL 2018. His net worth is about ₹75 crore.
Interesting Facts
His Ghajini hairstyle, curved moustache, and the way he twirls his moustache are trendsetters among youth.
His wife Ayesha was introduced to Dhawan by Indian cricketer Harbajan Singh.
His wife is half-Bengali and half-British and 10 years older than Sikhar Dhawan.
He often celebrates in signature style after taking a catch.
Dhawan is very down to earth person. According to him, Sufi songs taught him to treat success and failure in the same way.
He is the 1st ever cricketer to get 2 consecutive Golden Bats at ICC Champions Trophy.
His body is covered with many tattoos. On his right hand, he got Arjuna (character of Mahabharata), Lord Shiva, and Baba Deep Singh tattoos inked. On his left bicep, "Carpe Diem" is  written, a tribal design on his right shoulder, 'A bird with a leafless tree' on left calf, his wife's name written "Ayesha" on left forearm.

In March 2023, he revealed the details of his first tattoo that he got inked at the age of 14-15 on his back in Manali, Himachal Pradesh; it was a Scorpio tattoo. According to the cricketer, he hid his tattoo from his family for 3-4 months, and he was beaten by his father when his father came to know about the tattoo. Dhawan also revealed that he got scared as he was clueless about the number of people the needle had pierced, and it forced him to have his HIV test done, which came out negative. [2]The Free Press Journal
He is fondly called "Gabbar" and "Jatt" by his teammates.