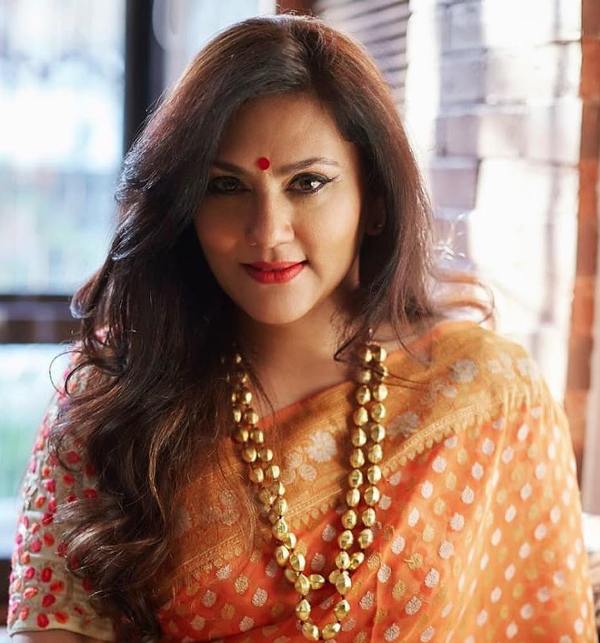 Deepika Chikhalia is an Indian actress who is best known for portraying "Sita" in Ramanand Sagar's epic television series, Ramayan; aired in the late 1980s on Doordarshan.
Wiki/Biography
Deepika Chikhalia was born as "Dipti Chikhalia" on Thursday, 29 April 1965 (age 55 years; as in 2020), in Bombay (now Mumbai). Her zodiac sign is Taurus. She grew up in Girnar Apartments in Pali Hills; an affluent residential area in the suburb of Bandra in Mumbai. Since her school days, Deepika was a passionate actor. It was during her schooling that she started getting offers to work in films and serials. Reportedly, Deepika began her acting career in films and TV serials at the age of 14. [1]India Today Miss Chikhalia holds a BA degree from the University of Mumbai (earlier, the University of Bombay).
Physical Appearance
Height (approx.): 5′ 2″
Eye Colour: Dark Brown
Hair Colour: Black
Family & Caste
Deepika Chikhalia belongs to a Gujarati Hindu family. [2]Bollywood Town
Parents & Siblings
Deepika's father's name is Rajesh T. Chikhalia.
She has a brother, Himanshu Chikhlia, and a sister, Arti Chikhlia.
Relationships, Husband & Children
Deepika Chikhalia is married to Hemant Topiwala, a Gujarati businessman and the owner of Shingar Bindi and Tips and Toes Cosmetics. She got married to Hemant on 22 November 1991.
In an interview, when she was asked whether she had desired a husband having the attributes of Lord Rama, she said,
I don't want Hemant to be totally like Ram."
When asked whether it was an arranged match or a love one, she said,
It's a totally arranged marriage. Both the families have known each other for years, but before giving the final consent, I went out with him. Then I said yes."
She has two daughters with Hemant – Nidhi Topiwala (a Make-Up Artist; born in 1993) and Juhi Topiwala.
While talking about the birth of her first child, she said,
Having a child made it very difficult for me to concentrate on politics, so that was the only stint (in politics) for me. Though I got several other offers from producers, my priorities had changed."
Address
Deepika Chikhalia lives at 46, Presidency Society, Kashivishwanath, N.S. Road No. 7, Juhu Scheme in Mumbai.
Career
Film
Deepika Chikhalia made her film debut with the 1983 Bollywood film Sun Meri Laila where she played the lead role of Annie opposite Raj Kiran.
Though her debut film was a hit, she couldn't get A-grade films for a long time. Meanwhile, she did supporting roles in the films, such as Bhagwan Dada (1986), Kala Dhanda Goray Log (1986), and Doorie (1989). Thereafter, Deepika appeared in the B-grade horror films – Cheekh (1986) and Raat Ke Andhere Mein (1987). In "Raat Ke Andhere Mein," the name of her character was "Sexy Rosie."
Both the films were toppled at the box office. However, Deepika regrets on doing B-grade films; while talking about her stint in B-grade films, she says,
I was badly conned. It was my biggest mistake. It wasn't like I needed the money or that I was desperate for a film role, I was just conned. I am a practical and straightforward person, and I could not understand the shady ways of that film producer."
After her stint with the B-grade films, she worked in a few A-grade films. The only two hit Hindi films to her name are – Ghar Ka Chiraag (1989) and Rupaye Dus Karod (1991); in both the films, Rajesh Khanna was in the lead role while Deepika was in the supporting role, and she got lesser footage in these films. Although she got more footage in the 1994 Bollywood film Khudai, the film was a commercial failure. Apart from Hindi films, Deepika has worked in the films of many other languages, including Malayalam, Bhojpuri, Tamil, Telugu, Kannada, Bangla, and Gujarati. She made her Malayalam debut with Ithile Iniyum Varu (1986) in which she played the role of "Priya."
Her only Bhojpuri film to date is 'Sajanwa Bairi Bhaile Hamar' (1987).
She made her Kannada debut with the film Indrajith in 1989.
Her only Bengali work is 'Asha O Bhalobasha' (1989).
Deepika made her Telugu debut with the film Yamapasam in 1989.
In the same year, she made her Gujarati debut with the film, Jode Rahejo Raj.
After a hiatus of 23 years, she made a comeback with the film Gaalib in 2018; she had quit the entertainment industry after getting married to Hemant Topiwala. In Gaalib, she played the role of Afzal Guru's wife, Shabana Ahmad.
In the same year, she appeared in a Gujarati film Natsamrat, as Mangala Pathak. In the 2019 Hindi film Bala, she played the role of Yami Gautam's mother, Susheela Mishra. Deepika Chikhalia got limited success in films, snd she tasted more success on the small screen.
Television
The small screen is the medium that has made Deepika a household name in India, where she played the most iconic role of her acting career, and that role is of "Sita" in Ramanand Sagar's "Ramayan;' a show that literally brought India to a halt for an hour at 9:30 am on Sundays in the late 1980s.
Before getting the role of Sita in Ramayan, she had already worked with Ramanand Sagar in two other popular television serials – Dada Daadi Ki Kahani in 1985 and Vikram Aur Betaal in 1988. [3]YouTube She again played the role of Seeta in the Ramayan series – Luv Kush (1988).
She made a comeback on television with the TV serial, Chutta Chheda (2017), on Colors Gujarati channel.
Politics
Deepika Chikhalia is a member of the Bharatiya Janata Party and in 1991, she became a Lok Sabha Member from the Baroda constituency of Gujarat. While talking about her foray in politics, she says,
Actually, my grandfather had actively worked for the RSS (Rashtriya Swayamsevak Sangh), so I had an RSS root in my family." [4]The Metrognome
She considers Atal Bihari Vajpayee as her idol in politics.
In the initial years of her political career, she worked along with the party veterans, such as Narendra Modi and L. K. Advani.
Late Sushma Swaraj was one of her close associates in politics.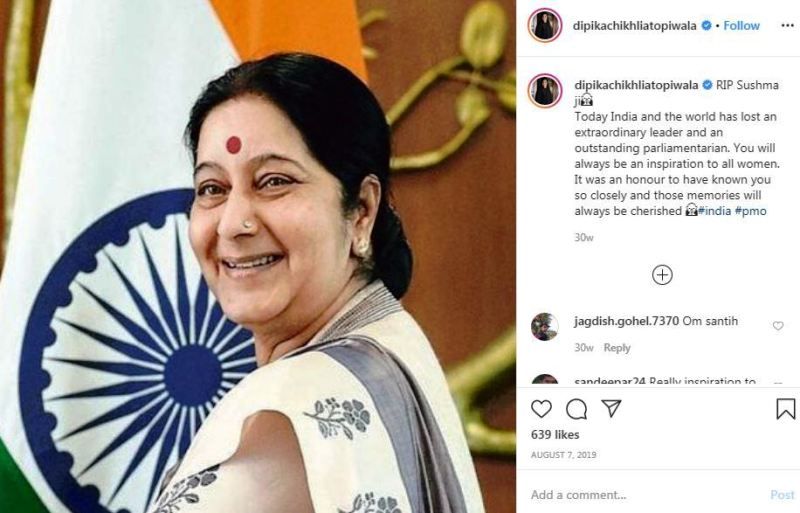 Favourite Things
Food: Kadhi
Politician(s): Atal Bihari Vajpayee, Sushma Swaraj
Sports: Badminton, Swimming
Holiday Destination(s): Canada, Maldives, Mauritius, Nepal, U.K., and U.S.A.
Facts/Trivia
Deepika Chikhalia's birth name was Dipti and after marriage, she is known by the name, Deepika Topiwala.
When she was offered the role of Sita in Ramayan, she was in her teenage. With this role, she tasted the peak of success in her acting career very early. While talking about the adulations that she received for the role, she said,


I was 18-year-old when I took that role (in 1987). The adulation, attention and stardom I got, was frankly very unnerving. It took me a lot of time to get used to it."

Deepika's role of Sita touched people's lives so strongly that men and women of every age started touching her feet to seek blessings. Deepika herself believes that the role has a great influence on her life and career. She says,


Everything that I am in my life today, is because of that role."
Reportedly, in 2009, she was offered to participate as a contestant in Big Boss 3. [5]

Web Archive
In an interview, when asked how many co-stars from Ramayan were still in touch with her, she said,


Only Arvind Trivedi (who played the role of Ravan) and Sunil Lahiri (who played the role of Laxman) are in touch."
After Ramayan, she became a favourite among the Indian television ad makers, and her Nirma Super Detergent Soap Cake TV commercial had become a frequent ad on Doordarshan in the late 1980s and 90s.
She has got a tattoo of "Dad" and a lotus flower inked on her left wrist.
In her leisure time, she loves painting, travelling, and reading.
Deepika is also a woman activist and has been associated with various non-profit organizations, working for women empowerment.
In an interview, Deepika said that although she was a devout Hindu, she had due respect for every other religion.
Deepika is a huge fan of Sridevi, and she shared the silver screen along with the late actor in the 1986 film Ghar Sansar.
In an interview, Deepika revealed that for portraying Sita in Ramayan, Hema Malini had advised her to avoid makeup.
In March 2020, after appearing in The Kapil Sharma Show, on her Instagram, she posted a throwback picture of the trio – Ram, Lakshman, and Sita; played by Arun Govil, Sunil Lahri, and Deepika Chikhalia, respectively.