Arun Govil is an Indian actor, producer, director, and politician. He is best known for his role as 'Lord Rama' in Ramanand Sagar's ancient Hindu epic television series, Ramayan (1987-1988).
Wiki/Biography
Arun Govil was born on Sunday, 12 January 1958 (age 64 years; as of 2022) in Ramnagar, Meerut, Uttar Pradesh. His zodiac sign is Capricorn. He attained a degree in BSc from Chaudhary Charan Singh University, Meerut. He used to take part in school annual functions and even played different roles in college dramas. Until then, he was distant from the thought of pursuing acting as a profession. After completing his formal education, he moved to Mumbai to lend a hand in his brother's business, where his will to do something of his own would later pave his way into the acting field.
Physical Appearance
Height (approx.): 5′ 10″
Eye Colour: Black
Hair Colour: Black
Family & Caste
Arun Govil belongs to a Hindu family.
Parents & Siblings
Arun Govil's father, Chandra Prakash Govil, was a government waterworks engineer in Meerut, Uttar Pradesh. Arun's father had 8 children (Six sons and 2 daughters). One of his elder brothers, Vijay Govil got married to Tabassum, a former Indian actress and Doordarshan's longest-running "Phool Khile Hain Gulshan Gulshan" talk show host.
Family & Children
Arun is married to a former designer and film actress Shrilekha Govil.
He met Shrilekha, who was then a textile designer, early in his acting career. He credits her to a great degree for his success and achievements.
The duo together has two children, Amal Govil (son) and Sonika Govil (daughter).
His Son works as a banker in Mumbai, while his daughter Sonika Govil lives in Boston, USA, where she is studying at the Hult International Business School.
Career
Acting
After moving to Mumbai at a young age, the monotonousness of his brother's business, and the desire to make his own identity propelled him to try his hand at acting. It took him around two years to get his first break, but he was eventually cast in the film Paheli (1977), wherein he played the role of a supporting actor. The production company of Paheli, Rajshri Productions got highly impressed by his work and therefore, and they subsequently signed him as a lead actor for three more movies, which were Sawan Ko Aane Do (1979), Raadha Aur Seeta (1979), Saanch Ko Aanch Nahin (1979).
One of the three movies "Sawan Ko Aane Do" was a mega-hit of its time, and its music is until now relished by a large portion of Indian listeners.
He starred in Kanak Mishra's Jiyo To Aise Jiyo (1981) which was the 30th biggest hit of that year. His acting career transcended, and thereafter, he worked in many other Hindi pictures. He made his small-screen debut with Ramanand Sagar's widely commended television series "Vikram Aur Betaal" (1988), wherein he played the role of legendary King Vikramaditya.
Meanwhile, he was cast for the role of "Lord Rama" in Ramanand Sagar's "Ramayan" (1987-88), which is the world's most viewed mythological series.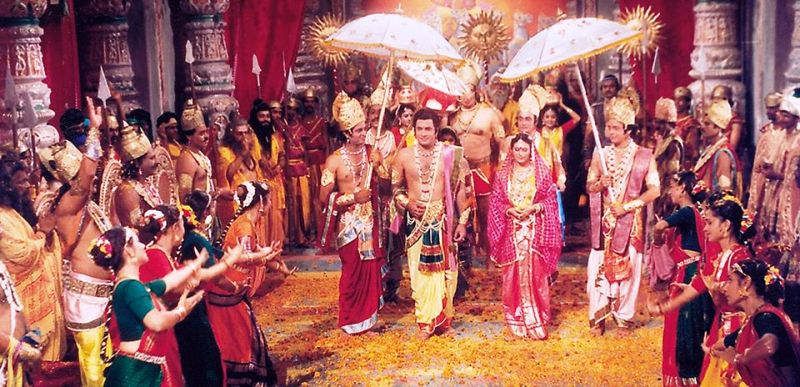 It proved to be a milestone in his career. He rose to stardom and was honoured with the Uptron Award for "Best Actor in a Leading Role" in 1989, for his work in Ramayan. Having played the role of Lord Rama with such serenity, provided him with a great exposure; thereafter, he was offered several spiritual-based roles including King Harishchandra in Vishwamitra (TV series) and Lord Buddha in TV series "Buddha." He got clutched in an image-trap and people started considering him as a paragon of virtue, Bollywood producers stopped offering him distinct roles. He has worked in Telugu, Bhojpuri, Bengali and Oriya movies including Bidhira Bidhan (1989- Oriya), Edu Kondalaswamy (1991- Telugu), Govinda Govinda (1993- Telugu) Pyari Dulhaniya (1989- Bhojpuri) and many more. In 2008, he set up his own production company under the name of "Arun Govil Productions Private Limited."
Politics
On 18 March 2021, he joined the Bharatiya Janata Party, ahead of assembly elections in four states and a Union territory. While interacting with media, Mr. Govil quoted the reason behind his joining the BJP, he said,
West Bengal Chief Minister Mamata Banerjee's irritation with Jai Shri Ram was a trigger point for me to join the BJP. And there is nothing wrong in saying Jai Shri Ram…it is not a slogan, not even a political slogan. It is a way of life for us, it represents our culture and ethos."
Car Collection
In June 2022, he purchased a Mercedes C 200.
Facts/Trivia
Arun's Father, Chandra Prakash Govil wanted him to become a government official, whereas Arun wanted to do something different to build an identity for himself.
Arun wasn't the first choice to play Lord Ram in Ramanand Sagar's Ramayan, he had to face an outright rejection following his audition, but then eventually, the production team reached a general agreement to cast him; as they didn't find a better actor for the particular role.
Arun Govil was a versatile actor. Apart from acting in a lead role in many blockbusters, he has even played several side roles and has worked with many legendary Bollywood stars in his career.
Arun, who was once a heavy smoker, got rid of his cigarette addiction after he started playing the character of Ram in Ramanand Sagar's Ramayan and has refrained from the habit until now. However, he frequently intakes alcohol for recreation.
Even today, after over 33 years of TV series Ramayan, people in India call him by the name Ram Ji and touch his feet in devotion to the character (Rama) that he had depicted in Ramayan.
Arun Govil, who is best known for the portrayal of Rama in TV series Ramayan, has even played the role of "Laxman" in the Indian mythological movie Lav Kush (1997).
In 2016, a Mumbai builder group duped Arun Govil and Sunil Lahri (Laxman in Ramayan) into giving the token money to buy a property for which they weren't provided with the ownership.
 On the standstill and gradual downfall of his career after Ramayan, he says,


I had started my career as a Hindi film hero and post-Ramayan, when I wanted to return to Bollywood, the producers said, 'Your image as Ram is so strong, we cannot cast you as anyone else or give you a supporting role.' They felt that I was not suited for commercial movies anymore. That became the biggest minus point of my career, and I realised that I could never return to showbiz the way I wanted to. I took up a few TV shows, but every time I did something, people rejected me saying, 'Arre, Ramji kya kar rahe hain."
In March 2020, amid the outbreak of Corona pandemic, a photo went viral on social media in which he was re-living the sheer nostalgia by watching Ramayan on Doordarshan along with his family. Ramayan was re-telecast on Doordarshan, nearly after 32 years of its original telecast in the late '80s.