Apurvi Chandela is an Indian air rifle shooter who plays in the 10 m air rifle category. She was honoured with one of the highest Indian sports awards 'Arjuna Awards' in 2016 for her outstanding performance.
Wiki/Biography
Apurvi Singh Chandela [1]The Times of India was born on Monday, 4 January 1993 (age 28 years; as of 2021) in Jaipur, Rajasthan. Her zodiac sign is Capricorn.
She did her schooling at Mayo College Girls School, Ajmer, Rajasthan, and Maharani Gayatri Devi Girls' School, Jaipur, Rajasthan. Later, she pursued B. A. honours in sociology from Jesus and Mary College, Delhi University. [2]Olympics.com
Physical Appearance
[3]ISSF Sports Height: 5′ 1″
[4]ISSF Sports Weight: 52 kg
Eye Colour: Brown
Hair Colour: Brown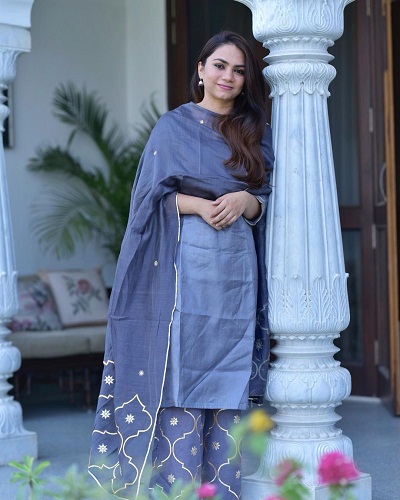 Family
Her father, Kuldeep Singh Chandela, is a hotelier in Rajasthan, and her mother, Bindu Rathore, is a former basketball player. Apurvis's elder sister, Tejasvi Chandela, is a pastry chef.
Career
Apurvi started practising shooting while she was in class 11 at Maharani Gayatri Devi Girls' School, Jaipur, Rajasthan. When she joined the college in Delhi, she was selected to participate in the National Shooting Championship (2012) in which she won a gold medal in a 10 m air rifle event. She then started her training in shooting under 'Rakesh Manpat,' the Indian shooter from Bangalore. Soon, she aced her game and won many national and international tournaments. In 2019, she was ranked as the world number one 10 m air rifle shooter. [5]The Indian Express
In an interview, she said,
I play every match with the intention of giving my best, and I think it's normal to have the pressure of performing well. I also had it in the first match I ever played, but I am getting used to it now since I've competed in so many competitions and gained more experience."
Later, she did her training in shooting under Stanislav Lapidus and the National team coach Oleg Mikhailov. In an interview, she talked about her coaches. She said,
I train back home (in Jaipur) or in Bengaluru, where my personal coach is, and when I am back with the (Indian) team, I have a good rapport with the coach currently there, Oleg sir. He understands me well and knows what works for me, what doesn't. He has been working with us for quite some time now (since September 2016). So there's an understanding with my personal and national team coach. They are aware of each other. So that works out fine for me. They let me be in my space because that's more important for me to work with a clear mind."
In 10 m air rifle shooting her handedness is right, and her master eye is also right. She was selected under the 10 m rifle air shooting category to represent India at Tokyo Olympics 2020. The event was postponed to 2021, due to the COVID-19 pandemic.
Medals in 10 m Air Rifle
Gold
ISSF World Cup 2019 in New Delhi
ISSF World Cup 2019 in Munich
ISSF World Cup 2019 in Rio de Janeiro
Indian Senior National Shooting Championship 2012 in New Delhi
Commonwealth Games 2014 in Glasgow
Silver
ISSF World Cup 2015 in Munich
ISSF World Cup 2019 in Munich
ISSF World Cup Final 2019 in Putian
Bronze
ISSF World Cup 2015 in Changwon
Commonwealth Games 2018 in Gold Coast
Awards & Honours
Favourite Things
Song(s): Hall Of Fame by Will.I.Am (2012) and Bhaag Milkha Bhaag's title track (2013)
Food: Gatte ki Sabji and Daal-Baati
Film(s): Mary Kom (2014), Raazi (2018), and Angrezi Mediun (2020)
Autobiographies: Andre Agassi's "Open," Rafael Nadal's "Rafa- My Story," and Abhinav Bindra's "A Shot at History"
Fiction Book: The Alchemist by Paulo Coelho
Facts/Trivia
Initially, she wanted to become a sports journalist, but after watching the former Indian shooter Abhinav Bindra winning a gold medal at the Beijing 2008 Olympics, she decided to become a shooter.
Her great grandfather Thakur K. Singh took to target shooting (after his retirement) with 'Dr. Karni Singh' who was a five-time Olympic Shooter and a shooting range in Delhi is named after him.
In the initial years of her training, she had to travel 45 minutes away from her home to a shooting range in Jaipur. Later, her parents set up a shooting range in the basement area of her home.
She loves reading, travelling, and meditating in her leisure time. She said,
The life of an international athlete can be hectic, but Chandela loves to travel and always makes the time to stop and smell the roses. Rome, the Eternal City, is her favourite destination."
In an interview, she talked about her love for photography. She said,
I had seen images shot by Gagan (Narang) and I really liked them. Somewhere at the back of my mind I always wanted to learn nature/wildlife photography. So, I am doing an online course. I wanted to get better at it but never got time earlier due to shooting."
Apurvi is an avid animal lover and owns three pet dogs named Gabbar, Shera, and Phantom.
Apart from rifle shooting, she loves playing basketball, football, and cricket.
Chandela loves learning new languages and has a keen interest in learning the German language. In an interview, she talked about the same. She said,
I also want to learn German after finishing the photography course as a lot of shooting events happen in Germany. German is one of the most widely spoken languages worldwide. My uncle speaks very well German so he can also guide me if I falter."
She has a superstition related to air rifle shooting. In an interview, she said,
We have a rifle stand and I used to put a blue towel in it. The stand had a rubber top so it helped me to slide the rifle and hold it. When I had to bring it out the towel would help it to come out smoothly. I have been doing this for many years and I am a little bit superstitious about it."
During an interview, she shared how she always came back strong after losing a competition. She said,
Highs and lows are a part of every sportsperson's journey I believe and there is always something that I learn from a bad match. The step back after a loss itself gives me the drive to push harder and stronger and take a leap in the next match. Passion for the sport is extremely important and the pride of winning for the country."
Apurvi is a spiritual person and has a deep faith in God.
View this post on Instagram
In an interview, she was asked how her family and city people reacted to her success? She replied,
My family is the reason why I have reached this far. They have been my pillar of strength. They are always encouraging me and they enjoy watching my matches. In fact, 12 of my family members were there to support me in Glasgow during the Commonwealth Games. My city, Jaipur, has given me a lot of love, and I'm glad to see so many youngsters take up shooting."