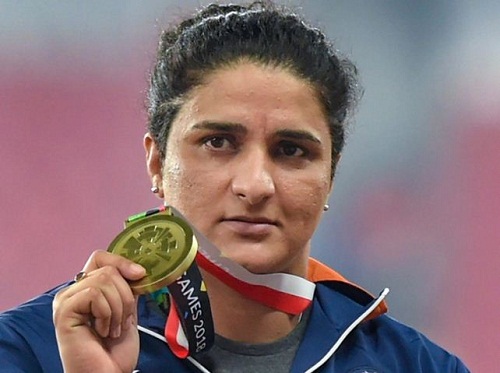 Seema Punia is an Indian athlete and participates in the discus throw competitions. She lost her gold medal in the 2000 World Junior Championships as she was tested positive for the pseudoephedrine drug test. [1]India Times
Wiki/Biography
Seema Antil Punia [2]Facebook- Seema Punia was born on Wednesday, 27 July 1983 (age 40 years; as of 2023) in village Khewra, Sonipat, Haryana. Her zodiac sign is Leo. She did her schooling at Tika Ram Girls Sr. Sec. School, Sonipat, Haryana. Later, she pursued her graduation from Government College, Sonipat, Haryana. [3]The Times of India [4]Tribune India Since her childhood, she was inclined towards sports, and at the age of 11, she started participating in hurdle races and long jump competitions at her school. In an interview, while talking about Punia, her father said,
We encouraged her as much as we could and never pressurised her about her studies. We fed her with milk and ghee to build up her stamina. I accompanied her wherever she had to go."
Physical Appearance
[5]The Times of India Height: 6′
[6]Results GC 2018 Weight: 96 kg
Eye Colour: Black
Hair Colour: Black
Family
Parents & Siblings
Her father, Vijay Pal Singh, is a former lawyer. She has two elder brothers. Her eldest brother, Anandpal Antil, is a Greco-Roman wrestler, and her younger brother, Amitpal Antil, is a hockey player.
Husband & Children
On 6 February 2011, she got married to the Indian discus thrower Ankush Punia who was also her coach. After a few years of their marriage, troubles started arising in their married life, and later, the couple got divorced. The news of their divorce came into the eyes of the public when Seema updated her marital status as a divorcee and dropped her surname 'Punia' from her Facebook account. [7]Hindustan News Hub
Career
Initially, she started as a long jumper, but later, she shifted her focus to discus throw. She participated in various national and international tournaments and brought many accolades to the nation. She won various medals in the competitions like the Asian Games and Commonwealth Games. She was doing well in her career until she was tested positive for the pseudoephedrine drug test in 2000. This came out as a huge setback in her career, she even lost her gold medal which she won at the World Junior Championships 2000. In 2010, she was appointed as the sub-inspector in the Haryana Police. In 2014, on winning a gold medal in the Asian Games, she said,
I am very happy to get the gold which I expected to win today. I have trained for this gold over the last three years. I had waited for this after missing the last two Asian Games. I usually don't perform well in my first throw. But I followed my coach's instructions today to hurl the disc past the 55m mark with my first attempt."
In 2021, she represented India at the Tokyo Olympics 2020 in the discus throw event. The event was scheduled a year later in 2021 due to the outbreak of the coronavirus.
Controversy
She won a gold medal at the World Junior Championships in 2000 and people started recognising her as the 'Millenium Child.' Later, she was found positive for the pseudoephedrine drug test, and eventually, she lost her medal and title. [8]India Times
Medals
World Junior Championships
2002: Bronze medal in discus throw held in Kingston
Commonwealth Games
2006: Silver medal in discus throw held in Melbourne
2010: Bronze medal in discus throw held in Delhi
2014: Silver medal in discus throw held in Glasgow
2018: Silver medal in discus throw held in Goldcoast
Asian Games
2014: Gold medal in discus throw held in Incheon
2018: Bronze medal in discus throw held in Jakarta Palembang
Facts/Trivia
During an interview, she shared that her first love is discus throw, but she wanted to try her hands on shot put also. She further said,


My life revolves around discus. That's the only thing I know. The sport has given me so much allowing me to explore the world. If it was not for discus, I would have been confined to some remote village in Haryana attending to cows. My mission is to win an Olympic medal which is still unaccomplished and the next two years will be dedicated to fulfilling this dream. Though discus continues to be my prime focus, I am itching to try my hand at shot put. In India, we do not have quality women shot putters. I had won medals at the Asian level during my junior days and I do not mind having another attempt.''
On 26 June 2006, she received the Bhim Award from the Government of Haryana for her contribution to sports.
In an interview, she shared that she was once ill-treated by the sports authorities in India. She also faced huge financial losses in 2014, and she was even rejected for getting a promotion in the Haryana Police. [9]

The Times of India In an interview, while talking about it, she said,


It was only after court orders that I got a sub-inspector job. Every time I represent my case for promotion, I was told that only Asian Games gold medallist can be promoted to DSP rank. I knew it was not true if you look at the cases of other athletes. But I don't want to take any name. All I want to say is that now I'm also an Asiad gold medallist, please treat me at par."
In 2021, she doubted the sudden improvement in the performance of her fellow discus thrower Kamalpreet Kaur. Punia wrote to the sports federation, in which she hinted that Kaur was taking hyperandrogenism doses. [11]

The Bridge In an interview, Punia said,


When she threw 65m (at the Federation Cup) I was the first to congratulate and appreciate her here. But when she crossed 66m, and I saw the footage, I had my doubts. Beyond a point, sheer power cannot help a woman thrower go that distance. It requires technique, fitness, agility, a lot of other things, none of which she has."