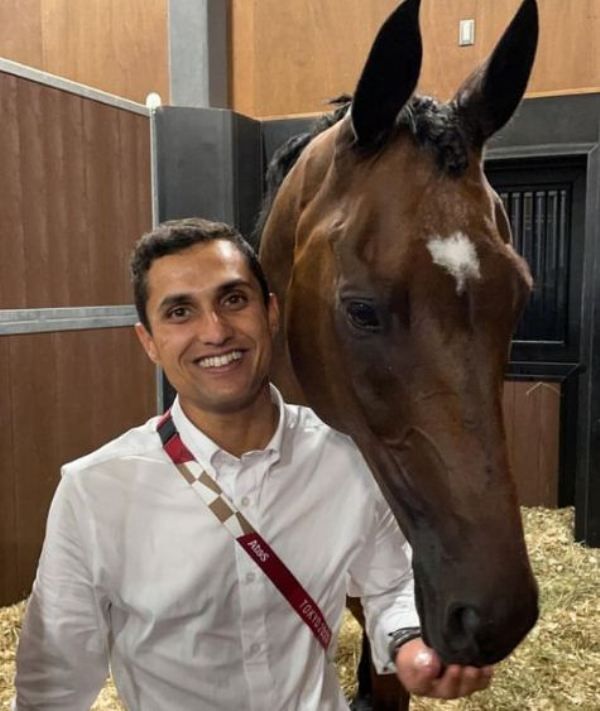 Fouaad Mirza is an Indian equestrian. He is the first Indian since 1982 to win two silvers at an individual event in the sport at the Asian Games 2018. In 2021, Fouaad also became the first Indian equestrian since 2000, and third after Indrajit Lamba (1996 Atlanta) and Imtiaz Anees (2000 Sydney), to qualify for the Olympics.
Wiki/Biography
Fouaad Mirza was born on Friday, 6 March 1992 (age 29 years; as of 2021) in Bangalore, India. His zodiac sign is Pisces. Fouaad Mirza was obsessed with horses since childhood. He started practising horse riding at the age of 5. Mirza holds a degree in Psychology and Business, which he earned from a University in England. Fouaad used to ride a horse every day after coming back from his school. He participated in various state and national level equestrian championships during his school days.
Physical Appearance
Height (approx.): 5′ 9″
Eye Colour: Black
Hair Colour: Black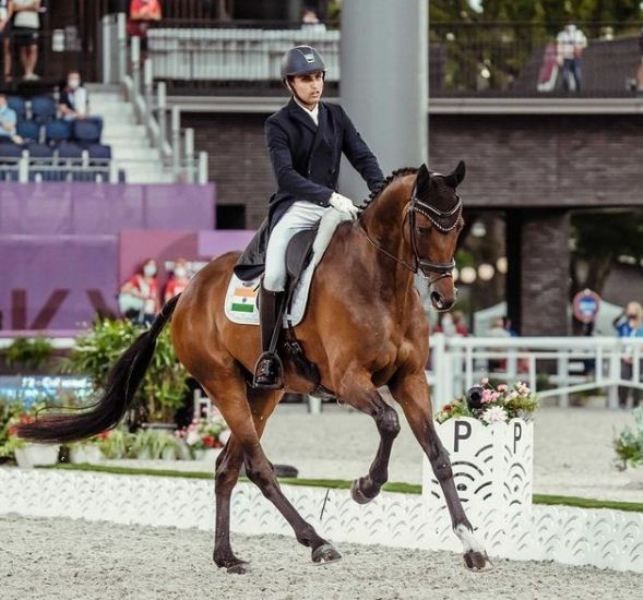 Family
Fouaad Mirza belongs to the family of Aga Ali Askar. Aga Ali Askar was a successful Persian businessman and trader of horses who emigrated from Iran to India in 1824. Fouaad Mirza is the 7th generation of the Aga Ali Askar family.
Parents & Siblings
Fouaad Mirza's father, Dr. Hasneyn Mirza, is a veterinarian who specializes in horses, and his mother, Indira Basapa, is a homemaker. Dr. Hasneyn Mirza describes their connection to Aga Ali Askar as
Well there was an Aga Ali Askar who came from Iran in 1824 and brought horses with him. We have records to show that the family was involved with horses and racing for many years before it arrived here. I am of the sixth generation in the lineage. Since Ali Asker arrived, our association with horses has been unbroken. At one time, he had nearly 700 horses stabled behind his house near Fathima bakery. Behind that (Johnson Market), the area is called Arab Lanes because all the Arabian horses were stabled there."
Fouaad Mirza has an elder sibling, Aly Asker Mirza, who is a  professionally trained equestrian and also a veterinarian.
Coach/Mentor
Fouaad Mirza trains under the German equestrian Sandra Auffarth. Sandra is a gold medalist in the team game and a bronze medalist in the individual game in the 2012 Summer Olympics. She has also won a gold and a silver medal in team and individual eventing respectively at the 2011 European Eventing Championships.
Career
Fouaad Mirza was born into a family of equestrians. While growing up with a  number of horses around, Fouaad developed an affection towards them. It was not less than a ritual for Fouaad to go on a horse ride after coming back from school. As he grew up, his interest in equestrian intensified, and he started practicing the sport professionally at the age of just 5 years. Fouaad participated in a number of equestrian tournaments including the National Equestrian Championship and Junior National Equestrian Championships during his school days.
Fouaad Mirza made his international debut at the 2014 Jakarta Asian Games, participating in both Individual eventing and team eventing tournaments. Fouaad tried hard but could not bag any medal at the tournament. Fouaad Mirza first came into the limelight after winning 2 silver medals at the 2018 Asian Games. Fouaad won his first medal in the Individual event and second in the team event along with Rakesh Kumar, Ashish Malik, and Jitender Singh. Bagging a sum of two silver medals, ridding on his favourite Seigneur Medicott, at the 2018 Asian Games, Fouaad Mirza became the first Indian since 1982 to win two silvers at an individual event in the sport at the Asian Games 2018.
Fouaad Mirza won his first international gold medal at the CIC2 2018 tournament held in the Netherlands. He also won a Silver medal in CCI1 held in Germany in the same year. In January 2020, Fouaad Mirza qualified for Tokyo Olympics 2020 after achieving the Minimum Eligibility Requirement (MER) on both his horses, Seigneur Medicott and Dajara, in the eventing competition in Baborowko, Poland after which he became the first Indian equestrian since 2000, and third after Indrajit Lamba (1996 Atlanta) and Imtiaz Anees (2000 Sydney), to qualify for the Olympics. Fouaad Mirza competed at the 2020 Tokyo Olympics where he finished with 22nd position in the final.
Medals
Gold
Silver
2018: Individual eventing at Asian Games, Jakarta
2018: Team eventing at Asian Games, Jakarta
Records
First Indian equestrian since 2000 to qualify for the Olympics when he qualified for the 2020 Tokyo Olympics.
First Indian since 1982 to win a medal at an individual equestrian event at the Asian Games.
Awards & Honours
Arjuna Award
In the year 2019, Fouaad Mirza received the prestigious Arjuna Award from the honourable President of India Ram Nath Kovind. Arjuna Award is presented to the sports personalities in India for their outstanding achievements. Award recipients are provided with a bronze statuette of Arjuna, a certificate, a ceremonial dress, and a cash prize of Rs. 15 lakh. 
Facts/Trivia
Fouaad Mirza likes spending quality time with his horses. He spends almost 12 hours a day with them. Fouaad owns a farm in Bangalore, which is spread over 1.5 acres with 12 horses residing there. Fouaad feeds the horses, trains them, and takes them for walks to establish a deeper bond with them. In an interview, he said,


We train every day, I look after them myself, I am in the stable for almost 12 hours.. we feed them, we train them, take them for walks, to graze, icing their legs. It's like you would with any pro athlete… physio, recovery, massage."

According to Fouaad, he loves reading books of different zoners in his leisure time.