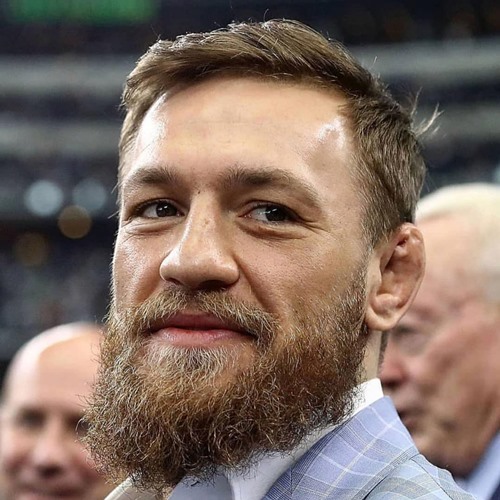 Conor McGregor is a former Irish professional mixed martial artist and boxer. He is a former Ultimate Fighting Championship (UFC) featherweight and lightweight champion. On 23 November 2020, Conor was ranked 12 in the UFC men's pound-for-pound rankings, and on 14 December 2020, he was ranked 5 in the UFC lightweight rankings. McGregor is known for being an aggressive striker and he prefers to fight standing up.
Wiki/Biography
Conor Anthony McGregor was born on Thursday, 14 July 1988 (age 32 years; as of 2020) in Crumlin, Dublin, Ireland. His zodiac sign is Cancer. Conor McGregor is a.k.a The Notorious. He attended a Gaelscoil and Gaelcholaiste for his primary and secondary education in Coláiste de hÍde in Tallaght. It was at this time when he developed an interest in sports. He played football for Lourdes Celtic Football Club. Conor was always bullied at an early age so, at the age of 12, McGregor began boxing at Crumlin Boxing Club as a way to defend himself against bullies and boost his confidence. In 2006, McGregor moved to Lucan, Dublin to attend Gaelcholáiste Coláiste Cois Life. McGregor started training for mixed martial arts (MMA) and on 17 February 2007, at the age of 18, he had his debut fight at an amateur fight against Kieran Campbell for the Irish Ring of Truth promotion in Dublin.
Physical Appearance
Height (approx.): 5′ 9″
Eye Colour: Dark Brown
Hair Colour: Blonde
Weight: 77kg
Measurements: 42.5-33-16
Family & Ethnicity
Conor McGregor was born in an Irish family.
Parents & Siblings
Conor's father's name is Tony McGregor, and his mother's name is Margaret McGregor. Conor McGregor has two sisters, Erin McGregor and Aoife McGregor.
Wife & Children
Conor McGregor started dating his fiance, Dee Devlin in 2008. They both have two children together- Conor Jack McGregor (son), and Croia McGregor (daughter).
Career
From 2008-2013
McGregor had his first professional MMA fight on 9 March 2008, where he defeated Gary Morris in the second-round technical knockout. However, after a few fights, McGregor had second thoughts about his career in MMA but his mother called the coach to convince him to continue pursuing mixed martial arts. McGregor faced his second professional loss against Joseph Duffy. However, in 2011 and 2012, McGregor won the CWFC Featherweight and Lightweight championships with an eight-fight winning streak. He became the first European mixed martial artist with two titles in two championships simultaneously.
In 2013
In 2013, Conor McGregor was signed by the Ultimate Fighting Championship (UFC). He made his UFC debut against Marcus Brimage at UFC on Fuel TV: Mousasi vs. Latifi, in which, McGregor won the first round and earned the "Knockout of the Night" award. In August 2013, McGregor suffered an injury during a fight and he was out of the fights for ten months.
In 2014
In 2014, McGregor went to his hometown, Dublin to fight Diego Brandao. He knocked out the Brazilian in the first round and earned his first "Performance of the Night" award. After the fight, McGregor met Lorenzo Fertitta and signed a contract for multiple fights with the UFC. On 27 September 2014, Conor faced Dustin Poirier and came out victorious by winning the fight through a technical knockout earning his second "Performance of the Night" award.
In 2015
In 2015, McGregor fought Jose Aldo in London for the undisputed UFC Featherweight Championship, however, Aldo had to step out of the fight due to a rib fracture. On 11 July 2015, Conor faced Chad Mendes for the Interim Featherweight Championship title fight. The event was attended by 16,019 people with a live gate of $7.2 million. He won the fight with a technical knockout, winning the UFC Interim Featherweight Championship. Later, McGregor faced Aldo for the UFC Featherweight Championship and won the fight in 13 seconds after entering the first round.
In 2016
McGregor was on a winning streak and wanted to become the first UFC dual-weight champion by competing for the UFC Lightweight Championship on 5 March 2016 at the UFC 196. McGregor was supposed to fight against Rafael dos Anjos but he withdrew from the fight because of a broken foot on 23 February. Several competitors were asked to step-in for the fight but nobody was ready to fight on such short notice. Finally, Nate Diaz, The Ultimate Fighter Season 5 winner and former UFC Lightweight Championship contender stepped in to fight McGregor. The fight ended at 4 minutes and 12 seconds mark after McGregor submitted to a rear-naked choke by Nate Diaz. Both of them won the "Fight of the Night" bonuses for their performance. A rematch was scheduled for May 2016, and McGregor won the match by majority decision. The fight broke the record and became the highest-selling pay-per-view fight in UFC history with almost 1.65 million buys. [1]Sherdog
In 2017
Conor McGregor won the lightweight championship title and decided to take time off from UFC and spend time with his family as his fiance was due with their first child in 2017. McGregor spent early-2017 campaigning for a boxing match that was scheduled between him and Floyd Mayweather, an American professional boxer. The match took place on 26 August 2017 and it ended in the 10th round when Mayweather knocked out McGregor. Floyd Mayweather won the match with a technical knockout. It was reported that the fight earned them more than they were promised. Mayweather earned $280 million for the fight and McGregor earned $130 million.
In 2018
Due to inactivity, McGregor was stripped of the Lightweight Championship title due to inactivity on 7 April 2018. McGregor announced his return to the UFC fights and challenged Khabib Nurmagomedov for the UFC Lightweight Championship. The fight took place on 6 October 2018 and he lost the fight in the fourth round.
In 2019
In March 2019, McGregor announced his retirement on social media but the announcement was taken as a way to take an ownership stake in the company. In an interview, the president of UFC, Dana White believed that McGregor's retirement won't last long and he would fight again in the future. [2]MMA Fighting
In 2020
McGregor faced Donald Cerrone on 18 January 2020 at UFC 246. McGregor won the fight just after 40 seconds via technical knockout in the first round. McGregor became the first fighter to hold the knockout positions in the featherweight, lightweight, and welterweight divisions. On 6 June 2020, McGregor officially decided to retire from fighting.
In 2021
McGregor was again signed by UFC to fight Dustin Poirier at UFC 257 on 23 January 2021. [3]MMA Fighting
Achievements/Titles
UFC Featherweight & Interim Featherweight Champion (one time each)
UFC Lightweight Championship (one time)
Fight of the Night (two times)
First European mixed martial artist to hold both- featherweight and lightweight championship simultaneously.
Fastest title fight victory in UFC history (thirteen seconds)
Most consecutive post-fight bonuses in UFC history (eight times)
Most consecutive Performance of the Night awards in UFC history (five times)
Most knockouts in UFC Featherweight Division history (six times)
First Irish-born UFC champion
Controversies
On 10 November 2017, McGregor assaulted a referee, Marc Goddard during a fight between SBG Ireland player, Charlie Ward and John Redmond at Bellator 187. Ward knocked out Redmond and McGregor jumped the cage and entered the ring to celebrate the victory of Ward before the fight was officially over. He further assaulted the referee when he was asked to step out of the ring. [4]

Sportsnet
In April 2018, McGregor attacked Khabib Nurmagomedov while he was boarding a bus to leave the Barclays Center arena for UFC 223. McGregor ran past the bus and threw a piece of metal equipment at the bus's window. UFC fighters Chiesa and Borg were injured because of the shattered glass and sent to the nearest hospital. An arrest warrant was released against McGregor and his accomplices for the attack. Later, McGregor was charged with assault, criminal mischief, menacing, reckless behavior. He was released on $50,000 bail, and later, he served five days of community service and had to attend anger management classes. [5]

The Guardian
On 6 October 2018, Khabib Nurmagomedov jumped the ring to charge towards Conor McGregor's training partner Dillon Danis. Soon, McGregor and Khabib's cousin, Abubakar also tried to exit the octagon but ended up fighting with each other. In response to this, the Nevada State Athletic Commission (NSAC) withheld Khabib's payment for the fight and filed a formal complaint against McGregor and Khabib. Later, half of the $2 million payment was released by NSAC to Khabib, but both the fighters received indefinite bans. In January 2019, McGregor was suspended for six months with a $50,000 fine. [6]

BBC
In March 2019, Conor McGregor faced two assault allegations and was under investigation by the Irish police. The first allegation was of a sexual assault on a woman in a Dublin hotel in December 2018, and the second assault was against a woman in a car earlier that month. [7]

The New York Times
On 10 September 2020, McGregor was arrested in Corsica on suspicion of sexual assault and indecent exposure for an incident that took place in a bar. After spending two days in custody, he was released without any charges. [9]

Independent.ie
Facts/Trivia
Conor McGregor often enjoys an alcoholic beverage. He is an occasional smoker as well.
Conor McGregor started earning good money from his fights and began investing in various businesses and started his own whiskey company, Proper No. Twelve. The tag line of the brand is- "A Proper Irish Whiskey from a Proper Irish Man."
Conor McGregor has several tattoos on his body. He has tattoos on his chest, forearms, and back.
McGregor signed a deal with the tailoring brand David August. The name of the brand is "August McGregor" and is aimed at making men's suits and other clothing items.
McGregor follows the tactic of engaging in trash talk and psychological warfare against the enemies to get in their head which eventually affects their performance.
McGregor's fiance, Dee Devlin has been a huge support for him as she has supported him financially and emotionally in the early days when they were struggling to make the ends meet. McGregor believes that his fiance has played a huge role in his success.
Conor McGregor is fond of automobiles and he has a huge collection of expensive cars like Land Rover Range Rover, Bentley Continental GT, Lamborghini Urus, etc. Recently, Conor ordered a yacht from Lamborghini which will be delivered to him in 2021.