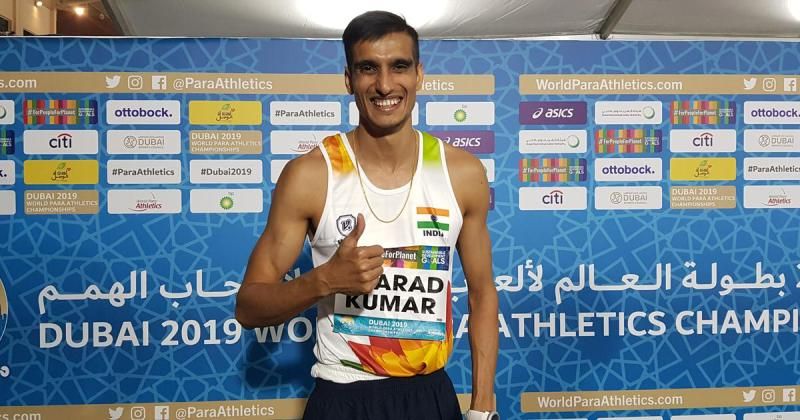 Sharad Kumar is an Indian para high jumper who was ranked the world's no. 1 at the 2012 Malaysian Open Para-athletics championship. He is a bronze medal winner at the 2020 Tokyo Paralympic Games.
Wiki/Biography
Sharad Kumar was born on Sunday, 1 March 1992 (age 21 years; as of 2021) in Muzaffarpur city of Bihar, India. His zodiac sign is Pisces. At the age of 2, Sharad was diagnosed with polio after a paralysis attack that completely paralysed his left leg. The reason for the cause was the administration of spurious polio medicine at a local eradication drive, but his disability did not let him stay away from normal day to day activities. He attended St. Paul's School in Darjeeling for his primary education and Modern School Delhi for his secondary education. After completing his primary and secondary education, Sharad enrolled himself at the Kirori Mal College, Delhi to earn a bachelor's degree in Political Science. To pursue a master's degree in Politics with a Specialization in International relations, Sharad attended Jawaharlal Nehru University, Delhi. [1]Hindustan Times
Physical Appearance
Height (approx.): 5′ 11″
Eye Colour: Black
Hair Colour: Black
Family
Sharad Kumar was born in a small Hindu family in Muzaffarpur, Bihar. [2]Hindustan Times
Parents & Siblings
Sharad Kumar was born to Surendra Kumar and Kumkum Devi. His father is a businessman, and his mother is a homemaker.
Sharad Kumar has an elder brother who is also an athlete.
Career
Sharad Kumar was fond of sports since childhood, thus his passion did not let his disabilities to act as a barrier in his sports career. He used to play various sports with his classmates in his school and never felt the difference between abled and differently-abled until the day his class teacher did not allow him to participate in an athletic event. This incident made him realise that he needed to make his way differently in the sports for which he went to Delhi to get himself enrolled at the Modern School Delhi, a school popularly known for its sports training. Sharad started participating there for the high jump and won almost every high jump competition there.
Sharad Kumar made his international debut in the year 2010 at the Asian Para Games held in Guangzhou, China. Next, he participated in the 2012 Summer Paralympics and impressed everyone by making a 1.64m mark with his high jump. Sharad Kumar first came into the limelight in 2012 when he marked a jump of 1.75m at the Malaysian Open Para-athletics championship and became the world's no. 1  para high jumper at the age of 19 only. In the same year, Kumar made his international debut in the year 2010 at Asian Para Games held in Guangzhou, China. Next, Sharad was also supposed to participate in the 2012 London Paralympics but he was tested positive for a banned drug at the 2012 Malaysian Open Para-athletics Championships and he was banned by NADA for a time period of two years. Sharad Kumar made a spectacular comeback by winning a gold medal at the 2014 Para Asian Games. He marked a 1.80m jump, breaking a 12-year Asian Games record and was also ranked No. 1 para high jumper of the World but did not receive the amount of appreciation and recognition an athlete after setting the world record should get. During an interview, Sharad said,
After I won the coveted gold medal, no one asked me or spoke to me. Obviously, I felt bad. I also expected a lot after winning the medal. A Paralympian doesn't want anything. He just wants recognition," he said wig a heavy heart. Medallists get free passes for travelling by train. They get government jobs too but after my performance, I didn't get any recognition."
He further added,
I am still paying for my training and do not have sponsors. I travel and take care of my expenses by myself. I am looking for a trainer as well. I just need some support from the government. I would be thankful if the government provides me access to the facilities which an athlete should get. I am asking what I deserve."
Sharad Kumar, in 2016, participated in Rio Paralympics, or popularly known as the 2016 Summer Paralympics, and secured 6th position in the chart. His performance was not much impressive in the match but his hard work paid him off in the 2017 World Para Athletics Championships, where he bagged a silver medal with a 1.84m high jump.
In 2018,  Sharad Kumar participated in the Para Asían Games, held in Jakarta, where he won a gold medal with a 1.90m jump, which ended up being a new game record and also a continental record. While talking about his experience of winning the gold and becoming a record holder, Sharad said,
Honestly, I got goosebumps and it took some minutes for me to realise that I have won the gold medal. I was emotional on the podium but did not want to cry. Watching the tricolour being hoisted and hearing the National Anthem was an amazing feeling. I can still feel the moment."
He further added,
I didn't know about the record. After I performed and was awarded the gold medal, then my team members told me about the record. It was like a cherry on the cake for me."
In 2017, Sharad Kumar moved to Ukraine under the Target Olympic Podium Scheme (TOPS) provided by the Government of India. Sharad faced many crucial challenges after moving there including emotional and financial. His language barrier restricted him from making new friends, the sports authority only took financial care of his accommodation and coaching fees. To cope up with his personal expenses, Sharad started trading and investing in the stock market for which he also took online courses to gain knowledge about the economic situation of the world and finding the right time to invest. One of the major highlights of Sharad Kumar's career is the Tokyo 2020 Paralympics Games in which had won a bronze medal by making a 1.83m high jump in the final event.
Sharad Kumar and his father both dedicated his win to Prime Minister Narendra Modi. According to both of them, the credit for Sharad's win goes to the Prime Minister, who motivated and encouraged Sharad to practise hard and give his best in the tournament. Sharad Kumar, during an interview, said,
We have been waiting for this moment. During his journey of practice and hard work, my son was losing patience and was a bit disappointed. However, it was Prime Minister Narendra Modi who motivated and encouraged him. And finally, he has done it and made the country proud. Credit goes to the Prime Minister."
After winning the medal at the 2020 Tokyo Paralympics, Sharad revealed that just a day before the final tournament at the Paralympics, he suffered from meniscus dislocation and thought of withdrawing his name from the event. When he told about the situation to his family members, they suggested that he should read the Bhagavad Gita and focus on his game. Sharad explained the situation before the event as,
I felt great to have won a bronze because I had an injury on my leg (sustained during training on Monday), my meniscus dislocated last night. I the cried whole night and thought of pulling out of the event."
He further added,
I spoke to my family back home (last night) and my father asked me to read Bhagavad Gita and focus on what I can do and not on what I have no control over."
Medals
Gold
2014: Asian Para Games held in Incheon, South Korea
2018: Asian Para Games held in Jakarta, Indonesia
Silver
2017: World Para Athletics Championships held in London
Bronze
2021: Tokyo 2020 Paralympic Games held in Tokyo, Japan
Controversy
Sharad Kumar, in 2012, was found positive for a banned drug just before the final event of the 2012 Malaysian Open Para-athletics Championships following which NADA (National Anti Doping Agency) banned his participation in any sports events for two consecutive years. Sharad Kumar, during an interview, explained his situation as,
I don't want to recall that period of my life. It was a nightmare for me. It all happened by mistake. I don't want to say anything on this. I was tested positive but I didn't do it intentionally. I wasn't aware of it even. It was actually a tough time, which tormented me from inside. I used to cry blood. I many a time-locked myself in a room and burst with tears. Now, I have forgotten it as a bad dream. I tried to convince NADA (National Anti Doping Agency), but when I was tested positive, there was no use in banging my head again and again. I was completely devastated. I used to feel ashamed that I am fighting a doping case. But I couldn't explain the officials."
Favourites
Tennis Player: Roger Federer
Actress: Jennifer Aniston
Film: Hollywood- The Last Samurai (2003)
Dialogue: "Bond! James Bond" and his own dialogue "Let"s get started, All
Holiday Destination(s): Goa, London
Facts/Trivia
Sharad Kumar refers to his elder brother as the biggest support for him in his career, who supported Sharad in the toughest time when even his school authorities were not sure of sending him to sports events. While talking about his brother, Sharad said,


My brother motivated me to be a high jumper. I broke all his records at school and it gave me the confidence to take the sport seriously. After St. Paul's [school] I started training myself to be part of the national Paralympic team in Delhi."
Sharad Kumar is associated with the Sports Authority of India as a coach to young high jumping athletes.