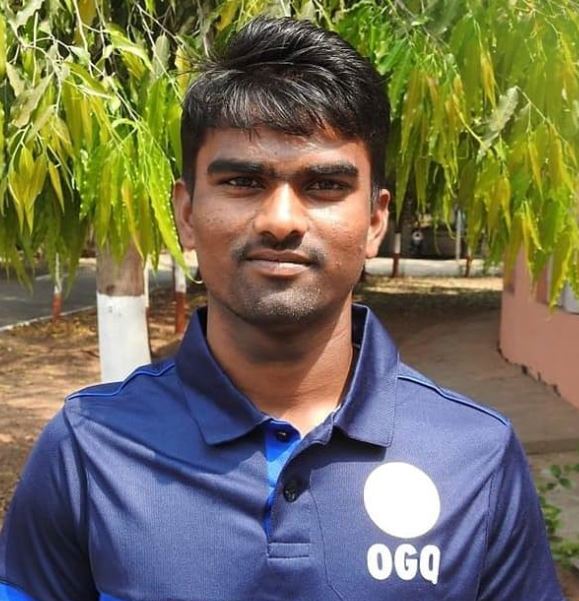 Pravin Jadhav is an Indian Archer in the Recurve discipline. He is regarded as an athlete who went through a lot of struggle and poverty to reach a level where he is now representing his country in international events. He also serves in the Indian Army as a Havaldar.
Wiki/Biography
Pravin Jadhav was born on Saturday, 6 July 1996 (age 25 years; as of 2021) at Village Sarade in Satara district in Maharashtra. His Zodiac sign is Cancer. He studied in a Zilla Parishad School (Satara district). Since childhood, he has developed a keen interest in sports. Then his sports teacher Baban Bhujpal (later his coach) advised him to go for the track sports as that requires a zero investment looking at his financial condition.
Bhujpal then took care of all his dietary requirements. He soon gained proficiency in the 400m and 800m race categories. He was planning to quit school after seventh as his family couldn't support further studies but soon he joined Krida Prabhodhini on an insistence on one of his school teachers. Krida Prabhodhini is a programme run by the Government to support young talents in sports coming from rural areas. It provides free coaching, education and residence to them. He soon received training at Balewadi in Pune. But as his performance was decent, a physical test was conducted there which showed that Jadhav is more suitable for Archery. He was then sent to Amravati to train under Praful Dange, an archery coach at Krida Prabhodhini. During a training, Praful told that
"Archery is a difficult sport and many aspirants lose patience within a year. Jadhav had to survive the period. "We make archers train with a bamboo bow for a year. The professional bow is only given after that if they show enough interest."
Physical Appearance
Height (approx.): 5′ 6″
Hair Colour: Natural Black
Eye Colour: Brown
Family
Parents & Siblings
His father, Ramesh Jadhav was a labourer at Sheti Mahamandal (State Agriculture Corporation)
but soon started a cattle farm when his son joined Indian Army in 2017.
His mother, Sangita Jadhav is a homemaker. He has one elder sister (married). They live in a two-room concrete tin house in Sarade Village provided by the State Agriculture Corporation.
Career
Jadhav had a weak physique due to malnutrition, as a result, he would often face difficulty lifting the recurve bow. He uses to suffer from immense pain while firing the bow, which prompted Krida Prabhodini to release him from the programme. Bhujpal did attempt to bring him back into the programme but was unsuccessful. Bhujpal then approached Mr Palkar, a sports enthusiast, to help him out. Mr Palkar agreed, and then they both travelled 800 km by car overnight to reach Amravati where the institute was located. After reaching, Mr Palkar contacted Krida authorities to give Jadhav an opportunity to prove his worth. They agreed and he was given a total of five chances. Jadhav was successful in all those attempts with a score of 45. He was averaging nine out of ten per shot which impressed the authorities to the level that they agreed to take him back into the programme.
This proved a turning point in his career and from there on, he never looked back. He got a call from an Indian side to represent the nation. In 2016, he took part in the Asia Cup stage 1 to be held in Bangkok, Thailand. Nearly 300 archers took part in this event. This was the qualifying tournament for the 2016 Rio Olympics. He went on to win the bronze medal at the recurve event with a score of 326. He also became the part of Indian B team in the 2016 Archery World Cup to be held in Medellin (Columbia) including Tarundeep Rai and Binod Swansi. The team couldn't do much and managed the 9th rank at the event.
As his time with Krida Prabhodini was about to end, so he had to arrange the money to buy the Archery kit that was costing around 2.5 Lakhs. Since he used to get 9000 INR per month as a stipend, which was not enough to bear this expense. But as he is an international Archer so the government of India rewarded him with 2.5 Lakh INR cash. Soon his financial condition got stable.
In 2017, he joined the Indian Army under the sports quota. With that, he also told his father to quit his labour job. Instead, he bought him a dairy cattle farm so that his father can sell the milk. In the same year, he also bagged the gold medal in the national championship at Cuttack, Odisha. He then competed in various international tournaments including the 11th World University Archery Championship 2016, Taipei Summer Universiade 2017, Hyundai Archery World Cup 2019 stage 3 (Turkey), Hyundai Archery World Cup 2019 stage 4 (Berlin), Tokyo 2020 Test Event, and Guatemala City 2021 Hyundai Archery World Cup where he didn't do much.
Then came the 2020 Tokyo Olympics where 33 different sports were included. The Archery Competition took place in Yumenoshima Park on 23-31 July 2021. Overall there were five events for recurve archers: men's and women's individual, men's and women's team, and men's and women's mixed (making its debut). Pravin Jadhav started off in great fashion where he dominated world number two Galsan Bazarzhapov from Russian Olympic Committee (ROC) by 6-0. Elated with that win, Tokyo 2020 for India committee tweeted
How to start and end with perfect 10s? 🎯

Pravin Jadhav showed us as he won his first men's individual recurve match against #ROC's Galsan Bazarzhapov by 6-0, before going down to world No. 1 – #USA's Brady Ellison! #IND#BestOfTokyo | #Tokyo2020 | #StrongerTogether | #Archery pic.twitter.com/0OSUbFIXC3

— #Tokyo2020 for India (@Tokyo2020hi) July 28, 2021
Jadhav was the best Indian among all the Indian Archers having 31st rank. Though Bazarzhapov started off well in target with 10s points in the first two shots but eventually misfired in the next three shots with 7-8-7.  Jadhav was spot on with 9-10 to lock horns in his next game, which will be against the world champion Brady Ellison.
Though Elison was ordinary in his second and third set misfiring two 8s. But Jadhav couldn't take that advantage with his two 7s and two 8s in his four sets. Thus ending on a losing side along with his colleague Tarundeep Rai who was also knocked out in an Individual event.
He was lauded by the Prime Minister of India Narendra Modi for his entry into the 2020 Tokyo Olympics, though ending on a losing side in his second game of the tournament.
PM @narendramodi lauded Pravin Jadhav (Archery) for staying on the path despite difficult circumstances. The Prime Minister also interacted with his family and praised their efforts.#Cheer4India #OlympicsKiAasha #Tokyo2020 @PMOIndia @PIB_India pic.twitter.com/qAHtlzTZ2n

— PIB In Meghalaya (@PIBShillong) July 13, 2021
Facts/Trivia
About his success story, he revealed that
"I didn't get any money but I was like a helping hand. Sometimes I carried fertiliser to spray in the fields so that my father could finish his work as early as possible. Working in the harsh conditions in farms around the sugar town of Phaltan in Satara district, Maharashtra, with the temperature hovering over 40 degrees in summers, made me tough."
"Working with my father during my childhood was a blessing in disguise. There is some external force on this planet that helps when you are struggling."
He would often call his parents daily when he stays out of the country for the competition which makes him stay focused and relaxed. But once, just a week before an important tournament, he found himself unable to contact his parents. He got worried, and this situation continued for over a week. During an interview, he said


"I was very worried why there was no response. I was brooding, I felt lonely. But then I realised I should first concentrate on the task at hand and stay focused. I tricked my mind into believing that all is good back home, and then I was able to concentrate."

Soon after the tournament got over, he came to know that heavy rain have disrupted the electricity supply in his village and also damaged his father's phone. Later he got to know from his friend that everything is alright there.