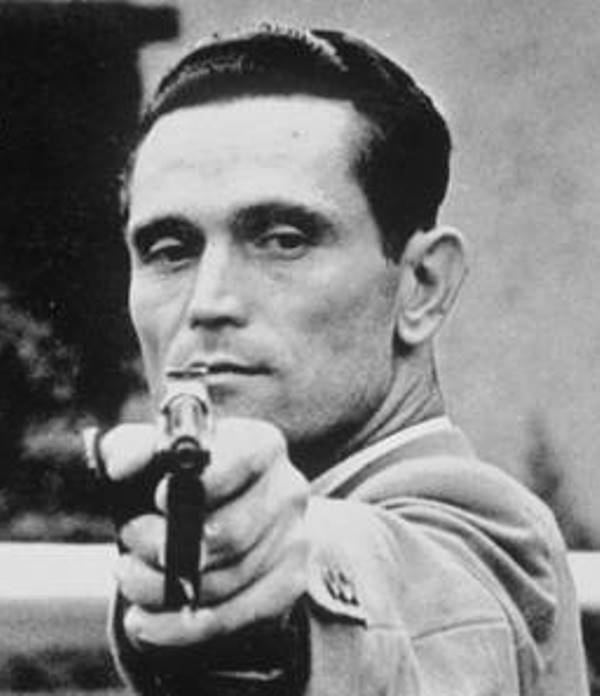 Károly Takács (1910-1976) was a Hungarian Olympic athelete. He was the first shooter to earn two Olympic gold medals in the 25-meter rapid-fire pistol event using his left hand as his right hand was seriously injured. In August 2023, Indian filmmaker R Balki released a film titled 'Ghoomer,' which was inspired by the life story of Károly Takács. He died in 1976 at the age of 65.
Wiki/Biography
Károly Takács was born on Friday, 21 January 1910 (age 65 years; at the time of death) in Budapest, Kingdom of Hungary. His zodiac sign is Aquarius.
Family
There is not much information about his family.
Career
Military Service
He served as a sergeant in the Hungarian army. In 1936, he wanted to join the Hungarian shooting team for the 1936 Summer Olympics; however, he was not allowed to do so because he held the rank of sergeant and only commissioned officers were permitted to compete. This rule changed in Hungary after the Berlin Games. In 1938, during his military training, a defective grenade exploded in his hand and severely injured his right hand; however, he was focused on pursuing his shooting career and made the decision to switch to shooting with his left hand. He practised in secrecy and amazed his fellow countrymen by winning the Hungarian national pistol shooting championship in early 1939. Later, he became a member of the Hungarian team, which won the 1939 UIT World Shooting Championships in the same shooting category. The last post he held while serving in the army was a lieutenant colonel.
Shooting
In 1948, he won gold at the Summer Olympics in London, at the age of 38, after he beat his favourite shooter Carlos Enrique Díaz Sáenz Valiente, who was a world champion in shooting at that time. In 1952, he won the second gold medal in the 25-metre rapid-fire pistol at the Summer Olympics in Helsinki. In 1956, he participated in the Summer Olympics in Melbourne and finished eighth in the event. He was the winner of 35 Hungarian national shooting championships as well.
Medals
Gold: London Olympic 1948 in the 25-metre rapid-fire pistol
Gold: Helsinki Olympic 1952 in the 25-metre rapid-fire pistol
Bronze: ISSF World Shooting Championships 1958 in the 25-metre centre-fire pistol
Honours
In 1948, Dominica released a commemorative stamp to honour him.
Legacy
The International Olympic Committee has counted him as one of the 'Olympic Heroes.'
Death
On 5 January 1976, he died at the age of 65 in Budapest. He was buried at the New Public Cemetery in Budapest.
Facts/Trivia
Károly Takács is known as the third known athlete with a physical disability to have participated in the Olympic Games.
His favourite shooter was Carlos Enrique Díaz Sáenz Valiente.
After the end of his shooting career, he became a shooting coach. He coached Szilárd Kun, a sports shooter from Hungary, who went on to win the silver medal at the 1952 Summer Olympics.
In May 2023, Sid Boyka, an author, published a book titled 'The Life Story Of Unbreakable Spirit & Success – Karoly Tekacs,' in which he wrote about the inspiring life story of Karoly.