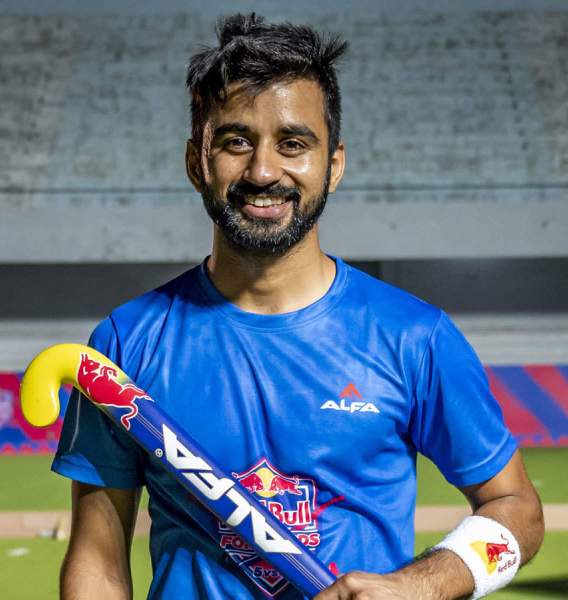 Manpreet Singh is an Indian field hockey player who assumed the captaincy of the Indian men's national field hockey team on 18 May 2017. The halfback player earned massive popularity when his captaincy led India to win a bronze medal in the 2020 Summer Olympics (Tokyo), the first Olympic medal in field hockey since 1980.
Wiki/Biography
Manpreet Singh was born on Friday, 26 June 1992 (age 31 years; as of 2023), and he hails from Mithapur in Punjab. Situated on the outskirts of Jalandhar city, Mithapur is well known for its hockey legacy, which nurtured renowned Indian hockey veterans like Swarup Singh, Kulwant Singh, and Padma Shri awardee Pargat Singh. Consequently, since childhood, Manpreet dreamt of pursuing a career as a professional hockey player. Keen to learn the sport, he spent his childhood playing hockey with his elder brothers. While sharing a childhood incident in an interview, he said,
One day, when I was 10 years old, as I was about to leave for coaching, my brother locked me in a room. However, I managed to get out and join him at the coaching ground. My brother got angry and was about to hit me, but the coach said I should be given a chance to learn the game since I was so keen."
The achievements of the former captain of the Indian hockey team Pargat Singh brew the sparks of Manpreet's passion for hockey. In an interview, while talking about his inspiration, Manpreet said,
My first inspiration to play the game came from Pargat Singh, the former captain of the Indian hockey team, and DSP of my district…Besides that, I was attracted by the prizes my brothers received when they won matches."
When Manpreet's family was undergoing financial instability, Pargat tended to his needs. In 2005, he got enrolled at Surjit Hockey Academy in Jalandhar, recognised as one of India's best sports institutes.
Physical Appearance
Height (approx.): 5' 6"
Hair Color: Black
Eye Color: Black
Family & Ethnicity
Manpreet Singh was born into a middle-class Sikh family. [1]Manpreet Singh's Facebook
Parents & Siblings
When Manpreet was young, his father, Baljit Singh, had to quit his job as he was suffering from mental health issues. His mother, Manjit Kaur, was forced to pursue various odd jobs to provide for her family. Although his mother wasn't supportive of his decision to pursue hockey initially, she came on board when Manpreet earned his first cash prize of Rs 500 playing hockey.
Manpreet came across the news of his father's death on 6 April 2016, few hours before the opening match between Japan and India at the Sultan Azlan Shah Cup. As a result, Manpreet was sent back to India mid-tournament to carry out the death rituals. While he was still mourning his father's death, his mother motivated him to return to the tournament. In an interview, while narrating the incident heavy-heartedly, he said,
My mother told me that my father always wanted me to give my best on the field, so I should go back and play well. And my teammates and even members of rival teams helped and supported me in those sad days."
As a tribute to Manpreet's father, the Australian team observed a minute's silence and wore a black armband during their match with India at Sultan Azlan Shah Cup (2016). His elder brothers, Amandeep Singh and Sukhraj Singh, are former skilled hockey players who played for Punjab at the national level championships. Due to the deteriorating economic conditions of his family, Amandeep emigrated to Germany. Later, with the help of Manpreet's idol-cum-godfather Pargat Singh, Amandeep relocated to Italy, where he worked as a truck driver.
Wife & Children
On 16 December 2020, Manpreet Singh tied the knot with his longtime Malaysian-Pakistani girlfriend, Illi Najwa Saddique. The couple first met in 2013 when India's junior men's team won the Sultan of Johor Cup. Following the victory, Saddique, an avid field hockey lover, approached the team for a picture. After courting for a year, the couple got engaged in 2014.
Saddique derives her passion for the game from her mother, who was also a hockey player. In an interview, Manpreet revealed that Saddique serves as his best critic. He said,
And Illi is my best critic. She is totally honest with me. This doesn't mean she puts me down. Instead, she motivates me."
Career
International
Junior Field Hockey
Manpreet Singh first exhibited his leadership skills when he was named skipper for the 2008 Junior Asia Cup in Myanmar, his international debut. An injury in 2009 sidelined him for almost a year. In 2013, he served as the captain of the Indian junior men's field hockey team at the Men's Hockey Junior World Cup. In the same year, his remarkable captaincy led the Indian team to win a gold medal at the third Sultan of Johor Cup, held in Malaysia. In the tournament, the Indian men's team paved its way to the gold medal defeating England, Argentina, Pakistan, South Korea, and finally the host country, Malaysia, by 3-0.
Senior Field Hockey
In 2011, Manpreet made his senior debut at the Men's Asian Champions Trophy, China, where the Indian men's hockey team became the crowned champions. He represented India at the 2012 Summer Olympics, which took place in London, UK. The Jalandhar-based player was a part of the gold-winning Indian team, which defeated arch-rival Pakistan in the final match by 4-2, at the Asian Games (2014). Later, in the same year, he was a part of the Indian team that earned a silver medal at the Commonwealth Games, Scotland, after losing to Australia in the final match by 4-0. At the international field hockey tournament HCT (Hockey Champions Trophy), India made it to the finals after 38 years and won a silver medal after losing to Australia by 3-1. During Sultan Azlan Shah Cup (2016), amid the tournament, Manpreet had to return to India to carry out the death rituals of his father. Although India managed to win Japan vs India opening match by 1-2 in Manpreet's absence, the Indian team lost against the world champions Australia by 1-5. On 10 April 2016, he returned to the tournament and played Canada vs India match in which India won by 1–3. He came into the limelight for scoring a goal within the first 4 minutes of Pakistan vs India match, which India won by 1-5. Although India didn't win the cup, it secured the second position, following a defeat against Australia by 4-0. After he was appointed as the captain of the Indian men's hockey team on 18 May 2017, the country witnessed various glorious wins, including gold at the 2017 Men's Hockey Asia Cup, silver at the 2018 Champions Trophy, and gold at the 2018 Asian Champions Trophy. His captaincy also led India to win bronze at the Men's FIH Hockey World League Final (2017) and Asian Games (2018). In the 2020 Summer Olympics, his captaincy led India to win a bronze medal, the first Olympic medal in hockey since 1980.
Domestic
During the 2014 Hockey India League, he was a member of the team 'Ranchi Rhinos.' He has played for the BPCL Team (Bharat Petroleum Corporation Ltd), which won the Scindia Gold Cup Hockey Tournament (2014), held in Gwalior, after beating Central Railways by 3-1.
In the 2015 Hero Hockey India League, he was a part of the champion team 'Ranchi Rays.'
Awards & Honours
Asia's Junior Player of the Year (2014)
Earned the title of Best Midfielder of the Year at Hockey India Annual Awards (2015)
AHF (Asian Hockey Federation) Best Player of the Year (2015)
FIH (Fédération Internationale de Hockey) Player of the Year (2019)
Hockey India Dhruv Batra Player of the Year Award (2019)
Earned the title of Sportsman of the Decade at ACES Awards (2021)
Major Dhyan Chand Khel Ratna Award (2021)
Favourites
Sport(s): Hockey, Football
Hockey Player(s): Moritz Fürste, Sardar Singh, Pargat Singh
Football Player(s): Christiano Ronaldo, David Beckham, Sergio Ramos, Toni Kroos, Luka Modric, Eden Hazard
Football Club: Real Madrid CF
Film(s): Chak De! India (2007), Bhaag Milkha Bhaag (2013), M.S. Dhoni: The Untold Story (2016)
Exercise(s): Leg press and Squats
Facts/Trivia
In 2018, Adidas, a German sportswear company, announced Manpreet Singh as its brand ambassador in India. Additionally, he is an ambassador of the online hockey platform named Scorrd, which aims at connecting hockey players, coaches, fans, and clubs. Furthermore, he is one of the Red Bull-sponsored athletes on the social media platform.
For his remarkable performance in the field Hockey, DSP rank in Punjab Police was bestowed on him by the Punjab Government.
Born to a farmer father, Manpreet embraces his humble beginnings. He complies with his inspiration Cristiano Ronaldo's belief that one should always remember their roots. In an interview, he said,


I have read a lot of books about Ronaldo and even watched movies related to him. Ronaldo says that even when you are successful, you should never forget your humble beginnings. I totally go by that philosophy."

Apart from being a skilled hockey player, he is also a Playstation enthusiast. In an interview, while talking about his must-haves, he said,


One thing that I take with me wherever I go is my PlayStation. I always carry it with me anywhere I go. Whether it is our training camps or international tours, I carry my PlayStation with me."

For the opening ceremony of the 2020 Summer Olympics, held in Tokyo, Manpreet bore the flag for India.
In an interview, Manpreet's mother revealed that his fellow players used to call him 'Korean' due to his impeccable speed during his childhood. Apparently, Korean hockey players were known for their speed during those days. She also revealed that Manpreet's nickname is 'Money.' [2]

Rozana Spokesman
His hobbies include meditating, yoga, listening to music, playing PlayStation, hanging out with friends, and watching movies.
Manpreet is also fond of tattoos. A tiger woman tattoo is inked on his right leg. The tattoo comprises a face of a woman inside the mouth of a crown-wearing tiger.

'ੴ' or 'Ek Onkar' is inked on his right hand. Interpreted as 'God is One,' Ek Onkar are the first words of the Sikh holy scripture Guru Granth Sahib.