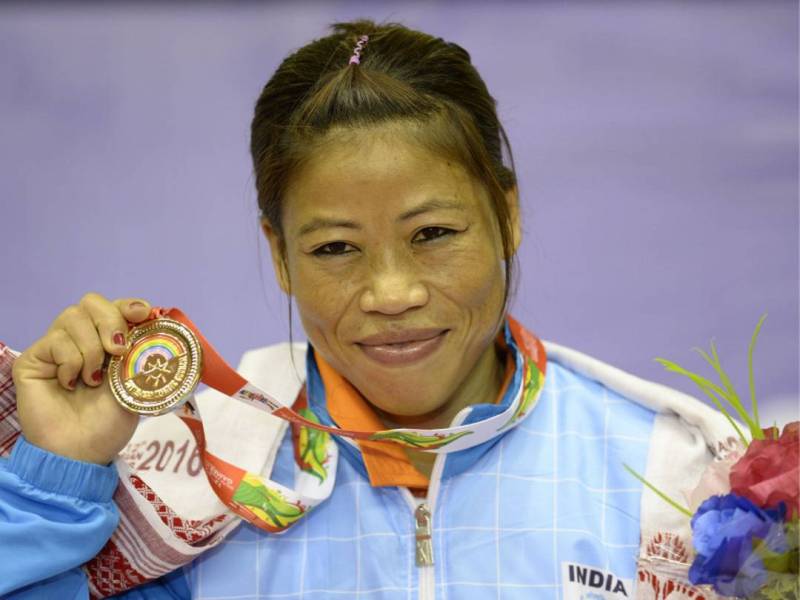 Mary Kom is an Indian Olympic Boxer. She is the First Indian Woman Boxer to get a Gold Medal in the 2014 Incheon Asian Games and is also the First Indian Woman Boxer to win Gold at the 2018 Commonwealth Games. She is also the only woman to become the World Amateur Boxing champion for a record six times. Let's take a closer look at her personal and professional life.
Biography/Wiki
Chungneijang Mary Kom Hmangte or simply, Mary Kom, was born on 1 March 1983 at Kangathei, Manipur, India. She celebrated her 40th birthday in 2023. But the age is just a number to her as she won Gold at the Commonwealth Games 2018 in Australia. She started her training in boxing at a very young age and has since represented India at the highest level and has achieved many accolades internationally and nationally. She is popularly known as 'Magnificent Mary.'
Physical Features
She stands 5′ 3″ (160 cm) tall and weighs about 50 kg (110 lbs). She has brown hair and black eyes. On being asked about her fitness, she said,
The secret to my success is my fitness and I am very quick. I plan well before bouts. I am lucky that I can catch my opponents within seconds. I am able to read them very quickly…I have to train to keep myself calm. It's a strong urge, it's a habit and training makes me happy. When I don't train I feel sick sometimes
Family
She was born into a low-income Christian family. Her father, Mangte Tonpa Kom and her mother, Mangte Akham Kom were tenant farmers. Her father was also a wrestler.
She grew up with three siblings, Chung, Nei, and Jang.
In 2005, she married Karung Onkholer Kom, a former footballer. He let his career slide to take care of their children and make sure that Kom concentrates on training and not on the households.
In 2007, she gave birth to twin sons, Rechungvar Kom and Khupneivar Kom. In 2013, the couple welcomed their third child, Prince Kom.
Just one year after giving birth to Prince, she won the Asian Games Gold in 2014.
Education
She shifted many schools in her childhood. She studied at Loktak Christian Model High School, Moirang, Manipur till her 6th standard.
She then studied at St. Xavier Catholic School, Moirang till the 8th class. After this, she moved to Adimjati High School, Imphal.
She failed in her matriculation exams and quit her school. Later she completed her 10th from NIOS. She completed her graduation from Churachandpur College. She was a very athletic person since her childhood and participated in various sports in her school. She was into athletics, but after Dingko Singh's 1998 Asian Games success, she shifted to boxing.
Career
She is one of the biggest boxing stars of India. Her illustrious career took shape at a very early age. She was 15 when she moved to study at the Sports Academy in Imphal. Her father first didn't like her choice of sport as he was concerned that her face might get hurt which may spoil her chances of marriage.

Though, when she won the State Boxing Championship in 2000, he started supporting her and understood her love for boxing. She got her first World Championship Gold in 2002 and then went on to win Gold five more times.
In 2018, she won Gold in the World Championship for the sixth time and became the World's first woman to achieve this feat.
In 2012, she represented India in Olympics and even won Bronze in the 51 kg category. In 2018, she won a Gold Medal in the Commonwealth Games in Gold Coast, Australia.
Medals
2001:

  Silver– Women's World Amateur Boxing Championships
2002: Gold– Women's World Amateur Boxing Championships
2003: Gold– Asian Women's Championships
2004: Gold– Women's World Cup
2005: Gold– Asian Women's Championships
2005: Gold– Women's World Amateur Boxing Championships
2006: Gold– Women's World Amateur Boxing Championships
2006: Gold– Venus Women's Box Cup
2008: Gold– Women's World Amateur Boxing Championships
2008: Silver– Asian Women's Championships
2009: Gold– Asian Indoor Games
2010: Gold– Women's World Amateur Boxing Championships
2010: Gold– Asian Women's Championships
2010: Bronze– Asian Games
2011: Gold– Asian Women's Cup
2012: Gold– Asian Women's Championships
2012: Bronze– Summer Olympics
2017:

 Gold– Asian Women's Championships
2018: Gold– Commonwealth Games
2018: Gold– AIBA Women's World Championships
Awards/Honours
2003: Arjuna Award (Boxing)
2006: Padma Shree (Sports)
2007: Contender for Rajiv Gandhi Khel Ratna Award
2007: People of the Year- Limca Book of Records
2008: CNN-IBN & Reliance Industries' Real Heroes Award
2008: Pepsi MTV Youth Icon
2008: 'Magnificent Mary,' AIBA
2009: Rajiv Gandhi Khel Ratna award
2009: International Boxing Association's Ambassador for Women's Boxing
2013: Padma Bhushan (Sports)
2020: Padma Vibhushan (Sports)
Favourites
Tahini, Falafel are her favourite foods.
She loves listening songs of Lata Mangeshkar.
Volleyball, Football, Wrestling, and Athletics are her favourite sports besides boxing.
Philanthropy
She is a humanitarian and works a lot for the underprivileged. She is also an animal rights activist. She is a big supporter of PETA India and worked to end the use of the elephant in the circuses.
In an interview, she said,
Circuses are cruel places for animals where they are beaten and tortured. As a mother, I can imagine what animals go through when their children are taken away from them to forcefully perform in circuses. It's sad.
She also supported Compassionate Citizen, PETA India's humane education campaign. She once said,
One of the best ways to knock out cruelty to animals is to teach compassion to young people. Animals need us in their corner. With violence seemingly all around us, it is more important than ever that we teach lessons of respect and kindness in the classroom
Facts
She likes doing Martial Arts, Travelling, Watching TV, and Singing in her leisure time.
In 2006, her father-in-law was kidnapped and killed. She was very close to him, and in an interview, she revealed that that was a tough time for her.
In 2014, a biopic was made titled, 'Mary Kom,' starring Priyanka Chopra and directed by Omung Kumar.

On 26 April 2016, she was nominated by the President of India as a Member of the Parliament in the Rajya Sabha.