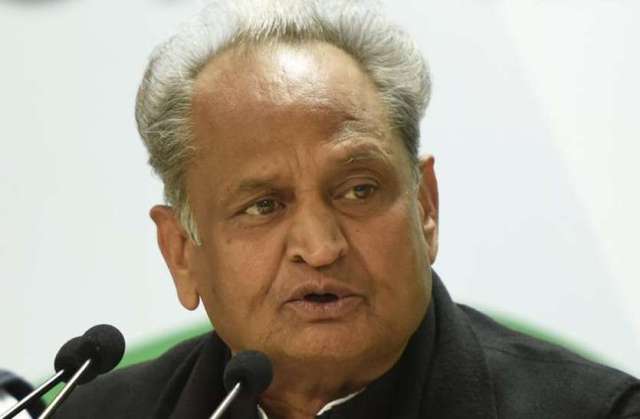 Ashok Gehlot is an Indian politician and one of the senior most leaders of the Indian National Congress (INC). Having been influenced by Mahatma Gandhi, Gehlot started social political works at an early age. Former Prime Minister, Indira Gandhi recognised his potential during the East Bengali Refugees Crisis in 1971. He is considered the biggest face of the Indian National Congress in Rajasthan and served as the Chief Minister of the state thrice. Let's delve into more detail about Ashok Gehlot's personal and political life:
Biography/Wiki
Gehlot was born on 3 May 1951 (Age: 72, as of 2023) in Jodhpur, Rajasthan. Since his childhood, he was inspired by Mahatma Gandhi and has practised the Gandhian ways of life. He completed his B.Sc. in 1971, M.A. in 1973, and L.L.B. in 1976 from Jodhpur University. Earlier, Gehlot was very passionate to become a doctor and to fulfill his dream, he had even taken admission in a Medical College but quit later. At the time of the Independence of Bangladesh (or East Bengali Refugee Crisis) in 1971, Gehlot had volunteered there. He served in the refugee camps in the Eastern Indian States. At that time, he was noticed by the then Prime Minister, Indira Gandhi during one of her visits to the refugee camps.
Family & Caste
Gehlot was born into a Backward 'Mali' (Gardener) Family to Babu Laxman Singh Gehlot. Ashok Gehlot's mother's name is not known. He has two brothers; Kanwar Sen Gehlot (died of Heart Attack in 2018) and Agrasen Gehlot.
Ashok Gehlot also has a sister who lives in Jodhpur.
Ashok Gehlot married  Sunita Gehlot on 27 November 1977.
The couple has two children: a son, Vaibhav Gehlot and
a daughter, Sonia 
Career
When he was 20 years old, Indira Gandhi, the then Prime Minister of India noticed his organizational skills; when he was volunteering during the East Bengal Refugees Crisis and invited him to join politics. In 1974, Gehlot was appointed the first state President of National Student's Union of India (NSUI). In 1979, he was appointed the President of District Congress Committee of Jodhpur. In 1980, Gehlot was elected to the 7th Lok Sabha from Jodhpur constituency and represented the same constituency in the 8th, 10th, 11th, and 12th Lok Sabha. In 1982, he was appointed as the General Secretary of Rajasthan Pradesh Congress Committee. The same year, he was made the Union Deputy Minister of the Department of Tourism in the Indira Gandhi's government. In 1984, he Served as the Union Deputy Minister for Department of Sports. In 1985, for the first time, Gehlot was elected as the President of Rajasthan Pradesh Congress Committee. He was made a member of the Standing Committee on Railway in 10th & 11th Lok Sabha. In December 1994, he was again appointed the President of Rajasthan Pradesh Congress Committee. In 1997, he became the President of Rajasthan Pradesh Congress Committee for the third time.
In 1998, he became the Chief Minister of Rajasthan for the first time representing Sardarpura constituency of Jodhpur, Rajasthan. In 2008, Gehlot again became the Chief Minister of Rajasthan for the second time. In 2018, Ashok Gehlot was picked as the Chief Minister of Rajasthan for the third time.
Controversies
In 2017, his name appeared among other politicians on the list of "Paradise Papers" in a probe by the International Consortium of Investigative Journalism. However, he was given a clean chit in the case because no evidence was found against him.
 In 2011, Ashok Gehlot got stuck in controversy when Rajasthan Government, allegedly gave assets and contracts worth ₹11,000 Crore to the firms having financial links with his family members.
Assets/Net Worth
He has ₹55 Lakhs as Bank Fixed Deposits, Jewellery worth more than ₹10 Lakhs, and his net worth is around ₹1.5 Crore. These stats are as per his affidavit filed in 2013.
Facts
He is a vegetarian and doesn't eat anything after sunset till dawn.
His father, Babu Laxman Singh Daksh, was a magician, and Ashok often used to accompany him while performing the magic tricks across the country.
He used to perform magic tricks in front of Rahul and Priyanka Gandhi; during their childhood.
Apart from serving in East Bengali refugees camps, he has also worked in camps organized by the Tarun Shanti Sena at Indore, Sevagram, Aurangabad, and Wardha.
During the 1980 Lok Sabha Elections, he used to circulate and stick his campaigning posters himself; as he was running out of money.
In 1982, he went to the Rashtrapati Bhavan on an autorickshaw for his swearing-in ceremony as the Union Deputy Minister, Department of Tourism.
In the 1990s, Gehlot had opposed the close association of the Indian National Congress with controversial godman Chandraswami.
In 1989, Gehlot was also the Home Minister of Rajasthan.
When he was the Cheif Minister of Rajasthan, some policies of the Gehlot Government's were highly appreciated such as 7 million-days' employment and his drought management.
He is the founder of Bharat Seva Sansthan, which provides books free of cost through the Rajiv Gandhi Memorial Book Bank and also provide ambulance services.
In 2018, Gehlot was trolled online for making a statement, after that people started mocking him as #ScientistGehlot. The video was the trimmed clip of his speech. As Gehlot came to know about his troll in the media, he posted the real video of his speech at Twitter.
ये इनकी असलियत है और इनकी फितरत में है कि मुझ जैसे साधारण इंसान को भी #ScientistGehlot का दर्जा दे देते हैं।
This is the original, which was edited.. pic.twitter.com/KGygG7RPMn

— Ashok Gehlot (@ashokgehlot51) June 5, 2018