Simona Halep is a Romanian tennis player. She shot to fame after defeating Serena Williams in the 2019 Wimbledon final. She was the World No 1 for two times between 2017 and 2019 and had retained the position for 64 weeks.
Wiki/Biography
Simona Halep was born on Friday, 27 September 1991 (age 28 years; as in 2019) in Constanța, Romania. Her zodiac sign is Libra. She did her schooling from the "Scoala Gimnaziala Nr.30 Gheorghe Titeica school in Constanța, Romania. She simultaneously attended the Liceul Cu Program Sportiv Nicolae Rotaru (Sports School) in Constanța, Romania. She pursued her undergraduate from the Universitatea "Ovidius" din in Constanța, Romania. Simona used to play tennis since she was 4 years old. She was inspired to play tennis by her brother, and she started playing regularly from the age of 6.
Her mother, Tania, wanted her to be a successful tennis player, and when Simona was 10 years old, and it was Tania's wish to see her win at Wimbledon. Simona was very good at studies, and she loved maths. Once, in an interview, she stated that if she wasn't a tennis player, she would have been a mathematician.
Physical Appearance
Height (approx.): 5′ 6″
Eye colour: Moss Green
Hair Colour: Medium Ash Blonde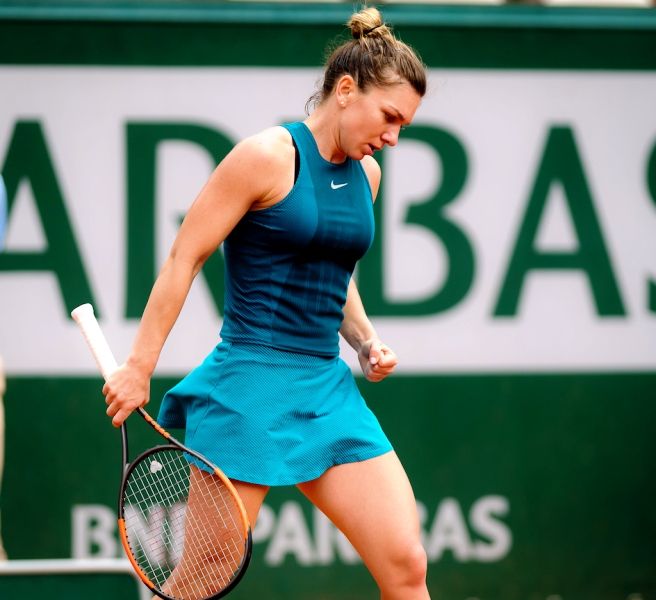 Family
Simona Halep belongs to the Aromanian Ancestry. Her father, Stere Halep is a soccer player and runs a dairy products factory. Her mother, Tania Halep is a homemaker. She has a brother, Nicolae Halep. Simona is unmarried.
Career
Simona started her career in 2008. She started playing in the Notting Hill tennis club and participated in the Australian Open Junior Championships, but she lost. In May 2008, she scored her first win at the 2008 Trofeo Bonfiglio Cup. In June 2008, she won the Roland Garros Junior Championship.
She also started playing the International Tennis Federation (ITF) senior development tournaments. She won two $10,000 tournaments and two $25,000 tournaments. In an interview, she said that in 2009, she had to undergo a breast reduction surgery to play better; as it was causing her discomfort and the surgery helped her to be agile and help her in quick reflexes during a match. She considers the surgery as her biggest sacrifice.
In 2010, she participated in tournaments such as the Australian Open, Barcelona Ladies Open, French Open, the WTA Tour, and the US Open. However, she only reached the finals of the French Open. In 2011, she took part in the ASB Classic, the Australian Open, Estoril Open, the Wimbledon Champions, the BCR Open Romania Ladies, Rogers Cup, the US Open, and the BGL Luxembourg Open-Singles, but she only reached the second and third rounds of most these tournaments.
In 2012, Simona did not win in any tournaments. 2013 was the turning point of Halep's career. She participated in the Italian Open and defeated the world No 4 and the former world No 1 players. Eventually, she was defeated by Serena Williams, but her performances helped her become the world No 47. She went on to win the Nürnberger Versicherungscup and the Topshelf Open. It also made her the first Romanian to win two consecutive titles on different surfaces. She won the New Haven Open which led her to be in the world No 19. In October 2013, when she won the Kremlin Cup, it made her the only player in 2013 to win titles on clay, grass, hard, and indoor courts. In November 2013, she won her sixth title at the Garanti Koza WTA Tournament of Champions. She became the world No 11 and the only player after Steffi Graf to win 6 WTA titles in one year.
In 2014, at the Australian Open, she reached the quarterfinals of a Grand Slam for the first time. She lost the quarterfinals, but she reached the Top 10 in WTA rankings. She also became the third Romanian woman ever to reach the Top 10. On 16 February, she won the Qatar Open and rose to world No 5. In 2014, she had to withdraw from the Italian Open because of an injury. In June 2014, she reached the finals of the French Open making her the only player after Martina Hingis to reach the final of a Grand Slam without losing a single set. However, she lost in the finals to Maria Sharapova.
In 2014, she participated in the Western & Southern Open, the US Open, and the WTA Finals, but she was ousted in the quarterfinals, the third round, and the finals respectively. In the second round of the WTA Finals, she amazed everyone by defeating the defending champion, Serena Williams. However, she lost the finals to Serena Williams.
In 2015, she won the Shenzhen Open and the Dubai open. In March 2015, while she was in the Indian Wells Masters, she received the news of her cousin, Nicia Arghit, committing suicide. Eventually, she won the title and dedicated it to her cousin. In the 2015 Rogers Cup, she reached the finals, but during the match, she had a leg injury, and she had to withdraw. She ended the year as the world No 2, and her best career performance of 40 wins and 10 defeats.
In early 2016, Halep did not participate in a few tournaments due to injuries. Eventually, she participated and won the Madrid Open. It helped her get back on the top 5 of the WTA rankings. She won the 2016 Rogers Cup and reached the "doubles finals" with her partner Monica Niculescu. In 2017, she was forced to withdraw from the St. Petersburg Ladies' Trophy and the Romanian Fed Cup due to a foot injury. In 2017, she became the seventh player to reach the world No 1 ranking without winning a Grand Slam in a year.
In 2018, she won her first doubles title with Irina-Camelia Begu in the Shenzhen Open. She also won the 2018 French Open. She played other tournaments, but she did not perform well. She ended the year as the world No 1 for two years in a row.
In 2019, she started her season without a coach. Her previous coach, Darren Cahill, her coach for the past 3 years, took a year-long break from coaching to focus on his family. She teamed up with Daniel Dobre as her coach. In 2019, she took part in the Sydney Open, Australia Open, Qatar Open, Indian Wells Masters, Miami Open, French Open, and the Eastbourne International, but she lost in all of them. In 2019, she reached her first Wimbledon final and faced the seven-time Wimbledon champion, Serena Williams. Simona dominated the final with a score of 6-2, 6-2 and only made 3 unforced errors. The match was over in 56 minutes, and she won her first Wimbledon title. Simona Halep became the first Romanian player to win at Wimbledon.
Awards, Honours & Achievements
ESPN Center Court's Most Improved Player in 2013
Women's Tennis Association's Most Popular Player of the Year Award in 2013
Most clicked player on WTATennis.com in 2014 and 2015
Cetățean de Onoare (Honorary Citizen) Honour in 2018 by the city of Bucharest, Romania
WTA's Most Improved Player of the Year Award for the year 2013
WTA's Player of the Year Award in 2018
ITF World Champion for the year 2018
Simona Halep Signature
Favourites
Favourite Tennis Players: Justine Henin, Andrei Pavel, and Roger Federer
Favourite Food: Singaporean Chicken Rice
Favourite Place: Paris
Favourite Workout: Yoga
Net Worth
$25 million (as in 2019)
Car Collection
Simona Halep owns a Mercedes AMG C 63S Cabriolet, a Mercedes GLE 450 AMG, a Mercedes CLS AMG, a Porsche 911 Carrera GTS (which she won in the WTA Finals), and a Range Rover.
Facts
Simona's hometown is in Constanța in Romania, but she moved to Bucharest at the age of 16 to focus on her training.
Just like any other sportsperson, Simona also undergoes a strict workout regimen, but she avoids weight lifting; as she does not want her body to get bulky.
Once, in an interview, she stated that even though Roger Federer was one of her favourites, she grew up idolizing Justine Henin and Andrei Pavel.
In an interview, she stated that she is a very shy person and calls herself an introvert. She used to hate being in front of people, and she used to warm up alone before a match or training; as she did not want people to see her.
Reportedly, she feels that if she was taller she would have been a better player. She considers herself short for the game of tennis. Interestingly, Halep is the shortest player to win the Wimbledon title.

Simona is managed by Virginia Ruzici. Virginia is also a former Romanian tennis player, and she is the first Romanian to win the French Open; Simona being the second.
In an interview, Simona revealed that early in her career she wasn't used to playing on grass courts; as Romania did not have any grass courts. When she started practising on grass courts before tournaments, she would often fall and get herself injured. [1]

Tennis World USA
Simona likes playing golf and football in her free time and she also loves to ice-skate.
She is an animal lover, and she often visits places where she can interact with animals.
Once in an interview, she was asked whether staying away for tournaments had affected her family. She replied that earlier she used to rush back home whenever she got the time. She jokingly added that she was not that important in her home anymore since her niece was born, and she loved spending time with her whenever she's was at home.