Ankit Baiyanpuria is an Indian fitness influencer who became famous for the promotion of desi styles of workout. In 2023, he attempted the 75 Hard Challenge.
Wiki/Biography
Ankit Baiyanpuria aka Ankit Singh [1]Facebook – Ankit Singh was born on 31 August in Bayanpur, Sonipat, Haryana, India. His zodiac sign is Virgo.
He studied till 10th standard at Government High School, Bayanpur Lahrara. He studied 11th and 12th standards in the Arts stream at Government Senior Secondary School, Model Town, Sonipat from 2013 to 2015. He later pursued a Bachelor of Arts (B.A.) degree at Maharshi Dayanand University (MDU), Rohtak. [2]Facebook – Ankit Singh Ankit said in an interview that he was interested in studying; however, he became a wrestler due to his father's interest in the sport and decided to become a wrestler after a wrestler from his village named Krishan won a medal in the 2008 Junior Asia Tournament. He started going to Akhara while studying in 9th standard. He later pursued a career as a social media influencer.
Physical Appearance
[3]Instagram – Ankit Singh Height: 5′ 9″
Weight (approx.): 80 kg
Hair Colour: Black
Eye Colour: Black
Body Measurements (approx.): Chest 42″, Waist 30″, Biceps 18″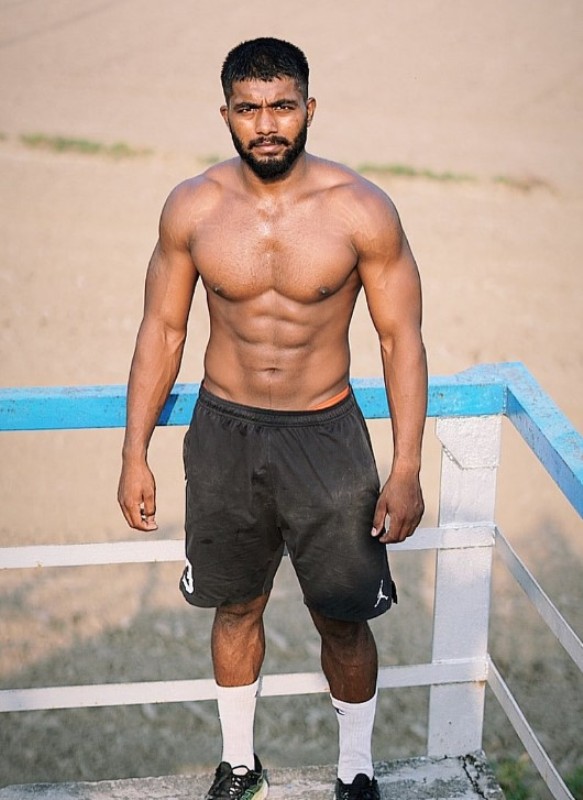 Family
He belongs to a middle-class family.
Parents & Siblings
His father is a labourer, and his mother is a homemaker. He has two elder sisters who are married.
Wife
He is unmarried.
Relationships/Affairs
He is single.
Religion/Religious Views
He follows Hinduism and is a devotee of Lord Shiva. He also talks about Hindu scriptures including Shiv Puran and Bhagavad Gita in his videos as he felt very peaceful after reading them, and said that his viewers should read them as well to feel good in their lives. Interestingly, he was gifted the Bhagavad Gita by a friend; however, Ankit found it very tough to read and stopped reading it. When he was doing the 75 Hard Challenge, he again started reading it as a way to complete the challenge; however, the book influenced him deeply. During an interview after completing the challenge, he gave the credit of his popularity to Lord Shiva and Bhagavad Gita. He mentioned that he learnt Stoicism from Gita which shaped him into a calmer person.
Career
Social Media Influencer
He started his career by posting Haryanvi comedy/prank videos on TikTok and YouTube on his channel titled Haryanvi Khagad. After the Covid-19 lockdown, he started making videos about fitness, especially diets and workouts and changed his channel name to Ankit Baiyanpuria. He mainly promotes traditional wrestling workout which includes sapate (Hindu wrestling burpees), rope climbing, and running. He trains in his village under the coach (guru) Krishan Pahalwan.
Ankit also gained popularity for his workout videos at public places in Rishikesh and Sukhna Lake in Chandigarh in which he also showed public reaction. In June 2023, he was sent a silver play button by YouTube when his channel was subscribed by 100 thousand people. [4]YouTube – Ankit Baiyanpuria In September 2023, his Instagram account named Ankit Baiyanpuria was subscribed to by 4.5 Million people. [5]Instagram – Ankit Baiyanpuria
Injuries & Break from Wrestling
Ankit said in an interview that he suffered a slip disc injury in his back during a wrestling match in Himachal Pradesh in 2018 due to which he had to stop his wrestling training for a few months. He fought in a university-level tournament after recovering from that injury and won the silver medal; however, he injured his knee which again forced him to stop his training for a few more months. During a wrestling competition in April 2022, he tore the rotator cuff in his shoulder in a wrestling match due to which he was put on bed rest for three months and gained weight. He weighed 86 kg before injury; however, while resting for a few months, his weight increased to 95 kg. Due to his injury, he could not wrestle for more than a year prior to September 2023.
75 Hard Challenge
Ankit decided to do the 75 Hard Challenge to lose weight. He first did the challenge for a few days and saw great results in how he looked and felt. He then decided to start the challenge and recorded it too so that he could inspire other people. On 27 June 2023, he started the 75 Hard Challenge, which was designed by American entrepreneur and author, Andy Frisella, in 2020. The 75 Hard Challenge includes five daily tasks which include taking a selfie to check the progress, following a diet plan without alcohol or any cheat meal, drinking 1 gallon (4 litres) of water, reading 10 pages of any non-fiction book (self-help books), and two workout sessions of 45 minutes each, with one session outdoors irrespective of weather. If the person fails to perform any one of these tasks, he has to start from Day 1 again. It is estimated that only 1% of people who attempt this challenge have been able to complete it successfully. Ankit said that he did this challenge to increase his mental toughness. According to Ankit, the hardest part about 75 Hard was to leave sugar as in their community, a lot of sugar is consumed on a daily basis. [6]YouTube – Ankit Baiyanpuria
Workout
Ankit Baiyanpuria mainly likes to do wrestling workouts, which include explosive movements like Sapate and promotes traditional workouts that help to build stamina, endurance, and strength. He does not like bodybuilding workouts which build only muscle. He also lifts tyres, wood, and cylinders as a desi workout equipment. He also runs around 5 km every day. In the gym, Ankit lifts heavy weights as he has uploaded videos of bench pressing 200 kg and squatting 220 kg. His PR (personal record)/highest deadlift is 240 kg.
Diet
He starts his day by eating a mixture of dry fruits which has 2-4 figs, 10-15 foxnuts, 10-12 cashews, and 4 walnuts. He also includes an apple or a banana occasionally, whichever is available.
He follows a vegetarian diet which includes milk, almonds, and ghee (clarified butter). He often drinks Badam Ragda (a drink made by pressing Almonds vigorously) as a recovery diet from workouts. [7]YouTube – Ankit Baiyanpuria He makes badam ragda with particular kinds of almonds (sonagiri and gurbandi giri), watermelon seeds, fennel, black pepper, poppy seeds, and rose petals. He also used to add any sweetener in it; however, he drank it plain, without any sweetener, when he was doing the 75 Hard challenge.
He usually eats about 6-8 chapatis, 2 bowls of vegetables, and 2 servings of salad during the whole day. He includes one scoop of whey protein after his evening workout.
He consumes 1 kg of curd during the day and 1 kg of milk after his dinner. He also eats Kachri ki Chutney, his favourite chutney, during each meal. Interestingly, unlike the popular culture among bodybuilders and wrestlers, Ankit never eats any cheat meals or has any cheat days. He said in an interview that whenever he wants to have a different meal, he eats kheer or churma which has a lot of dry fruits, ghee, and milk. Churma is one of his favourite sweet dishes, and he has also cooked it on a few occasions.
Tattoos
He has a tattoo on his right arm.
Favourites
WWE Wrestler(s): John Cena, The Great Khali
Facts/Trivia
Ankit said in an interview that he was interested in studying; however, he became a wrestler due to his father's interest in the sport and decided to become a wrestler after a wrestler from his village named Krishan won a medal in the 2008 Junior Asia Tournament. He started going to Akhara while studying in 9th standard.
He is the official athlete of the Bull Nutrition Cafe of Grurgram. He also promotes the products of the MuscleBlaze brand in his videos.
He is an animal lover and owns a pet cat and a dog.
He likes firearms and owns a pistol.
During Ankit Baiyanpuria's 75 Hard Challenge, several memes were made by editing videos of the Indian Prime Minister Narendra Modi and famous characters of the Indian entertainment industry like Jethalal in Ankit's voice.
It was speculated in August 2023 that he would appear in an episode of the 19th season of MTV Roadies.
On October 1, 2023, Ankit took part in Shramdaan for Cleanliness programme with Prime Minister Narendra Modi as part of the 'Swachhata Hi Seva' campaign. Both even took to their social media accounts to spread awareness about the same.
Ankit debuted in a song with Elvish Yadav named 'Chore Haryana Aale' which was released on 8 October 2023.
He is popularly called 'Man With No Haters' by his fans.
He also works as a personal trainer apart from working out.
Ankit has been photographed with hookah many times during his early teenage years.
He revealed in an interview that he has been a vegetarian since his childhood and started eating eggs occasionally during his teens, particularly during the winter season; however, he stopped eating eggs later and had not eaten any eggs for one year before September 2023.
Irrespective of the time he sleeps, he wakes up at 5 a.m. every day, sometimes even before the alarm bell.
Ankit usually swims in local village streams and takes ice baths for recovery from workouts.
He has followed Brahmacharya (a Hindu form of yoga where one needs to follow abstinence from sexual intercourse or sexual continence) since his teenage years when he started wrestling training. He emphasised the importance of Brahmacharya during an interview after completing the 75 Hard challenge and said that Brahmacharya stabilises the mind and gives the focus to do hard tasks.
Although Ankit likes wrestling, he has learnt boxing as a hobby and once aspired to become an MMA (Mixed Martial Arts) fighter and also got an offer to do MMA training in the USA; however, he gave up the offer as he injured his shoulder and knee during wrestling training.
He worked as a confectioner and labourer at a local factory, lifting rice bags, before he started working as a Zomato delivery boy. This was to afford the diet that he needed for wrestling. After Zomato, he joined a job offered by someone that he knew previously at a supplement store in Sonepat where he got a salary of 9,000 rupees. He continued doing that even after getting fame which he quit in August 2023.
He calls his father his biggest source of inspiration since it is from him that he has learned how to work hard. Ankit has also worked as labourer on a few occasions to help his father.
When Ankit appeared on a podcast of Ranveer Allahbadia, Ranveer gifted Ankit one of his favourite books titled The Autography of a Yogi. Ranveer said that he read the book after Virat Kohli said that this book changed his life. Ranveer also said while gifting the book that Ankit was special due to which he was compelled to gift him this book.
Ankit likes to do different adventure sports such as rafting and has uploaded a few rafting videos on his YouTube channel.
In an interview with Muscle Blaze, Ankit revealed that his caste/ surname 'Baiyanpuria' is because of the tradition in Dangal or wrestling. The player adopts the name of their village because once someone joins the wrestling community, they are considered distinct from the village community. The identity is separate from any custom, caste, or religion. They are just known as 'pehalwan.'
When Ankit became very famous, he disclosed a very interesting story about Rishikesh, one of his favourite places which is also considered Lord Shiva's abode. Ankit said that when he had around 10,000 followers, he said that he would go to Rishikesh every time 10,000 new followers would subscribe to him. After this incident, his growth became so rapid that he had to visit Rishikesh many times a month, sometimes multiple times a week.