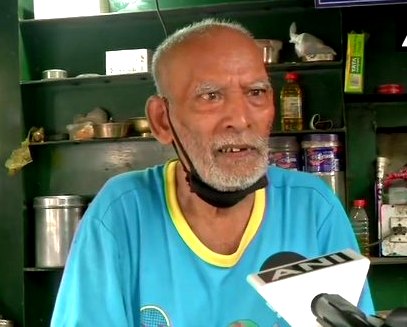 Kanta Prasad runs a Dhaba, a roadside restaurant, called "Baba Ka Dhaba," which became popular after the YouTuber Gaurav Wasan uploaded a video on 'Baba Ka Dhaba' on social media; the video went viral overnight.
Wiki/Biography & Family
Kanta Prasad was born in 1940 (age 81 years; as of 2021) in Azamgarh, Uttar Pradesh. At the age of five, he got married to the three years old Badami Devi, and the couple went on to have three children, two sons named Karan and Azad, and a daughter named Saroj.
Reportedly, soon after the marriage, the couple separated, and both started living at their parents' home. [1]Zee News After 18 years of their marriage, they reunited.
The Inception of Baba Ka Dhaba
After giving birth to their daughter, Saroj, they left Uttar Pradesh for Delhi in 1961, where Kanta Prasad started working as a fruit vendor, and his wife, Badami, helped him in this. Kanta Prasad often praises his wife, and once, he said,
She was a better saleswoman than me!"
Soon the five-member family settled in Delhi, where they started selling fruits and vegetables for their livelihood. In an interview, while talking about his initial days in Delhi, Kanta said,
We had our fair share of good and bad days. But we'd keep going for the times when we could afford chai and biscuit from the nearby tapri. My favourite day is Friday though… because on Fridays, Badami Ji makes aloo baingan!"
Later, to increase the family's income, Kanta started a tea stall in Delhi, but it failed, and then his wife suggested that they should start a Dhaba. Kanta says –
Badami Ji had faith in me and my cooking. I remember asking her, 'Nahi chala toh?' She smiled and said, 'Koi baat nahi, kuch aur karengey!' I wouldn't have had the courage to do anything without her. She may look small, but she has a strong willpower!"
In 1988, started a Dhaba, and he named it "Baba Ka Dhaba." After working together diligently, Kanta and Badami established their Dhaba as a profitable one; however, in 2020, after the nationwide lockdown in the country in the wake of the COVID-19 pandemic, like many other businesses, Baba Ka Dhaba also suffered a huge loss
The Viral Video
In October 2020, the YouTuber Gaurav Wasan uploaded a video on Baba Ka Dhaba on social media which went viral. In the video, Kanta Prasad was seen describing the turmoil that his family had been undergoing since the nationwide lockdown. Within a few days of the video went viral on social media, a long queue of people started being visible on his Dhaba, where people would take selfies with Kanta Prasad.
View this post on Instagram
While reacting over the overnight popularity of the Dhaba, Kanta Prasad's wife, Badami said,
पहले बिक्री नहीं होती थी… बिक्री नहीं होती थी तो कमाई भी नहीं होती थी। जो खाना बच जाता था, उसे घर ले जाते थे, वही खाना खाते थे। कभी-कभी ऐसा भी हुआ कि राशन नहीं होता था तो भूखे रहना पड़ता था। बच्चे अपनी कमाई में से कुछ नहीं देते। एक बेटे का काम छूट गया है और जो दूसरा बेटा काम करता है, वो कुछ नहीं देता। बेटी की शादी हो गई है लेकिन वो हमारे साथ ही रहती है। एक नातिन है, 12 साल की… उसे पढ़ाते भी हैं। आज सुबह से बहुत सारे लोग आए हैं, तो खुशी हो रही है, खाना भी सब खत्म हो गया।'
A New Restaurant
After getting huge popularity due to the viral video, various politicians and Bollywood celebrities came forward to help Kanta Prasad and his family. Reportedly, more than INR 40 lakh were received as charity for Baba Ka Dhaba. Later, within two months, Kanta Prasad opened a new restaurant in Malviya Nagar; this new restaurant was almost within a walking distance from his old Dhaba.
Lockdown and the Closure of New Restaurant
The COVID-19 lockdown in the country caused the shutdown of the new restaurant opened by Kanta Prasad. According to Kanta, he had employed two chefs and one helper in the new restaurant, but the income was not sufficient to run the restaurant, leading to its closure. Later he sold the properties of the restaurant from which he got only INR 30-40 thousand.
Controversy
After the video went viral, Kanta Prasad accused the YouTuber Gaurav Wasan of doing fraud with the money received as charity for Baba Ka Dhaba, and he also filed an FIR against the YouTuber.
Later, Kanta's daughter, Saroj, accused her father of being an alcoholic and said that he spent most of the money on liquors. In June 2021, Kanta Prasad apologized to Gaurav Wasan and returned to his old Dhaba.
After Kanta Prasad's apology, Gaurav Wasan shared a post on Instagram in which he wrote,
All's well that ends well 🙏 Galti karne wale se bada Galti maaf karne wala hota he ( Mere Maa Baap ne hamesha yehi seekh di hai) नानक नाम चड़दी कला, तेरे भाणे सरवत दा भला"
Suicide Attempt
According to Delhi Police, on 17 June 2021, around 11.15 PM, they received information from Safdarjung Hospital that Kanta Prasad, age 81 years, was admitted to the hospital. Kanta Prasad had consumed alcohol and sleeping pills and the hospital said in its report that he was unconscious. A statement by his son Karan said that his father had taken alcohol and sleeping pills. [2]India Today According to his son Azad, Kanta had already tried to commit suicide six years earlier.
Net worth
Kanta Prasad has a net worth of over INR 20 Lakh. [3]Zee News