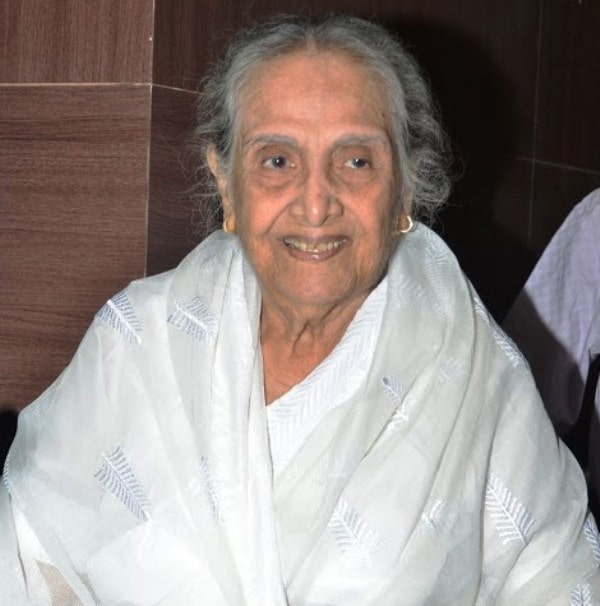 Sulochana Latkar was an Indian actress who appeared in more than two hundred and fifty Hindi and Marathi films such as Sujata (1959), Sampoorna Ramayana (1961), Johny Mera Naam (1970), and Kora Kagaz (1974). Sulochana gained popularity after playing the mother of the roles played by famous actors like Amitabh Bachchan, Sunil Dutt, Dev Anand, and Rajesh Khanna in many films. In June 2023, she took her last breath in a hospital in Mumbai.
Wiki/Biography
Sulochana Latkar was born as Nagabai on Monday, 30 July 1928, [1]Outlook while some sources claim that she was born on Thursday, 30 July 1929 (age 93 or 94 years; at the time of death) in Khadaklat village, Belgaum district, Bombay Presidency, British India (now Belagavi district, Karnataka, India). [2]Maharashtra Times Her zodiac sign is Leo. She studied till class 5 at a primary school in her native village after which she had to drop her studies as her parents passed away.
Family
Sulochana Latkar belonged to a Hindu Marathi family.
Parents & Siblings
Her father was a faujdar (a police officer), who served in the Kolhapur State. Her parents passed away when she was 12-13 years old due to a plague epidemic. She had an elder brother who was ten years elder than her.
Husband & Children
At the age of fifteen, Sulochana got married to Abasaheb Chavan, who belonged to a family of wealthy landlords in Maharashtra. Her daughter, Kanchan Ghanekar, is the wife of the deceased actor Dr. Kashinath Ghanekar.
Career
Early Struggles
Due to an outbreak of a plague epidemic in Sulochana's native village, she, along with her brother and aunt, moved to Chikodi, Karnataka, where they stayed at her father's lawyer friend's house. There, she met Master Vinayak, a film producer and the owner of Prafulla Pictures, who offered her a job in his production company in Kolhapur; she accepted the offer and was paid a salary of Rs. 30 per month. In an interview, Sulochana talked about it and said,
Binadekar received us with open arms but it was improper for us to depend upon him for very long. One day, Binadekar's acquaintance, well known producer-director Master Vinayak came to meet him. Master Vinayak was the owner of Kolhapur's Prafulla Pictures film company. When he came to know about our dire circumstances, he invited me to Kolhapur and gave me a job in the company."
While working at Prafulla Pictures, Sulochana appeared in several films as an extra. She later left the job as she was not ready to move to Bombay (now Mumbai), where Prafulla Pictures had moved. Thereafter, she was employed by Bhalji Pendharkar in his film studio Jayaprabha Studio at a monthly salary of Rs. 30. She left the job in 1948 after the studio was burnt down by the protestors after Mahatma Gandhi was killed by Nathuram Godse. During a media interaction, Sulochana said that the studio was destroyed by the protestors as Bhalji was an avid supporter of the Rashtriya Swayamsevak Sangh (RSS), and Nathuram Godse was affiliated with the RSS. Talking about it, she said,
After the assassination of Mahatma Gandhi, riots against Brahmins and RSS members spread across Mahrashtra. Many were killed as a result and many properties were set afire including Jayaprabha Studio. Bhalji Pendharkar was even arrested at the time. In this situation, he relieved all the employees of the studio of their duties after giving them two months' salaries."
In the same year, Sulochana shifted from Kolhapur to Pune, where she started working with Mangal Pictures.
Acting Career
She played a small role in the 1943 Marathi film Chimukla Sansar.
In 1944, she bagged a role in the Hindi mythological film Maharathi Karna. She landed a role in the 1946 Tamil film Valmiki. Sulochana landed her first lead role in 1947 in the Marathi film Sasuravaas. In 1948, she appeared in the Marathi film Jeevacha Sakha. She was catapulted to the limelight in 1952 after the release of her Marathi film Stree Janma Hi Tujhi Kahani. In 1953, she moved to Bombay from Pune. Sulochna Latkar acted in the 1954 Hindi film Aurat Teri Yahi Kahani, which was a remake of the 1952 Marathi film Stree Janma Hi Tujhi Kahani.
In 1954, she appeared along with the actor Surendra Nath in the Hindi film Mahatma Kabir. She stopped getting acting offers after the release of her Mythological Hindi film Sati Ansuya in 1956. While giving an interview, she explained the reasons for not receiving acting offers after the release of Sati Ansuya and said that back in those days, actors who worked in Mythological films were considered to be inferior as compared to the actors who worked in non-mythological films. In 1957, she landed the role of Bela in the Hindi film Ab Dilli Dur Nahin. In 1959, she played the role of Nutan's mother in the Hindi film Sujata. She talked about bagging the role of a mother in an interview and said,
One day Bimal Roy invited me to play the mother's role for his film Sujata (1959). Though, I could not decline the offer, I couldn't help wondering how, I, at merely 30 years of age could play the role of a mother. But on the advice of Durga Khote and Lalita Pawar, I convinced myself mentally to take up character roles also."
Sulochana went on to appear in several Hindi and Marathi films including Sampoorna Ramayana (1961) as Kaikeyi, Maratha Tituka Melvava (1964) as Jijabai, Kati Patang (1970) as Mrs. Dinanath, Kahani Kismat Ki (1973) as Mrs Sharma, Muqaddar Ka Sikandar (1978) as Vinod Khanna's mother, Ek Daav Bhutacha (1982) as Radha Mavashi, Andha Kanoon (1983), Sasu Varchadh Jawai (1984), and Khoon Bhari Maang (1988) as Shatrughan Sinha's mother.
Awards, Honours, Achievements
In 1999, Sulochana Latkar received India's fourth-highest civilian award, the Padma Shri.
In 2003, she won the Chita Bhushan Award from the Akhil Bharatiya Marathi Chitrapat Mahamandal.
In 2004, she received the Filmfare Lifetime Achievement Award.
She won Hridaynath Mangeshkar Award four times.
The Government of Maharashtra presented Sulochana Latkar with the state's highest civilian award, Maharashtra Bhushan, in 2009.
In 2019, she received the Saraswatibai Dadasaheb Phalke Lifetime Achievement Award.
Death
Sulochana Latkar passed away due to age-related illness at Shushrusha Hospital in Dadar, Mumbai, on 4 June 2023 at 6.30 pm. Following her death, the family released an official statement in which it said,
She had age-related health issues and breathing difficulties. She died this evening at 6 pm. We are deeply saddened to inform you of the passing of our beloved grandmother, Smt. Sulochana Didi Noted Film Actress after a prolonged illness that has been age-related."
She was cremated at the Shivaji Park Crematorium in Dadar, Mumbai, on 5 June 2023 with full state honours. [3]Zee 24 Taas
Facts/Trivia
Her stage name Sulochana was given to her by Bhalji Pendharkar.
Sulochana Latkar was affectionately called Rangu Diwan by her friends and family,
Lata Mangeshkar and Sulochana Latkar had known each other since childhood. They met each other for the first time when they both worked at Prafulla Pictures.
Sulochana Latkar learnt how to ride a horse and use sticks and swords from Bhalji Pendharkar.
Sulochana Latkar passionately followed her hobby of knitting. In an interview, she talked about it and revealed that she used to knit sweaters for actors and actresses.
Sulochana Latkar had a sweet tooth.
According to renowned film historians like B. D. Samand and Sahabuddin, Sulochana Latkar was born into a Muslim family. Their claims were, however, refuted by her daughter Kanchan Ghanekar who said that the claims were false and baseless.