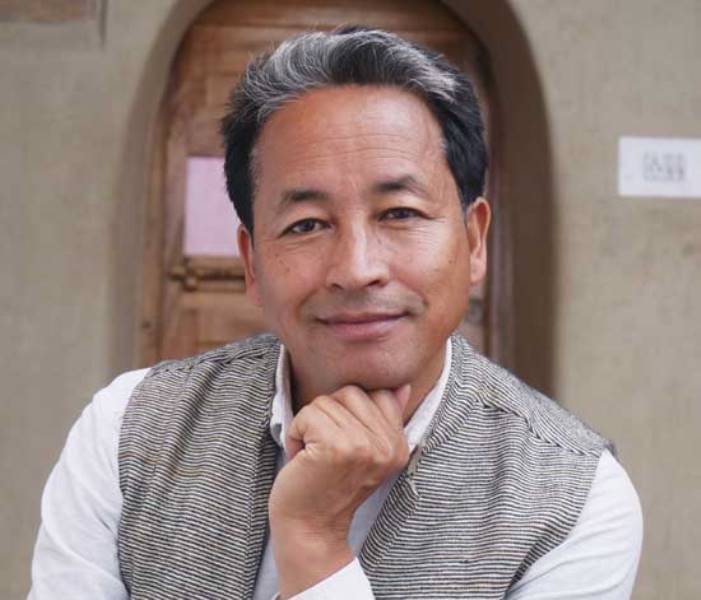 Sonam Wangchuk is an Indian engineer, educator, innovator, environmentalist, and education reformer. In 1988, he founded the Students' Educational and Cultural Movement of Ladakh (SECMOL), an NGO in Ladakh, India. He received recognition after it was revealed that Aamir Khan's character Phunsukh Wangdu in the 2009 Bollywood film '3 Idiots' directed by Rajkumar Hirani was inspired by Sonam Wangchuk. He received the Social Entrepreneur of the Year at the GQ Men of the Year Awards in 2017.
Wiki/Biography
Sonam Wangchuk was born on Thursday, 1 September 1966 (age 57 years; as of 2023) in Uleytokpo, near Alchi, Jammu and Kashmir (now in Ladakh), India. His zodiac sign is Virgo. Since there were no schools in his village, he was homeschooled by his mother in his mother tongue till the age of 9. At the age of 9, he moved to Srinagar in Jammu and Kashmir with his family after his father was posted to Srinagar. He studied in a school in J&K. It was very difficult for him to study there as he had a hard time understanding the language due to which he was often considered dull-witted. After he could not tolerate the treatment towards him in school, he ran away from Srinagar and came to Delhi in 1977, where he explained his situation to the school principal of Vishesh Kendriya Vidyalaya. In 1987, he did B.Tech in mechanical engineering at REC Srinagar (now the National Institute of Technology Srinagar). [1]LinkedIn – Sonam Wangchuk In 2011, he pursued a master's degree in earthen architecture at the Craterre School of Architecture in Grenoble, France. [2]Outlook
Physical Appearance
Height (approx.): 5′ 8″
Weight (approx.): 70 kg
Hair Colour: Salt & Pepper
Eye Colour: Dark Brown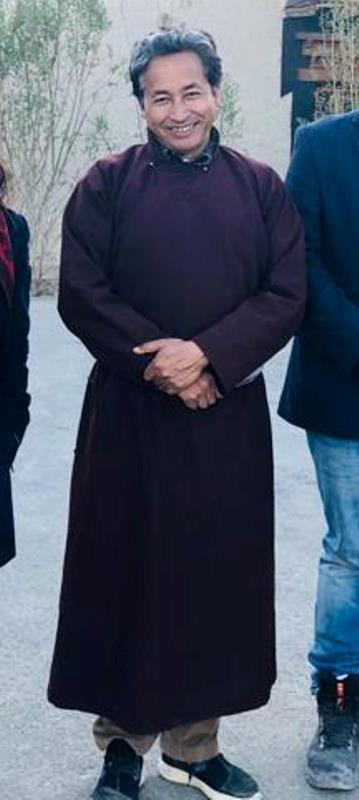 Family
Parents & Siblings
His father's name is Sonam Wangyal, who is a politician. He was a minister in the state government of Jammu and Kashmir. His mother's name is Tsering Wangmo.
Wife & Children
There is not much information about his wife and children.
Signature/Autograph
Career
Education Reformist
In 1988, he founded the Students' Educational and Cultural Movement of Ladakh (SECMOL), along with a group of students, who were unable to deal with the education system followed in Ladakh.
In June 1993, he founded Ladags Melong magazine, which is the only print magazine in Ladakh. From June 1993 to August 2005, he held the position of editor of Ladags Melong magazine. In 1994, he launched 'Operation New Hope' with the help of the Indian government and many communities across villages in India to improve the government education system in India. In 2001, the Hill Council Government appointed him as an advisor for education. In 2002, she joined hands with heads of other NGOs and founded a network of Ladakhi NGOs named Ladakh Voluntary Network (LVN). In 2005, he gave up his position as the secretary of its executive committee. In 2004, he was selected as the head of the Drafting Committee of the Ladakh Hill Council Government's Vision Document 'Ladakh 2025' and played a key role in formulating the policy on Education and Tourism. In 2005, he began to work as a member of the National Governing Council for Elementary Education in the Ministry of Human Resource Development, Government of India. In 2007, he began to work as an education advisor for a Danish NGO named Mellemfolkeligt Samvirke (MS). In 2013, he became a member of the Jammu and Kashmir State Board of School Education. In 2013, he helped students of Ladakh in founding New Ladakh Movement (NLM), which was a social campaign and a political party, for working towards sustainable education, environment and economy. Later, the members of the movement converted it into a non-political social movement. In 2014, he became a member of the expert panel for drafting the J&K State Education Policy and Vision Document.
Innovator & Environmentalist
Ice Stupa
In 2013, he released a prototype of an artificial glacier called Ice Stupa, which was made to store the stream water in the form of huge ice cones or stupas in winter, and after the stupas began to melt during late spring, the water is released for being used. The main reason for finding this solution was to put an end to the water crisis faced by farmers in Ladakh during the months of April and May. In February 2014, he created a prototype of an ice stupa, which was capable of storing around 150,000 litres of wasted winter stream water. In 2016, he started creating ice stupas at high-altitude glacier lakes for reducing disaster chances. In an interview, when he was asked about the inspiration behind inventing ice stupas, he said,
One day I saw some ice hanging under a bridge. That made me realise it was not summer or winter that was causing ice to melt, but direct sunlight. One of our senior engineers, Mr Norphel, was working on freezing streams. But because he was doing this on a flat surface he needed to do this at high altitudes. He was an inspiration for us, and triggered me into thinking of solutions. I thought, why can't we do this at normal altitudes?"
In 2016, the president of Pontresina, a municipality in the Engadine Valley, Switzerland, invited Sonam Wangchuk to build Ice Stupas as a tourist attraction. In October 2016, he, along with his team, collaborated with Swiss partners and built the first Ice Stupa in Europe.
FarmStays Ladakh
In 2015, he began to work on setting up the Himalayan Institute of Alternatives. In 2016, he introduced a project called FarmStays Ladakh under which women of Ladakh opened up their homes as homestays for tourists and let them experience the culture, local food, and lifestyle of Ladakh. On 18 June 2016, Chetsang Rinpoche inaugurated the project.
Siphon Technique
In 2016, the Government of Sikkim invited him to use the siphon technique in one of their dangerous lakes. In September 2016, he visited the South Lhonak Lake in North-West Sikkim with his team to apply the Siphon technique. He, along with his team, installed siphoning system's first phase for draining the water of the lake to a lower and safer level.
Solar Heated Tent
In 2021, he created solar-heated tents for Army personnel in India, who serve in extremely cold places such as Siachen and Galwan Valley in Ladakh. The solar-heated tents made by him are cost-effective and environmentally friendly as it does not use fossil fuel for heating.
SOLAR HEATED MILITARY TENT
for #indianarmy at #galwanvalley
+15 C at 10pm now.
Min outside last night was -14 C,
Replaces tons of kerosesne, pollution #climatechange
For 10 jawans, fully portable all parts weigh less than 30 Kgs. #MadeInIndia #MadeInLadakh #CarbonNeutral pic.twitter.com/iaGGIG5LG3

— Sonam Wangchuk (@Wangchuk66) February 19, 2021
Controversy
Under House Arrest!
On 26 January 2023, he announced a five-day hunger strike at Khardung La in Ladakh to catch the Indian Central Government's attention and highlight the demands of the people of Ladakh. One of his most crucial demands was to extend the provisions mentioned in the sixth schedule of the Indian Constitution. Later, he was placed under house arrest by the police for preventing him from having a five-day fast at the top of Khardung La and restricting people who wanted to visit him. He was requested by the police to observe the fast at the campus of his Himalayan Institute of Alternatives Ladakh (HIAL) as it was dangerous for him and his followers to fast at Khardung La, where the temperature could go less than -40°C. In an interview, he revealed that the police were not doing this for his safety instead they are trying to restrict him from raising his voice. He said,
The system is misusing the police and they have no concern for my safety. They are doing all this for their own safety and want to restrict my voice to the campus only because the UT administration has miserably failed to address the issues and concerns of the people of Ladakh." [3]The Hindu
Awards, Honours, Achievements
1996: Received Governor's Medal for education reform in Jammu and Kashmir
2001: Titled Man of the Year by The Week
2002: Received Ashoka Fellowship for Social Entrepreneurship by Ashoka USA
2004: Won The Green Teacher Award by Sanctuary Asia
2008: Won Real Heroes Award by CNN-IBN TV
2014: UNESCO Chair Earthen Architecture, by CRATerre France
2016: International Terra Award for best earth building
2016: Received Rolex Award for Enterprise
2017: Received State Award for outstanding environmentalist by J&K government
2017: Won Global Award for Sustainable Architecture
2017: Received  GQ Men of the Year Awards, Social Entrepreneur of the Year
2017: Won Indians for Collective Action (ICA) Honor Award in San Francisco, California, the USA
2018: Received Eminent Technologist of the Himalayan Region by IIT Mandi
2018: Honorary Doctor of Letters by Symbiosis International
2018: Received the Ramon Magsaysay Award
2022: Honoured with Dr Paulos Mar Gregorios Award for his exceptional contribution to creative innovation and sustainable development
Facts/Trivia
In 2016, he gave a TEDx speech on the topic 'Education in India: Are students failing or the system?!' and in 2017, he again gave a TEDx speech on the topic 'Changing the Landscape of Education.'
In June 2020, he requested Indians to boycott Chinese products, after the Chinese and Indian troops engaged in aggressive skirmishes. Many celebrities, including model and actor Milind Soman, supported his appeal.
In 2021, he was featured in an advertisement for WhiteHat Jr, a teaching platform for children.