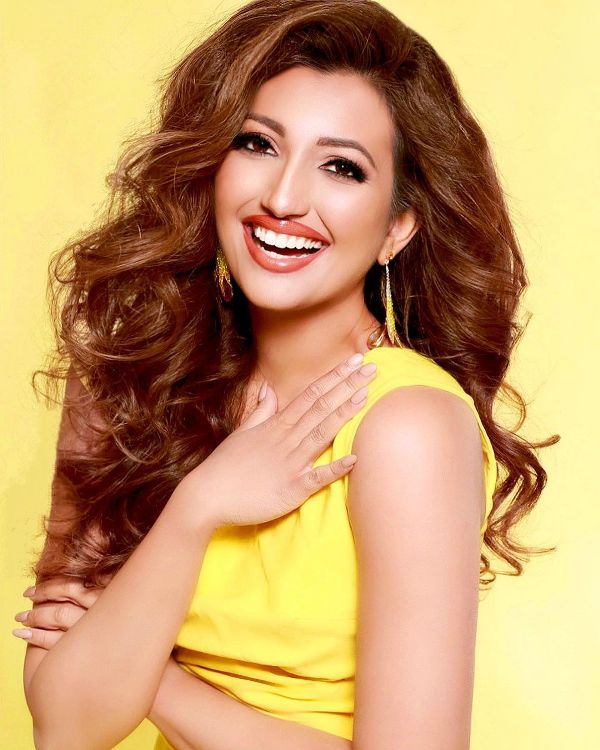 Shree Saini is an Indian American model. She won the title Miss World America in October 2021 and became the first Indian origin and Asian woman to win this title. She is also a mental and emotional health activist and a motivational speaker.
Wiki/Biography
Shree Saini was born on Saturday, 6 January 1996 (age 25 years; as of 2021) in Ludhiana, Punjab, India. Her zodiac sign is Capricorn. She did non-degree courses such as Non-profit management at Harvard University, Acting at the Yale School of Drama, Social entrepreneurship at Stanford University, and Journalism at the University of Washington. [1]The Spokesman
Physical Appearance
Height (approx.): 5' 9"
Weight (approx.): 55 kg
Hair Colour: Dark Brown
Eye Colour: Dark Brown
Figure Measurements (approx.): 34-28-34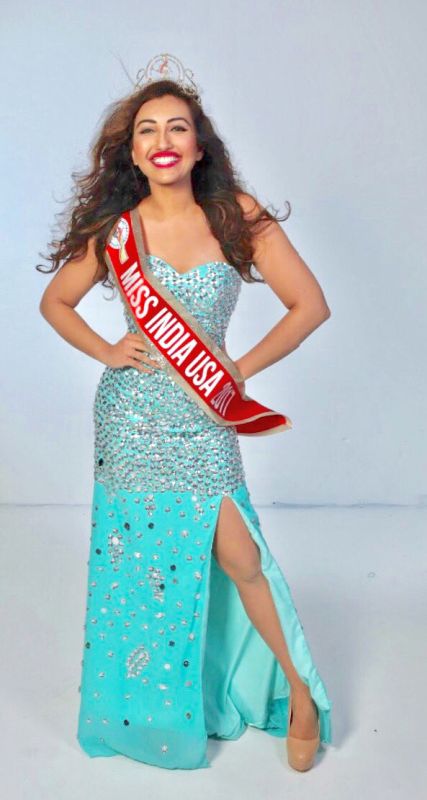 Family
Parents & Siblings
Her father's name is Sanjay Saini, who is the owner of a gas station in Colville, Washington. Her mother's name is Ekta Saini. She has a younger brother named Shahrose Saini.
Her maternal grandmother's name is Vijay Luxmi, and she is a retired school teacher. The name of her maternal grandfather is TR Sachdeva, who is a farmer in Abohar, Punjab.
Career
In 2017, Shree Saini won the Miss India USA title.
Shree Saini clinched the Miss India Worldwide title in 2018 held in the Fords, New Jersey.
Shree Saini participated in Miss World America competition in 2019; however, she quit the competition midway due to her cardiac disease. During the competition, she clinched several other titles including Beauty with a Purpose, Service Award National Winner, Top Influencer National Winner, Entrepreneurship Challenge National Winner, People's Choice National Winner, Top Model 1st Runner Up, and Talent 1st Runner Up. In the same year, she was the recipient of the title Miss World Washington.
Shree Saini won several titles while participating in the Miss World America 2020 competition. She clinched Miss World America's Beauty with a Purpose National Ambassador, Top Influencer National Winner, People's Choice National Winner, Talent Audience Choice National Award, and Beauty with a Purpose Winner. Around the same year, she bagged the 'World Peace Messenger' award from Passion Vista. On 3 October 2021, she clinched the title of Miss World America. She was crowned by Diana Hayden at this event, which was organised at Miss World America headquarters in Los Angeles.
Awards, Honours, Achievements
In 2021, she won the title of Miss World America. In 2020, she clinched the title Miss World America (Beauty with a Purpose Ambassador). In 2019, she was a contestant at the Miss World America Washington competition. From 2018 to 2019, she was the Miss India Worldwide, and from 2017 to 2018, she was the Miss India USA.
Facts/Trivia
Her parents moved to America from India when she was five years old. She started taking dance classes at a very young age.
When Shree Saini was 12 years old, she suffered from a rare heart disease in which her heart pulse was recorded 20 times per minute by the doctors; however, the normal heart pulse rate of a person is 70 times per minute. Soon, she underwent heart treatment with a permanent pacemaker in her heart. As a result of the pacemaker in her heart, she was not allowed to join dance classes by the doctors. While in a conversation with a media house, Shree Saini revealed that the doctors advised her not to participate in sports and dance. She said,


My cardiologist at Sacred Heart saved my life. That was a huge turning point for me. I was told that I couldn't dance or play sports, and it felt like my life just stopped. I thought I would have to live on a machine. But I wasn't going to let that adversity stop me."
Shree Saini's mother was put on life support when Shree Saini was 15 years old. Her mother was unwell. After watching her mother in pain, Shree Saini suffered from severe mental ailments. Since then, Shree Saini began working voluntarily with several non-profit and charitable ventures to assist those people who suffer emotional and mental sickness.
Shree Saini got involved in a serious car accident at the age of 19. She had a severe car collision that resulted in her facial burns and bruising. She was advised by the doctors to rest for a year for full recovery; however, with great zeal, she recovered within a month.
Later, she started taking Ballerina classes, and get trained at The Joffrey Ballet.
Shree Saini has written thousands of articles on mental and emotional health. Since the age of 12, she has been writing articles for several American media houses. Her own life lessons motivated her to write articles on motivation and awareness about mental well being. UNICEF, Doctors without Borders, Breast Cancer Foundation – Susan G Komen, and many other well-known health organisations have appreciated her social work. She has delivered motivational speeches in over 100s cities, 30 states, and 8 countries in the world. While narrating her social work in a press conference, Shree Saini stated,


I've spoken at at least 70 events. I work with nonprofits. What's so close with me is working with the American Heart Association. I speak about heart health."
Shree Saini is a public orator. She has often been invited by several public platforms and events to deliver motivational speeches on depression and other ailments related to mental health.
During the competition of Miss World America in 2019, Shree Saini's health deteriorated, and consequently, she left the show a night before the finale of the show.
Shree Saini's real-life story and her successful life achievements have often been covered by several Indian newspapers in India.
Shree Saini donated over 300 masks made at home and food to the American soldiers and their families during the COVID-19 pandemic in 2020 in the USA. She posted this news on her social media account along with her picture.
Shree Saini was thanked by an Indian Charitable Organisation for donating them financially to provide free food to the poor people in India who were out of work during the pandemic lockdown in India in 2020.
Various television news channels in America often invite Shree Saini for her exclusive interview.
According to Shree Saini, she desired to become the Miss World at the age of six when she participated and dressed like a Miss World at a school function in childhood. On her official website, Shree Saini has discussed that since the age of 15, she has been working with several charitable organisations that predominantly deals with emotional and mental health. It read,


This is a win for hard work. I've worked so so hard for this moment. I have lovingly and with great humility served over 100 nonprofits focusing on "Heart and Emotional Health". I am grateful for the Miss World organization for planting the seed of service in my heart when I was very young.  I was just 6 years old when I dressed up as "Miss World" in my school event."

Shree Saini is often featured by various well-known magazines and tabloids on their cover page.
Shree Saini is an animal lover. She frequently posts pictures of her pet dog 'Charlie' on her social media account.
Shree Saini stated in a press conference soon after winning the title of Miss World America on 3 October 2021 that she was not able to express her feelings in words. She said,


I am happy and quite nervous. I can't express my feelings (in words). All the credit goes to my parents, especially my mother because of whose support I am here. Thank you Miss World America for this honour."