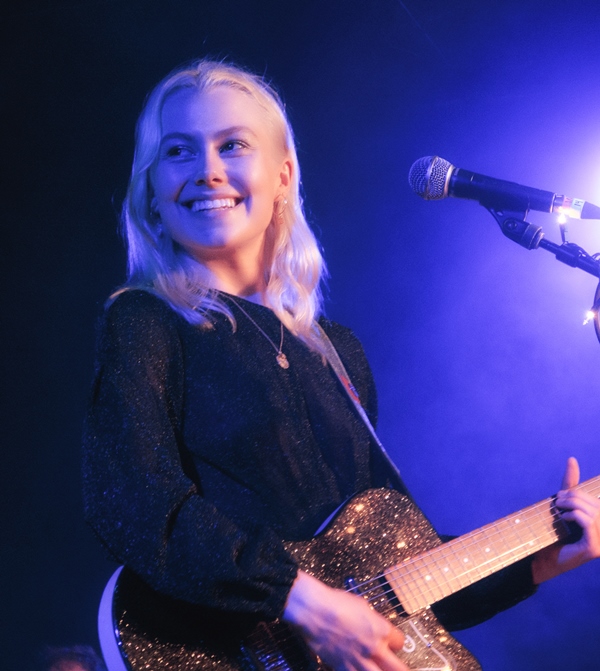 Phoebe Bridgers is an American singer, songwriter, guitarist, and producer who earned widespread critical acclamation for her studio album 'Punisher' (2020).
Wiki/Biography
Phoebe Bridgers was born as Phoebe Lucille Bridgers [1]California birth index on Wednesday, August 17, 1994 (age 27 years; as of 2021), in Orange County, California. Her zodiac sign is Leo.
Although her father tried to get her to learn piano, Phoebe was inclined towards learning guitar. In an interview, she said,
I fucking hated being forced to do something. Reading music felt like math homework…Guitar was my rebellion."
Later, she started playing the guitar at the age of just ten, after being taught some chords by her father. In her sixth grade at Sequoyah School in Pasadena, Bridgers created her first band. At school, she frequently performed in various talent shows and assemblies. Her passion for music was fueled by her mother, Jamie, who took Phoebe to various concerts from a young age. She also enrolled Phoebe in the music classes at the Folk Music Center in Claremont. In 2009, Bridgers pursued a music program at the Los Angeles County High School for the Arts (LACHSA). [2]The New Yorker Later, at the age of fifteen, Bridgers joined the all-girl punk-rock band named Sloppy Jane, led by the artist Haley Dahl.
Physical Appearance
Height (approx.): 5′ 1″
Hair Color: Platinum
Eye Color: Dark Brown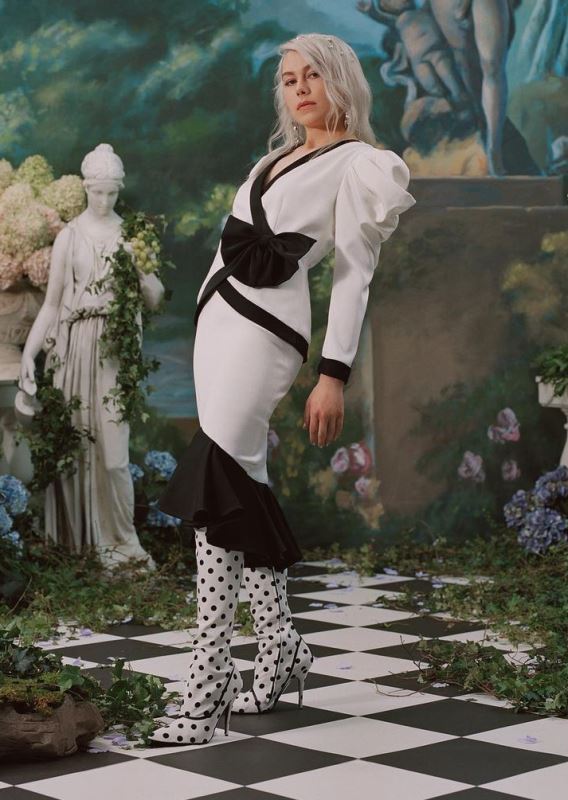 Family
Phoebe's father was a scenic carpenter who built sets for film and television. In an interview, she revealed that her father was abusive and a drug addict. [3]GQ Her mom, Jamie Gandola Bridgers, did a variety of odd jobs, and later, she ventured into the stand-up comedy business. Her parents divorced when she was twenty. Her brother, Jaxon Bridgers, attended Carnegie Mellon University in Pittsburgh.
Affairs/Boyfriends
Phoebe Bridgers belongs to the LGBTQ community, as she is bisexual. [4]The New Yorker In an interview, she said,
TMI I lost my virginity on high school campus and I wasn't allowed to sext or allowed to have boys over. Or girls. I wasn't allowed to have girls sleep in my bed because my parents knew I was bisexual. I felt this weird shame about it"
At the age of 20, she made acquaintance with American singer-songwriter Ryan Adams. Although Ryan and Phoebe had a professional relationship at the beginning, it soon turned into a romantic one. In 2019, along with several other women, Bridgers accused Adams of emotional abuse in a report by The New York Times. [5]The New York Times
Later, Bridgers was rumored to be in a relationship with her drummer and musical collaborator, Marshall Vore. In an interview in 2020, Bridgers claimed that the song "I See You," featured in her second album Punisher (2020), is about her ex-boyfriend and drummer, Marshall Vore. [6]Stereogum
Career
One day, while performing with Sloppy Jane, she secured herself a series of roles in the advertisements for Taco Bell, HomeGoods, Apple, and Intuit after being spotted by a talent scout. She was featured in the 2014 iPhone commercial in which she sang the cover of the song "Gigantic" by Pixies. At the age of fifteen, she opened for the popular American singer Peter Case at the Coffee Gallery in the Scott Gates Concert.
In 2014, she gained recognition when the American singer-songwriter Ryan Adams produced her first extended play 'Killer.'
In 2017, she signed with Dead Oceans, an American independent record label based in Bloomington. Later, in the same year, she came into the limelight with her first album 'Stranger in the Alps,' which featured a collection of melancholic tracks about intimacy, documenting how our relationships affect the way we view ourselves.
In 2018, Bridgers collaborated with the indie singer-songwriters Julien Baker and Lucy Dacus to form a group named Boygenius, signed to Matador Records. In October 2018, Boygenius released a self-titled extended play that earned immense appreciation.
In June 2020, Phoebe struck stardom with her second album 'Punisher,' featuring the crowd-puller song "I See You." The album also included the song "Kyoto" that went on to earn the nominations for the Grammy Award (2021) in the categories of Best Rock Performance and Best Rock Song. In December 2020, Phoebe released the music video for the song "Savior Complex," which earned the nomination for Libera Award (2021) in the category of "Video of the Year."
Controversy
In February 2019, Phoebe Bridgers revealed that the American singer-songwriter Ryan Adams pursued her sexually after helping her jumpstart her music career. According to Phoebe, on a night of 2014, Adams invited her to the Pax-Am studio. Thrilled by her performance, Adams gifted her an expensive vintage guitar and proposed to set her on a professional path. Thereafter, Adams started sending flirty texts to Phoebe and commenced a romance. Soon, the romantic notes turned into obsessive and emotionally abusive texts. Usually, the texts insisted Phoebe either prove her whereabouts or leave social gatherings to have phone sex. Through his lawyer, Adams dismissed the allegations. [7]

The New York Times
Favorite Things
Singers: Elliott Smith, Tom Waits
Facts/Trivia
Phoebe Bridgers didn't have her first drink until she was 19, and she quit drinking as she despised the experience. In an interview, she said, [8]

GQ


It just scared the shit out of me. I was like, I don't want to lose control….I think I'm straight up allergic to alcohol."

She went viral on the internet after she took a picture in front of a guy whose t-shirt read "Roses are red, areolas are pink, show me yours and I'll buy you a drink" at the Stagecoach Festival (2014). In an interview, she said,


I took a picture in front of him looking pissed. And then all my friends started texting me to tell me it's on the front page of Reddit. Nobody knew who the fuck I was. It was very funny.
Phoebe Bridgers has a sailor jerry heart tattoo on her left arm with "Max" inked in the middle. Max was Phoebe's late pet pug dog, who died in the winter of 2019.
She lives in a Silver Lake apartment in Los Angeles, California.
She discovered her sexuality during her high school days. She used to dye her hair in unnatural colors, and later, she shaved it off. In an interview, while sharing her high school memories, she said,


I think I just started to look really gay in high school…Girls who were feeling experimental would gravitate toward the girl with the shaved head, so I was kind of forced into figuring it out."

Once a fan left a sword piercing a note for her as a gift after a show. Overwhelmed, she thought that the gift was worthy of a tattoo, and therefore, she inked it on her arm.
In 2019, Bridgers collaborated with fellow American singer-songwriter Fiona Apple and Matt Berninger and released the cover of the song "7 O'Clock News/Silent Night," which featured the lines,


Happy Holidays to everyone whose family has been literally or figuratively torn apart by Donald Trump. And to my racist, xenophobic, misogynistic, hypocritical family members, fuck you."

Also, during the 2020 United States presidential election, Bridgers vowed to cover "Iris" by Goo Goo Dolls if then-president Donald Trump lost the elections.