Garret Dillahunt is an American actor who is best known for his supporting roles in the films No Country for Old Men (2007), Winter's Bone (2010), Looper (2012), and 12 Years a Slave (2013).
Wiki/Biography
Garret Lee Dillahunt [1]Geni was born on Tuesday, November 24, 1964 (age 56 years; as of 2020), in Castro Valley in Alameda County, California, United States. His zodiac sign is Saggitarius.
He grew up in Yakima, Washington. He did his schooling at Selah High School in Yakima County. He did a BA in Journalism from the University of Washington and an MFA in Acting from Tisch School Of The Arts, New York University. [2]Tisch NYU- Alumni
Physical Appearance
Height [3]IMDb: 6′ 1¼" (1.86 m)
Eye Color: Blue
Hair Color: Light Brown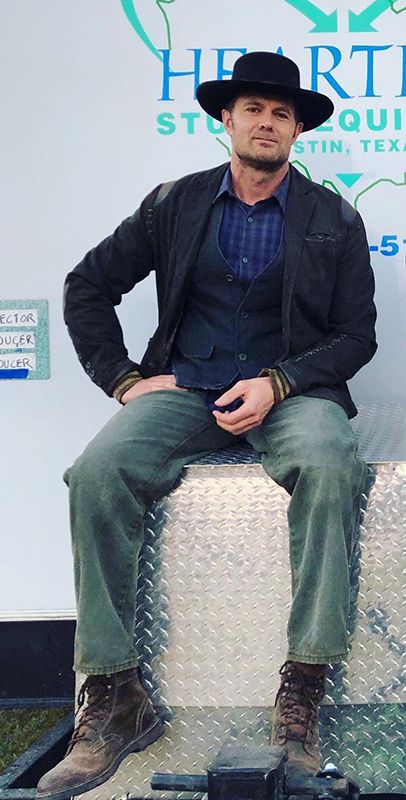 Family &
Ethnicity
Parents & Siblings
He was born to David Lee Dillahunt (a car mechanic) and Jeanne Dillahunt.
He has a brother named Brett. He had another brother named Eric who died in a road accident in 1981 after the drunk driver who was carrying him as a passenger was speeding and veered off the road.
Wife
In 2007, he got married to Michelle Hurd, an American actress known mainly for her work in television.
Career
In Theater
In 1984, he made his stage debut with 'Joseph and the Amazing Technicolor Dreamcoat' as 'Potiphar' at Evergreen Theatre, Seattle; the play was directed by Stephen Locklear.
He played plays in Seattle such as As You Like It (1990) and Eye of God (1992-93). In New York, he acted in Mad Forest (1991-92), A Perfect Ganesh (1993), Booth (1994), 900 Oneonta (1996), The Beginning of August (2000), and Things of Dry Hours (2009). He made his Broadway debut with The Father (1995) in which he played the role of 'Nöjd, A soldier' at Olympia Theatre. He has worked with the theater companies such as New York Theatre Workshop, York Theatre Company, American Conservatory Theater, Jacobs Theatre, Steppenwolf Theater, and Atlantic Theater Company.
Television
In 1993, he made his television debut with the American soap opera 'One Life to Live' as 'Charlemagne Moody.' He then appeared in the American television series NYPD Blue (1996), Maximum Bob (1998), Law & Order (2002), CSI: Crime Scene Investigation (2003), and A Minute with Stan Hooper. In 2004, he played the recurring role of 'Jack McCall' in season 1 of the American television series 'Deadwood.' The next year, he got the main role of 'Francis Wolcott' in season 2 of the same series.
He then acted in various American series such as The Book of Daniel (2006), Criminal Minds (2009), Raising Hope (2010), Hand of God (2014), The Mindy Project (2015), The Guest Book (2017), and Fear the Walking Dead (2018).
Films
In 1999, he made his film debut with the American film 'Last Call' as 'Curtis.'
He went on to act in the films like The Believer (2001), The Assassination of Jesse James by the Coward Robert Ford (2007), and Pretty Bird (2008). In 2009, he starred in the American film 'The Last House on the Left' as 'Krug Stillo.'
He starred in the American films Burning Bright (2010), The Scribbler (2014), Come and Find Me (2016), Braven (2018), Sergio (2020), and Army of the Dead (2021). He played 'Lt. Compton' in the Filipino-American film 'Amigo' (2010).
In 2010, he made his Canadian film debut with 'Oliver Sherman' as 'Sherman Oliver.'
Awards & Achievements
Fantasporto (Film Festival) Director's Week Award for Best Actor for Houston in 2014
Black Film Critics Circle Awards for Best Ensemble for 12 Years a Slave in 2013
Gotham Awards for Best Ensemble Performance for the film Winter's Bone in 2010
Gold Derby Awards for Ensemble Cast for No Country for Old Men in 2008
Screen Actors Guild Awards for Outstanding Performance by a Cast in a Motion Picture for No Country for Old Men in 2008
National Board of Review, USA – Award for Best Acting by an Ensemble for the film No Country for Old Men in 2007
Favorite Things
Novelist: Cormac McCarthy
American Football Player: Joey Galloway
American Football Team: Seattle Seahawks
Facts/Trivia
Being wedded to Michelle Hurd makes him the brother-in-law of the actress Adrienne Hurd and son-in-law of the American actor Hugh Hurd.
According to him, he chose to do his majors in journalism because he was one of the key writers of his high school newspaper and also worked for a newspaper called 'Selah Valley Optimist' in his hometown. He said,


I had come straight out of high school, and I was just kind of drifting. I didn't really know what I wanted to do, so I chose journalism because I was big into the school newspaper in high school, and I worked for the Selah Valley Optimist in my tiny hometown [in Washington state] – you know, where you're your own photographer for stories. I just thought that was a good life."
The thought of acting came to him when he was in the last year of his graduation at the University of Washington. According to Garret,


You evolve through things. My brother passed away unexpectedly when I was a senior in high school, and that knocks you for a loop. I was determined to do something I enjoyed rather than get trapped somewhere. So, my last year [at the University of Washington], just on a whim – because I'm painfully shy – I took an acting class. I don't know why, but I thought, 'Well, it's hard to make a living as a journalist, so I should probably write plays as well.' Like that was lucrative, I took an acting class, which was part of the requirement for the playwrights, and it was really the first thing that had held my interest in college. But then I graduated, only having just tasted [acting], and I thought, 'Aw, that's what I wanna do and now I'm done!' So, I went to NYU's graduate acting program to train."
In interviews, he often confessed himself to be a huge fan of the American novelist Cormac McCarthy since college. He claims that he has gone for auditions of each adaptation of McCarthy's novels since he started acting. In the auditions of the film 'No Country for Old Men' (2007) (based on the book of the same name of McCarthy), he read the book seven times to play the part of 'Llewyn Moss,' but got the role of 'Deputy Wendell' eventually.
Garret loves animals since childhood. He owns many pet dogs; one of his dogs named Zig is dead. Talking about animals in a social media post, he said,


I love animals. There was always a nervous stray to coax out of hiding and give a little love to. Sometimes it took days to gain their confidence. Wonder if I still have that patience? Learning lessons from skinny, hunched, kid Garret."
He has also directed an episode titled 'Baby Phat' from the television series 'Raising Hope' in 2014.
In his free time, he likes reading books and listening to songs. He can also play instruments like guitar and piano.