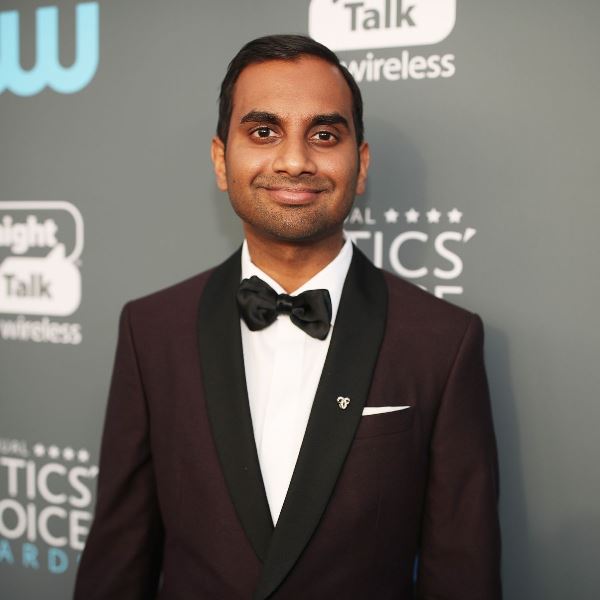 Aziz Ansari is an Indian American actor and a stand-up comedian. He is the first Indian American actor to win the Golden Globe award for Best Actor in a TV show. He is known for starring in the Netflix series 'Master of None' and also as one of its creators.
Wiki/Biography
Aziz Ansari was born on Wednesday, 23 February 1983 (age 40 years; as of 2023), in Columbia, South Carolina. His zodiac sign is Pisces. He completed his schooling at the South Carolina Governor's School for Science and Mathematics (GSSM) in Hartsville, South Carolina. In 2004, he attained a Bachelor of Business degree with specialisation in marketing from the New York University Stern School of Business.
Physical Appearance
Height (approx.): 5′ 5″
Weight (approx.): 65 kg
Hair Colour: Black
Eye Colour: Black
Body Measurements (approx.): Chest: 40″, Waist: 35″, Bicep: 14″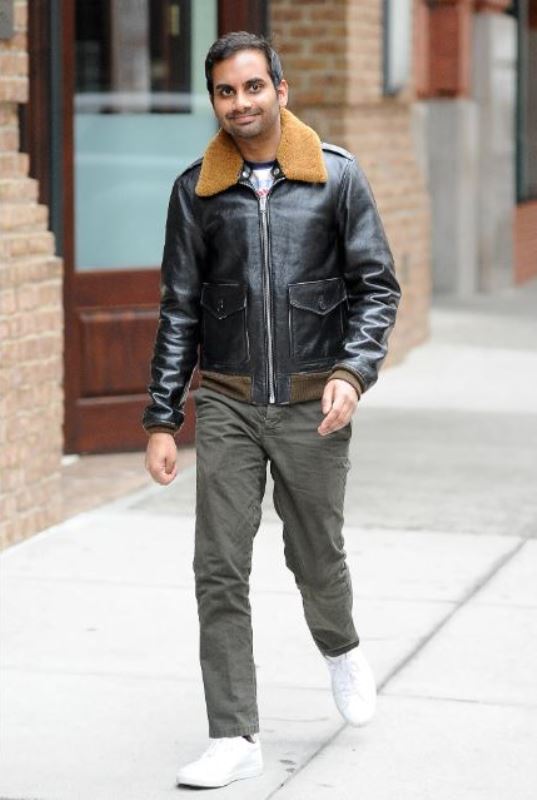 Family
Parents & Siblings
Aziz Ansari's father, Shoukath, is a gastroenterologist. His mother, Fatima, is an obstetrician and gynaecologist. His parents are immigrants from Tamil Nadu, India.
He has a younger brother, Aniz Adam Ansari, who is a writer and co-wrote an episode of Master of None with his brother.
Wife & Children
On 16 June 2022, Aziz Ansari got married to Serena Skov Campbell in Tuscany, Italy. They met in 2018 and dated for four years before getting married. Serena Skov Campbell is a senior associate in the investigative analytics forensics department at PwC in London. [1]Serena Skov Campbell – LinkedIn
Relationships/Affairs
Aziz Ansari was in a relationship with Courtney McBroom, a pastry chef at the Momofuku Milk Bar in LA. They dated for two years but split up in 2016 because Aziz couldn't spend enough time with her due to his busy schedule.
Religion/Religious Views
Aziz Ansari was raised as a Muslim but does not follow any particular religion.
To be clear, I am not religious and have nothing against Christians or Muslims, just ignorance like what @rupertmurdoch is spreading.

— Aziz Ansari (@azizansari) January 12, 2015
Address
William Morris Endeavor Entertainment
9601 Wilshire Blvd.
3rd Floor
Beverly Hills, CA, USA
Signature/Autograph
During airport delays, I now randomly sign copies of my book: pic.twitter.com/741eZfTgOL

— Aziz Ansari (@azizansari) July 13, 2015
Career
Films
Aziz Ansari first starred in a film, School for Scoundrels, in 2006 in which he played the role of a classmate. In 2008, he played the role of Randy in the film 'Funny People.'
He has made appearances in various other films such as I Love You, Man (2009), Observe and Report (2009), Get Him to the Greek (2010), 30 Minutes or Less (2011), and This Is the End (2013). In 2017, he starred in a documentary titled 'The Problem with Apu.'
Stand-up Comedy
Ansari began performing comedy in 2000 while he was a student at NYU Stern. In 2006 and 2007, he had the opportunity to tour with the "Comedians of Comedy," a stand-up comedy tour featuring comedians who document their tour in the form of a film or television series, and the "Flight of the Conchords," a two-man band from New Zealand. In 2009, he went on his own comedy tour, the 'Glow in the Dark." On 17 January 2010, Comedy Central aired Ansari's stand-up special titled 'Intimate Moments for a Sensual Evening,' and it became a DVD/CD special for Comedy Central. In July 2010, Ansari went on a tour titled 'Dangerously Delicious.' During this tour, he performed at various theatres, music festivals, and concerts across the United States. In 2011, he wrapped his tour by filming for a special at the Warner Theatre in Washington, D.C., which was released in 2012, exclusively on his website. In March 2012, Ansari went on a new tour titled 'Buried Alive.' During the tour, he shot his third special, 'Aziz Ansari: Buried Alive,' at the Merriam Theater in Philadelphia, Pennsylvania. On 1 November 2013, it premiered on Netflix.
His 2015 special 'Aziz Ansari: Live at Madison Square Garden' also premiered on Netflix. In May 2019, Ansari worked in collaboration with Dave Chappelle for three of his shows at the Paramount Theatre in Austin, Texas. In 2019, he announced a new tour titled 'The Road to Nowhere,' which was based on the events of his life from the past year and covered topics such as cultural appropriation, sexual misconduct etc. Some of his comedy specials that were released after 2018 are,
'Aziz Ansari: Right Now' – on 9 July 2019
'Aziz Ansari: Nightclub Comedian' – on 25 January 2022
Television
Ansari often performed at the Upright Citizens Brigade Theatre, an American improv theatre company and training centre, where he began to collaborate with fellow comedians, Rob Huebel and Paul Scheer, and director Jason Woliner to make short films. The first series created by Aziz Ansari and Rob Huebel titled 'Shutterbugs' aired in 2005. It starred Aziz Ansari, Rob Huebel, and Paul Scheer. In 2007, Aziz Ansari starred in the series 'Human Giant' along with Rob Huebel and Paul Scheer.
The show continued for two seasons, and the group was also offered a third season, but they refused to do a third season to explore new opportunities. In 2007, he appeared in the HBO series 'Flight of the Conchords.' In June 2008, he was cast in the TV series 'Parks and Recreation' as one of the main characters for all seven seasons of the show.
In 2015, Ansari played the role of Dev Shah in a Netflix series titled 'Master of None.' He was also one of the creators of this series along with Alan Yang, writer of Parks and Recreation.
The show earned immense appreciation and was praised by James Poniewozik of The New York Times in one of his articles, referring to it as 'the year's best comedy straight out of the gate.' [2]The New York Times He was one of the voice-over artists in an animated sitcom, Bob's Burgers.
Controversy
Allegation of sexual misconduct
On 13 January 2018, the website Babe.net published an article [3]Babe from an anonymous 23-year-old woman — referred to as 'Grace' about a date night with Ansari. In the article, Grace alleged Ansari of repeatedly ignoring her discomfort with his physical advances and pressuring her into sex. Grace said that it was very difficult for her to free herself from that scenario, and she ultimately ended up leaving in an Uber. Ansari released a statement the following day and said,
It was true that everything did seem okay to me, so when I heard that it was not the case for her, I was surprised and concerned. I took her words to heart and responded privately after taking the time to process what she had said."
Awards
In 2006, Aziz Ansari won the Jury Award for "Best Standup" at HBO's U.S. Comedy Arts Festival in Aspen, Colorado.
In 2013, he was nominated for NAACP Image Award for his work in the show 'Parks and Recreation' under the category 'Outstanding Supporting Actor in a Comedy Series.'
In 2014, he was nominated for American Comedy Award, under the category of 'Best Comedy Supporting Actor – TV' for his work in the show 'Parks and Recreation.'
In 2016, he was nominated for the Golden Globe Award under the category 'Best Actor – Television Series Musical or Comedy' for his work in the TV series 'Master of None.'
In 2016, he won the Critics' Choice Television Award under the category Best Comedy Series.
In 2017, Aziz Ansari ranked 47th on the list of 'Greatest stand-up comedians of all time' by Rolling Stone. [5]

Rolling Stone
In 2017, he won the Primetime Emmy Award under the category 'Outstanding Writing for a Comedy Series' for his work in the TV series 'Master of None.'
In 2017, he won the Golden Globe Award under the category 'Best Actor – Television Series Musical or Comedy' for his work in the TV series 'Master of None'.
In 2020, his stand-up comedy special, 'Aziz Ansari: Right Now', was nominated for the Grammy Award under the category Best Comedy Album. [6]

The Grammy Awards
Facts/Trivia
In 2011, Ansari did a cameo in a music video by Jay-Z and Kanye West in their song 'Otis.'
In 2014, Aziz Ansari identified himself as a feminist, and he often speaks on the topic. [7]

The Guardian
In 2016, Aziz Ansari published a book titled 'Modern Romance: An Investigation' that he co-wrote with a sociologist, Eric Klinenberg. The book explores the changes in the style of romance in the last decade before publishing of the book.
In 2018, Aziz Ansari became the first Asian actor to win a Golden Globe for best actor in a TV comedy category. [10]

The Indian Express
Aziz Ansari, along with his friends Eric Wareheim and Jason Woliner, has formed a group named "The Food Club" and has started a web series based on it titled "Food Club." [11]

YouTube – Eric Wareheim As a member of this club, they dress up and go out to explore new places to eat, and if they really enjoy the food at a particular place, then they reward the place with a plaque that has their faces inscribed on it in gold, which says "The Food Club has dined here and deemed it plaque-worthy." [12]

Vanity Fair
Ansari was set to make his debut as a director with the film "Being Mortal," which would star Bill Murray, Keke Palmer, and Seth Rogen. Its production stopped indefinitely in 2022 because of the difference of opinions between Ansari and Murray.
Some of Ansari's favourite restaurants in New York City are Santina, Great NY Noodletown, Lupa, and Uncle Boon's.
In the show 'Master of None,' it was his real-life parents who played the role of his character's parents on screen. [14]

Entertainment Weekly