Amir Wilson is an English-Sudanese actor who is popular for appearing in the musical play The Lion King (2015), the American-British television series His Dark Materials (2019), and British-Dutch the web series The Letter for the King (2020).
Wiki/Biography
Amir Wilson was born on Friday, February 6, 2004 (age 17 years; as of 2021), in Shrewsbury in the West Midlands, England. His zodiac sign is Aquarius.
The Shropshire-born actor grew up playing football and skating in parks with his friends in Shrewsbury. He did his schooling at St. Giles' C of E Primary School, South Mimms, England. At the age of ten, he moved to London to stay with his elder sister Moya Wilson after he landed the role of Simba in the musical play 'The Lion King' (2015). Later, he pursued a course in film-making [1]Boys By Girls.
Physical Appearance
Hair Color: Dark Brown
Eye Color: Brown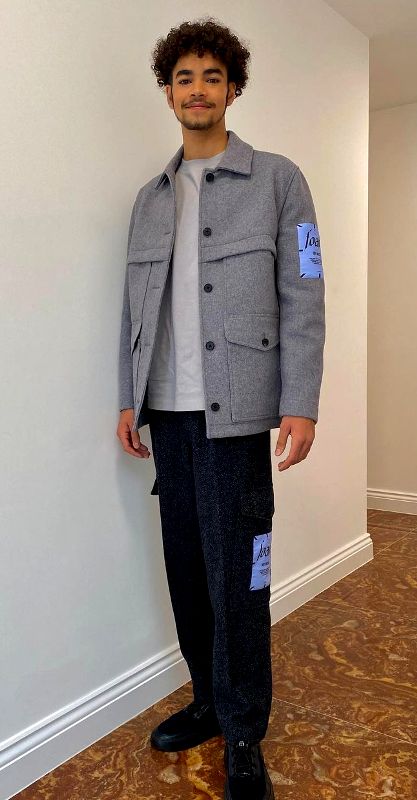 Family & Ethnicity
Amir Wilson was born to an English father and a Sudanese mother. [3]Boys By Girls In an interview, he revealed,
My mum is Sudanese and my dad's English. I can understand Arabic more than I can speak it. Apparently, when I was younger I refused to learn it and I really hate myself for that. I wish I was fluently bilingual."
In 2018, his father, Paul Wilson, died due to a heart attack caused by an un-diagnosed asymptomatic coronary heart disease. His mother's name is Nagla Wilson. He has two elder sisters, Moya Wilson and Imaan Wilson.
Career
Theater
Amir Wilson began his journey as a theater artist at the age of eight when he accompanied his sister to audition for the role of Munchkins in the play 'Wizard of Oz' (2012), organized by the local theater group Get Your Wiggle On (GYWO). While talking about the beginning of his acting journey in an interview, he said,
A teaching assistant for my school said, "Kids, do any of you want to play Munchkins in the Wizard of Oz for the local theater group?". I was like, nah, I don't want to do that but I gave the leaflet to my sister. We went to the auditions that weekend…I ended up doing it, I got in and stayed with the company for two years."
In 2014, he played the role of Mr. Mayor in the play 'Seussical' (2014), staged at Theatre Severn in Shrewsbury. In the play, Mr. and Mrs. Mayor are Jojo's parents who face difficulty in raising their troublesome child.
Later, he landed the role of Chip in GYWO's theatrical production of 'Beauty and the Beast.' In the play, Chip is a seven-year-old boy who is transformed into a teacup, following a curse by an enchantress. In GYWO's 2014 production of Oliver, Amir was cast for the role of The Artful Dodger, but his name was dropped from the play when he secured the role of Simba in the musical play 'The Lion King.' In 2015, he gained immense appreciation for playing the younger version of the protagonist Simba in the 2015 musical play 'The Lion King.' Staged at Lyceum Theatre, London, the play was based on the 1994 Walt Disney Animation Studios' feature film of the same name. According to the narrative, Simba is the son of Mufasa and Sarabi, who was destined to rule the Pride Lands as a king.
Another prominent theatrical production under his belt includes 'The Secret Diary of Adrian Mole Aged 13¾.' (2017) in which he played the role of Nigel. The play centers around a teenager named Adrian who witnesses an event-filled year during which his parents' marriage hits rock bottom and his dream girl, Pandora, joins his school. In the play, Nigel is Adrian's best friend who attends the same high school and youth club and even dates the same girl, Pandora. As the storyline of the play evolves, Nigel turns out to be a homosexual.
Short Films
He made his short film debut with 'Special Delivery' (2018) in which he played the role of Josh. In the film, a broke university student named Dan meets a street smart 13-year-old kid named Josh while covertly delivering cocaine.
Feature Films
In 2019, he made his feature film debut when he made a brief appearance in the fantasy action-adventure film 'The Kid Who Would Be King.'
He starred in the 2020 British fantasy drama film 'The Secret Garden' as Dickon. The central character Mary Lennox is an orphaned girl who is sent to England to live with her uncle, where she discovers a hidden magical garden. In the film, Dickon is a kind 12-year-old boy, who spends most of his time out in the moorlands. As the story goes, Dickon helps Mary to aid an injured dog and her uncle's bedridden son in the magical garden.
Later, he landed the role of Anton Milanesi in the 2022 German musical film 'The Magic Flute.' The film is about Tim Walker, a 17-year-old boy who discovers a centuries-old forgotten passageway leading to a fantasy world.
Television
In 2019, he made his television debut with the fantasy drama series 'His Dark Materials' in which he played the lead role of Will Parry. The series is set in a multi-world reality, where a girl named Lyra is destined to change the world, conforming to a prophecy. The witches' prophecy also establishes a connection between Lyra and a teenager from another world named Will, whose father vanished thirteen years ago. Amir's character, Will Parry, emerged as a pivotal figure in the second season of the series and garnered immense popularity.
OTT/Web Series
Amir Wilson rose to prominence when he made his digital debut with the coming-of-age adventure series 'The Letter for the King' in which he played the lead role of Tiuri. In the series, a young squire named Tiuri embarks on a quest after he assumes the responsibility to deliver a secret message to the king who lives across the Great Mountains. Amir earned the nomination in the category of 'Outstanding Younger Performer in a Daytime Fiction Program' at the Daytime Emmy Awards (2021) for playing the role of Tiuri.
Favorites
Fast Food Company: Nando's
Food: Chicken, Halloumi fries
Actor: Matthew McConaughey
Film: Interstellar (2014)
Facts/Trivia
In an interview in 2021, while feeling nostalgic for his Shropshire hometown, Amir said,


I grew up there, I spent all my childhood there. I started acting there…I know I spent a lot of time at Sundorne Skatepark, I've got a lot of friends still. I used to go to Shrewsbury Town games and scream 'Salop!' from the stands…My father sadly passed away three years ago and he's buried there. It's nostalgic, I get to go there and be with him."

Apart from being a gifted actor, he is also a skilled football player who wanted to pursue a career in sports while growing up. In an interview, while talking about his passion for football, he said,


I hadn't ever really considered it (acting) – I was into football, I grew up playing a lot of football."

He also revealed that in his leisure time, he loved to go rock climbing.
Born to a Sudanese mother, Amir can speak Arabic.
In memory of his late father, who unexpectedly passed away in 2018 due to a heart attack, Amir became a member of the British Heart Foundation in 2019. The organization provides aid to people who are suffering from heart and circulatory disease across the United Kingdom.
In an interview in 2020, while revealing something interesting about himself, he said,


I have never broken a bone."

Amir Wilson is a non-vegetarian. [4]

Boys By Girls
He holds dual citizenship of Sudan and the UK.