Rohit Reddy is a real-estate czar, an entrepreneur, fitness enthusiast, and a brand connoisseur.
Wiki/Biography
Rohit was born in Hyderabad, his zodiac sign is Pisces. He is graduated from Purdue University, USA.
Physical Appearance
Eye Colour: Black
Hair Colour: Black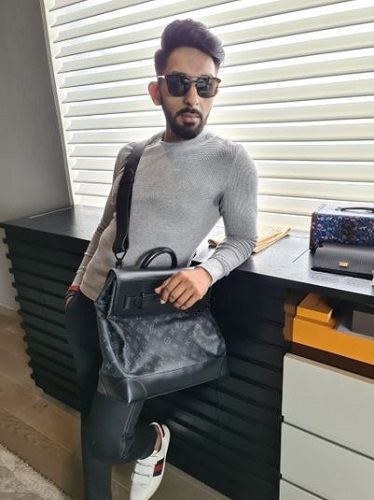 Family, Caste & Girlfriend
His father's name is Late Mohan Reddy, and his mother's name is Pratima Reddy. He was propelled into taking on the reins at an incredibly young age, following his father's demise. His sister's name is Nitya Reddy, and Rohit has two nieces; Trisha and Anoushka.
Career
Lauded for his grit, dedication, perseverance, and discipline, his USP is his clarity of vision, unshakable confidence, and charm. A young, second-generation entrepreneur, Rohit Reddy has business interests across power, real estate, and entertainment sectors in Hyderabad. With an enviable land bank, his group Signature Developers Pvt. Ltd. plan to construct the best theme parks, high-end residences, hotels and stadium the city has seen.
In 2010, Rohit Reddy began a mission to transform the Hyderabad skyline. Propelled by his modern gen-next design aesthetic and love for a luxurious lifestyle, he brought to the Pearl City, the first of its kind luxury residential project! Inspired by none other than the Trump Tower, his first project Signature One is modeled on a private luxury hotel. Followed by Signature Horizons at Dollar Hills and Signature Estates, it's most recent endeavour – RR's mark on Hyderabad is nothing short of exceptional.
Signature One: Built as a resort retreat rather than a home, Signature One offers 25 super luxury residences across five towers of five floors each. With an entire floor dedicated to each apartment, these uniquely designed Vastu-compliant homes, set in lush, landscaped surroundings ensure exclusivity and privacy. The uber-exclusive penthouses feature private infinity plunge pools (a first for Hyderabad) opening on to spectacular views of the city.
Signature Horizon: An address with a view, Signature Horizon is located on a hilltop and offers exquisite views of Golconda Fort and Qutb Shahi Tombs, free from the traffic and noise of the city. The 82 feature-rich apartments at Signature Horizon come with a plethora of recreational amenities such as its unique infinity edge pool, leisure lounge, private mini-theatre and sprawling banquet hall at the Signature Clubhouse.
Signature Estates: Spread magnificently over nearly 100 acres, at the edge of a 27-acre seasonal lake, Signature Estates features mansions on one-acre and half-acre plot sizes. Conceived along the lines of Emirates Hills, Dubai and several other such luxurious townships across the globe, this is a project of a magnitude and class, showcasing low-density living in a setting which Hyderabad has yet to see.
RR's dedication, determination and will to succeed bring to life his vision of always providing the best of the best to his multi-millionaire patrons. Hands-on from day one – right from the blueprint, to working with top architects, flying to Rajasthan for the best building materials and to Thailand for special landscaping – his quest for perfection extends to his work so much that it is said that each paving stone for Signature One that was laid on the driveway was personally supervised by him. Today, Signature One is easily one of the most luxurious apartment complexes in Hyderabad; one that has the crème-de-la-crème of the city vying for an address in it.
Awards & Honours
The Economic Times Promising Entrepreneurs of India 2019
The Economic Times Best Brands 2019
Favourite Things
Book: The Fountainhead by Ayn Rand
Fitness Regimes: Cardio, Kick boxing, Pilates, Swimming and Strength Training
Sport(s): Cycling, Swimming, Running & Golf
Fitness Icon(s): Tom Cruise, Rafael Nadal, Pele
Real-estate inspiration: Donald Trump
Film: The Wolf of Wall Street (2013)
Restaurant: Broadway, Hyderabad
Food: Chinese & Home-cooked food
Holiday Destination(s): London, Maldives, Zurich
People: His mom, who has shaped his desires and determination, and his teacher Faiyaz, who shaped his mind and body.
Hobbies: Fitness, Reading, Travel, Trekking, Shopping and spending time with his sister Nitya and her daughters Trisha and Anoushka.
Attributes in a person: Loyalty and Honesty
Quote: "If you are persistent, you will get it. If you are consistent, you will keep it."
Facts/Trivia
Rohit Reddy or RR as he is fondly known, is truly one of a kind!
He is an extrovert, yet with a quiet side; a man whose dreams are his own. A teetotaller and non-smoker for whom even carbonated drinks are a taboo, he advocates clean living and is an inspiration to many who have followed his footsteps into fitness.
His trainer-friend-mentor-Guru is Faiyaz Khan.
He is trained in Muay Thai, a combat sport from Thailand.
His family has friendly ties with many well-known personalities in the Indian film fraternity. His mother Pratima Reddy's friendship with late Bollywood actress, Sridevi was well known amongst the industry. Doted on by his family and loved by his friends, he is truly an A-lister on Hyderabad's celebrity map.
According to RR, 'The body is a work of art'; it needs to be chiselled and perfected. The mind and body are his temples and his approach to keeping them in perfection is his daily puja.
RR spends hours at his private gym with his dedicated trainer Faiyaz Khan to hone and tone his perfect body. Rohit and Faiyaz's journey into fitness started in the late 90s, at a time when no one had heard of personal fitness training. Today, almost 20 years later, Faiyaz is naturally not just his trainer, but practically family; one who knows RR well. Faiyaz says,
When it comes to dedication, consistency and perseverance, none come close to RR. We have no training routine; each day is a new workout – weights, TRX, kettle bells, functional training, yogalatese (a combination of yoga and Pilates), and distance running, cycling. I don't believe in fads and trends – one needs to eat clean and well, train smart, and give the body time to recuperate. Diets don't work. Portion control is key."
Fashion and fine living are RR's mantras – an innate part of who he is. He is completely unapologetic when it comes to flaunting his custom-made attires and his lavish lifestyle. A self-made man and one who is extremely proud of it, Rohit sees no reason to be modest. He believes that cultivating a persona is important; hence, he is his own brand. He takes inspiration from the likes of Richard Branson and Donald Trump, who live the big life and are the faces of their businesses.
Style is personal. It's not about brands. It's about how you carry it. If you have the chutzpah, you can carry off just about anything…with a smile.
This, of course, doesn't mean that he doesn't appreciate his designer wear. RR's specially built 5,000-square-foot wardrobe houses merchandise by the who's-who of the designer world, including Manish Malhotra, Shantanu & Nikhil, Tom Ford, Gucci, and Armani to name a few.
Rohit's tryst with fashion extends to business, too. A trailblazer in all that he does, he opened one of the first exclusive designer wear stores, called 'Strip', in early 2000, introducing high-end fashion to Hyderabad. He was the first to bring fashion shows to the city in partnership with Blender's Pride; he even walked the ramp for it.
RR has always lived in style. Born into a family that ran one of the leading business houses of Hyderabad, his childhood home was probably one of the first homes in the city to have been designed by a top architect, and used an interior designer from Mumbai to style it.
RR takes it up a notch further in his personal life. Luxury, but with elegance, defines his lifestyle – be it his homes, his custom-designed Aston Martin or his private Cessna plane. His new home has been designed by a global architectural firm and probably merits its own dedicated coverage. Rohit's bachelor pad in his own Signature One is an epitome of what style and class should be.
Being the face of Hyderabad's high-end society is something RR takes seriously; in fact, he revels in it. Long known as the most eligible bachelor in Hyderabad, he continues honing this label with some of the most talked-about parties in town.
Success is no accident. It is hard work, perseverance, learning, studying, sacrifice and, most of all, LOVE of what you are doing."
Everything about RR is extraordinary and larger than life – be it his dreams, his passion for fitness, his flair for fashion and fine living, and his quest to build the biggest and most luxurious iconic structures. He strives to be a name that everybody knows – not just in Hyderabad, but the world over.