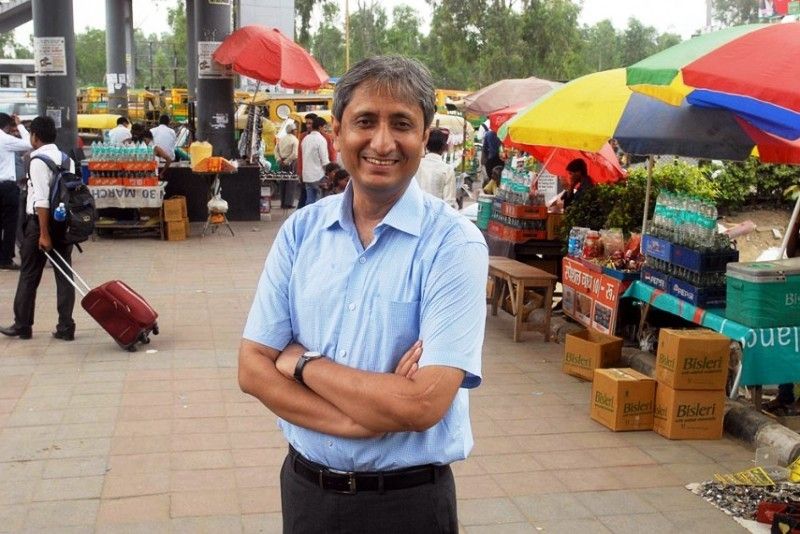 Ravish Kumar is an Indian journalist, author, and TV anchor who is considered one of the most popular Hindi journalists in India. He is best known for his monologues in one of the most-watched TV news shows of NDTV India,  Prime Time. He quit NDTV on 30 November 2022 following the resignation of Prannoy Roy and Radhika Roy from the NDTV promoter company RRPR Holding Private Limited as its directors. [1]The Indian Express
Wiki/Biography
Ravish Kumar was born on 5 December 1974 (age 48 Years; as of 2022) in Jitvarpur Village in Motihari, Bihar. He did his schooling at a convent school in Patna. For his further studies, Ravish shifted to Delhi in 1990, where he was enrolled in Deshbandhu College. At Deshbandhu College, lecturers like Anil Sethi and Rana Bahal became his mentors. While talking about Anil Sethi and Rana Bahal, ravish says-
They taught me English, how to eat at a table, how to talk to girls, how to wear a tie."
After completing his graduation in History, Ravish started preparing for the Civil Services Examination. However, he couldn't clear the examination and move on to pursue his Master's in History from Deshbandhu College followed by an M.Phil. from Delhi University. Thereafter, he went on to earn a Post-graduate diploma in Journalism from the Indian Institute of Mass Communication. Remembering his college days in Delhi, Ravish shares an incident that once he was told that if he wanted to 'look at girls,' he should head to the M Block GK I Market. Ravish Kumar also says that before coming to Delhi he had only seen Lucknow, Jamshedpur, and Ranikhet on the name of big cities. During his Master's in History at Delhi University, Ravish came to know about the late Parthasarathi Gupta, a brilliant Delhi University History Professor. Professor Gupta was affectionately known to his students as PSG. Gupta's lectures on urbanization became like a guide for Ravish, which changed the way Ravish viewed the city.
Physical Appearance
Height: 6′
Eye Colour: Black
Hair Colour: Salt & Pepper
Family, Caste & Girlfriend
Ravish Kumar was born into a modest Bhumihar Brahmin Family. [2]Wikipedia His father's name is Baliram who lives in Jitvarpur Village of East Champaran. There is not much information about his mother. His brother, Brajesh Kumar Pandey, is an active politician in Bihar who has also fought elections on the ticket of the Indian National Congress. However, Brajesh had to quit Congress after his name appeared in a sex scandal.
It was during his M.Phil. studies that Ravish Kumar met his future wife, Nayana Dasgupta, who was studying at Indraprastha College in Delhi.
Before getting married, Ravish and Nayana dated for around seven years. In those days, Ravish never had enough money, so he would often take Nayana for long walks and visit coffee houses. When Ravish told his family about Nayana, they blatantly objected to their marriage. However, Ravish broke ties with his family for Nayana and got married to her. The couple went on to have two daughters.
Career
In 1996, Ravish Kumar joined NDTV India. At NDTV, Ravish escalated to a senior post rapidly- from a reporter to a senior executive editor. Many of his shows including Ravish Ki Report, Hum Log, and Prime Time are considered one of the most-watched Hindi news shows in India.
Most of his shows cover topics from socio-political issues. The first "Ravish Ki Report" was on Paharganj.
He quit NDTV India as Senior Executive Editor on 30 November 2022. [3]The Indian Express
Controversies
When his brother, Brajesh Kumar Pandey, was booked in a sex racket case in 2017, Ravish Kumar was criticized for not reporting about the incident in his news shows.
Ravish Kumar also attracted controversy for implicitly criticizing Arnab Goswami.
After the establishment of the Narendra Modi Government at the centre, Ravish Kumar has often complained about receiving death threats and abusive phone calls.
After being repeatedly trolled on Twitter, he left Twitter in August 2015.
Awards & Honours
Ganesh Sankar Vidyarthi Award in 2010
Ramnath Goenka Excellence in Journalism Award in 2013 for the Journalist of The Year
Indian News Television Award for the best news anchor in Hindi in 2014
The Indian Express included him in the 100 most influential Indians list in 2016
He was named the best journalist of the year by Mumbai Press Club in 2016
Honoured with the first Kuldip Nayar journalism award for his contribution to the field of journalism in 2017
Awarded Ramon Magsaysay Award for "harnessing journalism to give voice to the voiceless" in 2019
On 22 September 2019, awarded the first Gauri Lankesh National Journalism Award in Bengaluru.
Signature/Autograph
Favourites
Teacher: Late Parthasarathi Gupta (History Professor of Delhi University)
Facts
Ravish Kumar loves listening to old Hindi songs.
He is so scared of English-speaking people that when he first came to Delhi, he rented a Barsati in the bylanes of Govindpuri, away from 'English- speaking zones.'
Ravish Kumar's marriage with Nayana Dasgupta is a love marriage.
His family didn't allow him to get married to Nayana Dasgupta; as she is a Bengali while Ravish is a Bhumihar Brahmin.
Even after being a TV anchor, Ravish is often seen quoting about not to watch TV News.
He often complains about being trolled on social media and for often being interfered with in his personal life.
Ravish has evolved a unique style of short story writing, and he calls these stories Laprek- Laghu Prem Katha. He has compiled these stories in a book titled "Ishq Mein Sheher Hona."
He has also penned another book titled "The Free Voice – On Democracy, Culture, and The Nation."
Ravish Kumar also runs a personal blog- 'naisadak.blogspot.com.'
At the 2022 Toronto International Film Festival, a feature-length documentary on Ravish Kumar titled "While We Watched" won the Amplify Voices Award. The documentary was made by filmmaker Vinay Shukla, and it traverses the broadcasting days of Ravish Kumar at NDTV. The documentary is titled "Namaskar! Main Ravish Kumar" in Hindi.
A popular YouTube channel, The Screen Patti (TSP) runs a programme titled Rabish Ki Report in which actor Shivankit Singh Parihar portrays Ravish Kumar as "Raja Rabish Kumar."